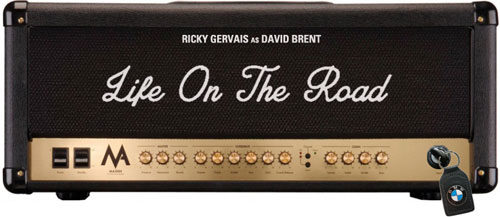 28 SEPTEMBER 2015
As expected, I lost another Emmy this week.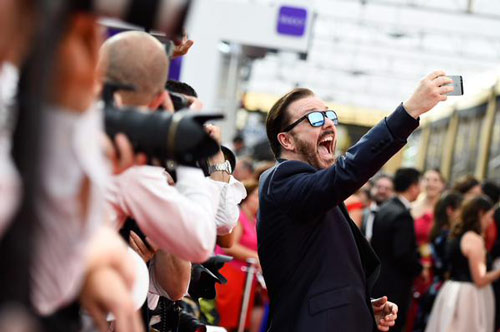 It was expected because I am British and we always like to assume the worst. This is summed up even more by the fact that I recount my Emmy record as "losing a record number" as opposed to being "nominated for a record number".
I've been nominated 22 times and won twice but the way; once for 'The Office' and once as Outstanding Lead Actor in a Comedy Series for playing Andy Millman in 'Extras'. Not bad I guess. Still, that's no reason not to moan about it and make a scene in front of millions of people;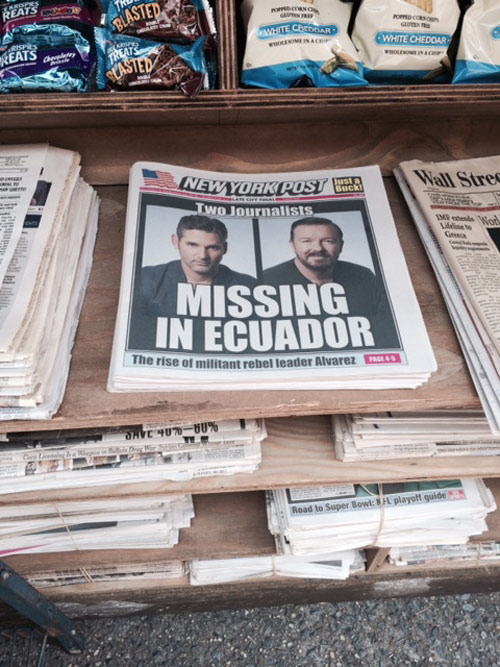 Red carpets & parties over and straight back to work.

After locking picture on 'Special Correspondents' we're now writing and recording the score. Eventually we'll spend a week with an orchestra to make it big and lush. There are some great original tracks used throughout the movie too that really bring it to life.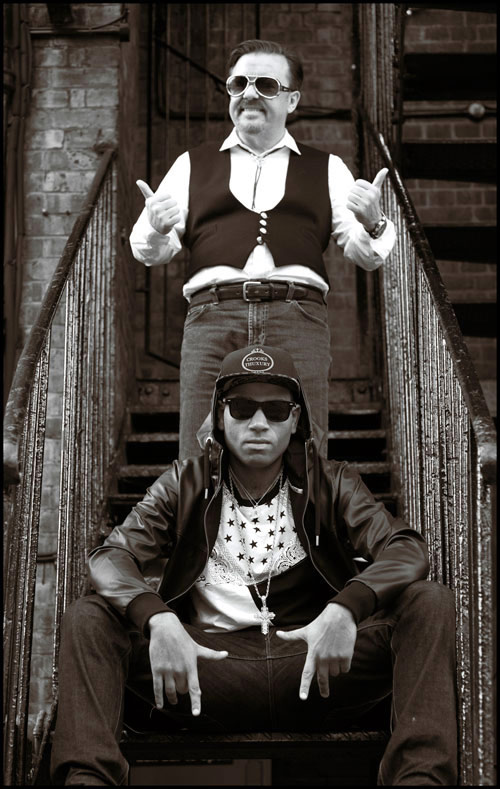 Started pre-production on 'David Brent: Life On The Road' this week too.

The first thing we did was cast and start scouting locations. I'm so excited about all the new characters and new situations that Brent has to contend with. He's the same old Brent at heart but everyone evolves through their life and not always in a good way.

We have a vague release date of August 2016 by the way.


14 SEPTEMBER 2015
So I've locked picture on 'Special Correspondents'. I can still make alterations but from now on it's basically laying on the music, getting the sound mix perfect, any visual effects and grading to make it look beautiful. That alone is another few weeks' work.

It's turned out great I think. Even though it would certainly be billed as a comedy, it's not a big broad loud obvious one. It's certainly plot and character led as apposed to gags, funny voices and mayhem. It's a bit satirical. A bit dramatic. A bit romantic.

I guess it's a sort of grown up movie like 'Tootsie' or 'The Apartment' or 'The Sting'. What do I know though? My references are probably completely misleading. Just watch it.

Finished the shooting script for 'Life On The Road'. Now that movie is 110 pages of pure joy. Delusion, desperation and excruciating social faux pas; all wrapped up in one little middle-aged rep on his continued quest for fame and acceptance.

We've decided to put out a soundtrack album too. On Juxtaposition Records of course.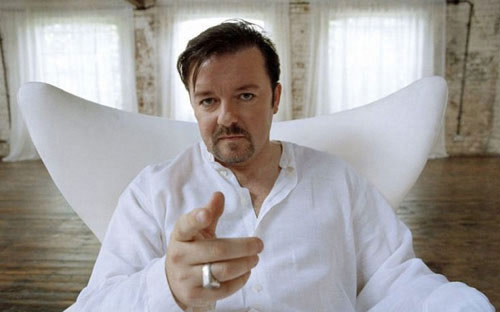 I need to interrupt these two movies for a week and pop to LA to lose another Emmy though. A fond farewell to the lovely little chap in the cardigan.

The DVD boxset and Special should be available at the end of October in the UK by the way.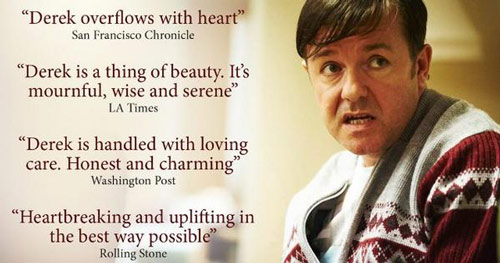 31 AUGUST 2015
Seven weeks editing 'Special Correspondents' and I'm pretty close to locking picture. At this stage this just means you have all the content of the film. It's not irreversible and it's by no means finished, but it's the template you start polishing. Then come another few weeks of scoring and placing the music, grading, any special effects and of course the all important credits. It's not an obvious knockabout comedy but it's funny all the way through I hope and it's a great story. You'll be the judge of that.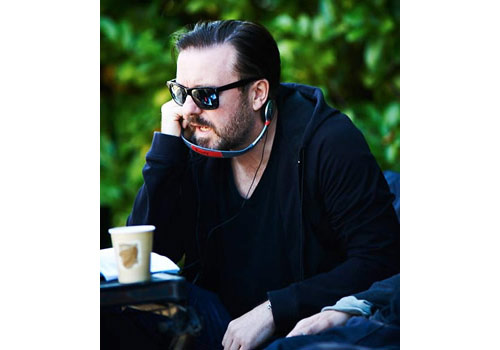 Meanwhile, I've nearly cast 'Life On The Road' and we've started scheduling the shoot days. It's quite a fast shoot for a movie, but I'm going to do a lot of cross shooting with two cameras which really speeds thing up and gets you loads of footage in the can. It's also great for continuity as you're doing both sides of any conversation at the same time. This is sometimes a DOP's nightmare as it's harder to make both sides look beautiful, but once you're happy it's a whole day's play without interruption.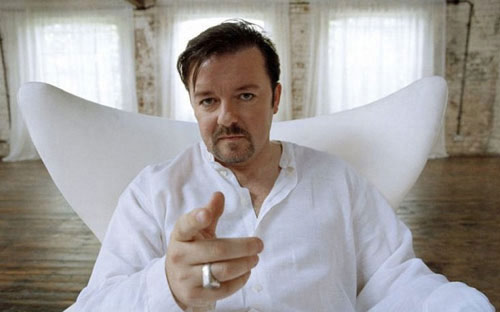 Talking of interruptions, I have to take a few days off to pop to LA this month to lose another Emmy. Not complaining. It's my 22nd nomination which is apparently a record for a British comedian. I bet losing 19 of them is a record too.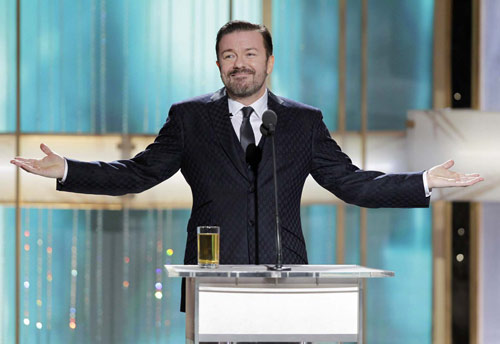 13 AUGUST 2015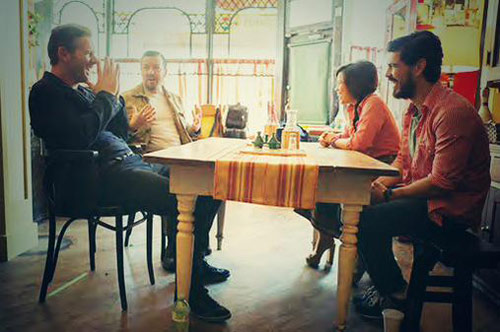 Five weeks editing 'Special Correspondents' and we already have a pretty good movie. We have another three or four weeks to settle on the content and lock picture and then we start laying on the music and dealing with any other sound issues. This can be anything from putting on narration to having to re-voice a word because someone slammed a car door on that particular take or something. In fact, filming on the streets of New York is basically asking for it and you always have to re-dub stuff in post.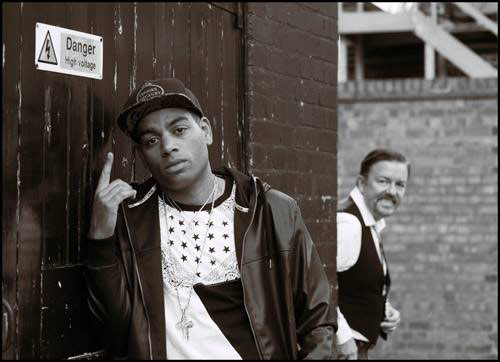 Casting is going well on 'David Brent's Life On The Road'. So much easier than the first time around. Everyone's seen 'The Office' now so they get exactly what's required. Back in the late 90's I remember having to ask hundreds of actors to "Be a bit more natural." I bet most of them thought "Who is this idiot? This isn't funny at all."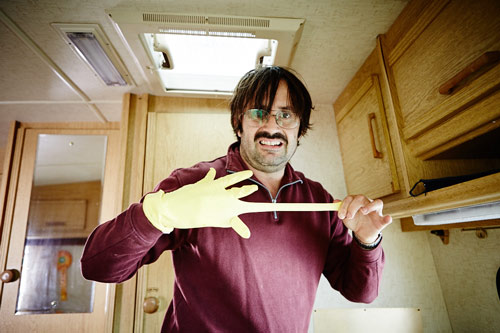 Even though I've said goodbye to 'Derek', there's still lots to deal with. I started kicking around ideas for the cover of the boxset and special which should be available at the end of the year. Also, I have to think about what to wear to the Emmys next month. Or rather WHO to wear, as we say in Hollywood. I remember the first time someone on the red carpet at some do in LA asked me "who are you wearing?"; I had to look at the label and it was Marks & Spencer. I bet they thought that was a really exclusive London designer. Haha.


1 AUGUST 2015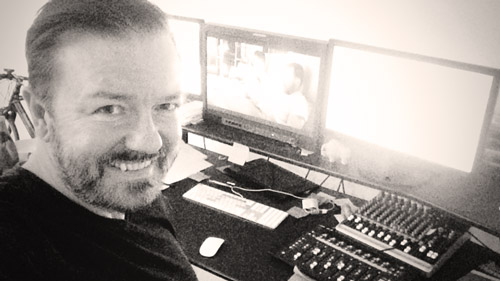 Week 3 in the edit on 'Special Correspondents' and it's really getting to the good bit now. As it starts to take shape we can start experimenting with music. Some source (i.e. what's playing on the juke box, car radio etc.) some incidental (film score) and some killer rock tracks for credits, montages etc. (Gotta have a montage; Fuck Yeah!)

You can plan this to a certain extent but you never know until you try it with picture. Sometimes the most unlikely track comes out of nowhere and suddenly you can't imagine it any other way. Anyway, it's getting there. Only another 12 weeks to go. Haha.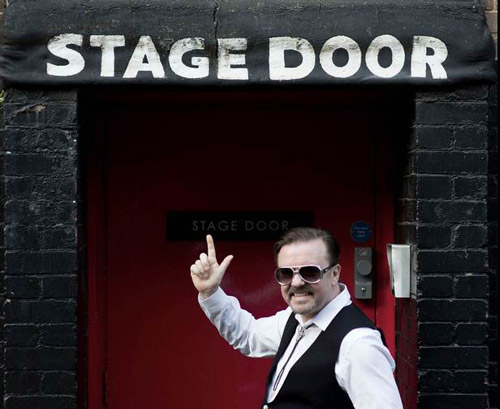 Started casting for 'Life On The Road'. So many actors. So few great parts. I'm spoiled for choice. Also, unlike when I first started out, everyone gets 'The Office' style now, so it really is quite a pleasant experience. Hopefully I'll find another Martin Freeman or Ashley Jensen.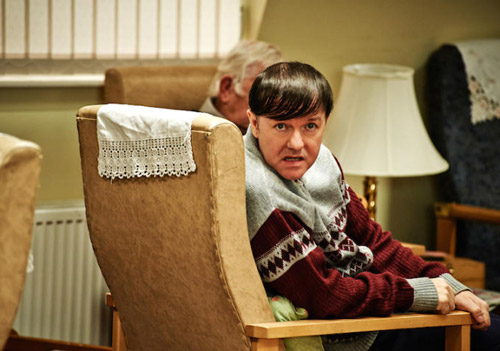 So much love for 'Derek' still flooding in. I guess because it's on Netflix it's always there for word of mouth to help people discover it.

Can't wait to fly to LA to lose another Emmy next month.


18 JULY 2015
After just a week editing 'Special Correspondents' we already have a big long watchable movie. The first cut is really no more than a rough assembly. Basically, everything we shot put together in script order. It's coming in at about 2 hours 10, which in my humble opinion is about 30 minutes too long for a comedy. Now, I have to be ruthless and unsentimental to make a film that really skips along.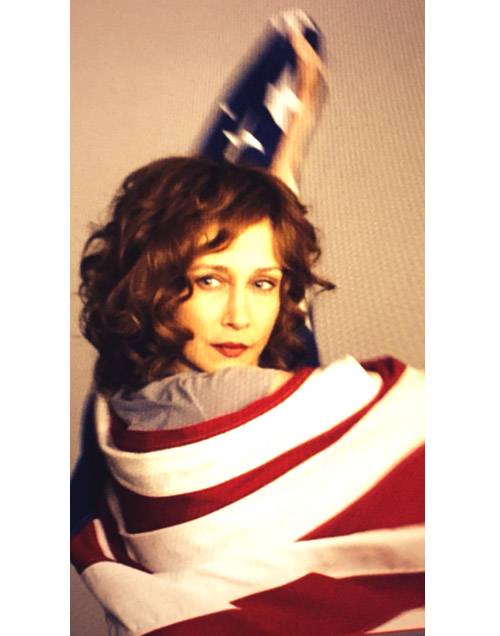 I also started casting 'Life On The Road' this week and the response from actors wanting to audition has been overwhelming. Started planning the towns Foregone Conclusion might visit on their tragic tour too. Surely they have to pass through Swindon.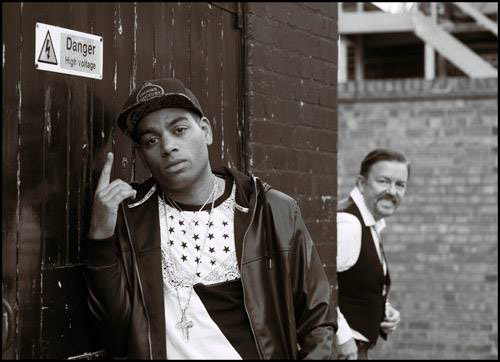 Finally, 'Derek' got nominated for another Emmy. What a perfect way to say goodbye to that lovely little chap. My bestest week ever.



2 JULY 2015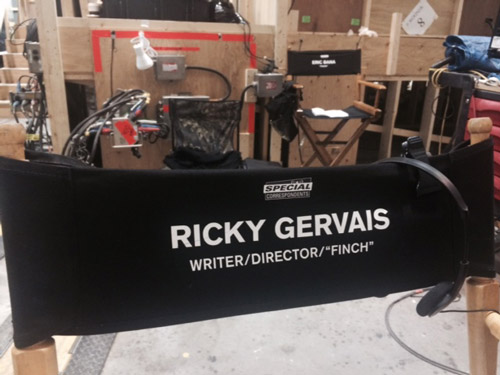 So that's principal photography completed on 'Special Correspondents'.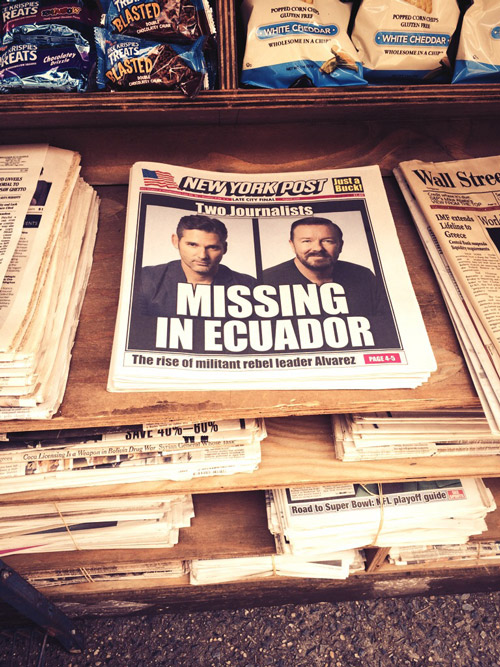 It really couldn't have gone much better. Just a three or four month edit now in London. It's lovely knowing you've got so much amazing stuff in the can to cut and polish. I reckon I'll have about 150 minutes to tighten to a pacy 100 minutes. I used to get a bit sad about losing so much material, but then I realised you're not really losing anything; you're gaining a great movie.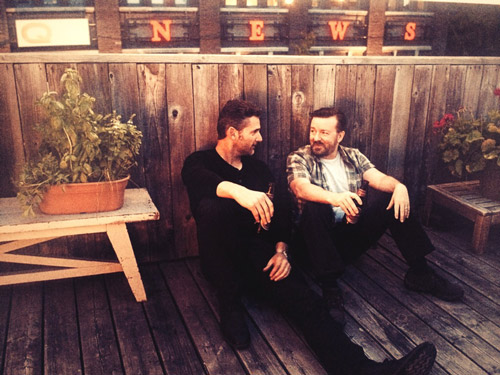 Towards the end of post-production on this movie I start pre-production on another movie; 'Life On The Road', featuring the irrepressible David Brent.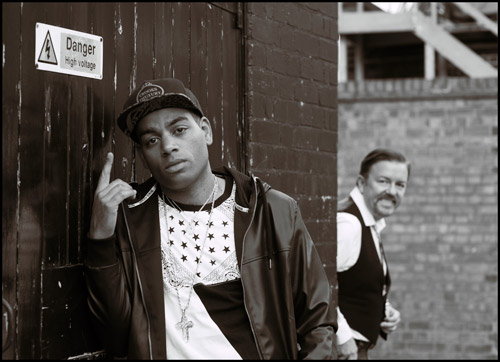 The script is in good shape with wall-to-wall funny scenes, but you still have to make sure it's justified as a movie and not just a feature-length episode of a TV show. You also need to keep the low fi charm of the quaint docu-soap. It's a tricky one but it's invigorating putting the whole thing together.


19 JUNE 2015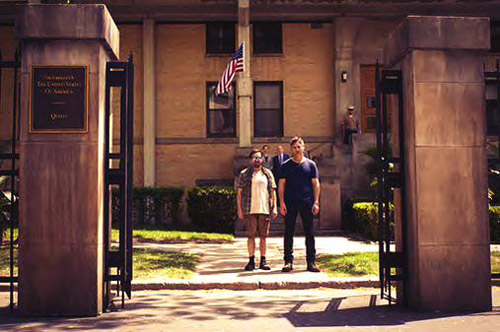 Only a week or so before I complete principal photography on 'Special Correspondents' and it's turning out better than I imagined. The cast have brought such a weight and beauty to the characters. I think if the script is good and you cast well you actually have to try to ruin things to make a bad film. Whereas if the script is no good and the cast isn't great all the best efforts in the world can't make a great film. I can't wait to get properly stuck into the edit.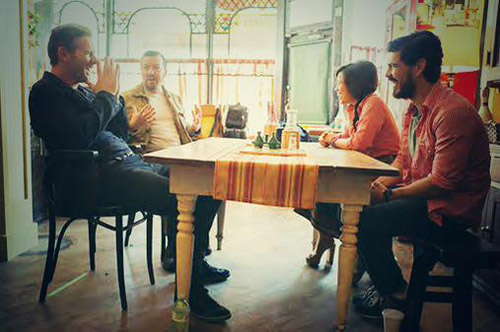 'Derek' has been put forward for EMMY consideration again - for 'Derek - The Special' and voting started this week. We have to be in the movie category though. Yikes! Although when the 'Extras Special' was in the same category I won best actor. So there's hope. Not a lot of hope. But a little.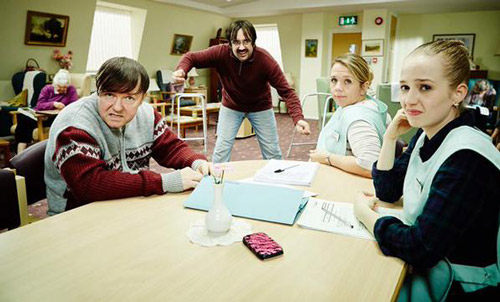 Anyway, in the meantime I have to finish filming this movie, have a week off in New York, then fly to London for editing and pre-production on 'Life On The Road' which I hope to shoot before Xmas.



8 JUNE 2015
Half way through filming 'Special Correspondents' and the experience just keeps getting better and better. The cast are simply amazing.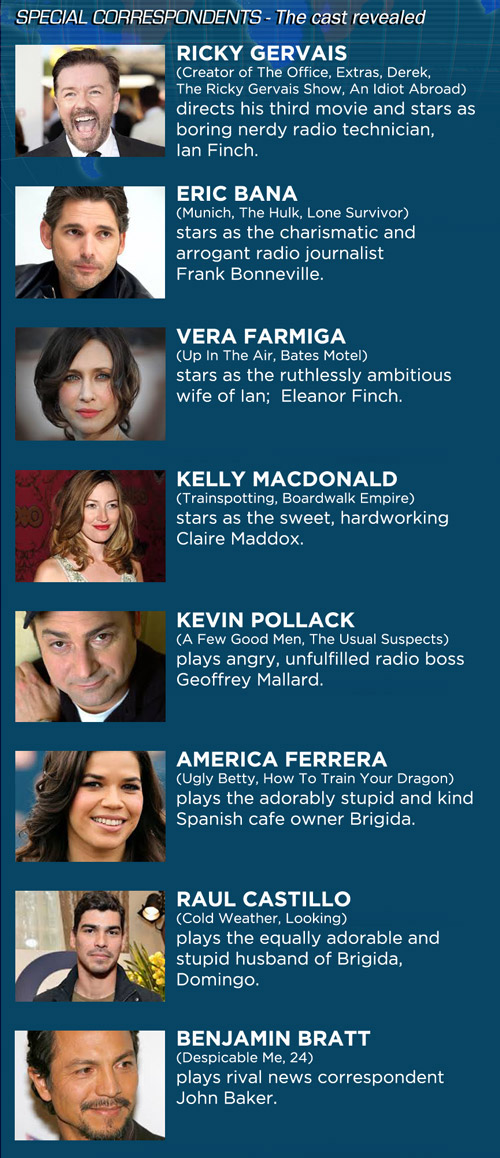 I'm a very lucky boy that such esteemed actors want to work with an idiot like me. I think it's because the hours are so good.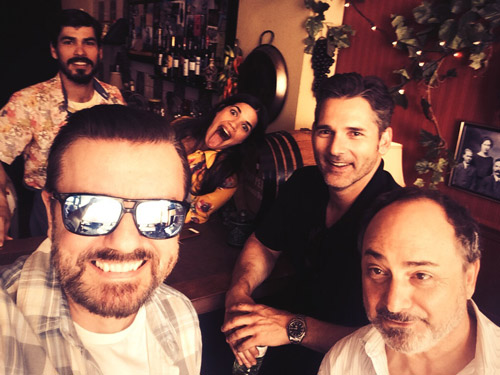 (Kevin wants me to tell you that he's doing that face on purpose by the way.)


25 MAY 2015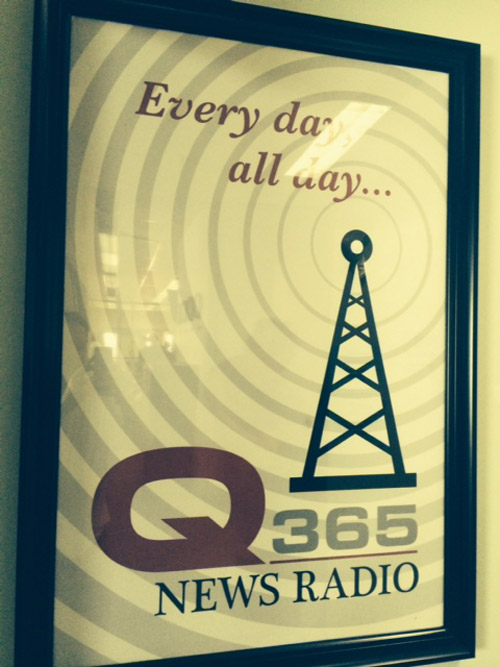 Week 1 of principal photography on 'Special Correspondents' complete.

We're on budget and on schedule. Oh, and it's turning out fucking brilliantly. It's definitely my most ambitious project so far and it could well turn out to be my best.

I think I'm getting the right mix of "real" and "funny". It's still very character driven, but there're also a lot more plot and story twists than I usually go for.

It's not a typical Hollywood broad comedy but hopefully you'll love the characters and their adventures. It looks cinematically beautiful too. Apart from when I'm in it, obviously. The crew are great and the cast is amazing. But you'll be the judge of that.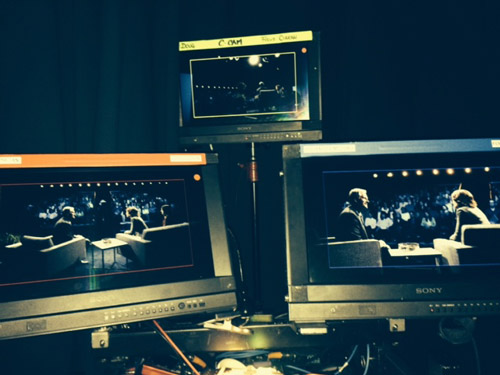 19 MAY 2015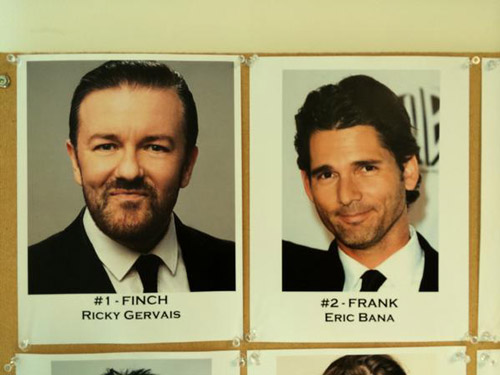 I start shooting my latest movie, 'Special Correspondents' this week. It feels different than anything else I've done before. Grander. More ambitious.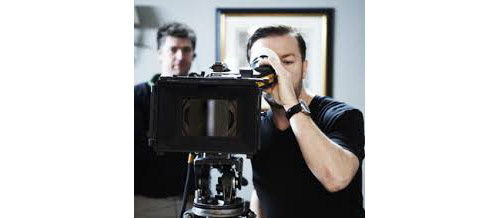 Or maybe it's because I know how hard it is now. When I started it was all about just having fun and getting my own way. But now that's not enough. It's enough for ME, but everyone else seems to talk about other things. How much it cost. How much profit it made. Who had a melt down on set. It's so hard nowadays for me to just get time to play. I wrote it. I'm directing it. I'm in it. And I'm Executive Producer. I know every tiny detail of funding, casting, fees, politics and marketing.

I'm not complaining. It's just that I have to work twice as hard just to not work too hard. Haha. Anyway, here's to 'Special Correspondents'!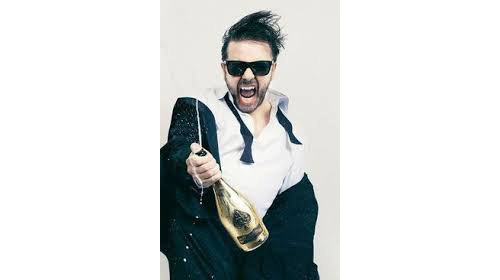 12 APRIL 2015
That's the end of 'Derek'. He's not dead, so never say never, but for now I must bid the little guy farewell. I've hung up his cardigan. Just like The Office and Extras, two series and a special. I sent him off in style though with a Television Academy screening of the feature length finale in a packed out Paramount Studio in LA.


The response was amazing and was followed by a Q & A hosted by the brilliant creator of 'Arrested Development', Mitch Hurwitz.

So now it's 'Special Correspondents' all the way. You may have heard the great news that Netflix have waded in an bought the exclusive rights for the movie worldwide. As the new Godfathers of entertainment they made me an offer I couldn't refuse.

I've got my crew together and I've nearly finished casting. I start shooting in May and I can't wait. There is nothing more invigorating, scary, challenging and rewarding than directing a movie set in Manhattan.

Hope I keep my cool and do Britain proud.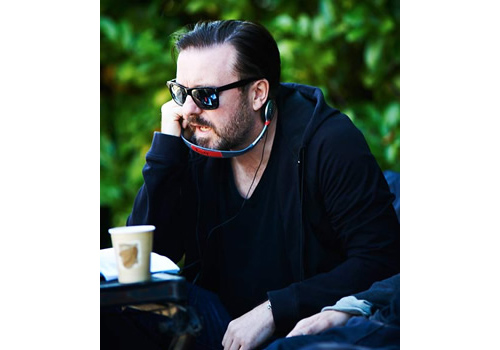 17 MARCH 2015
I start pre-production this month on 'Special Correspondents'. I'm really excited and my anxiety dreams should kick in next week.



I have to interrupt proceedings for a few days to do a bit of promo for the 'Derek' special which launches on Netflix, April 3rd.

I'll pop up on Jimmy Fallon, Ellen, Conan and of course I won't forget my little friends Opie and Jim at Sirius. Also there'll be billboards and an online campaign to look forward to and then get sick of.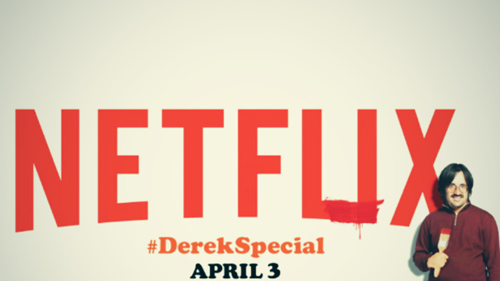 I'll be editing the movie through the late summer in London ready to start pre-production on 'Life On The Road' in the autumn. I'll be filming David's Rock and Roll extravaganza all over the Thames Valley and Cardiff, which according to Brent makes it an international tour. Big Time!



10 FEBRUARY 2015
'The Office' was voted best TV show of the last twenty years. It's good to know it still has some active fans after all these years. It gave me a little spring in my step as I started on the second draft of the
Brent movie
.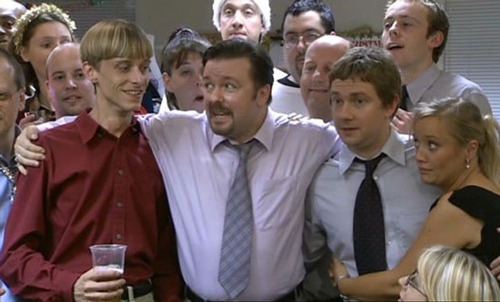 Why not
buy a T-Shirt
before they run out and we print some more.
30 JANUARY 2015
I have finished the first draft of the David Brent Movie: 'Life On The Road'.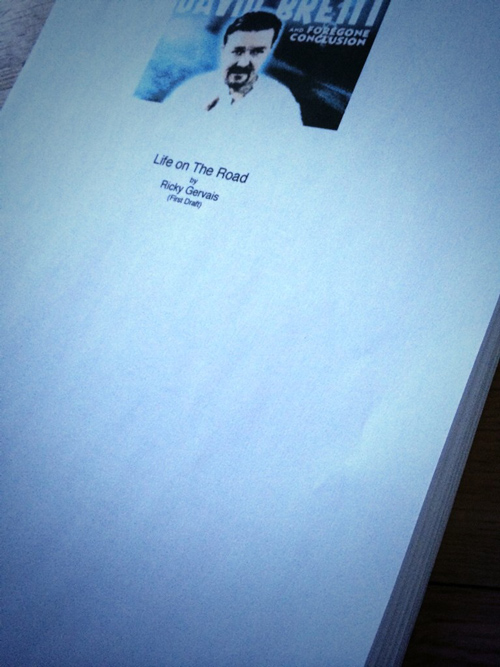 Start the celebrations! No, actually, wait. I've just remembered that such a milestone constitutes about 10%; of the whole journey. It feels great getting back into this particular saddle after nearly fifteen years since it all began. Well, the first episode of series one of 'The Office' aired at 9:30 p.m. on a Monday night, 9 July, 2001. Obviously the concept existed sometime before that. The BBC pilot was shot in January 2000, and a pre-pilot was shot a couple of years before that.

The pre-pilot was shot in a day in the "real office" that I worked in for eight years from 1989 to 1997. My English teacher told me, "Always write about what you know." Possibly the best advice I've ever had. Or at least the best advice I've ever taken.

I had David Brent as a character from about 1995 I'd say, and he was based on people I'd met throughout my adult life.

The very first scene of the series, where he is talking to the fork lift truck driver, is based on an interview I had at a temp agency when I was seventeen, in the school holidays. He was in his mid-30s wearing a bad suit. His opening sentence was, "I don't give shitty jobs;" I just looked at him and nodded. He said, "If a good guy comes to me," (he pointed at me to let me know he already knew I was a good guy), "and says, 'I wanna work hard because I wanna better myself', then I will make that happen." He phoned his friend and at one point said, "Yes of course he's eighteen;" then he winked at me and did the Pinocchio nose mime. (It was nothing to do with fork lift truck driving; it was for work in a warehouse). I never saw him again, but I used to do impressions of him as I told the anecdote over the years. He was the very first Brent I can remember. There have been many since.

Most of them have been on 'The Apprentice.' David Brent doesn't represent evil, or nastiness or even ignorance. He's just a little out of place. Out of time. His worst crime is that he confused respect with popularity. He wanted both but concentrated on the wrong one. He didn't really know what people wanted of him. He shouldn't really have worried about that at all. He just tried a little too hard.

He wasn't a bad man. In fact he was quite a nice man and I have a real affection for him. I like all my characters I play or create, to be honest. I don't think you should ever feel above the role or sneery towards them. Comedy is above all about empathy in my opinion and I think as an actor, the more you empathize with a character, the more engaging he will be to an audience. It doesn't mean he has to be perfect or squeaky-clean, but he must have his foibles planted somewhere in humanity. And at some level he has to be vulnerable. David Brent was certainly that. Insecure, eager to please, and needing constant positive feedback.

This is why it made total sense to have him crave fame. Throughout the 90s, I'd been watching an awful lot of those docu-soaps where everyday people are followed and become minor celebs. 'Hotel', 'Airport', etc. It started off quite sweet with nice normal people getting a bit of recognition for being funny or interesting. But then of course, people started acting up to be "discovered" and get their fifteen minutes. By the time 'The Office' came along, 'Pop Idol' and 'Big Brother' had made being famous the shortcut to happiness for every wannabe in the country. This trend is not slowing down either. A recent university study asked British ten-year-olds what they wanted to be when they grew up. They answered "famous".

But 'The Office' was not about media in any way. It reflected some of the symptoms of a society fascinated by celebrity, but it was truly about real, everyday people. I resisted saying normal people because I feel it wouldn't be interesting watching a program about "normal" people. Particularly in Britain. We love the peculiar. 'The Office', like many other sitcoms before it, finds humour in a dysfunctional family. The reason why we find this both funny and comforting is that we all belong to a dysfunctional family. If you don't, there's something wrong with you.

The dysfunctional family in 'The Office' had a lot of children. Namely the men. Men as boys and women as adults was a recurring theme. This is funny because it's true. Men don't really grow up. And a man who is meant to be in charge and a role model acting like a big kid is even more ridiculous. This is why it was important to always keep Brent in the work environment. He should know better. If he's on holiday or at home he can do what he wants. But when he's meant to be leading by example and he acts like a twat, it's pathetic. This is the "sit" in sitcom. It's all about the situation. Take that away and everything changes. Add a film crew that captures every faux pas and you've got 10 times the embarrassment. And embarrassment is the greatest English fear of them all.

The fake documentary element was absolutely essential. It reminded us why everyone was acting the way they did. It heightened consequences, and above all, it made the audience connect. Brent being embarrassed is one thing, but as soon as he looked down the lens he brought us all into it. We felt his pain. And we liked it. Sort of. You could either laugh at him thinking, "There but for the grace of God go I," and feel good about yourself. Or you could be saying, "Oh my God. I do that," and realize you're not the only one. And so feel good about yourself. It's a theory.

Gareth is even more of a fool than Brent in many ways. And even more immature. There's a very good reason for that. He's based on the kid I went to school with. I talk about him in most of my stand-up shows. He's the one who said that when you get captured by cannibals, before they kill you and eat you, they show you pornographic pictures so you get an erection and there's more meat to go round.

He also once put a crab in a pint of beer on holiday, because I told him, as a joke, "When a crab is drunk, it walks forwards."

And Tim is based on a guy I used to work with, mixed with Norm from Cheers, a little Chandler from Friends, and a touch of Oliver Hardy. Stan and Ollie feature in all my work really. The blind leading the blind. Both thinking they're with an idiot. Both right. Both struggling. And both needing each other to survive. Beautifully precarious.

They could fall at any moment. But just for us they get back up again.

Who needs winners? They're not the slightest bit funny or interesting. Give me a loser any day. Anyway hope you keep watching. Remember, a good idea is a good idea forever.

21 JANUARY 2015
So the feature-length version of the 'Derek Special' finale is finished and will come to Netflix on April 3rd.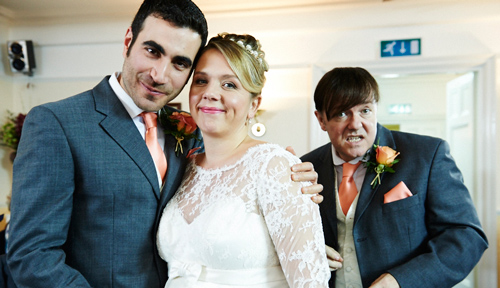 I can now just concentrate on two screenplays.

'Special Correspondents' is in great shape and we're sort of in pre-pre-production now. 'Life on The Road' is halfway there and I've got about nine months to finish that. At least I know all the songs work thanks to a few gigs last year. Looks like I'll be filming 'Special Correspondents' in May/June and depending on the edit I'll hopefully be able to film 'Life On The Road' by the end of the year.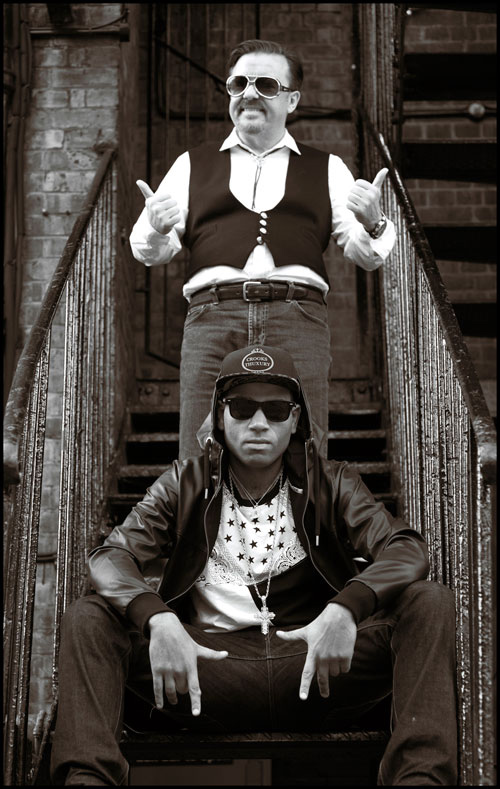 I'd also love to do a few stand-up gigs to workshop a new tour but this is looking more and more unlikely. Sorry I brought it up.
Here's
some old shit instead
.
15 JANUARY 2015
So I lost another Golden Globe.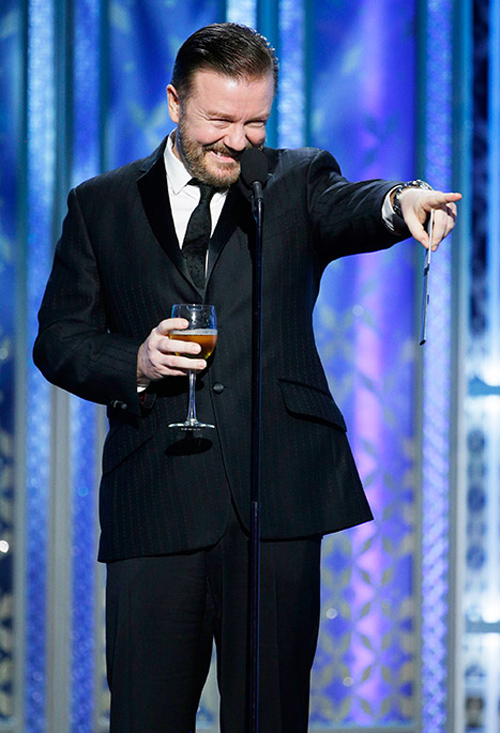 That's 8 nominations with 3 wins. And that's not bad compared to my Emmy record of 21 nominations and 2 wins.

Still, mustn't grumble.

I had a blast. It was a fun night, but as always after appearing at any award show, I had a fast jet waiting to get out of town and I'm now in Toronto scouting locations for my next movie, 'Special Correspondents'.

In temperature terms it feels a bit like traveling from Venus to Mars in shorts. I love Canada though. It's in my genes. And so are my frozen balls.


2 JANUARY 2015
Happy New Year!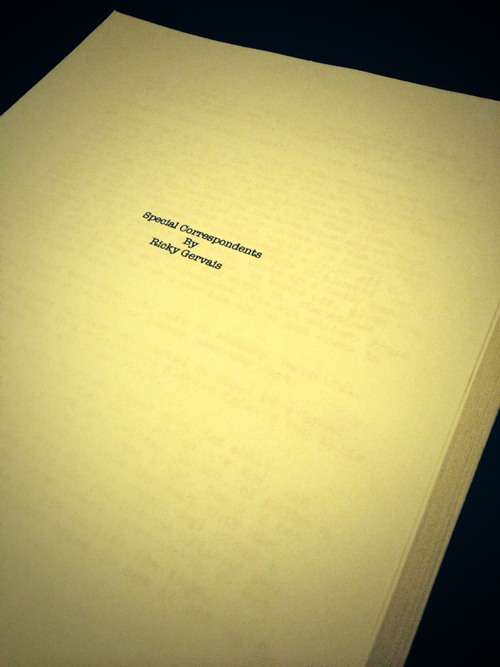 Completed the final draft of 'Special Correspondents' today. I'll still hone it and change my mind up to and during the filming process, but this will act as the script we give to all the heads of department.

We've basically started pre-pre-producton now, which is when I need to start putting my team together. DOP, set designer, costumes etc.

Next week I'm popping to LA for the Golden Globes and straight after I start looking for locations all over North America. I bet I find some good ones within walking distance of my Manhattan apartment.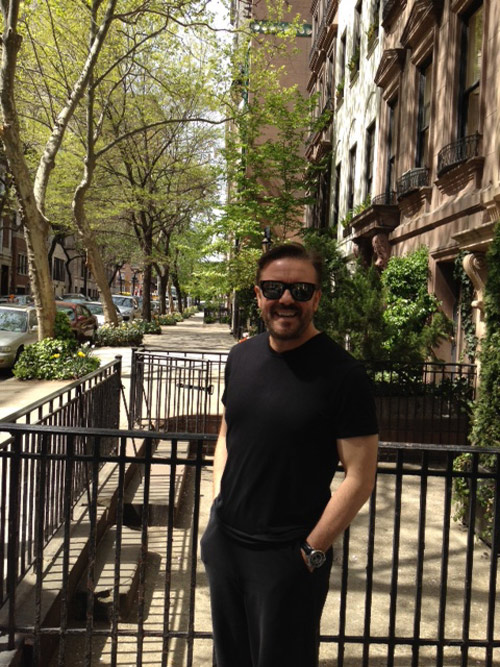 Hopefully I'll be filming April/May and I'll try to keep this blog going to record the process for anyone who's interested. The anxiety dreams should start soon too.

But first, "A night of partying and heavy drinking. Or as Charlie Sheen calls it... breakfast."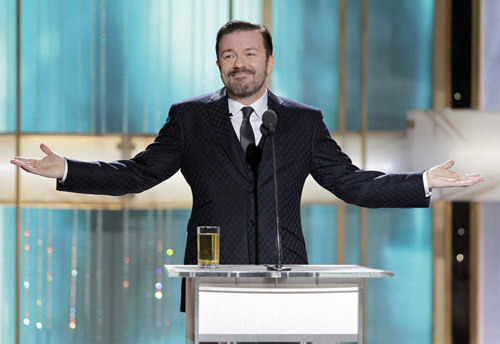 28 DECEMBER 2014
Christmas is over. Back to work.

As you may have heard I wrapped up 'Derek' in the same way as 'The Office' and 'Extras' after two series and a special. Even though the UK got it first with its airing on Channel 4, the good news for Netflix viewers around the world is that you will get a longer version, which in my opinion is even better. Not sure on the launch date yet but I should know very soon.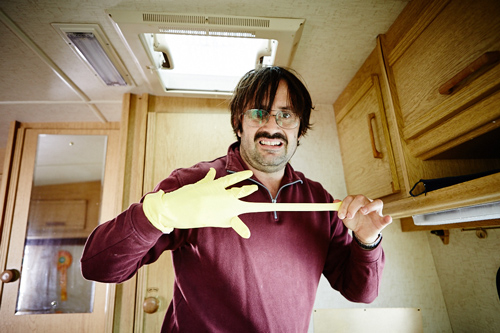 It's been quite a year to be honest, with 'Derek' series 2 getting nominated for both an Emmy and a Golden Globe. The last British comedy to manage that was 'Extras'. I'm off to LA in January and I may invest in a corset to squeeze into my tux which I foolishly bought before Christmas instead of after.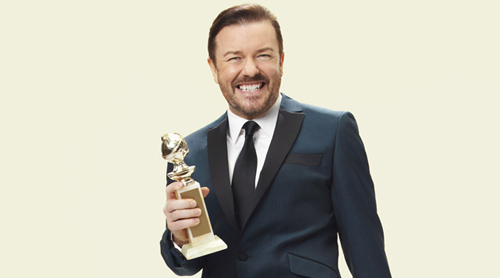 I then start pre-production on my next movie 'Special Correspondents'. I'm writing and directing it, and also starring in it with Eric Bana.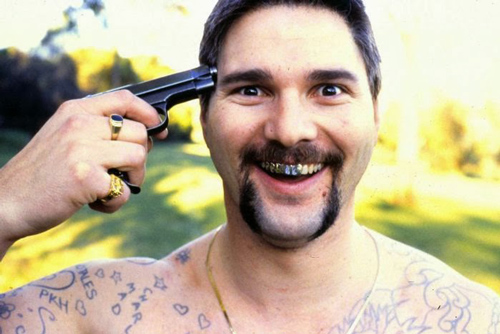 I'm going to shoot in New York and Toronto and then edit in London. When that's finished I'll start on the Brent movie 'Life on The Road'. Then it's Christmas again.



14 DECEMBER 2014
Quite a week.

I got nominated for another Golden Globe for my role as Derek. As my old nan used to say, "I'm over the cunting moon."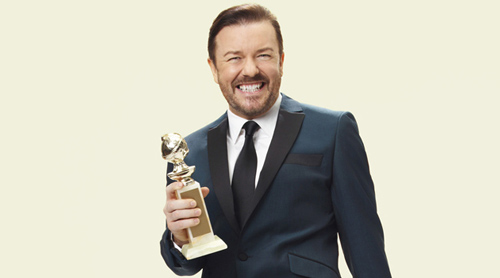 I have an affection for the Golden Globes.

I guess it all started in America for me because of them. A couple of weeks after the final episode of 'The Office' aired in the UK, I was flown to L.A. by the BBC to attend the Golden Globe Awards.

I nearly didn't go as I thought it was a long way to travel to lose. And I was quite sure that that was exactly what was going to happen.

Arriving on Saturday 24th January, the day before the ceremony, I had to go shopping the morning of the awards for something to wear. It wasn't Armani, it wasn't made to measure and it wasn't even given to me for free. Didn't they know who I was? No. Hardly any of them did. Anyway, the new outfit did the job, so now I could get this pointless exercise over with. Jane and I got back from the shopping mall and immediately had to get ready. It's nice putting on a tux with jet lag in 90-degree heat. We left the hotel at about 2 p.m. and I hadn't had lunch. I got the limo to stop at a garage on the way and I got a family pack of some sort of Cheesy Wotsits. I ate these in time to get out to the red carpet. Jane pointed out that I now had orange hands and lips. I washed in the ice bucket and tried to get some of the gunk off my teeth and gums with a tissue. We wondered if the girls from 'Desperate Housewives' in the limo next to us were doing the same thing. Maybe. They did all look a bit orange when they got out, but it was probably a tan rather than monosodium glutamate.

To cut a long story short, the unthinkable happened and 'The Office' won the Golden Globe for best sitcom.

I made a rambling impromptu speech and of course forgot the name of the organization that awarded the honour. Little did I know how many times my name would be linked with the Hollywood Foreign Press in the future.

Moments after, I won the Golden Globe for best actor in a comedy, I made another rambling speech and was swept off to do loads of interviews.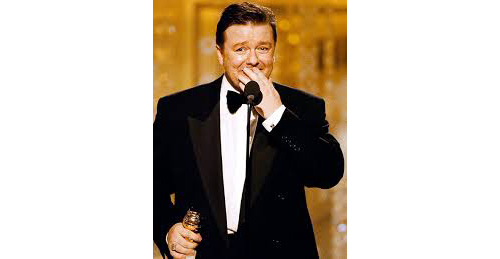 I can't remember any of the the interviews to be honest, but I remember thinking it was one of the most surreal and important nights of my career. It still is.

The next day I shot my first dramatic role in the TV show, 'Alias.' I still haven't seen the episode but I've heard it came out okay.

The same week, I started negotiations on a U.S. remake of 'The Office.' That came out okay too. And I was called for an audience with the team behind 'The Simpsons.'

Matt Groening asked if I'd like to appear in the show. I said, "What are the hours?" He said, "The hours are great." I laughed and said, "I'm joking. Of course I want to be on the show. It's the greatest show in the world."



Later, Al Jean asked if I wanted to write the episode too. I said, "Yes."

A lot happened that week in January 2004. The effects of which are still being felt. I was asked to host the Golden Globes in 2010. I guess it went okay as they asked me to host it two more times. It's been three years since I last hosted and I'm starting to think I might even like to do it again one day. But for now it will be nice to sit in the audience getting drunk while someone else has to work for the night.

I've won three Golden Globes so far but this nomination for 'Derek' is probably the one I'm most proud of. I don't know why. I think it's that deep down I think that 'Derek' is nominated as opposed to me. Maybe I'll attend as him. Haha. Just hugging everyone on the red carpet. It's a plan!


1 DECEMBER 2014
So, I've nearly finished editing the Derek Special, and it's coming together just swell.

Just like with The Office & Extras, it ties up the saga nicely and is probably the most uplifting and hopeful episode so far. It's probably the best storytelling too as you get more time to explore plots and characters.

There are also a couple of big surprises, but I don't want to give you any clues. Here's an exclusive pic though...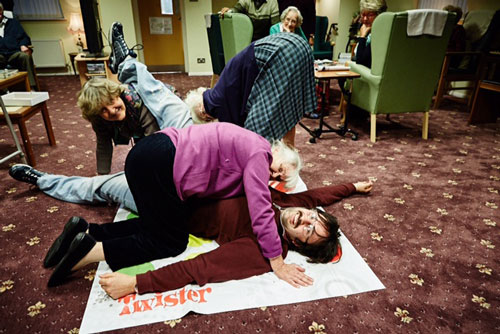 22 NOVEMBER 2014
I've finished principal photography on "Derek: The Special" and have started the editing process.

It will be shown in December on Channel 4 in the UK and the rest of the world next year on Netflix.

It probably went better than anything else I've ever done and was quite a bittersweet experience. So much fun but sad that I'm ending it.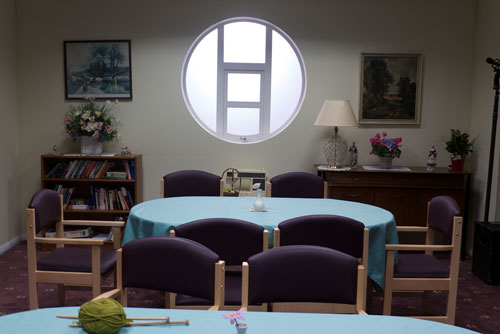 I have to interrupt editing for a week to pop over to New York for the world premiere of "Night At The Museum: Secret Of The Tomb" and then back to London for Christmas.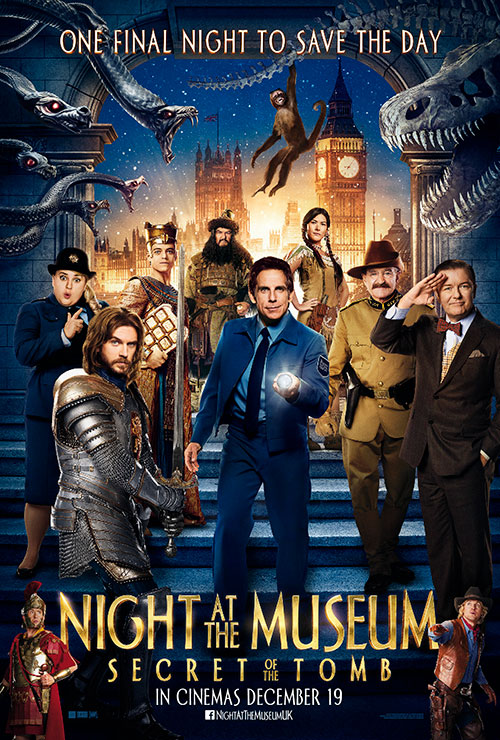 In the new year I start pre-production on my next movie "Special Correspondents". I'm writing and directing and starring opposite the mighty Eric Bana. No pressure.



9 NOVEMBER 2014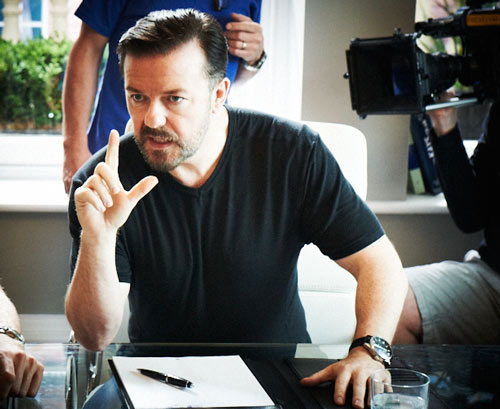 As you may have read, I am writing and directing a new movie next year called 'Special Correspondents'. [Read more about it at
Total Film
]

It stars myself and Eric Bana as a couple of news radio employees who do fake war reports from the safety of a Spanish restaurant in the heart of Manhattan. (Convenient)

After this is shot and edited I'll film the David Brent movie.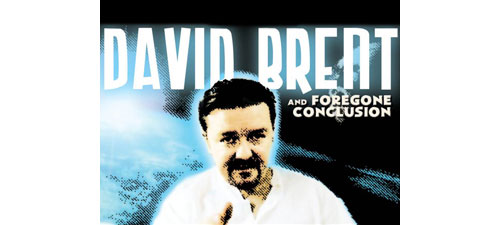 Then I'll probably do a stand-up tour. In 2018 I will sleep.
Before any of this I'm filming the final chapter of 'Derek' in the form of a one-off special. (Why change the habit of a lifetime?) It's a bittersweet experience as always. I'm sorry to end it but I know that leaving something you love and starting something else is always the best thing to do creatively.
Don't forget to order the DVD. [
Amazon UK link
]
Merry Xmas.
22 OCTOBER 2014
So I recently announced that I would be doing this blog to document the complete process of making a movie, from conception to release.

A film's life cycle, if you will.

I thought it would be an interesting read to budding writers or directors or just a fluffy read for fans of The Office. Oh, and that's the point; it was specifically concentrating on the up coming Brent movie, Life On The Road.

However what I seem to be proving is that I can't just focus on one project. I never do. I'm usually doing three or four things at once. This is because I do everything myself.

Usually, an actor can flit from project to project never having to worry about funding, distribution, writing or editing. I've been working on something for a year before I film it, and then a year after by the time I've edited it and run around the world screaming "Please fucking watch this film wot I made!"

My point is this blog seems to be about all the diversions and other projects I seem to be doing while trying to concentrate on the thing I'm actually meant to be doing. That's interesting too I hope.

Anyway, this week I finished writing the Derek Special and then jumped on the furniture to celebrate. Just like Tom Cruise.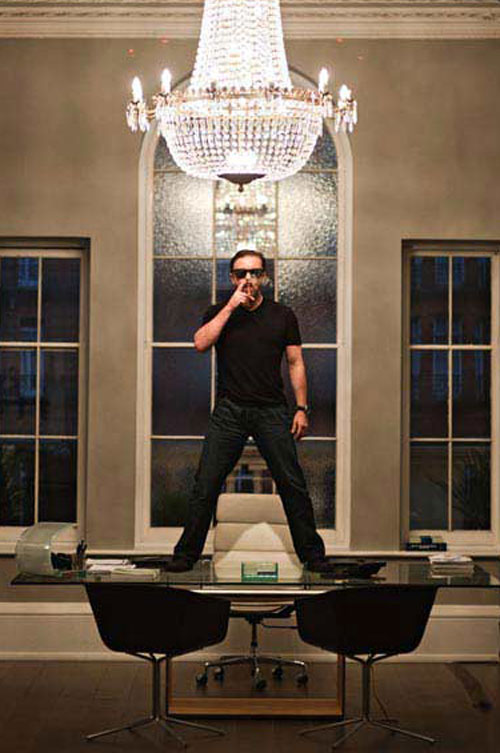 27 SEPTEMBER 2014
So, things that stopped me from writing the David Brent screenplay this month included...

A ridiculously fun cameo in the brilliant new ABC comedy musical Galavant. I play a medieval rock & roll wizard who basically hands out psychedelic potions to get people off their tits. He also sings. He turned out like a mixture of David Bowie and Kev from Derek. I loved the wig.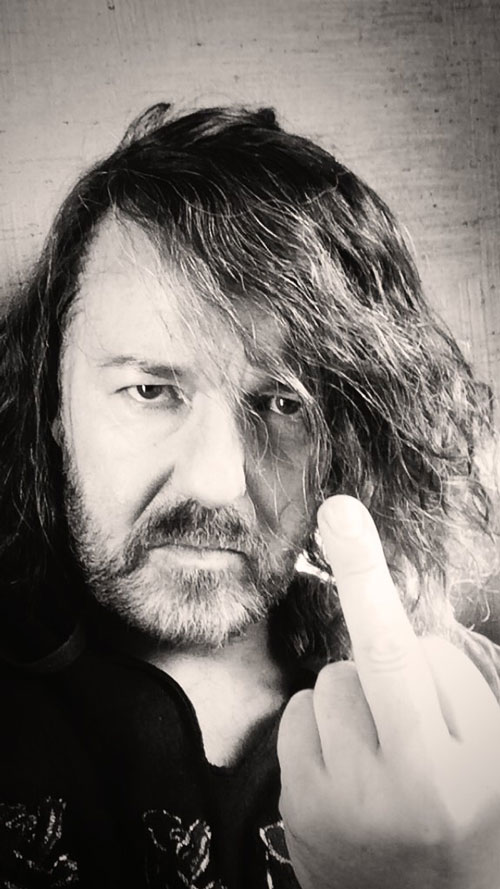 A trip to beautiful Vancouver to add final touches to Night at The Museum 3.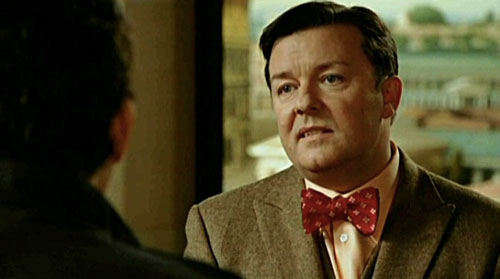 Again, pure fun. Dr McPhee is such an odd little man. I like him. He just has absolutely no social skills. His heart's in the right place though. Like Brent I guess. Which reminds me, I have to write a screenplay.


14 SEPTEMBER 2014
The trouble with announcing you're going to do a blog documenting the process of making a movie is that when you've done fuck all for a week there's not much to write about.

I should point out that I haven't just been getting drunk on a beach somewhere. I just haven't done a lot of writing on the Brent project.

That happens sometimes.

I've been working on a Derek special actually. I did toy with a third series, particularly after the Emmy nod, but I decided to stick to my usual formula of two series and a special.

Anyway, that's why I haven't made much progress with 'Life On The Road'. I did write a new song though. It's called 'Native American', and it's David's insightful look at how the North American Indian has been treated. He basically used Wikipedia and then made stuff rhyme, but I'm pretty sure that's how Bono does it these days too.

The difference is, Brent tries to sell his songs and not just give them away, willy nilly. He does have similar taste in Cuban heels and glasses though.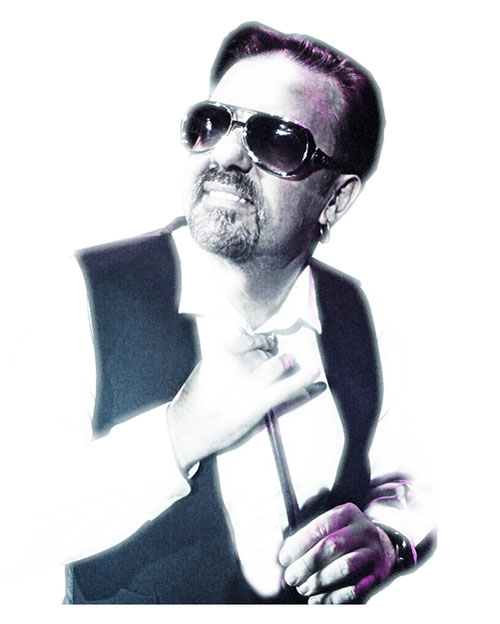 5 SEPTEMBER 2014
Creativity is the ability to play.
"If you find a job you love, you'll never work again." Winston Churchill.

To be honest, I never really thought being a comedian was a job. I always thought it was something one did to avoid getting a job.

Now I've realised it is a job. It's the best job in the world. Everything is part of the process. Even Twitter.

I got a tweet once that read, "Rick, you're worth £80 million. How can you spend so much time on Twitter?" I replied, "You've just answered your own question."

My answer was of course a flippant joke. I don't really believe having money is why I can waste time. I actually believe that being on Twitter isn't wasting my time. If I'm responding, inflaming, provoking, offending, defending... then, I'm thinking. That's always a good thing.

But the best thing is just playing. Just playing; mucking about for the hell of it.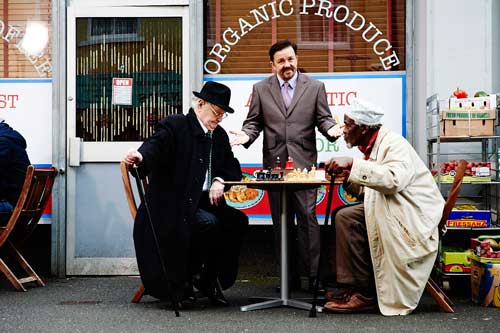 Although, I could technically count that as work. Dicking about should be tax-deductible for me.

Let me explain. Scientific studies of creativity have basically concluded that it can't be taught, as it is a "facility" rather than a learned skill. Putting it very crudely, creativity is the ability to play. And, to be able to turn that facility on and off when necessary. This makes perfect sense to me. Everything I've ever written, created or discovered artistically has come out of playing.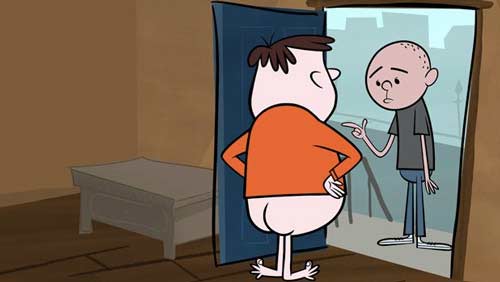 Stephen Nachmanovitch said that, "Creative work is play. It is free speculation using materials of one's chosen form."

Basically mucking about with the stuff you have in front of you. Experimenting with it, seeing what happens, and keeping the stuff you like I guess. In fact Scott Adams said, "Creativity is allowing yourself to make mistakes. Art is knowing which ones to keep."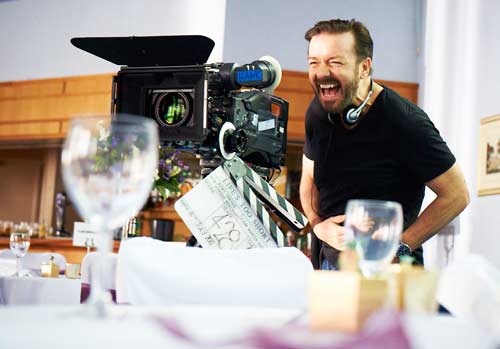 You have to let yourself go to be creative. Children possess this quality but then seem to lose it as they are told, "it's not the done thing". Pablo Picasso summed it up well; "Every child is an artist. The problem is how to remain an artist once he grows up".

The answer is simple. Never grow up. I don't mean don't become an adult with responsibility and the weight of the world on your shoulders. I simply mean if you're writing or directing give yourself enough time to play. Play the fool. Goad. Shock. Laugh. Trip over something that isn't there. Try something. And never be afraid to fail. That failure is useful too. It's just another building block.

Fame can curb your playful streak in the same way as adulthood, as it's another form of societal pressure. This is dangerous as comedy at some level always has an element of undermining normality. The reason fame can stifle this is because reputation suddenly matters more. Now, it's not just some idiot annoying everyone in the pub, it's that idiot Ricky Gervais. I didn't care about strangers thinking I was an idiot before because they didn't know me. Now, they think they do. But, I've realised something. As important as reputation is in this case, it's still only what strangers think is true about you. Character is who you really are. Only close friends really know you and that's all that counts in the end.

It doesn't mean you're not more careful though. Tiny things can get taken out of context and you're often on your guard with this in mind. There seems to be a real 'us and them' battle with artists and critics. An artist moaning about critics is like a fisherman moaning about waves. Tough. They're there. They're there because artists are there. And in some cases vice versa. I think that's because there's limited space for successful creators.

It's no lie that some critics have never tried or have failed at the thing they now offer 'advice' on, but that doesn't mean that some of them aren't right sometimes. Some great ones are right a lot of the time. And yes there are some great critics. Sure, there are shitty critics. But fuck me there are shitty artists too. There are artists so shitty they couldn't even be critics (that's a joke by the way). You could say, "what's the point in critics?" Good question. I'd like to answer, "no point at all" to be honest. But actually I think there is a point to them, and it's this - they simply add to the debate. Just like chatting with friends, just like this little thing I'm writing now.

The point of art is to make a connection. If people talk about it, it's succeeded in a way. People have assumed that, because I don't listen to critics, or take studio notes or whatever, that I think I'm perfect and have never made any mistakes. This could not be further from the truth. Making the mistakes is the point, is the fun, is the important bit. But they have to be my own. The writer Rita Mae Brown said, "Creativity comes from trust. Trust your instincts. And never hope more than you work." The only difficult bit about this is getting final edit. So much creativity is stifled by people who 'know better', or by fear of failure, and before you know it, your goals have been twisted and you've forgotten what you set out to do.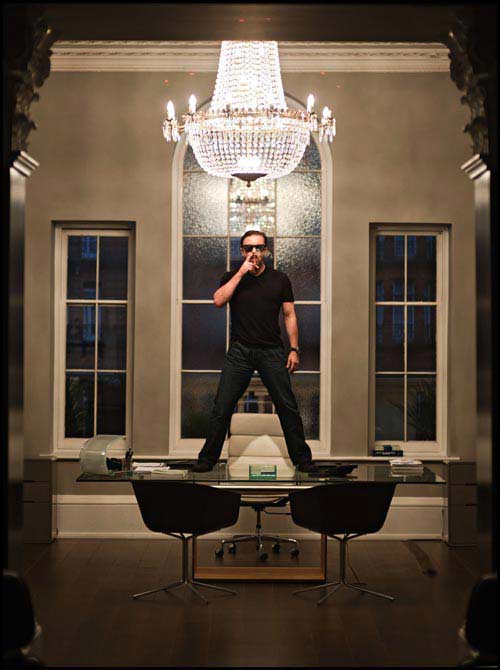 I know many journalists in interviews have considered me combative, defensive and pedantic. They'd be right. But I bet they've never been misquoted. It's infuriating. And I'm careful in interviews because that's the last bit of influence I have on the result. They have the power of the edit. With Twitter I'm much more laid back because my side of the story is out there in black and white too. There's a lovely equality about it.

Everyone is famous on Twitter. Everyone has their platform. There are downsides to this and sometimes the internet seems like everyone is just emptying a drawer out of the window, but that's freedom of speech. You can't censor things based on quality. Nor should you. To each his own. I've been critical of this sort of non-regulation in the past and I think I described forums and chat rooms as graffiti. Well maybe Twitter is just another big toilet wall, but there's as much clean space and spray paint as you'll ever need. What are you going to do with it? Create something or destroy someone else's picture?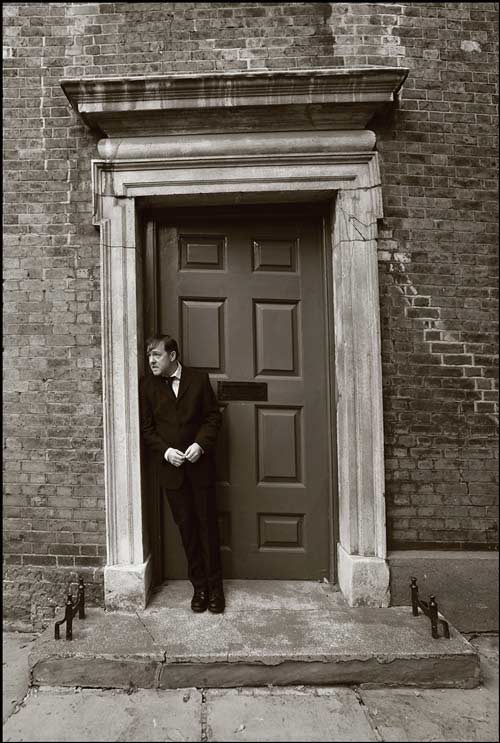 2 SEPTEMBER 2014
Fiction at its best is role play for the soul. Heroes triumph. Villains get their comeuppance, and no one in real life gets hurt. It acts as an emotion simulator that prepares us and sharpens our instincts for the real thing.

Humour helps us through adversity and comedy is a training ground. Personally, I love the comedy of recognition. I'm quite a slave to realism because I think it makes everything resonate a little more. I don't mean everything has to be tediously pedantic. I just mean naturalism draws us in more. It helps us empathise and suspend our disbelief.

This is why I think that my number one rule is to "write about what you know". Not just to be technically factual in your observations but actually to infuse your moods and hopes and dreams into the characters. And most importantly your failures.

Comedy at its most dangerous exercises your fears and failures more than your joys and successes. Pathos is a very powerful tool in comedy. Particularly when coupled with a character's blind spot. David Brent wants to be loved. He thinks fame is an easy shortcut. When you realise this, pretty much everything he does and says is funny. Or excruciating. Either way, it's amusing.

My personal favourite episode of The Office is Training Day, when Brent gets the guitar out. I sat through hundreds of days like that when I worked in an office, and coupled with my failure as a musician, this episode was both an exorcism and exhilarating. It proved a hit combination with the audience too and I still get more comments about that ep than any other.

To cut a long story short, all these reasons are why I'm using Brent's musical ambitions as the main theme of his comeback.

This is the blog that documents the movie from script to silver screen.

The film's title, by the way, (also the title of one of Brent's rock anthems), perfectly reflects his two jobs; Cleaning Product Rep. & Touring.

This is "Life On The Road".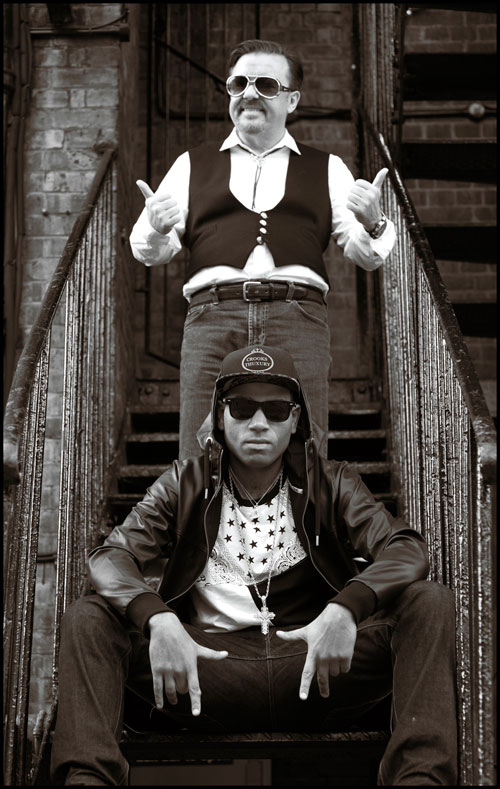 30 AUGUST 2014
It's probably been obvious that, what with Twitter, Facebook and Instagram, this blog has taken a little redundancy package of late.

Thoughts, news, charity appeals, and bath pics are all so short, sweet and instant these days, However, I actually started this blog a few years ago to log the complete process of making a movie from beginning to end, and did. That's why the URL address has "This Side Of The Truth" in it. (The working title for The invention Of Lying.)

Anyway, I thought I could bring back the more detailed blogginess to document the David Brent Movie: the writing process, funding, casting, filming, editing and eventually PR. That way, only really hardcore film buffs/comedy fans need to visit without unwanted spoilers permeating all social media.

I will now tweet this blog to gauge interest. In the meantime, here is the latest photo of the man himself...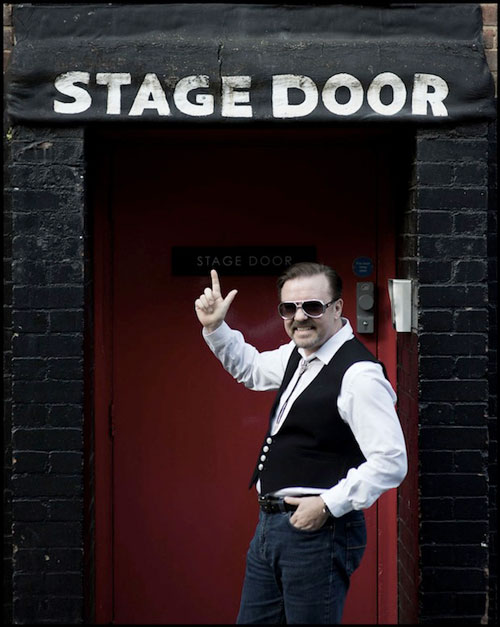 Ricky's prior blog entries continue
here