With two amazing prizes up for grabs thanks to our friends at
Posteritty
we've had a staggering 2,876 entries in our latest Derek competition!
The star prize is a limited edition minimalist print of Derek, Dougie and Kev signed by Ricky Gervais, Karl Pilkington and David Earl.
Star Prize - limited edition print signed by Ricky, Karl and David
The runners-up prize is the 'crabs' print by
Posteritty
, signed by Ricky Gervais, Karl Pilkington, David Earl, Kerry Godliman and Brett Goldstein!
'Crabs' print, runners-up prize
These prizes have generated a huge amount of interest and the two winners have really got themselves something special. A huge thank you must go to Posteritty for donated the prizes, and to Ricky Gervais for arranging them to be signed by the cast of Derek.
So how could you win them? I asked followers of Tadpole Hitler to tell me their favourite scene from Derek, and the reason why in under 100 words.
Ricky Gervais has read the entries and today I have received the names of the two lucky winners. So without further ado, it's time to announce them.
The winner of the exclusive, signed 'Derek, Dougie and Kev' print is Reid Mansell. His favourite scene from the show is Derek and his father sitting together for the first time, and here is why:
"My dad, a wonderful father, left when I was seven. I never knew why. I'd played that scene in my mind my entire life. What would I say? How would I feel? Would the sound of his voice melt the years and pain away? Derek's anger, resistance...battling an underlying longing to connect.
"I was transfixed. Watching, begging Derek to accept him, forgive him while completely understanding the wall Derek had built. The wall won, his father walked away.
"When the car stopped I wept. I would have done the same thing. My dad died in 1992, I never had the chance."
Thank you for sharing that with us Reid – a deserved winner. Ricky was looking for honesty, sincerity and a personal viewpoint, and he certainly felt that with your entry.
The runner-up in the competition, who will be sent the 'crab' print is Craig Wing, whose favourite scene was Kev's final monologue:
"In an otherwise perfect series I'd often questioned Kev's behaviours/motives, thinking him too big a
caricature to hold a place in my fanboy-heart. His final monologue however (episode-6), gave Kev
context, proving me wrong. His confession to "failing because he never tried" reflected my own life.
I re-watched the series, seeing depth and subtleties in Kev I'd initially missed; testimony to both
a layered script and performance. It's my favourite scene because through Kev I saw myself. I'd
become content with unhappiness and stuck in a rut. I'm yet to write "twat" on a crab though, so
there's still hope."
Congratulations Craig and a big thank you to everybody who entered the competition. I know Ricky found it incredibly difficult to choose the winners, but like with every competition, a decision has to be made.
---
Week two hundred and fifty-four - April 2013
---
Went to my
first and second ever basketball games
this week.
I'm absolutely hooked. I'm now a devoted Knicks fan. I think I'll draw the line at dressing in blue & orange from head to toe like Spike Lee though.
Bought another guitar for my New York place. I've really got back into playing since bringing Brent back. I've got another 9 or 10 songs to record now, including the finished versions of "The Serpent Who Guards the Gates of Hell" and "Spaceman Came Down"; Racial...so...
Equality Street has had well over 3 million views now on YouTube and 600,000 downloads on iTunes. It's a monster hit. Time to get Foregone Conclusion back together for one last job.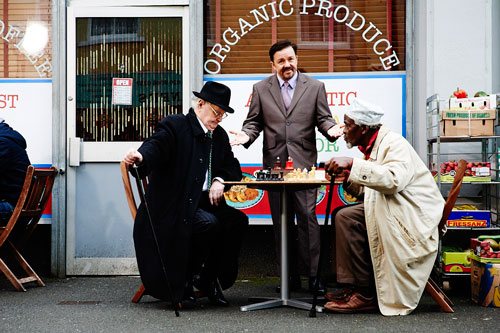 ---
Week two hundred and fifty-three - April 2013
---
The mighty
Bullett Magazine visited me in L.A.
The photo with the dogs may be my favourite photo (with me in it) ever taken.
Wrapped on the Muppets movie.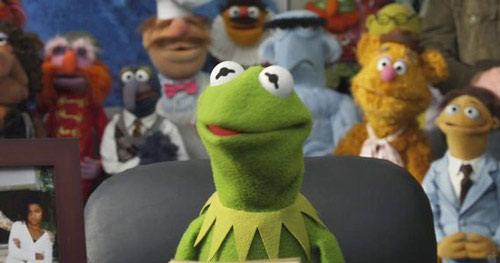 Mixed emotions. So glad we've finished making a great film, but really sad that I'll miss those crazy critters. And some of the humans too. Mainly the critters.
Off to New York next.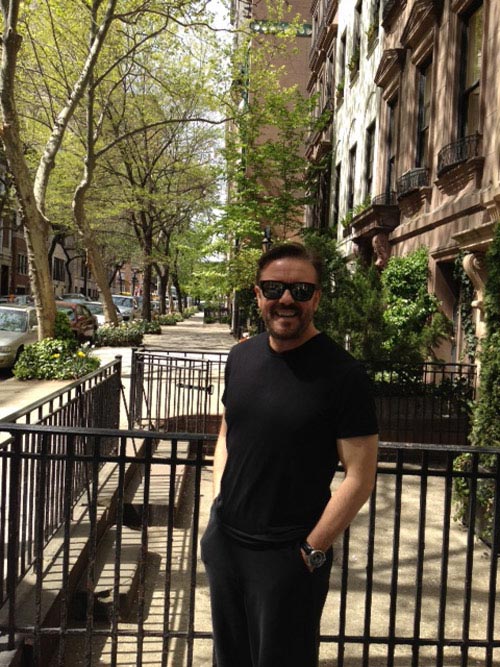 By the way, The Ricky Gervais Show Series 3 is out on May 13th.
[Amazon UK link]
But you can get it early directly from
Warners Archive
if you can't wait.
---
The Derek fan site,
Tadpole Hitler
, ran a competition recently. The first prize was the bedpan that Derek kept his tadpoles in, of course. Now that doesn't seem like a particularly glamorous or life-changing gong; for a chance to win that Holy Grail you simply had to say why you liked Derek. The response was immense and heartwarming.
Here is the gist of it from the fan site blog...

---
Week two hundred and fifty-two - March 2013
---
Only David Brent would have enjoyed the last week more than me.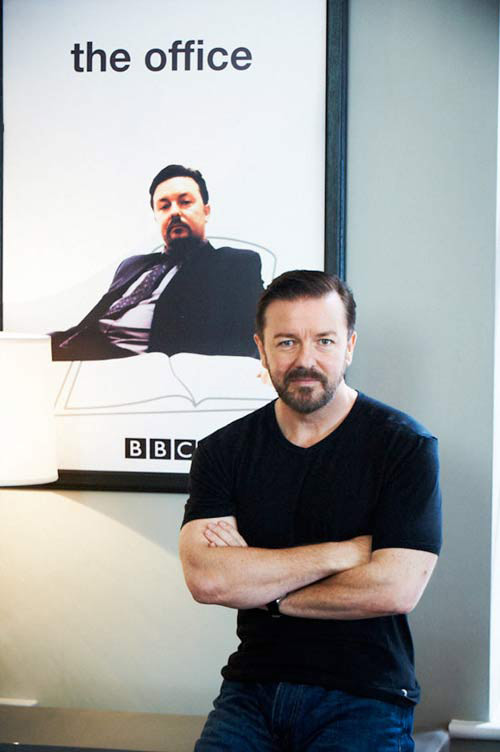 His self-financed video Equality Street has had over 2 million views on
YouTube
and has been downloaded more than any other track this week on
iTunes
. Ridiculous.
If you enjoyed the comeback you might enjoy this little "Making of" documentary
here on my YouTube channel.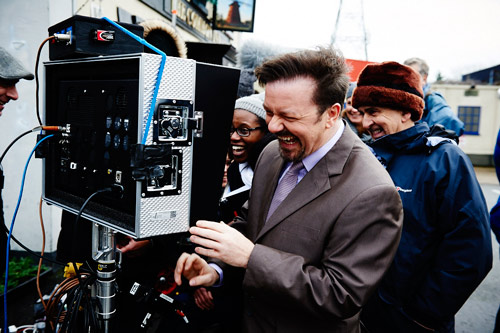 I had a blast
bringing back Brent
.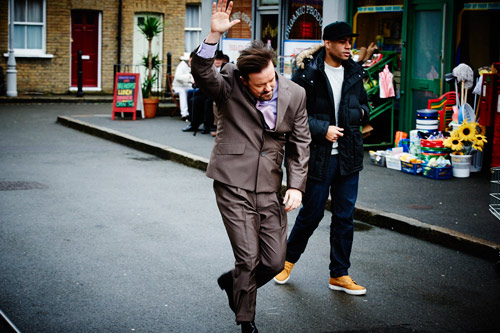 I must admit I have been writing a few more songs for him and I'm actually thinking of releasing another video or two, and maybe even performing some of them live. It might look a bit like
this
. Haha. The effort.
In other news... the Life's Too Short Special will air on Easter Saturday, 30th of March on BBC2 at 10pm.
Warwick has turned over a new leaf and become a better person, and a better agent. It must be karma, because with his change of attitude comes a change of fortune. Val Kilmer wants to do a sequel to Willow and Les Dennis, Keith Chegwin, and Shaun Williamson employ Warwick to get them back to the top.
What could go wrong?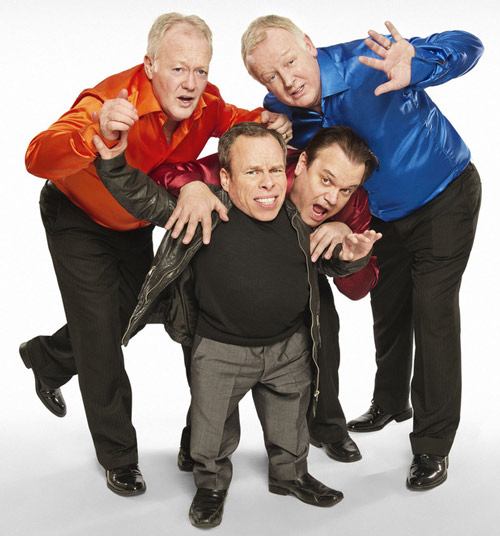 ---
Week two hundred and fifty-one - March 2013
---
So the first series of Derek had finished its run on UK TV.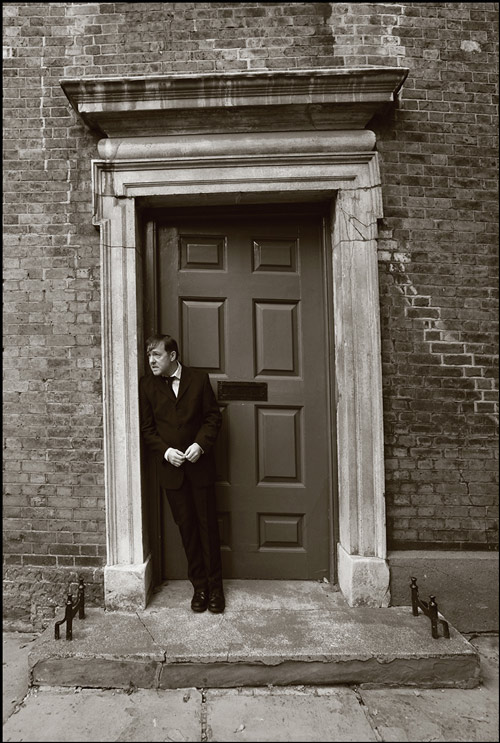 The emotional response to the show grew steadily each week and the reaction to the finale is still going on. I've never had a reaction like it to be honest.
Not even The Office Xmas Special seemed to have people declaring that they cried their eyes out for the whole episode. Also, what's amazing about the response to Derek is all the admissions like, "I hated it at first and now it's my favourite thing you've done."
I think this may be a reflection of social media too, obviously. People know they are telling me what they feel directly so they want to be honest about a personal response as opposed to a colder critique. I must admit I am most proud of the emotional response to the characters and themes of the show as that was by far the most difficult thing about it.
It was nearly impossible to try to cram as much depth of character and story as The Office or Extras into 7 minutes less each week. I had to use broader brush strokes and cut to the chase. I did this by concentrating on one plot line and one main theme each week. I think the people who liked the show the most, understood this the most.
At the end of the day though, the average person doesn't sit and analyse if, and then why, they liked something or not. I liked it. I laughed. I cried. And that's the end of it for most. And why not? It's entertainment when all is said and done; not philosophy or religion. It filled half an hour and then I watched something else. That's good enough for me.
I started making notes for series 2 today. So exciting starting again. And daunting of course.
But anyway, before that we have the return of David Brent.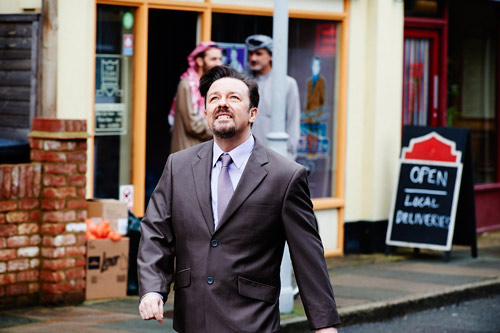 Watch clips
here at youtube.com/rickygervais
then check back for the whole sketch and Brent's self-financed pop video on Friday 15th March at midnight - after it's aired on Comic Relief.
---
Week two hundred and fifty - February/March 2013
---
You may have heard that I'm bringing back David Brent for Comic Relief. It's been 10 years since we last saw him, so I thought it was time to revisit my most famous comedy creation to find out what he's been up to for the last decade and most importantly what he's up to now.
In the new mini episode - The Office Revisited - we find out that David hasn't given up his dream of making it in the music business.
The documentary crew find Brent selling cleaning products to offices, pubs, restaurants and anywhere else with toilets, floors and staircases. It's not a glamorous job but it funds his real passion: music. Brent is managing acts now.
He's passing on his wisdom to younger would-be rockstars now and is living vicariously through a young performer, Dom Johnson. Well, really he is trying to worm his way back into rock and roll. Fans of The Office will be excited to know we finally get to hear the whole of 'The Serpent who Guards the Gates of Hell' and an amazingly cringeworthy, self-funded video 'Equality Street'. Horrendous.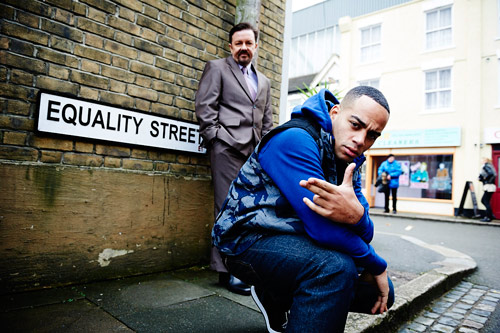 The Office Revisited will be shown on Red Nose Day on Friday 15th March on BBC One. A trail of the new episode is on the new Ricky Gervais Youtube Channel. Watch the teaser trailer and an exclusive clip now...
youtube.com/rickygervais
---
Week two hundred and forty-nine - February 2013
---
I never thought Twitter could be a full-time hobby. It's not my fault. Tweets to me have doubled since Derek started airing and I am so genuinely overwhelmed by people's comments that I'm trying to reply to all of them. It's nearly impossible but it's the thought that counts, right?
I've honestly never had a reaction like it. Maybe if Twitter had been around during The Office's heyday I might have experienced something close to this before, but it's been mental.
The fan art and all the strange little homage Twitter accounts are not only very flattering, but really creative and funny.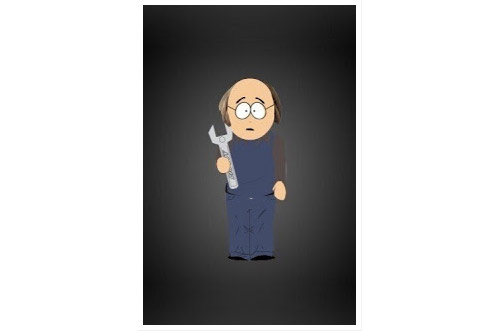 I would show you some but I'm too lazy. Luckily, the first and most eminent fan site
"Tadpole Hitler"
, has done all the work for me. Enjoy.

The interviews with the cast are great, and yours truly is doing one next week.
---
Week two hundred and forty-eight - February 2013
---
So, The Muppet Movie is unbelievable fun. No surprise there. What is a surprise, is how you bond with puppets. I actually find myself thinking about them and laughing at something they've said. Like it was their idea to say it?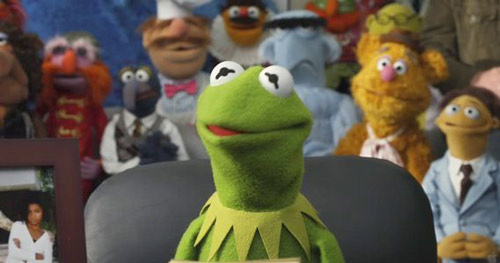 I know you shouldn't have favourites, but I love Pepe & Constantine. I've said too much.
Derek continues to pick up devoted fans. Thank you. There's a real cult nature to it. I don't mean in a scary "I take half their salary" way. I just mean, people are quoting it and starting their own fan sites and stuff. It's a nice feeling.
I'm picking up a vibe similar to half-way through the first series of The Office. Although the ratings are slightly better actually. The Office got an average of 1.5m for the first series, which is about what Derek is getting on the night. But because of 4OD (Channel 4's catch-up service) its episode average doubles that over the week.
TV habits are changing. Which is why Netflix is perfect for a show like Derek. For anything slightly fringe or culty or a just a bit different, word of mouth is everything.
One of the most frequently asked questions is "Is it scripted?" The answer is "Yes". A lot of people thought The Office was improvised too. This is a testament to the wonderful naturalist acting from the cast. Karl has surprised a lot of people. He's also caused the conspiracy theorists to raise their heads again, saying 'We knew it. An Idiot Abroad is scripted too then." Haha.
Here is a picture of Karl & David learning their lines.
Here's a sneak peek of Episode 3
(By the way, the frog in this clip actually belongs to Karl. He was showing Jane and me round his new house and I spotted it in the garden. I said "We're using that in Derek." And we did.)
---
Week two hundred and forty-seven - January/February 2013
---
As I am currently filming the new Muppet Movie I am unable to do any chat shows or radio interviews to publicise my new show, Derek. It starts on Channel 4 in the UK on Wednesday the 30th of January and airs later this year around the rest of the world on Netflix.
Luckily, we conducted an interview on set with the main cast and transcribed it into the following blog which The Huffington Post will now publish to its hundreds of millions of wonderful, intelligent, comedy-loving readers.
-----
I should start by saying it's very difficult to talk with any certainty of mutual understanding about a series which hasn't aired yet, but I'd like to give a couple of pointers. Here goes.
Is Derek a comedy or a drama? I get asked that a lot. Even after people have seen it.
I say, "What do you think it is?"
They say, "Well I laughed a lot but I cried as well. I'm just not sure if it was a drama with funny bits or a comedy with sad bits."
I usually then say, "Derek is whatever you think real life is. Is your life a drama with funny bits or a comedy with sad bits?"
The answer doesn't matter really. What matters is if you enjoy it... for whatever reason. Because it made you laugh, because it made you cry, because it made you think or even because it made you angry. Ha ha.
As long as it made you "something".
For me, personally, it's my favourite thing I've ever created or worked on. I love Derek more than any other character. In fact, I wish I were more like him.
I wish everyone was. It's a show about kindness. It's funny and sweet and deals with the real issues of everyday life. I don't think I've seen anything quite like it. The performance that Kerry Godliman gives as Hannah may be the finest piece of character acting I've seen. And Karl Pilkington as Dougie makes me laugh every second he is on screen. Kev played by David Earl is a lovable train wreck. You wont know whether to hug him or take him to the vet to have him put down. The uncaring outside world popping in and out will boil your blood and the residents will break your heart.
Ricky Gervais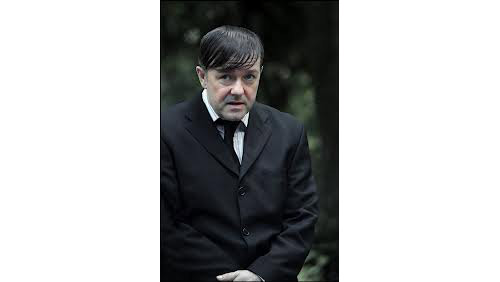 Q: What inspired you to write Derek?
A: Everything comes from character. The Office came from David Brent, and Extras came from Andy Millman, and this comes from the character of Derek.
Q: Is his care home a world that you know well?
A: Yes. Half my family are care workers. My sister works with kids with learning difficulties. My sister-in-law works in a care home for people with Alzheimer's. And four or five of my nieces work in old people's homes. I always write about what I know. I worked in an office for 10 years, and so I wrote about it in The Office. For the last few years I've been working in the media and dealing with fame, and so I wrote about that in Extras. Cab drivers always say to me that there's a great comedy to be written about cabs. They're right. But they should write it, not me, because I don't work in a cab and they do. It's irresistible to want to talk about what you do.
Q: Where does the character of Derek come from?
A: He was originally a satirical stand-up device. He sees things very differently from the rest of us. He can say funny things because he does it will innocence and sincerity. He is like us when we were eight. He is like us before we discovered lying and competition and selfishness and started to shut up when we were excited in case it looked uncool. He has everything sorted.
Q: What are Derek's key qualities?
A: At one point, Kev says, "In the past, I lied, cheated and took the shortcut. But if it wasn't for Derek, I'd be dead." Derek is scruffy and people dismiss him. But he has taken the only shortcut that works: kindness. He is pretty perfect because he possesses the only thing that matters, which is kindness.
Q: Is kindness one of the predominant ideas behind this show?
A: Absolutely. If there is a theme, it's kindness. Kindness trumps everything. And that's why the main characters have to be outsiders and losers. They all have to be deficient in everything except doing the right thing. They're still better people than you if you're not kind. Derek is so non judgmental but he sees through bullshit too. He only has one agenda- "What's the right thing to do?" And he doesn't even know it's an agenda. He's just "good" and nothing takes his eye of the ball. He sums it up in episode 6 when he says "I don't think it matters if there is a god or not. I've met people who believe in God that are good and that are bad. And I've met people who don't believe in God that are good and that are bad. So, just be good. I'm good. Not cos I think I'll go to heaven but because when I do something bad, I feel bad. And when I do something good, I feel good."
Q: Can you please explain the situation of this comedy to us?
A: In any sitcom, there have to be two ingredients. The first is that the characters have to be trapped, either literally or psychologically. Look at Porridge or Bilko or Steptoe and Son. The other ingredient is that the characters have to be a family, either literally like The Royle Family or Only Fools and Horses, or metaphorically, as in Dad's Army. They have to be fighting outside forces together. In Bilko, for instance, they have the attitude that, "We're all in this together. It's us against the world." While in Only Fools, they are joining forces to fight the economy.
Q: So what are the characters in Derek struggling against?
A: They're fighting the outside world. They often say, "No one cares". So I have a lot of uncaring intruders coming into the care home. A council man comes in and he clearly doesn't care. And sons and daughters drop off their parents, and immediately start looking at their watches. They are all outsiders who don't care. They are a stark contrast to the people who work in the care home.
Q: What is the family at the heart of this show?
A: The residents and the care workers are one big family. Dougie is the dad, Hannah is the mum, Derek is the good son and Kev is the disappointing son.
Q: Did some reviewers' knee-jerk criticism of the pilot annoy you?
A: Yes. People criticised the show before the pilot, but that was because they hadn't seen it. Everything I have done has polarised people, but I wouldn't have it any other way. I hope that watching Derek might help viewers reassess their attitude to older people.
Q: Do you think Derek is a great role model?
A: Definitely. Superheroes fight evil, and in Derek I wanted to create a superhero who leads by example. He's terrified by spiders, but he would never harm one. He says, "I could never hurt a living thing." He is the same with people. He's so sweet - out of the mouth of babes.
Q: Should we all aspire to be like Derek then?
A: Absolutely. He is the best person I know. He's better than all of us. He's funny and sweet and kind and sincere and helpful and enthusiastic and honest, and that trumps everything he isn't. I love Derek!
Karl Pilkington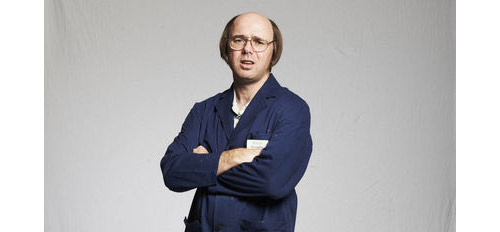 Q: How did Ricky recruit you to play the role of Dougie?
A: We were out having something to eat and he said to me, "I'm doing this new series called Derek. Do you fancy being in it?" He's always saying that – he got me to do a couple of lines in Extras. I replied, "It's nice of you to ask, but you know I'm not an actor. Why don't you get someone who knows how to do it?" I felt guilty about the idea of taking the job from a proper actor. But Ricky persisted, telling me, "All you have got to do is be yourself". I thought, "I can do that!"
Q: Please outline your character for us.
A: Dougie is me if I hadn't had any luck. Although he hasn't been very lucky, he always tries his best. Deep down he still knows that life is basically rubbish, but we can't do anything about it.
Q: How does he regard his job at the nursing home?
A: As much as he moans about his job, part of him likes it. It gives him a sense of worth. Like a lot of people, the highlight of his week is Friday when he gets paid. But despite his complaints, Dougie knows he has to keep working. In fact, he thinks that everyone should work. He hates scroungers and people who come to the nursing home hoping to benefit from their relatives' wills. He's always complaining about Britain's Got Talent and people who don't want to work for a living and just look for an easy life.
Q: How did people react to the pilot of Derek?
A: My dad is a pretty good critic – he is not afraid to tell me if he thinks something I'm in is bad. But he really liked the pilot. The show messes with your emotions – it makes you laugh and cry – and there is not much around like that.
Q: What is your take on Ricky as a director?
A: He's incredible. It's amazing how he knows exactly what he wants in every scene. He is able to explain what you're doing wrong, and you just get on with it. It's over before you realise you've done it. It never gets to the point of him screaming and shouting. When he says to me at the end of a scene, "That's all right", I think, "I got away with it again!"
Q: What do you think of Ricky as an actor?
A: Ricky is a brilliant actor. I find it odd watching him act because I know him so well. Even though I know what is coming in every scene, he still does things that leave me with a lump in my throat. I know it's only acting, but it still gets a great reaction. Whenever he does that, I always think, "I can't do that. I'm going to get found out here!"
Q: Do you think Derek can help change society's view of older people?
A: It's a nice thought that after watching this viewers might be more pleasant to old people all of a sudden. It's probably not going to happen. But if this show makes one or two people change their view of older people, that wouldn't be at all bad.
Q: Does this mean a new career for you as an actor?
A: No. This is not a new line of work from me. I'm not looking to become an actor. I still don't feel like a proper actor. Kerry is a proper actress. When you're doing a scene with her, you're looking over your shoulder and thinking, "Blimey, she's really good". The hardest part is remembering the lines and trying not to laugh. Ricky is determined to make me laugh all the time – that must drive the crew mad!
Q: Have you got a lot out of this job?
A: Yes. I've learnt a lot, and it's been a great experience. Ricky has been great. From the start, he's told me, "You can do it. What are you worried about?" I suppose I can't believe my luck. I've got no qualifications, but I've been given this great opportunity and I want to make the most of it. I suppose Ricky didn't go to drama school, either. In the end, if you can convincingly be that person onscreen, what does it matter?
Q: Finally, have you enjoyed working on Derek?
A: Yes. I'm a bit rubbish at knowing when something is good. But if it goes out and I can say, "I wasn't as bad as I thought I would be", then I'll be happy. Until then, I'll be thinking, "I shouldn't be here!"
Kerry Godliman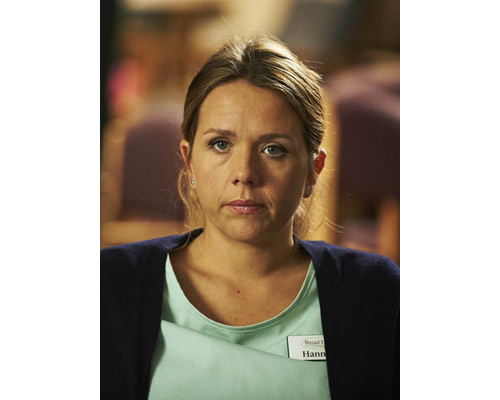 Q: Please describe your character to us.
A: Hannah is the manager of the care home. She is very passionate and devoted to her job. She's a very loving person who doesn't want to judge at all. That's quite a rare trait. It's sometimes difficult to manage not to be judgmental. But Hannah just doesn't judge people at all, and that makes her a very good carer. It also makes Kev's presence manageable!
Q: Are there any similarities between you and Hannah?
A: I'd like to be more like Hannah. It's nice to play her because she is so kind and non-judgmental. Those are characteristics I'm working on in myself!
Q: How would you characterise Hannah's relationship with Derek?
A: They are friends who go back many years and have always enjoyed working together. She adores Derek. They have a very lovely friendship, and she thinks he's a great bloke. Her affection for him is really sweet. What she adores above all else is his selflessness, and she wishes more people would be like him. She has developed this affection for him that he values enormously. They depend on each other - Hannah doesn't have anything outside work. She feels Derek is one of the kindest people she has ever met. There is an absence of that in society, and he should be celebrated.
Q: Could it ever develop into a romance?
A: No. It's a platonic marriage. His understanding of that is not the same as yours or mine, and she could never reciprocate it. But it remains a very sweet relationship.
Q: Is there another love in her life?
A: Hannah is a bit unlucky in love. She fancies Tom and fantasises about a relationship with him, but that doesn't exist beyond her imagination. It doesn't ever quite get going – sometimes things just don't have the wind behind them. She's not enormously confident and gets frustrated.
Q: Do you think it's a good thing that this show does not always deliver happy endings?
A: Yes. I love the fact that Ricky says things are not always going to turn out how you'd hope. That's true of a lot of relationships. It's not due to a lack of will, but sometimes it simply feels like pushing a boulder uphill. Tom and Hannah are very scared of jumping into a relationship, making a horrible mistake and hurting each other. You could have shot them running across Broadstairs beach and leaping into each other's arms like a glossy, traditional love story. But this show isn't like that.
Q: How have you found it working with Ricky?
A: It's been brilliant. He works really fast, so it can go by in the blink of an eye. But there are still tons of opportunities to try out new ideas. Overall, though, we don't take the mick because it's so precisely written. Ricky arrived with the characters really well formed – they were very well fleshed out from the beginning. But we are still able to do loads of improvising. Ricky is so creative – it's a pleasure being able to enjoy his whole world.
Q: What has it been like working on the care home set [in fact, a disused RAF base in Uxbridge]?
A: It's been great. Broad Hill Residential Care Home for the Elderly is a lovely world, and now it has started feel like my world. It felt very warm and magical and cosy. As the shoot has gone on, this has felt more and more like a real creative bubble. It's a very nourishing environment. You feel the benevolence and love and affection between the carers and the residents. There's a lot of tenderness and respect there. That's been great.
Q: Have you enjoyed working with Karl?
A: Yes, it's been really good fun. I didn't know him before, but he is the most unpretentious person I've ever met. I don't know how he has remained so unaffected.
Q: Do you think this series could help to overturn a few stereotypes about older people?
A: Yes, I think it could help audiences view older people differently and be more respectful towards them. I don't think we're very respectful towards the elderly at the moment. We're scared of old age. But people forget that old people were once young. Sometimes you hear youngsters say, "You mustn't swear in front of that old man," but the old man replies, "swearing was not invented just 20 years ago, you know. I wasn't always old." It's about keeping a young mind. We're obsessed with youth in this country, so it is great to see a show like this that celebrates older people.
Q: You also have a very successful career as a stand-up comedian, don't you?
A: Yes, it's great because it means I always have something to fall back on. It makes me more relaxed when I'm acting, because I know if I have a quiet period, I can always go back to stand up. They're both forms of performance, but very different worlds.
Q: You are recording an episode of Live at the Apollo soon. How will you prepare for that?
A: I'll sit on a tiny box in the foetal position for a day, dribbling [laughs]. No, I'm sure I'll have a mild panic attack and then just get on with it. I have played the Hammersmith Apollo before, when I supported Micky Flanagan, and it's a lovely room. Sometimes bigger crowds are nicer than smaller ones, because the laughs spread out across the venue. It can be tremendous fun. It's a great thing to do.
Q: Finally, do you see a long future for Derek?
A: Absolutely. It's not just about Derek and Hannah. It's about all the residents. So many lovely characters reside at the nursing home, and they all have amazing stories. It could go anywhere. There are endless tales still to be told.
David Earl

Q: You still occasionally work as a gardener. What made you switch to acting?
A: Ricky gave me an opportunity, and you have to give it a go, don't you? In my head, I'm still a gardener. So when you're offered a job in a sitcom, you think, "I'll give it a crack, and then I'll go back to the gardening!"
Q: We need to talk about Kevin.
A: Kev is a bullsh*itter. He's lazy, but quite confident. He's like a dog that no one strokes. He just sits in the corner and wants to be fondled, but just gets ignored. I wouldn't want to send my own parents to a place where someone like Kev worked! But he also has a softer side, and he looks out for Derek.
Q: Please tell us more.
A: Kev is also pretty seedy. I do a stand-up character called Brian, and he can be seen as quite sleazy. In his writing, Ricky has taken it to the next level with Kev. He is properly dirty! It's great fun talking about rude bits 24/7.
Q: Are there any similarities between you and Kev?
A: No, not now. But he does remind me of myself in my 20s, when I did virtually nothing, and came up with all these excuses. Then something clicked, and I realised that time was running out. I thought, "I'd best get on with it now", and I did.
Q: Did you do any research into the character?
A: No. Ricky asked me to do a bit of research, but I'm afraid I forgot! The character talks about a lot of dirty things, but don't worry, I didn't go on any unsuitable sites. I just imagine things!
Q: What is Kev's relationship with Dougie like?
A: Kev and Dougie argue all the time, but they're still like brothers. If someone is giving Dougie hard time, Kev will step in because it feels like the brotherly thing to do. They get on each other's nerves, but they will always defend each other.
Q: What are Ricky's strengths as a writer?
A: You just have to look at his past work. The Office is quite good – in fact, its pretty much perfection! Extras is great, too – I don't want to go on because Ricky will get a big head! He is simply very good at his job.
Q: How have you found it being directed by Ricky?
A: He's a brilliant director. I have mainly worked as a stand-up in the past, and I don't necessarily see myself as an actor. But he gives me a lot of room to play, and he doesn't mind if I mess things up from time to time. There's no pressure to nail it on the first take. Sometimes I might laugh instead of being serious, and Ricky will just make that part of the show. I can't imagine what it would be like to work with a stressful director. I think I would walk off and a huff and go home! But we have such a lot of fun making this – and that's all down to Ricky's great skill as a director.
Q: Do you think a nursing home is a good setting for a comedy?
A: Definitely. In fact, I can't believe there has never been a sitcom written about a nursing home before. It seems like the perfect situation. All the residents have these great stories. They're so interesting. They have lived the most amazing lives. They are also incredibly young at heart. One day I had to come in here and tell a lot of jokes from my stand-up set, and one 91-year-old resident in particular really loved it. Often older people are forgotten about. I hope this might help some people change their mind about the elderly.
Q: Do you feel there is potential for more series of Derek?
A: Absolutely. I think there would be lots of new places to take these characters. It would certainly be good fun to go deeper inside Kev's head and see more of what he thinks about. And the friendship between Derek, Dougie and Kev could definitely be expanded.
Q: Finally, what have you learned from doing this job?
A: The fact that you have to overcome your own fear. It's very easy to say no to lots of things. But I've discovered that you have to have a crack at things. You may fail at first, but then you realise that you're not dead and just have another go. I love acting. When you get it right, it's great fun. It's just playing. It also beats digging a ditch, which is what I do with the rest of my life. It's a lot easier than that, I can tell you.
Week two hundred and forty-six - January 2013
---
So, not long now till Derek premieres on Channel 4.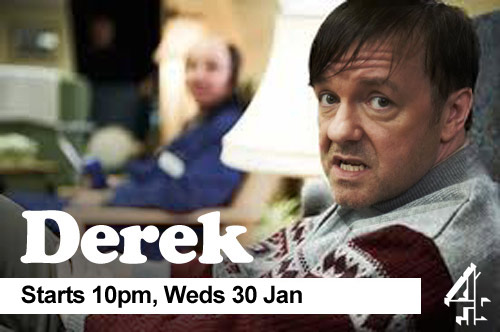 The rest of the world will have to wait a little while and watch it on Netflix. If you missed the pilot or just feel like watching it again, you can now see it on 40D. We've also made a
documentary about the making of the series
...
The trailers have also started airing;
[Trailer 1 - YouTube]
[Trailer 2 - YouTube]
[Trailer 3 - YouTube]
[Trailer 4 - YouTube]
Hope you like it. I'm off to play with some Muppets.
---
Week two hundred and forty-five - January 2013
---
Spent the week in L.A. launching 'Derek' on Netflix and plugging An Idiot Abroad 3 which premieres on the Science Channel on 19th January.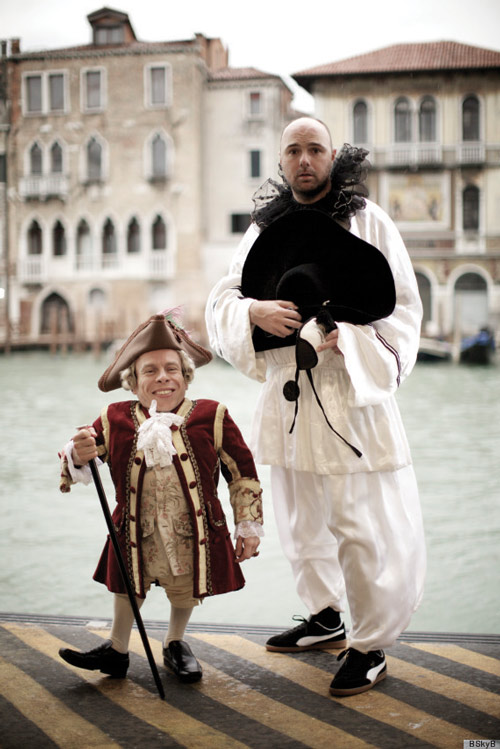 I did the chat show circuit; Ellen, Conan etc, but it always seemed to descend into talk of Bath Pics.
Here I am on Ellen
.
On Conan
we went a step further
.
What a ridiculous job I have.
---
Week two hundred and forty-four - December/January 2012/13
---
You may have read that I have accepted the lead role in the next Muppet movie. I didn't so much accept it as jump at the chance. I fucking love The Muppets. (I'll probably have to tone down my language for Disney.)
We start filming in January. I can't wait. I'll be hangin' with those cuddly little critters all day.

Talking of Muppets, my little social experiment ended this Christmas. The Idiot Abroad specials went down a storm, becoming Sky One's biggest show of the year again.
If you haven't got Sky the DVD is out now in the UK.
[Amazon link]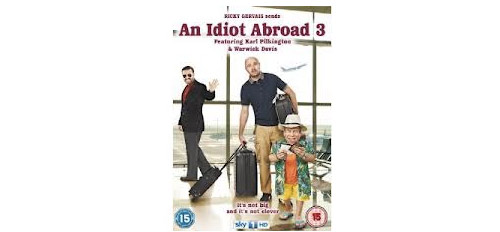 It premieres in the US on Science Channel, 19th January - then around the world in over 150 other territories. It's been a blast. Thank you.
Finally, I cut
a little teaser trailer of Derek
for the internet.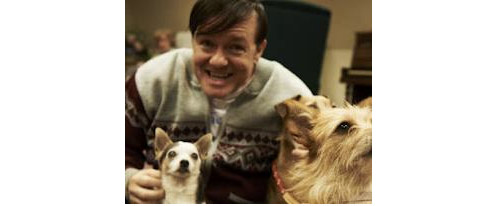 I tried to give a feel of the mood more than anything too specific. It's not that I didn't want to give too much away but rather that I didn't want to give people the wrong end of the stick so to speak. It's quite difficult to describe. Even in broad terms, to be honest.
Is Derek a comedy or a drama? I get asked that a lot. Even after people have seen it.
I say, "What do you think it is?"
They say, "Well I laughed a lot but I cried as well. I'm just not sure if it was a drama with funny bits or a comedy with sad bits."
I usually then say, "Derek is whatever you think real life is. Is your life a drama with funny bits or a comedy with sad bits?"
The answer doesn't matter really. What matters is if you enjoy it... for whatever reason. Because it made you laugh, because it made you cry, because it made you think or even because it made you angry. As long as it made you something.
For me, personally, it's my favourite thing I've ever created or worked on. I love Derek more than any other character. In fact, I wish I were more like him. I wish everyone was.
It's a show about kindness. It's funny and sweet and deals with the real issues of everyday life. I don't think I've seen anything quite like it. The performance that Kerry Godliman gives as Hannah may be the finest piece of character acting I've seen.
And Karl Pilkington as Dougie makes me laugh every second he is on screen. Kev played by David Earl is a lovable train wreck. You won't know whether to hug him or take him to the vet to have him put down. The uncaring outside world popping in and out will boil your blood and the residents will break your heart. Or you won't like it. Haha. One of the two.
---
Week two hundred and forty-three - December 2012
---
Did the latest of my Scandinavian Greatest Hits Tour gigs at this monster in Stockholm this week...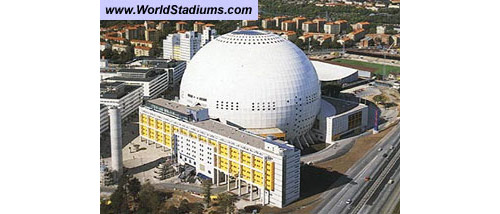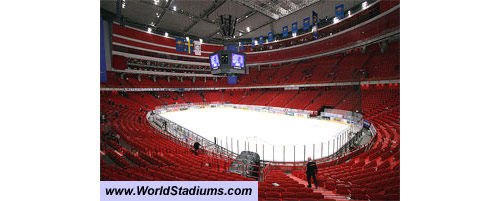 I also honoured the people of Sweden with a commemorative bath pic...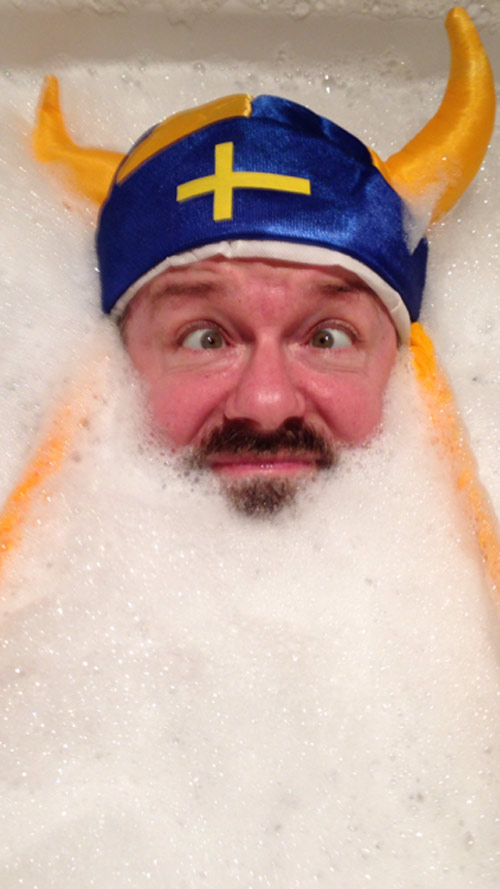 The finale of An Idiot Abroad 3 aired this week. That's all folks. Two series and a Christmas Special. Haha.
If you haven't got Sky you can
buy the DVD here
.
We even did
some promo
for it.
Anyway, so that's the end of An Idiot Abroad and The Ricky Gervais Show. The next time you'll get to see me and the little round headed buffoon in action is in Derek which starts in January.

Merry Christmas.
---
Week two hundred and forty-two - December 2012
---
I finished DEREK this week! Hooray! I should have an air date very soon. Late January is my best guess at the moment.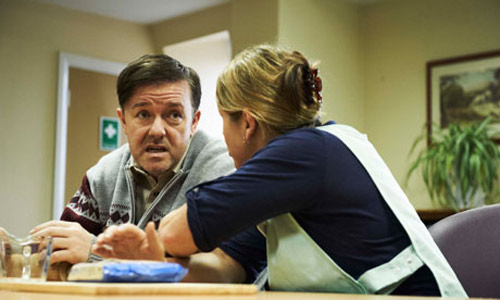 An Idiot Abroad 3 goes from strength to strength. Here's a few best
bits from ep 2 and a fantastic deleted scene
.
Some lovely people can't seem to get their head around the fact that scenes aren't necessarily deleted because they're no good. They're usually deleted because of time restrictions. We shot about 90 hours worth. That's a lot of great stuff that simply can't be used. DVD extras I say.
I was a surprise guest at
The Sun Military Awards
this week. I wasn't expecting it to be so overwhelmingly moving. I think I had something in my eye. Or I'm pregnant. Anyway, it was emotional. And fun actually. That my friends is what you call a great attitude. Humbling.
---
Week two hundred and forty-one - November/December 2012
---
Another week spent putting the final touches to Derek.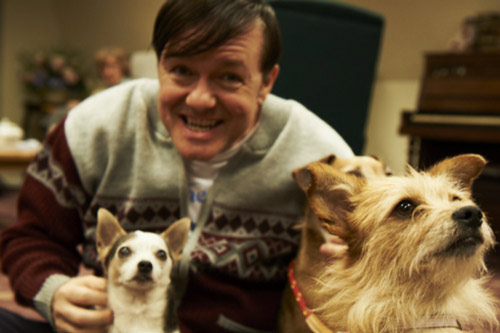 It's turned out very well indeed. You'll be the judge of that. I guess what I mean is, it turned out how I meant it to. That's all I can ask for. I can't really influence the vote any more than that. I can try to get as many people to see it as possible, but that's all. I would like to say that it's my personal favourite thing I've ever done. I can't explain why. It just is. Hope you like it.
Karl came into the edit to watch a bit and stayed and watched all six. I was so glad he loved it. He's great in it. Everyone is, but I'm very proud of his performance. I created the character of Dougie by imagining what Karl's life would be like if he hadn't got into media, came to London, and met me. Haha. Showing him it, I felt like the Ghost of Xmas 'Alternative Present.'
A lot of buzz about An Idiot Abroad 3 this week too.

It's slightly different from previous series in a few ways. Obviously Karl has got a little mate this time. It's a 3 part special. And it's one long journey: literally and emotionally. It also really ramps up from week to week. Ep 1 is quite gentle comparatively. They're sort of getting to know each other. It kicks off a bit in ep 2. And ep 3 is fucking mental. Best episode of every series I'd say. And quite sweet even. Anyway I hope you enjoy that too.
Right, I'm off to Scandinavia...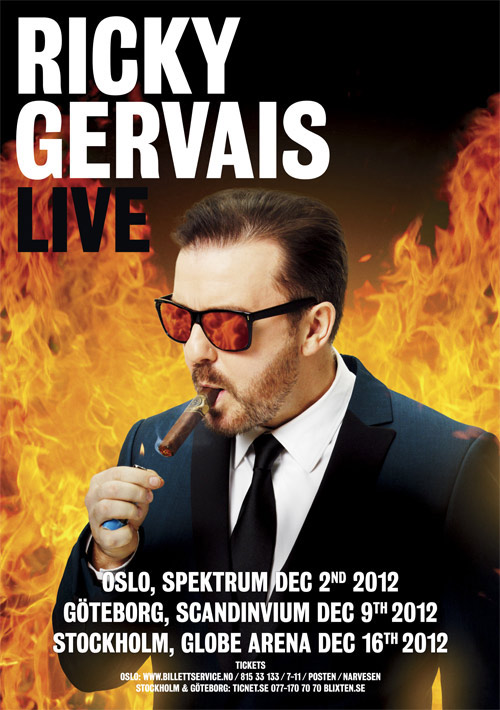 ---
Week two hundred and forty - November 2012
---
Work really kicked in this last week.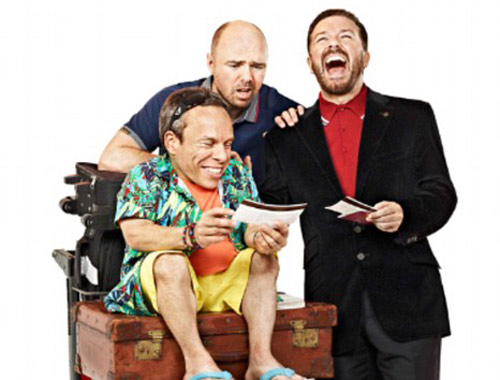 I was in the edit trying to finish Derek, doing press for An Idiot Abroad 3, getting together the set for my little Scandanavian arena tour, starting a new movie script, and annoying fundamentalists on Twitter. The last one is more of a hobby, but very time consuming. Haha.
It's also shopping time. Jane's birthday in December starts the ball rolling then Christmas takes over. To make it easier, last year we initiated "the list". We have to do a long list of things we want and the other person buys some of them so you're still not sure what you're getting. It really helps. This was the list I made of presents I wanted...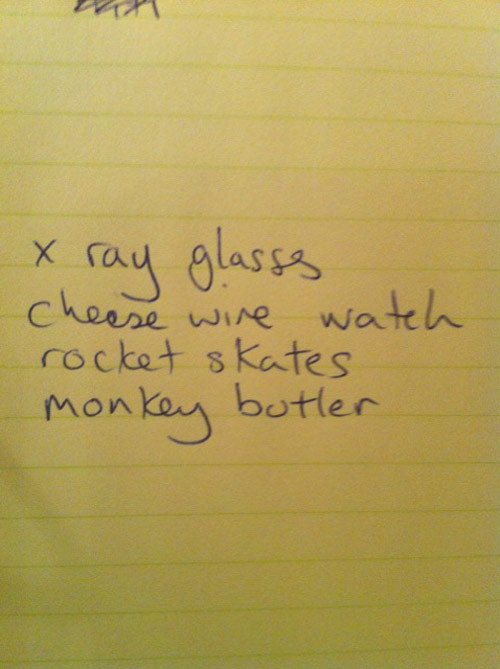 Jane looked at it, laughed, and said, "Now do a proper one." Maybe she was just trying to throw me off the scent.
I pretended to fall for it. I am going to call my monkey butler Ernest by the way, and I will train it to carry stuff for me.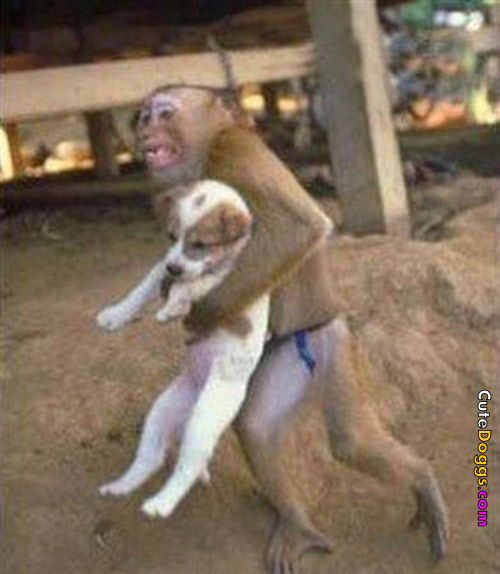 ---
Week two hundred and thirty-nine - November 2012
---
I had a few days off from editing Derek to go and be one of the headline acts at The New York Comedy Festival.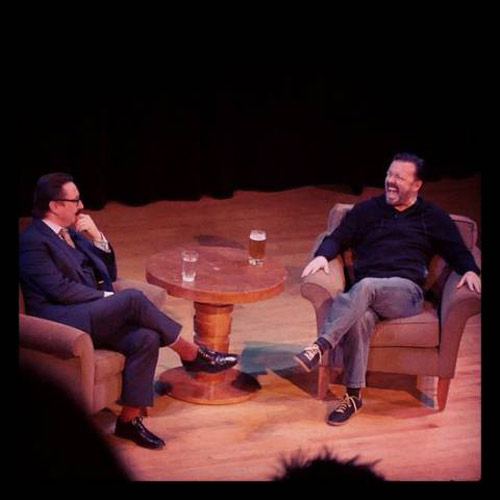 I kicked off the festival with an Audience Q and A and a live interview with John Hodgman at The Town Hall. I enjoyed it so much that I'm thinking of doing a string of similar events across the country.
It was the armchairs that clinched the deal. "Stand Up" is fun but "Sit down" is more comfortable.
The following night I performed at the Stand Up For Heroes Benefit.
It's always an amazing night of music and comedy, and a truly humbling experience.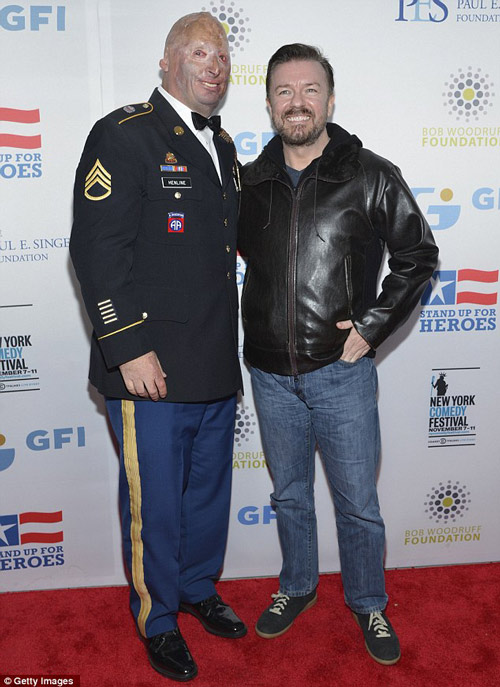 Springsteen played as usual and auctioned his guitar. He did an acoustic version of "Tougher than the rest" that sent a chill down the spine.
I was also in town plugging my new app JustSayin' and letting Americans know that 'Derek' is coming exclusively to Netflix next year.
The reason I went with Netflix is because I believe it's the future of TV. Viewing habits are changing and people are insisting on everything On Demand. Also, as an artist you want the maximum number of viewers with the minimum amount of interference from a broadcaster. The Netflix figures are really impressive and I have absolute artistic freedom. And finally, they made me an offer I couldn't refuse. I can't tell you the deal, but I worked it out at 28 times what I made from the first series of The Office. Ker-ching. I mean... art... Ker-Chart.
I did my 23rd Letterman appearance, (which was probably my favourite one so far), and The View. I told Barbara Walters to shut up. She took it well. They even invited me back to co-host. I said yes. I also promised the SNL lot that I'd host next year. I've been invited to do it so many times but I was never available, but I'm going to do it next year whether it coincides with me plugging something or not. It might even be better if I don't have to restrict it to jokes about the movie or TV show I'm flogging. Pure fun. You'll be the judge of that.
---
Week two hundred and thirty-eight - November 2012
---
Got to New York a couple of days after Sandy hit. My neighbourhood was completely unaffected but some parts are still without power and pretty devastated.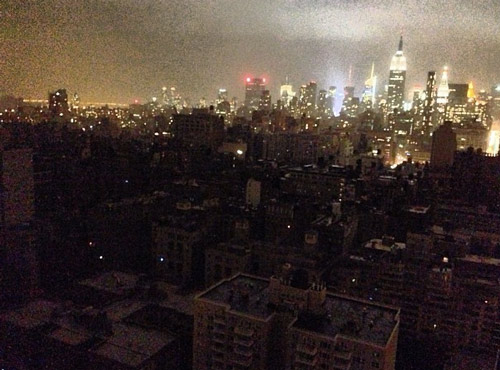 The attitude is fantastic though. People are getting together to help each other get back on their feet and saying stuff like "there are people a lot worse off than us." New York bounces back fast and stronger than ever.
If you fancy donating to you can text REDCROSS to 90999 which gives $10 to the American Red Cross. Thanks.
Central Park lost a few old trees but is back to its glorious self now. The first day it reopened it was just full of people running round enjoying life again. I'm sure I saw a dog laughing.
This little fella was assessing the damage to his home...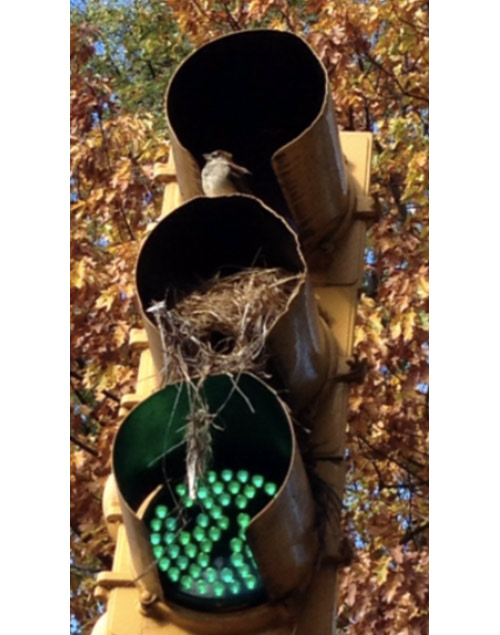 I'm making my 23rd appearance on Letterman this week. I hope to try to convince Americans that they can't vote for a man who believes the answers to all our problems can be found in a magic hat.
---
Week two hundred and thirty-seven- October/November 2012
---
The stats are in.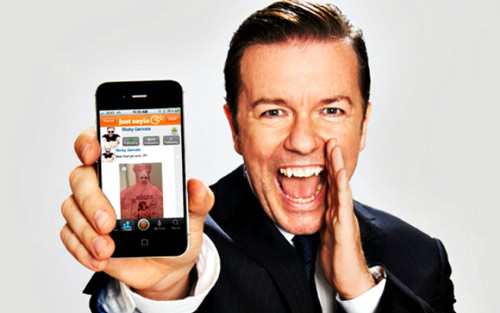 JustSayin' already has over 500,000 users, and we've only
officially launched in the US
.
Amazing. Thank you so much if you've downloaded it. If you haven't, why not? It's free, you gorp.
[iTunes App store link]
Thanks for all your lovely comments about the
little guinea pig viral
too. We're thinking of doing another one soon.
Channel 4 are doing a late night repeat of The Ricky Gervais Show Season 3 starting Friday 9th of November at 12.30am.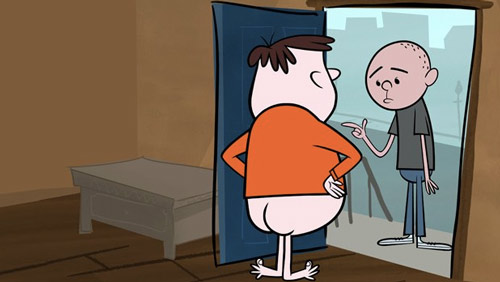 Sky Plus it to save you having to buy the DVD. (PHILANTHROPIST!)
That should keep you going till the new series of An Idiot Abroad. I can't wait. It's the best one yet.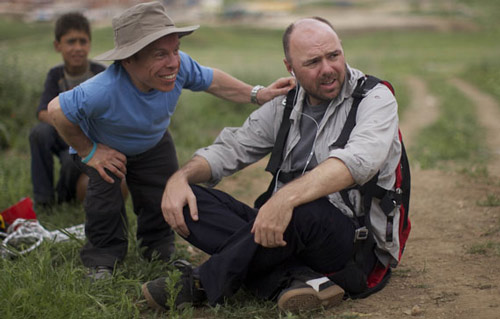 You'll be the judge of that.
---
Week two hundred and thirty-six- October 2012
---
Finished editing An Idiot Abroad 3.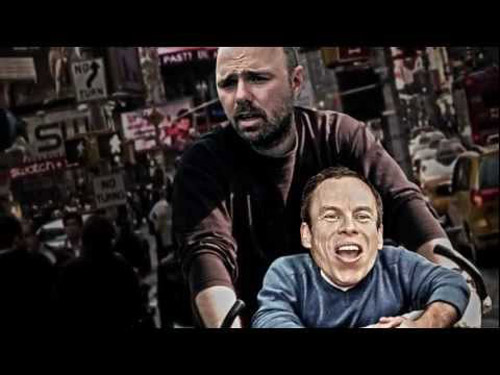 It's great and builds nicely to the best episode of all three series I'd say. (You'll be the judge of that.)
It's a three-part epic adventure following the footsteps of Marco Polo from Venice to China. It's quite filmic in that there's an added element to the narrative with Karl and Warwick's relationship.
I'm thinking of doing an edit where you can watch it as one long movie. Maybe for the DVD.
My other job this week of course was editing Derek. I'd say it's 70% there. I have the same feeling I had when I was making The Office.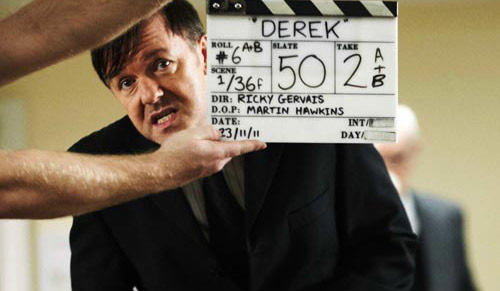 A mixture of excitement and fear. It's certainly a return to real observations about normal life.
It's probably even more real than The Office in some ways but with more drama. People keep asking me if it's a comedy, a drama or a comedy drama. I guess the answer is it's what ever you think real life is.
A lot of Ricky fans are screaming, "Is there anything that The Rickster used to wear (at either end of his body), that he has signed and put on ebay for auction?"
Well the answer is "Yes."
A
wooly Pilky hat in aid of St. Mungos
.
And
some Puma trainers in aid of Small Steps Charity
.
My old clothes should be very valuable now. Ever since I got voted
Best Dressed Man in The Universe
by the mighty E! Channel.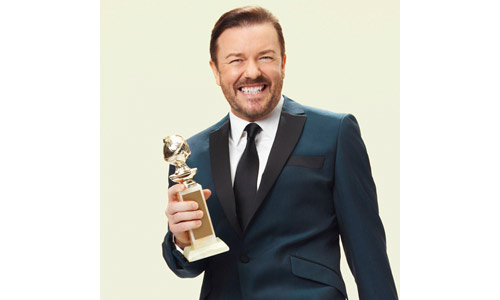 Dreams can come true. Thank you.
---
Week two hundred and thirty-five- October 2012
---
Spent another week editing Derek.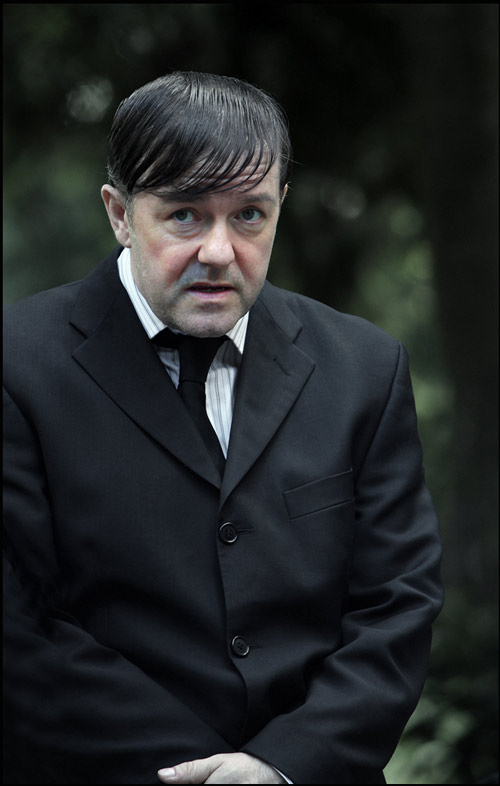 It's turning out swell, as they say in America. Well, they did in the 1930s anyway.
My first mistake was casting people who will beat me to the BAFTA this time. Imagine if Karl Pilkington won an award for acting. It would be a bigger travesty than when I did. He's great in it, I must say. Everyone is, but just his little gimp face makes me laugh before he even says anything.
Also finished An Idiot Abroad 3. We even started on the director's commentary for the DVD. At one point Karl said, "The Chinese language is just a noise." I quickly pointed out that Karl is a lovely bloke, without a malicious bone in his body, whose words sometimes bypass the brain. It's a very funny commentary though. Lots of arguing and moaning if you can imagine that. Haha.
The launch of my little app, Just Sayin', went very well and we've had hundreds of thousands of downloads already and we haven't even started the promotion properly yet. Thank you. I even got Karl on it. He moaned about apps, Twitter and fan sites and the internet in general. Nice target marketing there. Unbelievable.
I'm doing my 23rd Letterman appearance to talk about it next month, along with The View so it should really start taking off in a big way hopefully. Please download it here.
[iTunes App store link]
Oh, and it's free by the way.
Ricky Gervais: PHILANTHROPIST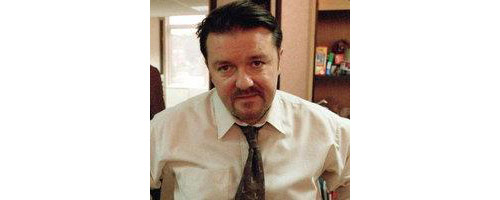 ---
Week two hundred and thirty-four- September/October 2012
---
Spent the week editing Derek.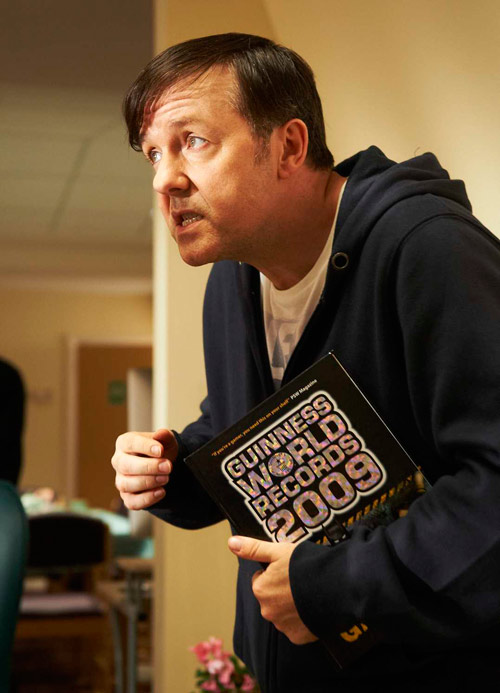 At first I was depressed about having so much wasted stuff, because each ep had to be cut from 40 or 50 minutes down to a measly 24. Then, not only did I remember how insatiable the appetite for DVD extras and exclusive web material is these days, but also that the more great stuff you have to throw out the better the finished product is. I went through the same with The Office. And that turned out quite well.
Karl came in to watch the rough edits. He loved them... He actually laughed all the way through. I've never seen him do that before. The only time I've even heard him say he liked something was the animation. I think he was also very relieved. He was very nervous about acting at all, and even though he got more confident during the filming, and even got to really like it, he was still very anxious about watching himself in the finished article. He had nothing to worry about. He's fucking brilliant in it.
Here he is all chuffed...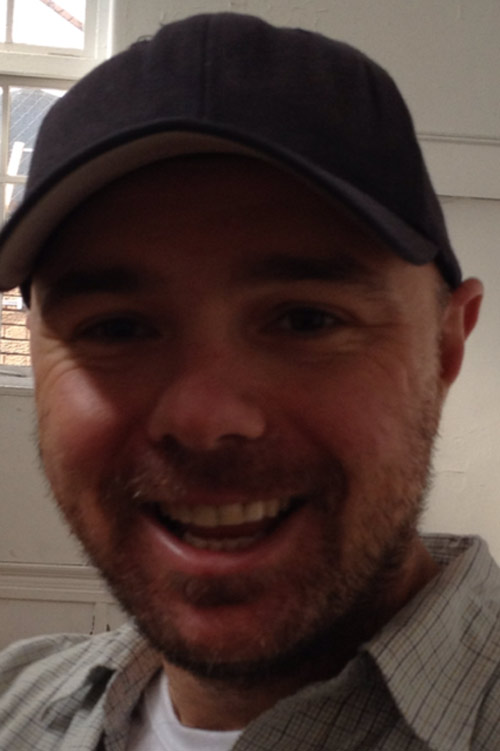 He had another little rant about the internet though. He said he wanted to "thump people who leave comments on forums in the 'ed." Haha. "I wish I could turn the internet off and see 'em panickin'."
He also got annoyed at people on X Factor: "They all say 'I'm different.' No you're not. You're the same as the last fuckin' nob 'ed that was just on."...
When he's right, he's right.
In general though he's the happiest I've ever seen him. He's buzzing about the new Idiot Abroad and says that meeting the conjoined twins in India was the best thing he's ever done. It is quite amazing TV. The questions he asked them are stunning. That's all I'm prepared to say for now.
---
So, I didn't win an Emmy. I was up for my Golden Globes hosting against LL Cool J (Grammys) & Neil Patrick Harris (Tonys) who won.
But I did hand a couple out. During one part of one of my presentations a big booming voice from the heavens said something like "cue FX"... someone had obviously faded up a live mic in the control room. It made me jump and so of course I said, "I'm an atheist, but that scared me". Always nice to say the A word on primetime US network TV.

Seeing this sign on the way didn't teach me anything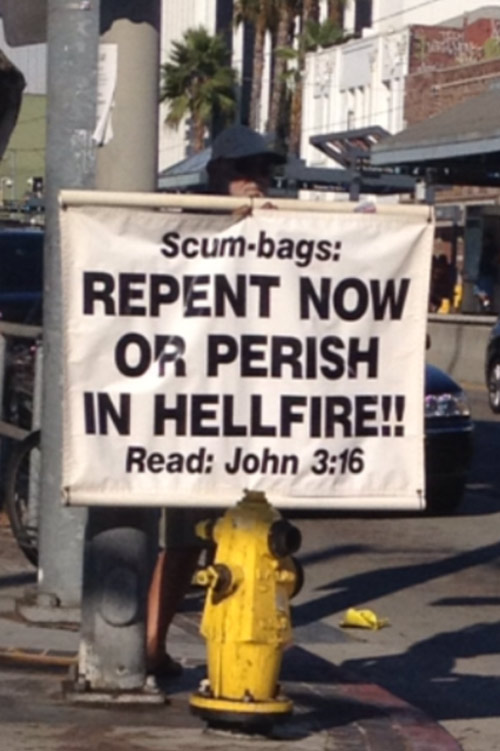 Fellow scumbag Jon Stewart won for the squillionth time and here he is after looking very pleased about it. I sent this picture to him and he said he looks like that because he just realised we all die. Haha.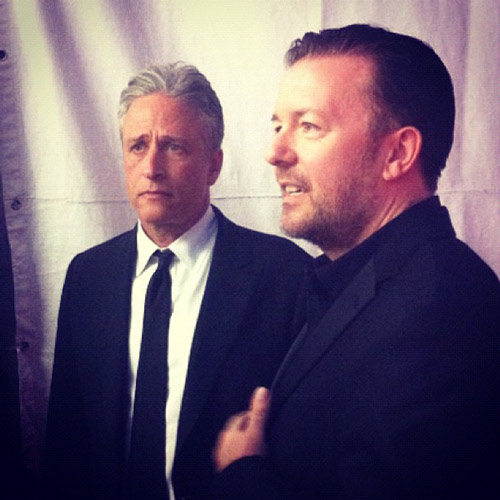 After the show we were whisked off to the HBO party as usual. It's the only place to be.
I bumped into Michael J Fox and Jane Fonda. I know Michael but I'd never met Jane before. She introduced her self by saying, "Hello, I'm Jane Fonda." I laughed and said, "Yeah..I know." How sweet is that?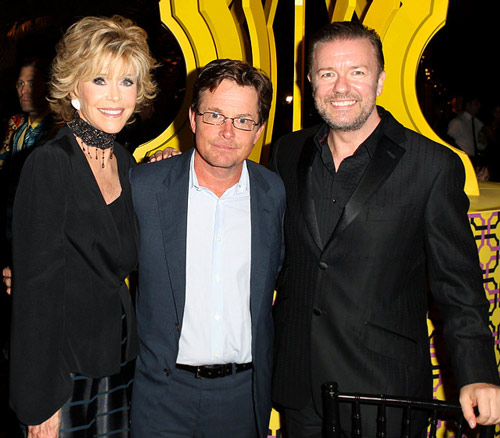 The next day I popped to New York.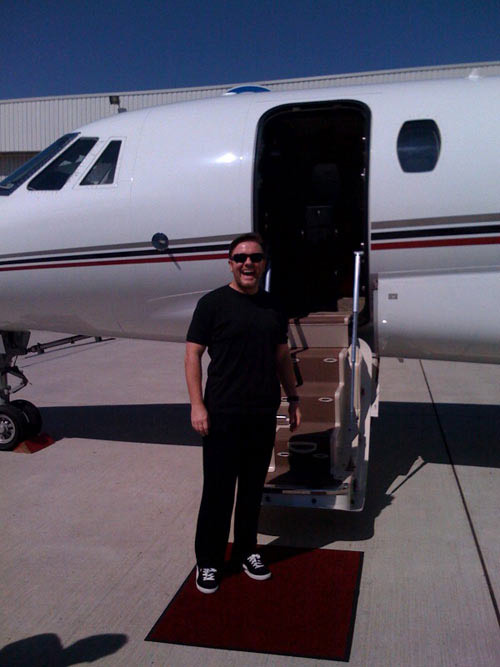 I'm still there.
---
Week two hundred and thirty-three - September 2012
---
Spend the week in LA launching my app;
JustSayin'
Please download it. It's free.
[App Store link]
I launched a
JustSayin' competition on Conan
to find the next big stand up and also showed the world my hidden talents...
But the best thing about being a technology mogul is having my own business cards.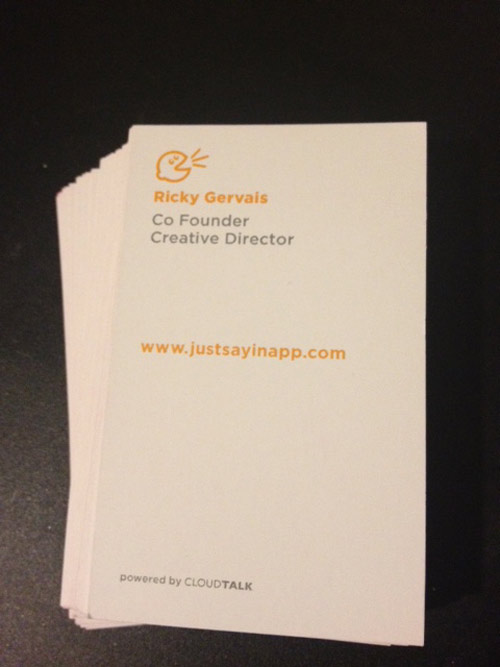 The logo reminds me of Karl. Round and simple.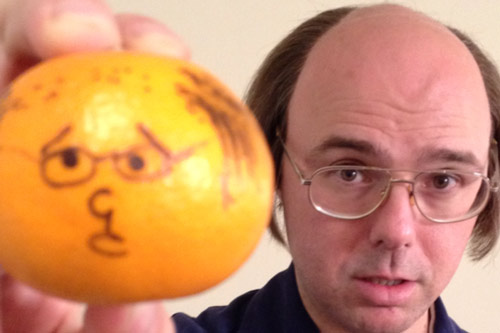 ---
Week two hundred and thirty-two - September 2012
---
Quite an amazing week.
Finished principal photography on Derek. Quiet simply the best shoot I've ever been a part of.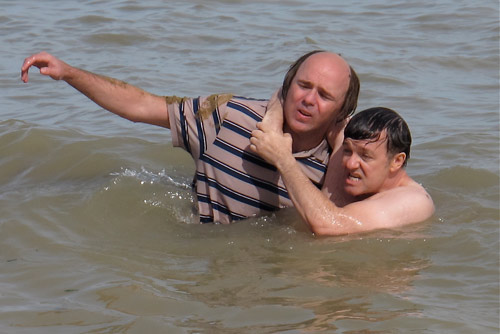 Ironed out the technology on JustSayin' in time for its world launch next week in California.
(I'm doing a few chat shows too - Ellen, Conan, Fallon... and also, I'm handing out a couple of gongs at The Emmys. Also I'll announce where America will be able to see the first series of Derek. Oooooh...???...)
And finished editing the An Idiot Abroad Specials. Three one-hour episodes. Out in December.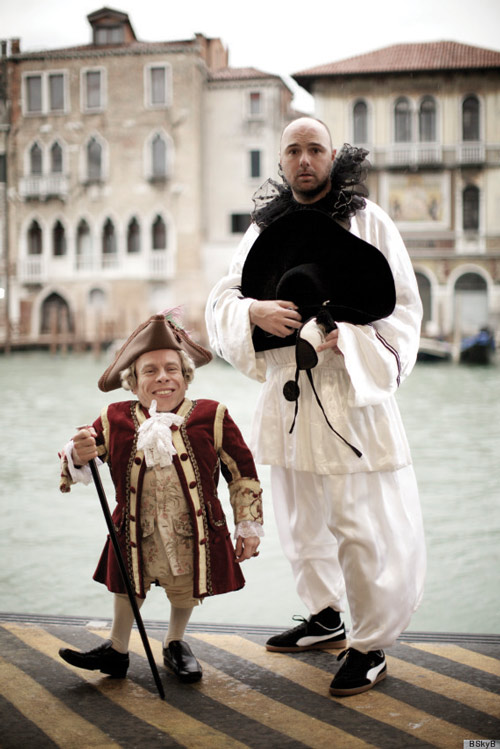 The first episode is funny but quite gentle - almost like a real travel documentary. The second episode starts heating up when the arguing starts. And episode 3 is fucking mental, and definitely the best episode of all the series so far.
It gets quite brutal under all the pressure, but it's an amazing view. Karl also asked one of the most stupid questions ever. He actually said to Warwick at one point, "Do you have knees?" Amazing.
---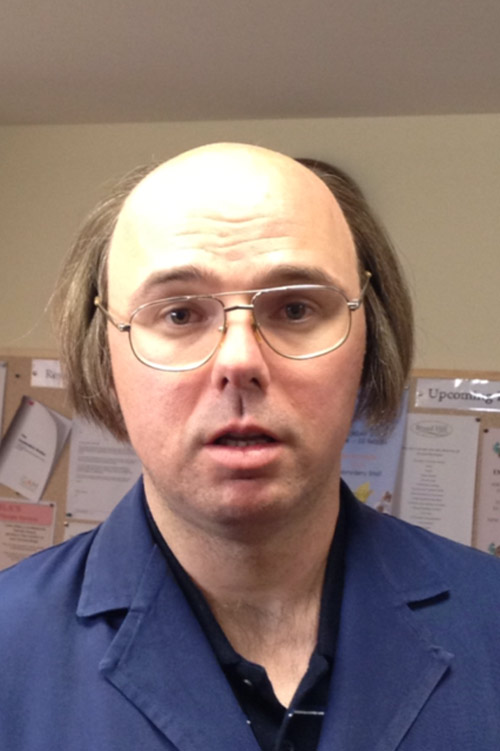 The Derek experience just seems to get better and better. Another great week, culminated in two glorious days in Broadstairs, on the Kent coast.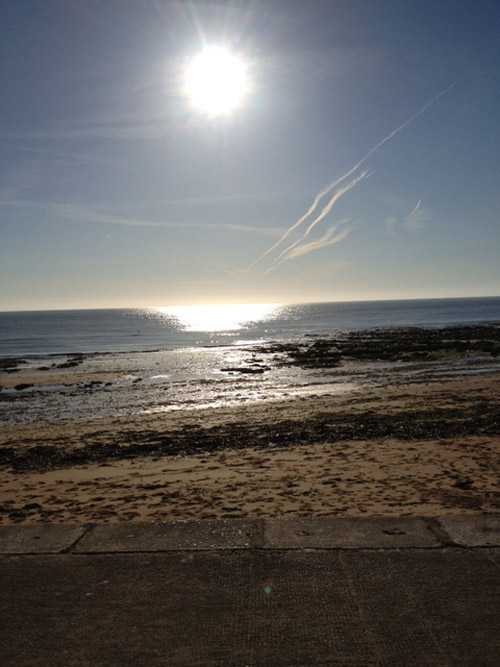 Karl paddling in the sea, fully clothed, getting hit by a wave and losing his glasses was an amazing stroke of luck that we captured on camera. I nearly burst of course. Like an old pro, he swore and ranted in character. Or as close as damn it. Haha.

In my spare time I wrote
a little piece for The Wall Street Journal
about the creation of The Office.
Thanks to everyone on Twitter who gave me feedback for the prototype of my little app, JustSayin. Very useful indeed. We will be incorporating a few innovations in time for the official launch this month.
And finally, thank you to everyone of my 3 million followers. That's more than most newspapers. And yes, I understand that with great power comes great responsibility. So I'd like to say to all you kids out there, please don't try this at home...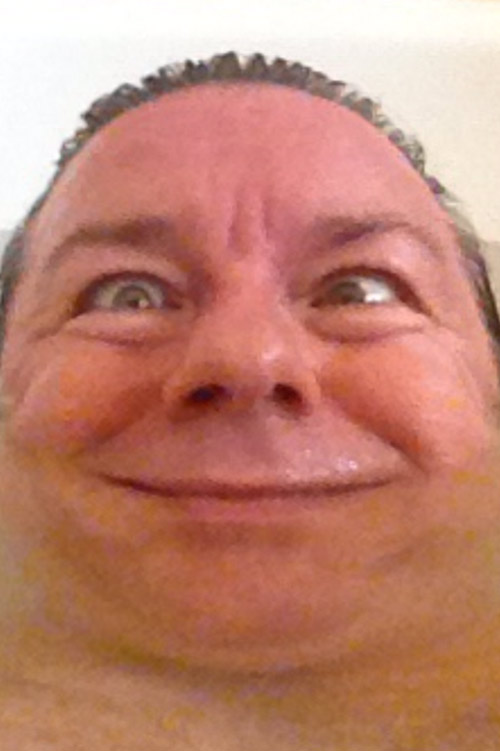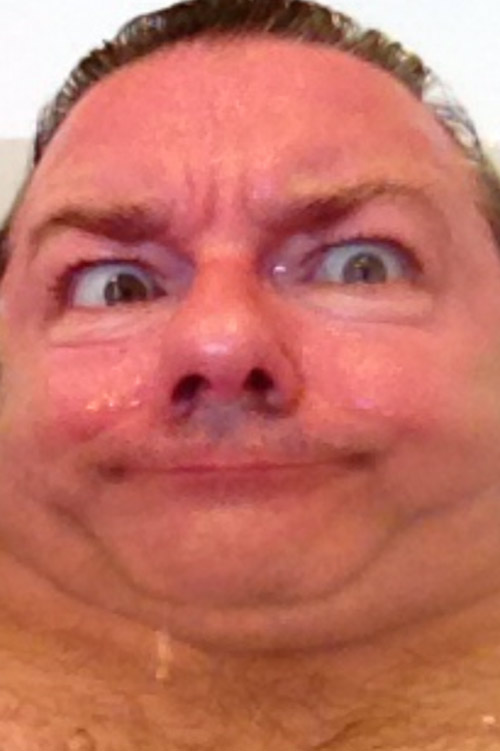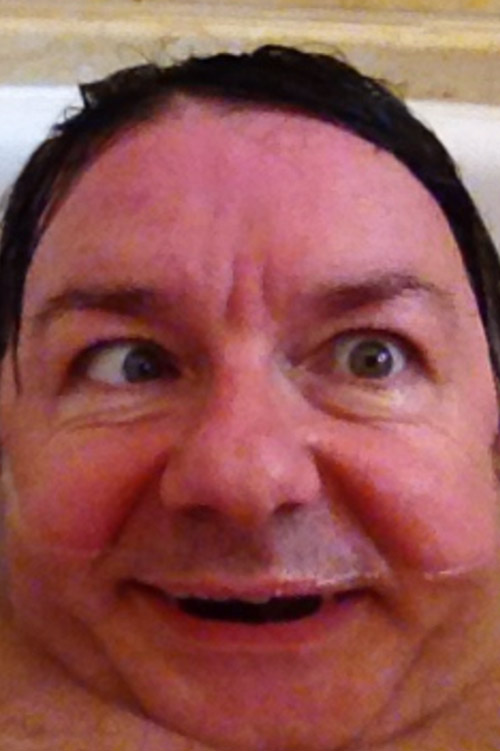 I am a trained gimpologist.
---
Week two hundred and thirty-one - August/September 2012
---
A fun-packed week filming on Derek was only marred slightly by the fact that an emergency doctor was called after 24 hours of severe abdominal pain.
Examination, urine sample, and blood tests were taken and I was rushed to hospital for a scan. (I say rushed, they couldn't do the scan for 6 hours, in which time I was allowed only water. I also couldn't stop filming, so in some scenes, Derek will look a little paler and sweatier than usual.
Anyway, I had a form of gastric flu. Not what I first assumed; it was the second I had any sort of pain then - "cancer of the everything". As soon as a doctor tells me I'm not going to die, I feel better. They are true healers.
I called another Doc for help too this week - the mighty Doc Brown. A very funny man indeed.
Seriously though, who's better looking?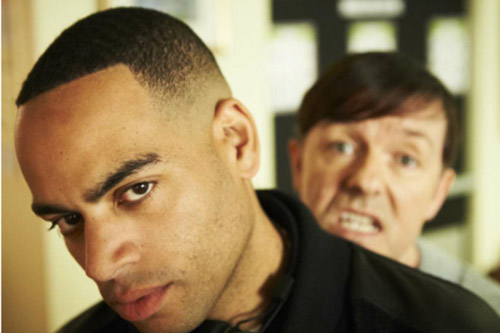 But this lot stole the show...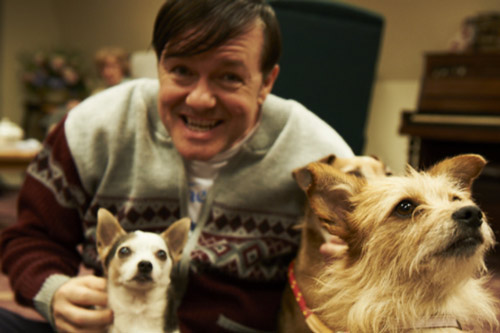 This wasn't just an excuse for me to play with dogs for the day. (Well it was, but it's sort of justified.) Some animal rescue centres get a little grant if they provide a pet therapy service. i.e. they take some pooches and moggies around to care homes and let the residents have a little cuddle. Very sweet. And it works. That was one of the days I was ill, and when I was filming with the critters the colour came back to my cheeks. They are true healers too. Ahh.
---
Week two hundred and thirty - August 2012
---
Filming Derek continues to be a dream job. I'm actually getting depressed that we've got way too much great stuff to cram into a measly 23 minutes per episode.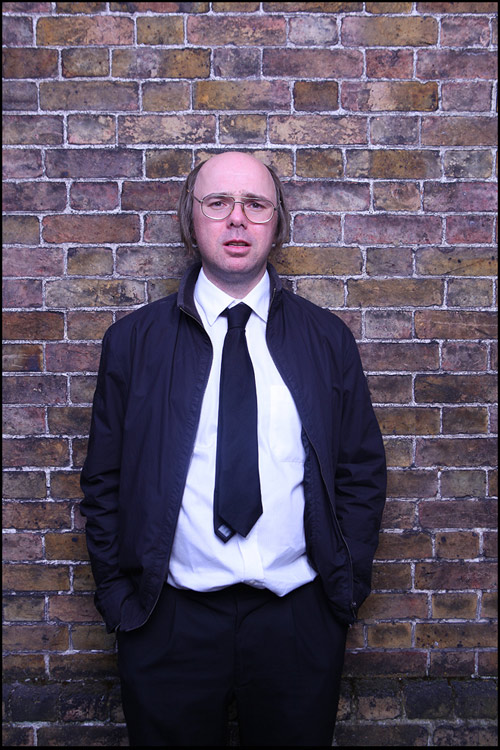 This is of course a lovely problem to have.
Expect a lot of lovely DVD extras and webisodes.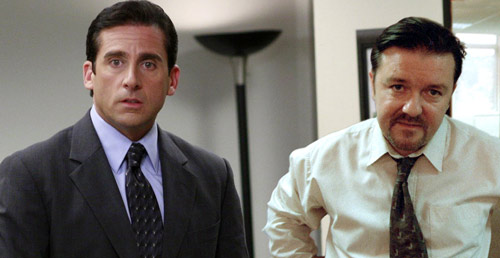 The US version of The Office is to end after its 9th season. I couldn't be prouder of its success story but all good things must come to an end. And with syndication it's the gift that keeps on giving.
Here's a little article I did about
why Michael Scott had to be slightly different to David Brent
for American audiences
Oh, and thank you to the mighty Shortlist and its readers for putting Brent at the top of their
favourite sitcom characters of all time
.
---
So the first week's filming on Derek went like a dream.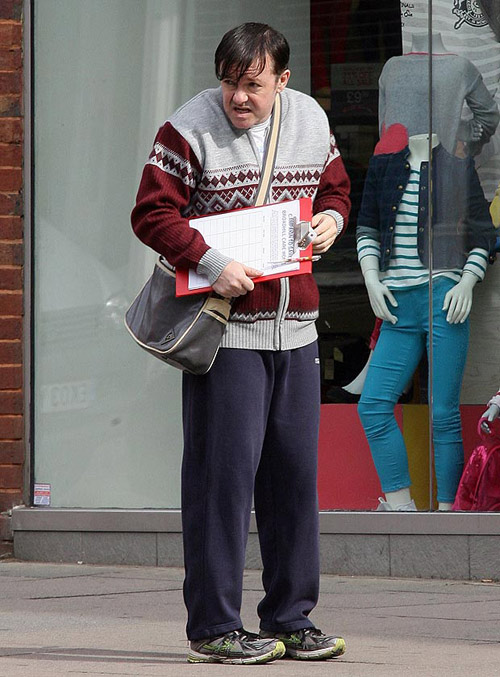 Definitely the most fun I've ever had on any production.
We laughed and ruined many takes and we also cried during some of the sweeter, dramatic moments.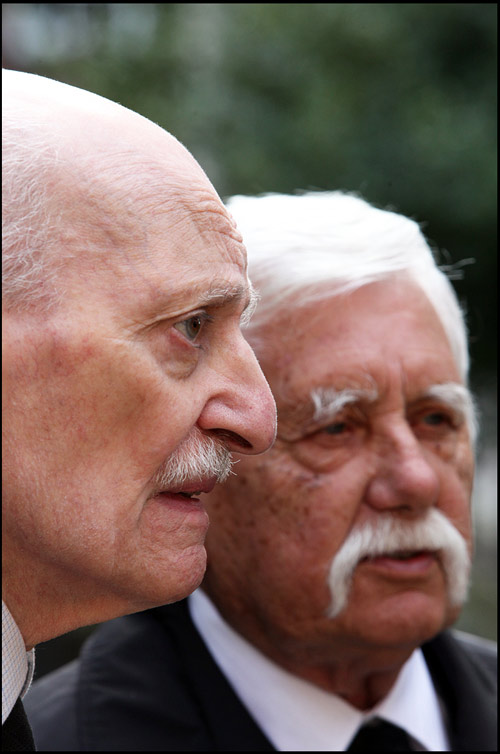 The old actors (some are in their 90s) are all so lovely with amazing stories, and they bring such a weight and pathos to the whole thing.
It's also the best ensemble cast I've ever been apart of. Karl is fucking brilliant. So natural.
David Earl is a comedy megastar of the future. And Kerry Godliman is simply one of the best actresses I've ever worked with.
I somehow picked up every performance Globe, Emmy and Bafta, for The Office and Extras, with none of the other amazing cast getting a look in. I really hope that isn't the case with Derek. The performances from everyone are too good.
I couldn't believe my luck with this photo when I saw the sign in the background...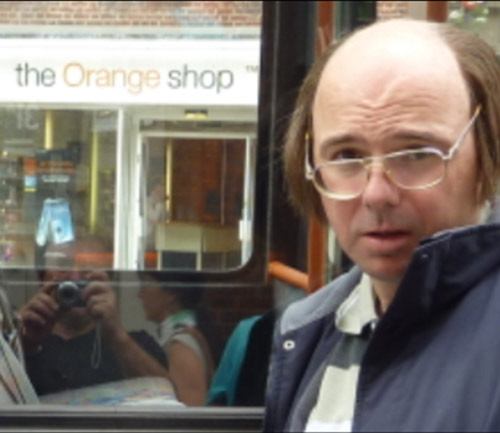 In other news...
My app has basically done its development period and we are ready for an official launch in the autumn. If all goes well I should have my animal sanctuary sooner than expected. (Or I may just spend it all on a battleship and invade a tiny island for a laugh.)
And the most amazing news of all is that the pilot episode of Learn English with Ricky Gervais has been downloaded 10 million times in a week! That's fucking mental. I mean, thank you.
Please have your translations ready for next week when we will release a clean version for you to add your own subtitles and post on Youtube.
---
Week two hundred and twenty-nine - August 2012
---

Thank you so much for making Learn English with Ricky Gervais the number 1 podcast in the world. It was downloaded over a million times in the first 24 hours. Fucking incredible.
And thank you to iTunes for such a wonderful launch. Brilliant job. But most of all, thank you for the most amazing reaction I've ever had.
iTunes have it exclusively for one week then we will post a clean version on YouTube so that people around the world can rip it, stick on their own language subtitles, and then re-post it.
When we have had 50 million views, we'll record a brand new one and start the whole process again. Deal?
The first few days filming on Derek have been the most fun I've ever had. Best line of the shoot so far is either Kev at a funeral saying, "This is a muff-free zone" or Dougie saying, "I'm jealous of the dead." Haha.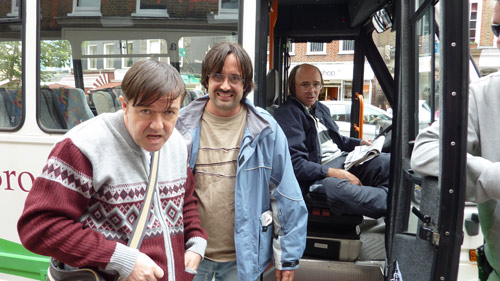 ---
So principle photography has commenced on Derek.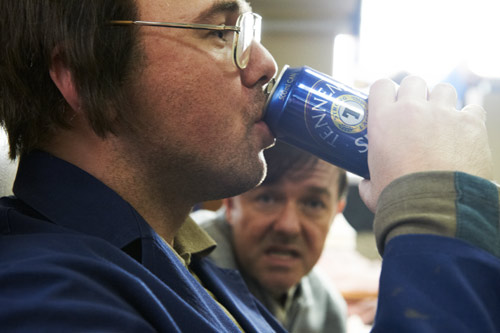 As usual, six half-hour episodes to start with.
I'll do regular updates from the set with as many pictures of the dopey round headed chimp as possible.
The first volume of Learn English with Ricky Gervais is released exclusively on iTunes worldwide on Tuesday 14th August. It'll appear as a podcast
here
. And it's FREE!
ITunes are also giving me my own page by the way, to celebrate the fact that combined RG products have had 500 million downloads. It should also help launch the new video podcasts. Nice.
Thank you iTunes, but most of all, thank you to all the lovely people who have bought my stuff over the last few years.
---
Week two hundred and twenty-eight - August 2012
---
Twitter continues to be an anthropological playground for me.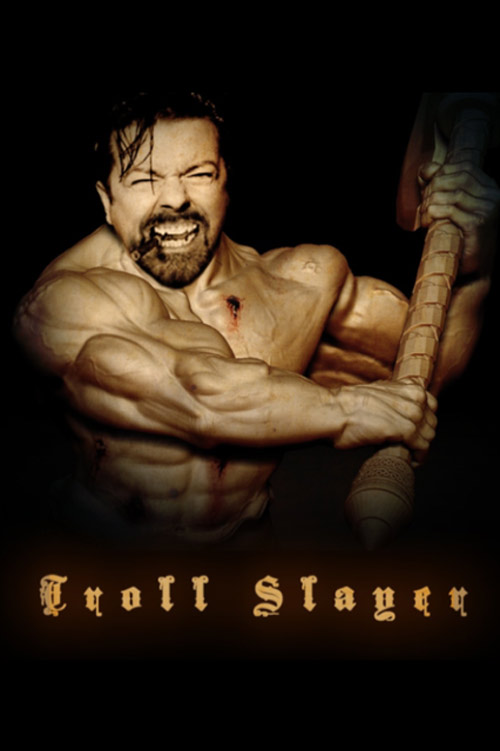 I really don't understand why people get upset over morons talking bollocks. They can't really affect you. They don't really exist.
It's text. If you don't actually know that person it's like getting upset by graffiti in a public toilet that you never have to use again.
Twitter is like a dream that you can control. Have fun. Then wake up and live a real life. If someone tries to upset you for no reason, ignore it. Or better still, BLOCK. It's gone. They're still an unhappy twat and you're not.
I don't mean people actually breaking the law and threatening people's lives of course. They should be dealt with. But attention seeking idiots... let them find it somewhere else.
On a more positive note there are lots of nice sane people on twitter too, that can provide a few laughs and pearls of wisdom now and again.
My job is to embrace all aspects though. The good, the bad and the ugly.
The good you can learn from. The bad can provide me with hours of new stand up material. And the ugly... well that's not really their fault. It's also very subjective.
Karl loves freaks as you know. This is the first time I ever
committed the little shaven chimp to video
...
---
Week two hundred and twenty-seven - July/August 2012
---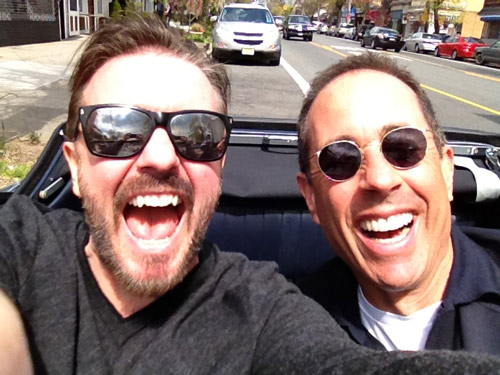 My episode of Comedians in Cars Getting Coffee was
released this week
. I really think internet-first shows are the future. TV habits have already changed drastically in the last 10 years and I think everyone will soon be demanding any show they want, any time they want.
They are also global which is very exciting if you have any profile around the world. Or not. That's what can build it, too. That was probably the most attractive thing to me about doing the Ricky Gervais podcasts in the first place.
Talking of which, the first instalment of Learn English with Ricky Gervais will be available for free on iTunes worldwide from August 14th.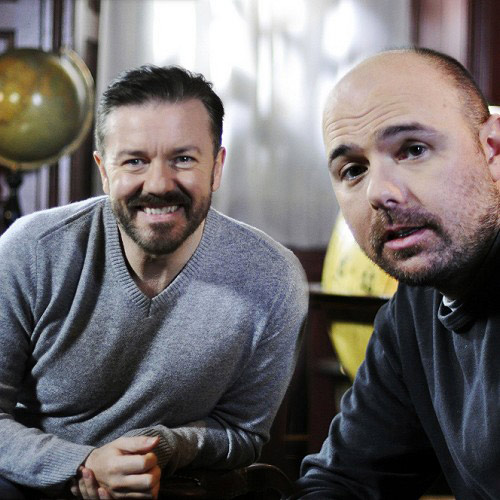 Here's
a little teaser
.
The internet is pretty fucking amazing when you think about.
As you know, my return to Twitter was a bit of a social experiment. Partly to see if it was a useful marketing tool, (it most definitely is) and partly as research. Now, most people I think assumed it was research for a stand up show or a TV or Film project. Well, actually it was because I have been developing an app for the last year or so. It's called JustSayin' and I have partnered with some Californian internet boffins and we think we've come up with something quite exiting.
We did a very soft launch a few months ago to collect data as we are still developing the software, but we plan the real launch this autumn. It's so easy to use. You literally press "record" then post to Twitter/facebook and it's 'out there!'
It's a business and recreation program but I think its real power will be in media. Just in the same way that Twitter morphed from a social networking site into its own slice of news media, JustSayin' could be to radio what Twitter is to newsprint. Anyone can broadcast anything immediately. Anyway, it's very early days. You can
download it here for free
, if you're interested.
I should just say though, that even though my Twitter career started out as what seems like a cynical business venture, I have really enjoyed it and I'm going to continue with it for the pure fun of it all. JustSayin' (Sorry)
---
Spent the week putting the final touches to the Derek scripts and scouting locations.

Next week we start rehearsals and start principal photography two weeks after that.
You may have heard me talk about this on my Fame tour; actors have to have medicals for any significant filming jobs for insurance purposes. This is never extensive as they only really have to be sure you won't die in the next six weeks.
Karl called me, surprised that he had to have this done at all.
I said, "it's nothing and it takes about 15 minutes."
He called me yesterday and said, "Did he feel your bollocks?"
I said, "no, why?"
Karl said, "well he felt mine. He went 'pop your pants down', and he started 'avin' a feel. It was in front of a mirror too, so I could see myself and so it was degrading."
Hahaha. "Degrading."
I also finished editing the pilot episode of our new internet project. It will be called "Learn English with Ricky Gervais" and it's turned out great.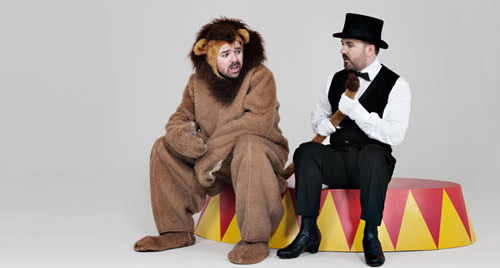 We hope to have it subtitled into as many languages as possible.
I'm going to put out the first one free as a taster then work out the best way to distribute. Might charge a small fee or get it sponsored. Unlike the audio podcasts this actually costs quite a bit to make, but even if we charge it will still only be a couple of quid.
I'm thinking of making a clean version of the pilot available for download so people can put their own subtitles on it and repost it. You can do a Klingon version if you want. Interactive...so...
---
Week two hundred and twenty-six - July 2012
---
It's great to be back in London after that awful 85 degree heat and relaxed cafe culture of the upper east side of Manhattan.
Although, I think this must be a strip joint...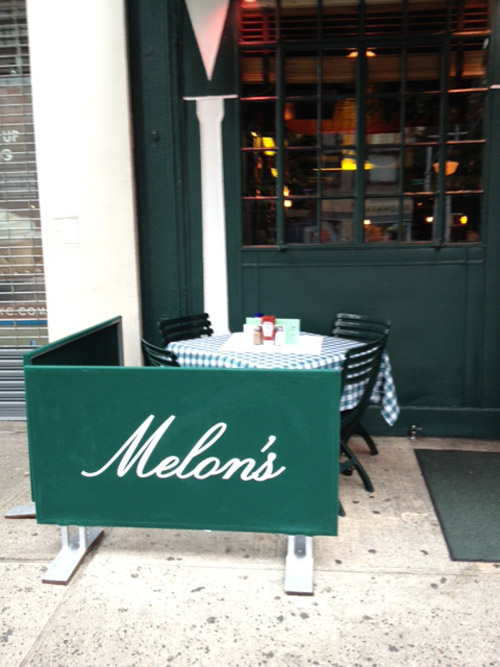 This beautiful English summer is what it's all about. I've seen more snails than shadows in the garden this week. They fucking love a wet slidey patio. Wankers.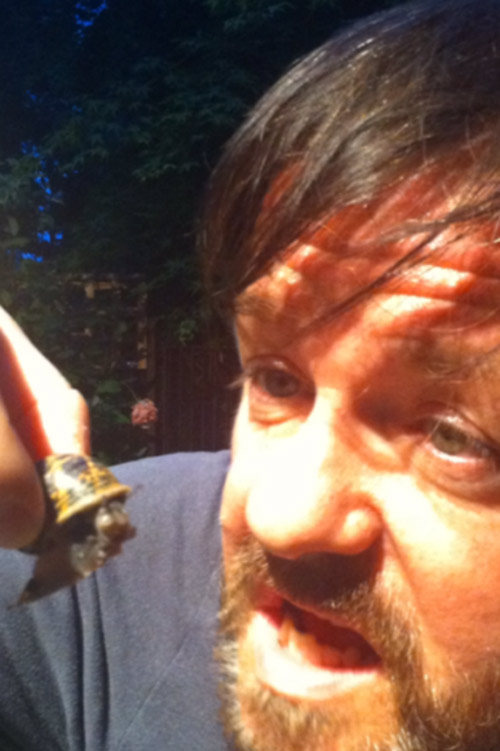 On a positive note, I've been nominated for another Emmy for my part in The Golden Globes. Award shows eating themselves.

Got nominated for this last year and lost. Second time lucky. (Not even a saying, and has absolutely no validity.)
Deep in pre-production for Derek now and loving every minute of it. I actually get an adrenaline rush thinking about filming it. That's a good sign. Or it could be stomachy AIDS cancer? Who knows?
---
Week two hundred and twenty-five - July 2012
---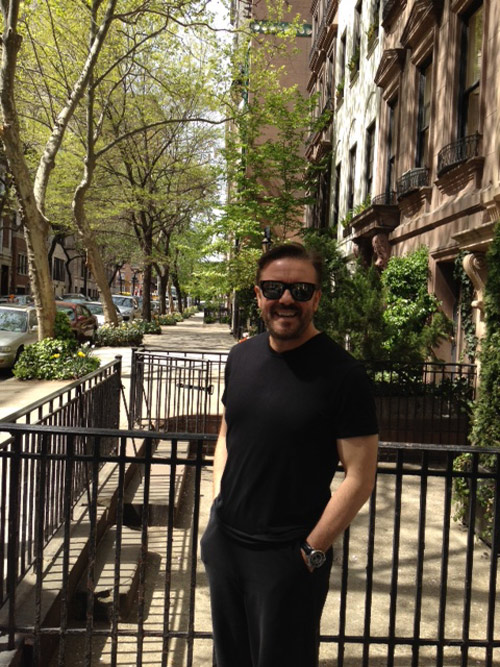 A glorious week in New York has recharged my batteries and I'm now chomping at the bit to get started on Derek. (I'm an electric horse OK?)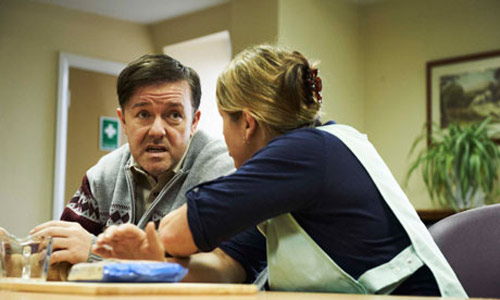 The weather better improve soon in England by the way. What the fuck has happened to global warming? Let down.
Did a fantastic photo shoot with Karl and Warwick for the An Idiot Abroad Specials. Best one we've done I think. (You'll be the judge of that.)
We also filmed a three-way interview for the Sky website and at one point I couldn't breathe at something the two twonks were bickering about. (I think they love each other really.)
It's going to air before Xmas with the DVD release just after hopefully. So if you haven't got Sky you won't have to wait too long to watch the incredible journey.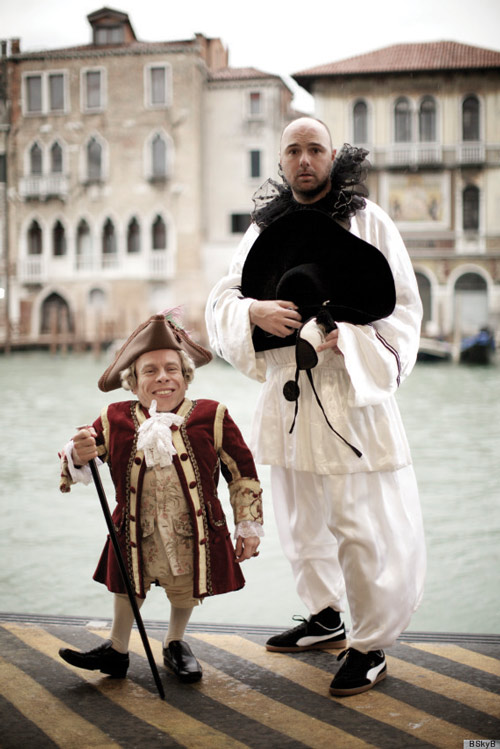 Finally, The Ricky Gervais Show is drawing to a close. It's the end of an era. But that's why baby Jesus gave us DVDs to buy. That's my belief anyway. Please respect it!
Do you think this guy asked to move seats?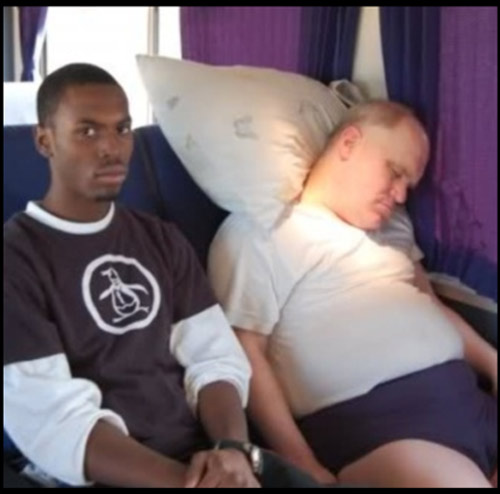 ---
Week two hundred and twenty-four - July 2012
---
So pre-production of Derek is well under way. Only a few more roles left to cast and nearly all the locations sorted out. (It's amazing how many perfect locations are within walking distance of my house. Not that I walk. But I could if I wanted.)
Announced 3 dates in Scandinavia... [coverage in
The Guardian
and
The Telegraph
]
(I know it says it's my first arena tour but it's not obviously. My last two tours, 'Fame' and 'Science', were arena tours, but I quite like the way it makes me sound like an up and coming comedian. Haha.)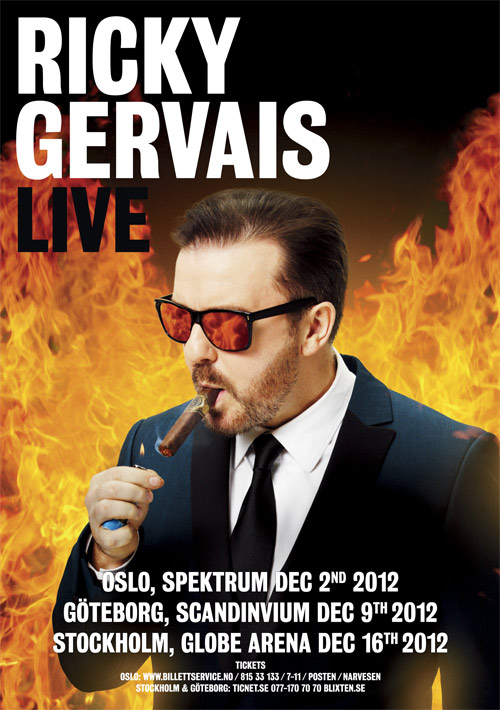 And finally, here's the first
little teaser for my thing with Jerry Seinfeld
. It doesn't give a lot away...
---
Week two hundred and twenty-three - June/July 2012
---
So the second series of The Ricky Gervais Show was
released on DVD
on my birthday.
Karl even got me a card...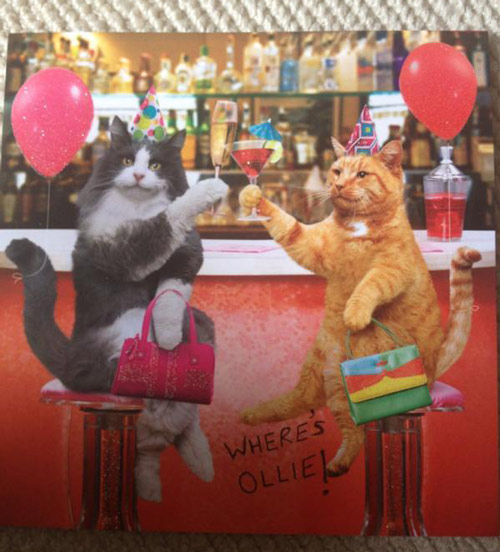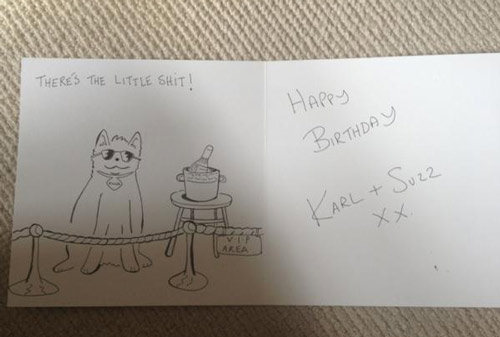 We also did
a few bits of press
, and started pre production on Derek. Best week ever. Haha.
Ricky's Blog continues with Week One Hundred and Twenty-two here ...
---