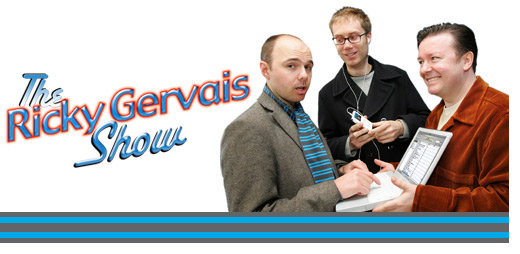 The 6th and final episode of this series of The Ricky Gervais Show is now available - along with previous episodes and the complete first series.



In Episode 6 (Tuesday 4 Apr 2006)...
Some sad news about an elderly tortoise proves a versatile opener for conversation - sparking a discussion on suppressed memories, longevity and who if anyone is in charge of Karl's brain.
Karl ponders his most favourite and least favourite words and proposes a lexicographical cull.
Believing that octopuses aren't the friendly little creatures they're portrayed as in films, Karl considers some suitable terms of abuse.
Karl's Diary - Philosophers and their names; Lao Tse's advice for spectators
... and Rockbusters answers.



---


In Episode 5 (Tuesday 28 Mar 2006)...
Karl's Freudian slip-up
Surgical quotas
Biblical logistics
Karl's diary;
designer loo-roll,
bed & boredom,
prandial sorbets for pretentious brats,
inappropriate choices for vehicluar nomenclature,
cemetery sightseeing,
Karl's secrets of a successful relationships,
Steve's unsound method of obtaining sound advice
and... Rockbusters



---


In Episode 4 (Tuesday 21 Mar 2006)...
Genocidal anura
Anthropomorphism and Fluffy the cat
Reflections on the inducement of camouflage-feedback in visually impaired chameleons
Karl gets his head around the concept of a multiverse
Steve the party animal
Plastic surgery at the deli counter
Karl's Diary - The worrying mortality rate of Karl's pets; blind dates; lunar lunacy; quadrupedal enclaves; common or garden aliens and...
Rockbusters



---


In Episode 3 (Tuesday 14 Mar 2006)...
Complaints relating to the perception of an inadequate frequency of expletives are addressed
Look who's listening
Social engineering at the North Pole
Questioning the credentials of TV pathologists
Karl's top twin tips
Plastic surgery at the deli counter
Risky dining and cancerous carnivore
s Karl's Diary - Congo confusion; vegetable timepieces; subterranean schoolfriends; porcine-pated ladies; beehive boozers and...
Rockbusters



---


In Episode 2 (Tuesday 7 Mar 2006)...
Karl Pilkington - the talk of tinsel-town;
There's no news like no news; Karl's illustrated book of ages;
Tall and pale and naked and waving;
Karl's diary - Auntie Nora, cat criticism, unappealing ultrasound scans, the passing fad that is hoummous, mind/brain confusion and the elderly lady with the bent neck;
and... Rockbusters



---


In Episode 1 (Tuesday 27 Feb 2006)...
Karl worries about about the stationery implications of relocating to another planet;
Relativity and re-runs of the 1980 World Cup Final;
Doppelganger - The Karl Who Haunted Himself;
A brainteaser for a man with no brain;
Extracts from Karl's diary;
Plus, for the cognoscenti, the timely return of 'Rockbusters'.



---




Downloading episodes is easy and cheap.
You can use Audible.co.uk (in the UK) or Audible.com (everywhere else)

Or, you can use iTunes - use the links for the country you live in.

Hope you enjoy the shows.



iTunes links take you directly to episode 6.





/** * 250 pixel wide table containing login/logout etc. User has already logged in, so display relavent links, including * a link to the admin center if the user is an administrator. */ $toptagline = "