Here's a selection of photographs which have appeared in various newspapers and magazines.
A second gallery is available here

You can download them in two sizes depending on whether you want to look at them on your computer screen or print them out. Just bear in mind that the high-res print-size versions might take a while to download.

To save the pics to your computer, right-click the links and choose 'save link as...' (pc) or 'download linked file as...' (mac).
---
---

low res

low res
Photos of Ricky with Warwick Davis promoting Life's Too Short.


---
---
---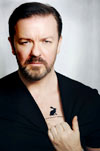 low res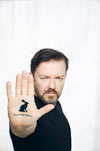 low res
Ricky lends his support to the Humane Society's campaign to end animal tesing of comsetics.


---
---
---
---
---
---

med-res (475KB)
Ricky on the set of Cemetery Junction - behind the camera

photo credit; Jill Furmanovsky
---
---
---
---

high-res (364Kb)
From the Ricky's US stand-up tour. Ricky on stage at Madison Square Garden during the show filmed for an HBO Stand Up Special.
---
---

high-res (760Kb)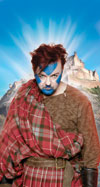 high-res (12Mb)
Pics from the recent FAME stand-up tour. Ricky as Braveheart was used to promote the massive sell-out show at Edinburgh Castle.
---
---
---
---
---
---
---