---
RICKY'S BLOG CONTINUED... Read Ricky's thoughts on his upcoming movies, visits to restaurants and round-headed friends.


---
Week thirty-seven - November 2008

What's Karl doing on My Family At War?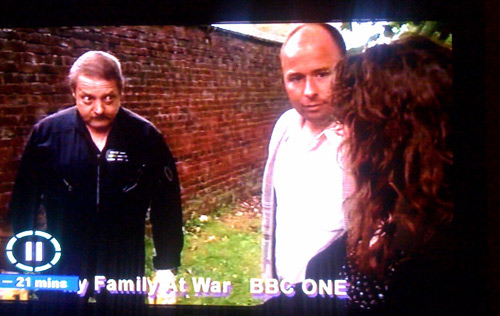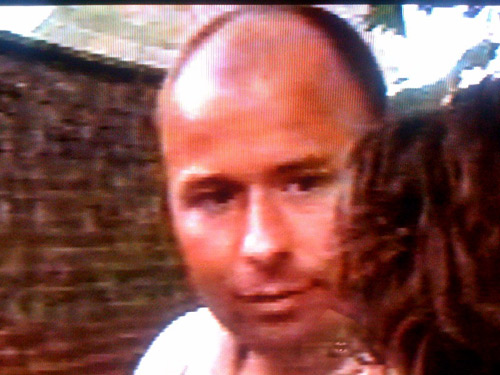 The head isn't quite round enough and he looks a bit too intelligent but it's pretty close.

Had lunch today with J.J. Abrams, and he asked me to tell Karl to write a novel. He loves the audiobooks and wants to see what Karl would do in the realm of fiction. It really is quite weird to think that "the new Spielberg" listens to that shaven monkey's drivel.

As you've probably worked out, I had a bit of a day off today. I even made a hat for my cat out of a tissue.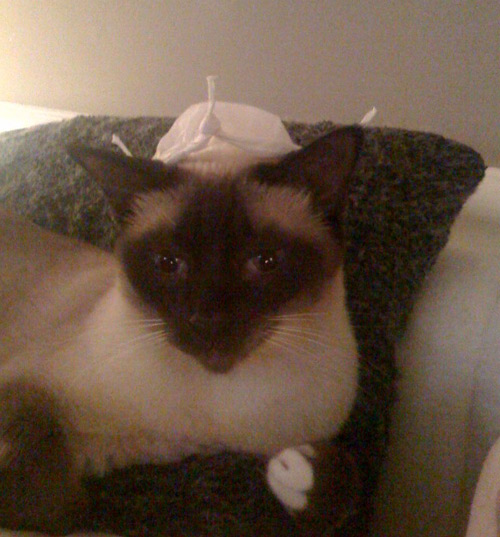 It's for the beach really.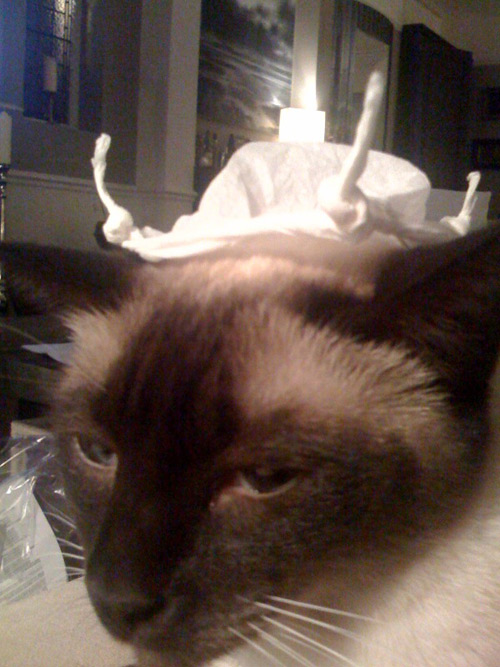 She really didn't find it as funny as me. Just like my friends when I dress them up.

What is wrong with everyone?


---

Children In Need all night on BBC1. I didn't watch it but I assume it was very heartwarming to see people plug their shows and singles for charity.

Called into The Opie and Anthony Show. It has to be the coolest show on US radio. They're so smart and funny and it's exactly what talk radio should be. It's a bit too laid back actually - I said the 'f' word then apologized. They were totally OK with it but the reason I was annoyed with myself was that it was accidental. I haven't got Tourette's. I'm not senile. I should be in control of my speech. I haven't got a problem with swearing but it was just a bit incompetent. What a cunt.

Did a photo shoot with Michel Rouse and Giorgio Locatelli. It was for The Observer Food Monthly mag. At the beginning I joked that this would be interesting with three control freaks. They turned out to be very charming and accommodating. I was the only control freak. The pictures are fun though.

I have a cold but at least it's Friday. Have a nice weekend and if you are in America watch my stand up special on HBO. (9pm ET, 10pm PT). It's for charity. (well, not for charity exactly... it's not for charity at all to be honest.)


---

Karl called with a question. I spent about 25 minutes trying to explain evolution to him. He doesn't get it. In fact it annoys him a bit.

I said several times we should save it for the audiobook. I couldn't believe the amazing drivel that was being wasted. At one point I explained that we are about 98.6% genetically identical to a chimp and that we are closer to it than it is to a gorilla.

"Definitely not. They've got that wrong," said Karl.

"It's true," I said.

"No. When you see a gorilla in the zoo it looks at you more humanly." He went on, "a chimp..." (long pause) "...just look at the arse!"

Incredible. Not even Darwin faced that sort of reasoned opposition.

Started working on my first twenty-odd minutes of new stand-up. Just saying it in my head in a quiet room. I've no idea if anyone in the world will find it funny at this stage. Isn't that weird? Just hope and a bit of self belief.

Then you know immediately when you do it in front of a few hundred strangers.

At the moment it has less to do with science than 'Politics' had to do with politics. And that's saying something.

Doing a syndicated interview tomorrow for 250 US radio stations. The Stand Up Special premiers on Saturday night and I can't wait for the complaints. I've told HBO to keep them all. That should be the other 50 minutes of 'Science' sorted.


---

HBO seem to be doing a nice job promoting the special across America.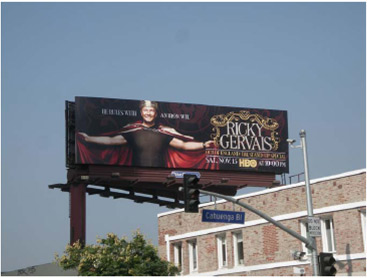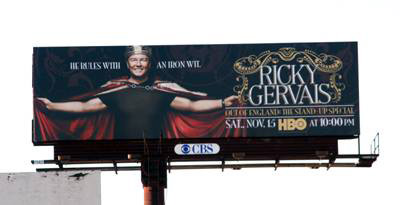 Watched the first episode of the great new series EVOLVE on the History Channel. Absolutely brilliant. Although I'm sure the voice over referred to Arthropods and Anthrodods? I could be wrong but check it out. (Oh God. I feel like such a fucking nerd)

Got nominated for a couple of awards today. A British Comedy Award for lead actor in The Extras Special, and one I'm very excited about - Best Human Male at the Video Game Awards for Grand Theft Auto. To win an award called Best Human Male would be quite something. I wish it was in The Evolution awards. Best Anthropod would be good too.


---

Slept for 13 hours last night. Like a sloth. Well, what with the jet lag and a bit of a cold... and a very busy week... you know.

Quite a surreal week actually. Watched the New York marathon, recorded Inside The Actors Studio on Sunday, wrote and presented the Top Ten list on Letterman on Monday, watched Barrack Obama become President, bought furniture for the apartment, saw Pale Male (a big hawk that lives in Central Park) attack a squirrel on Tuesday, did a benefit gig with Bruce Springsteen on Wednesday, went on The View, did a couple of screenings with Q&A's on Thursday, balanced Conan O'Brien on my feet, got invited to do Sesame Street on Friday, watched Joe Calzaghe beat Roy Jones, asked Danny DeVito and Michael Douglas to be in Extras on Saturday and annoyed my freaky head chum Rob every day.

Craig David could make a song out of that.

Started building a recording studio today for the new series of audiobooks. Steve's not back till the end of November now as he is running round in tights on the set of The Tooth Fairy with The Rock. We might get out the first episode before Xmas but who knows. Barrack Obama's audiobook is creeping up the charts so we'd better get some new stuff out soon. I've heard he's quite popular. Karl wants to do more now too as he is fed up with filling his days with DIY. His last blog entry shows he has too much time on his hands...

November 10th, 2008
COLD HEAD
I went bald about ten years ago. I put it down to one of three things:

1) Mistaking my mams hair dye for shampoo when I was younger.

2) Working a 24 hour shift making Roy Chubby Brown tapes (read about that in this book
)

3) Catching something from the scruffy barbers I used to go to. He used to wash my hair in a sink that was full of used cups. It was a hut that was next to a train station that started off as a place you could buy flowers, but that closed after bad business and it reopened as a barbers. I think the same fella who cut flowers thought he could cut hair. It's just a shame he didn't use any Miracle Grow on me head.

It's at this cold time of year that I think how nice it would be to have hair again.




This is a wig that a mate bought for me. I think if you're gonna lie about having hair you may as well have a lot of it.

Seeing as we're talking about the head, Ricky describes it to people around the world by saying "Karl Pilkington's got a head like a f***ing orange" so I thought this was a good time to show you this:




It's the skin from an orange I had earlier. When I peeled it the skin came off in one piece.

"I've got an orange that looks like a f***ing elephant"

By the way, I've done a christmas card to help raise money for 'Children in Need'. You can buy one here.

For 'Karl in Need' buy here
.
---

Got back to London today. The cat was chatty but not mental enough to lose her voice this time.

I've been asked to do Sesame Street. There are some things you don't turn down.

Rottentomatoes have put up the interviews I did as a series.

Ghost Town is still going strong and only dropped 5% between weeks 2 and 3 which is amazing so thanks for that.

Right, now to catch up with X Factor.


---

Week thirty-six - November 2008

Saw the first preview for my stand up special.

Ricky Gervais: Out Of England (HBO, Saturday, Nov. 15, 9 p.m.)

In between wrapping up his Emmy-winning HBO series 'Extras' and making one of the few intentionally funny appearances on this year's Emmy Award shows, Ricky Gervais taped a live performance at New York's Madison Square Garden. The result is 'Ricky Gervais: Out of England - The Stand-Up Special', debuting this month on HBO.

Culled from material performed during his earlier U.K. tours, the special offers Stateside viewers an opportunity to see the stand-up side of Gervais - who's best-known here for the aforementioned 'Extras' and for creating the original BBC version of 'The Office'.

Onstage, Gervais plays the part of egotistical celebrity, strutting across the stage between gulps of beer from an oil-can-sized Foster's. His put-on insensitivity dares to target everything from cancer to the Holocaust. While some viewers will no doubt be offended or at least uncomfortable, Gervais is never threatening and his affable personality somehow delivers the politically incorrect goods without alienating his audience.

When the subjects of weight and sexual-endowment come up, Gervais turns the tables on himself, dropping the put-on braggadocio and revealing his stand-up persona's insecure underside. He scores some especially resonant points at his U.S. audience's expense as when, commenting on the "strength" of the dollar, he asks what it feels like to be a third-world country.
- George Vernadakis

Made our 6th or 7th visit to Central Park Zoo. The red panda was out for the first time since we've been going.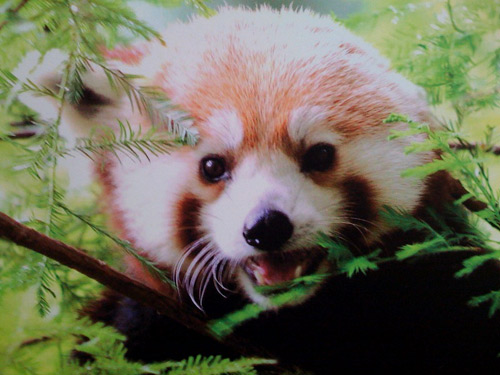 Karl is annoyed when animals don't "entertain". He thinks the sloth shouldn't have such a big enclosure in London Zoo.

"Stick it in a wardrobe and he'd be happy."

Idiot.


---

Did a few more interviews plugging the HBO Special including my fourth appearance on Conan.

Last time I had him down on all fours doing the surprised face.

There was only one way to top that.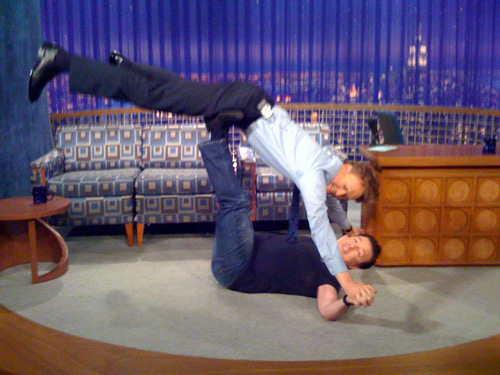 After the show I did a BAFTA screening of the stand up show followed by a Q&A. I ended up talking about the shaven chimp as usual. He could come and tour america if he wanted. It would be like a Victorian freak show but he would make a lot of people happy.


---

Did the Stand Up For Heroes benefit gig last night, which was great fun. I went on after Bruce Springsteen had performed Thunder Road, The Rising, Promised Land and had raised $125,000 by auctioning off his bike, his guitar and his jacket.

No pressure there then.

I met him after and he was such a nice normal man. Steve really will never forgive me.

Did The View today (that's the show that Loose Women is based on). I didn't think it was quite the audience to plug my stand-up special but they laughed in the right places and it was very laid back.

I've got a couple more screenings with Q&A sessions, Conan and then the Calzaghe Jones fight (I'm on stand by in case one of them drops out) before I fly home.


---

RottenTomatoes.com have put up my acceptance speech.

Karl doesn't want to do film reviews for them because he says he's "sick of doin' stuff for free". Miserable Manc git. I wish this was happening now!

Talking of free - our podcasts are now downloaded 130,000 times a day and our audiobooks tipped the 3.5 million mark this week. So thanks for that.

Did a few more press and TV interviews today plugging the HBO Stand-up Special. I'm doing that benefit gig tonight with Bruce Springsteen. I still haven't told Steve.


---

So, the 'Inside The Actors Studio' session took four and a half hours to film. They've got to cut it down to one hour so it will be nice and tight. I really enjoyed it, but needed two wee breaks. (I'm not speaking Scottish - I mean I needed to piss twice.) Talked about Karl so I hope they leave that bit in.

Did Letterman and a few other TV shows plugging my HBO Special on 15th Nov.

The atmosphere here on election day is amazing. It's the most exciting White House race that most Americans can remember.

Even Karl is happy.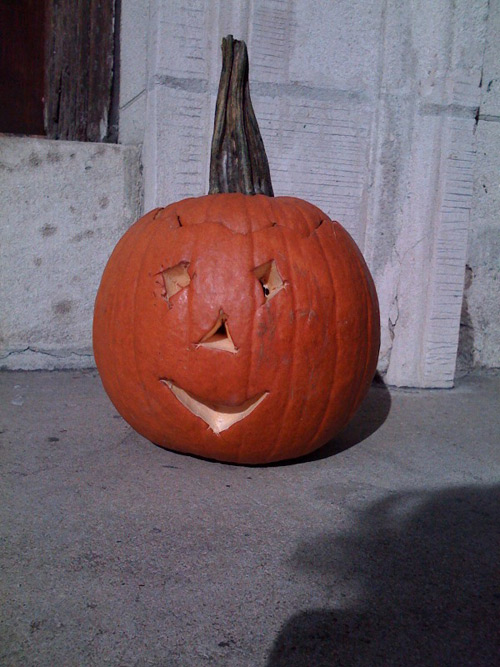 ---

Week thirty-five - October 2008

Got up early and went for a walk in Central Park.





It was a beautiful crisp day, perfect for the New York Marathon.

We watched the organizers prepare for the crowds.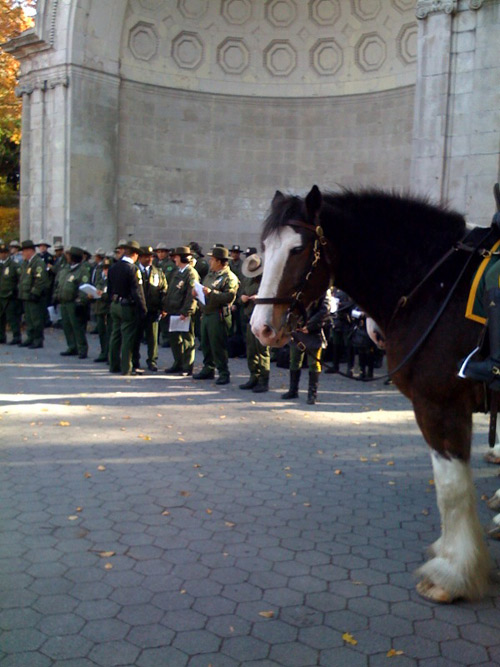 Had lunch with our chums Rob and Jill. I hadn't seen him for a while so I annoyed him so much that I think I broke him.

He doesn't like me taking pictures in restaurants...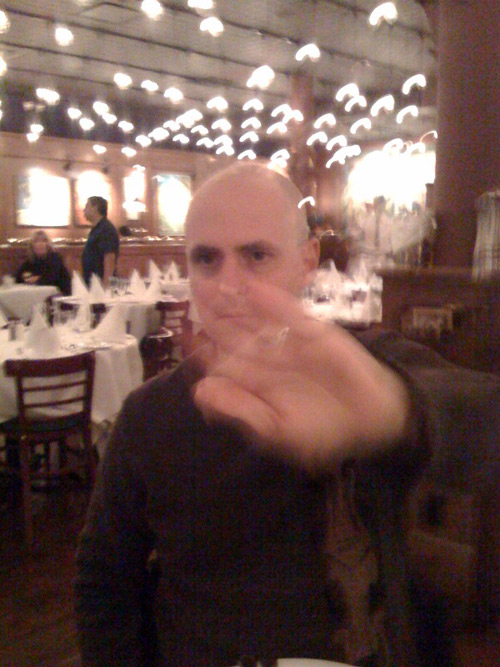 So he gets a little grumpy.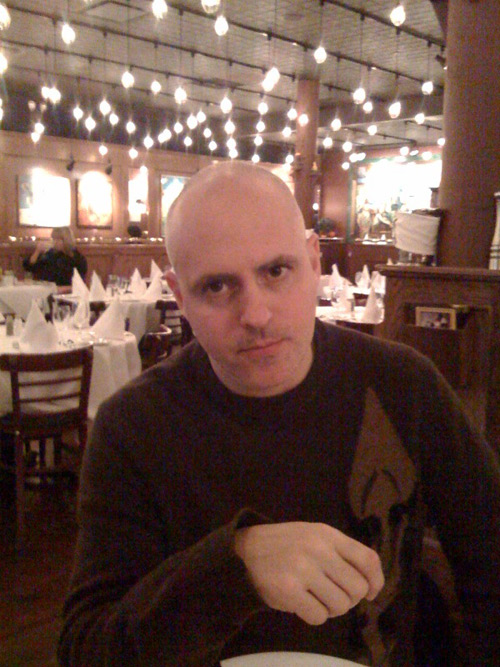 Then he sulks.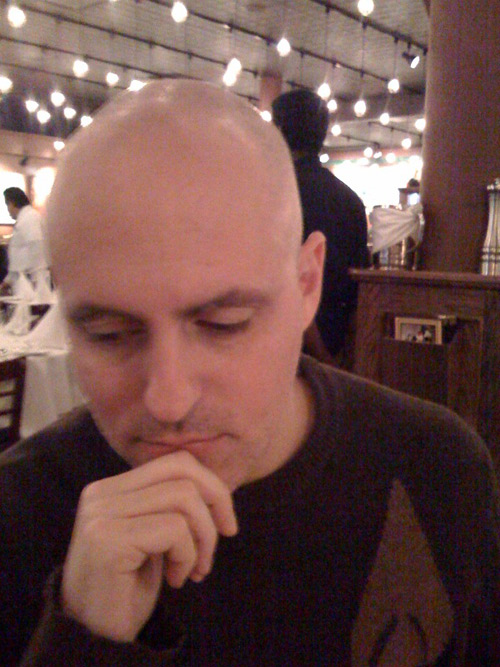 Then he gets more annoyed.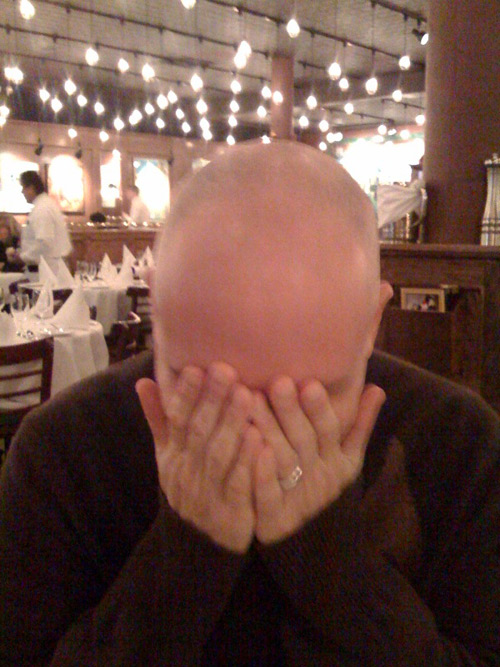 He can't believe it when I take pictures at the urinals.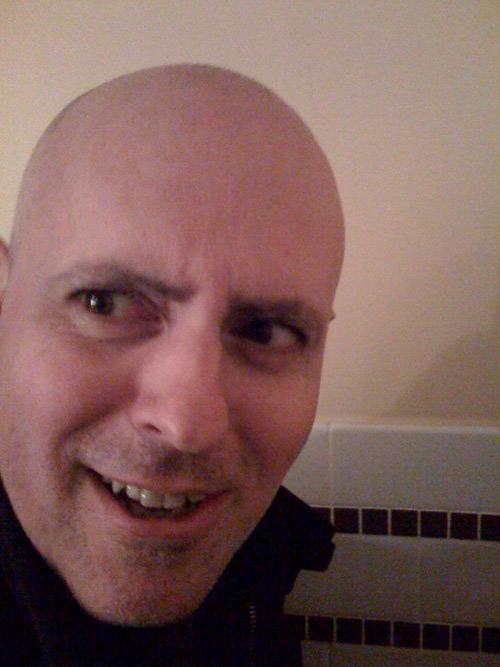 Then he just gives up.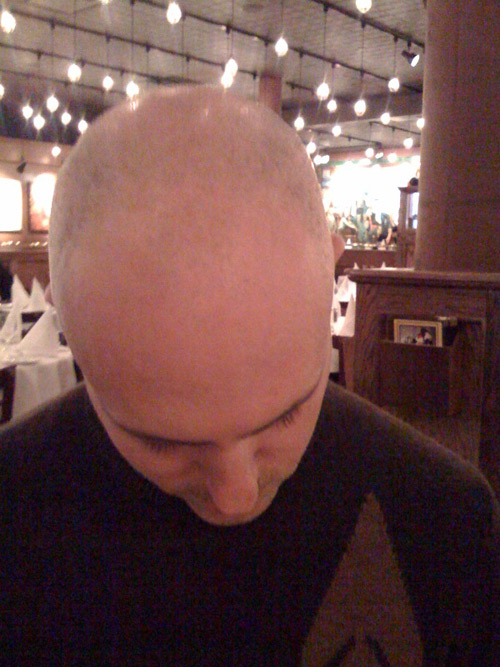 That angle shows the full horror of his Roswell qualities, but because he is such a good friend I overlook those little faults.

Off to record my "Inside the Actors Studio". They must be running out of subjects. I will mention my even freakier friend, the shaven chimp, whenever I can during the show.


---

Happy Halloween

What a perfect time of year to see Ghost Town. OK that's the last time I'll mention it.

Talking of scary... look at this picture I took of my TV today. It's Robin Ince on Richard and Judy.

He used to complain when I dressed him up.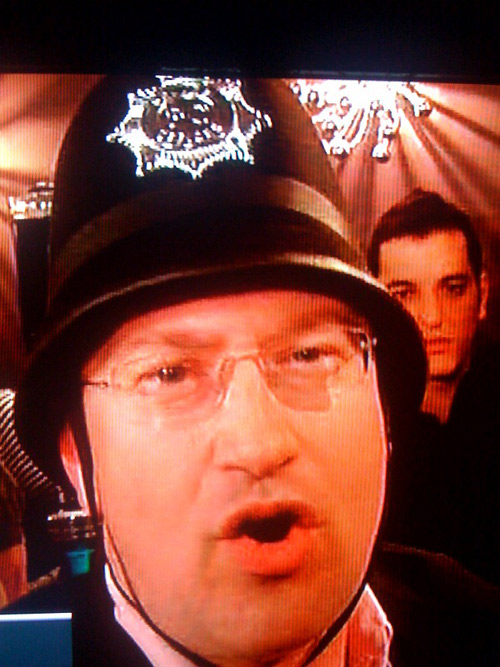 It would be too easy to come up with a lewd caption wouldn't it.

Robin is a very good boy and if you see him you should tell him so.

He said he will have to take cabs everywhere next week, as Channel 4 showed "Politics" again tonight. Apparently, due to the behind the scenes footage, he gets a lot more people shouting "Ahhhh Robin" on public transport.

If you drive a cab maybe you should shout this if he gets into your vehicle.
Thank you.


---

Karl loved the chicken and mushroom pie and and the pudding.

I got him a job today. I received the Rotten Tomatoes Award this afternoon and while I was recording my video acceptance speech, (I'll link to it when it's up), I took the opportunity of volunteering Karl as their chief film reviewer.

I said he'd do it for a fiver, or a tenner if he has to dress up as a tomato. I should be an agent.

Oh by the way...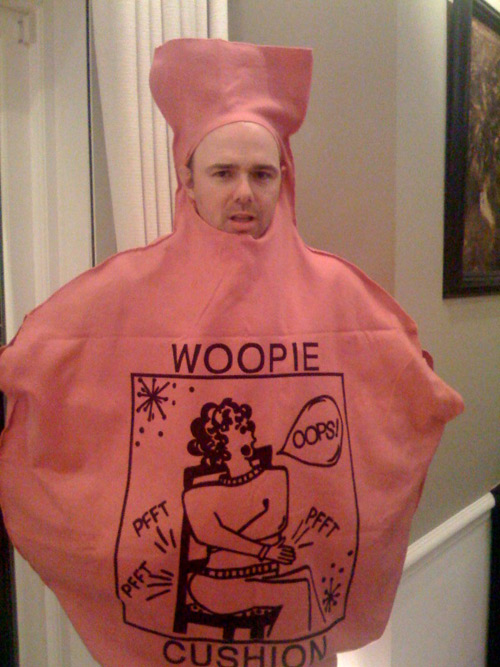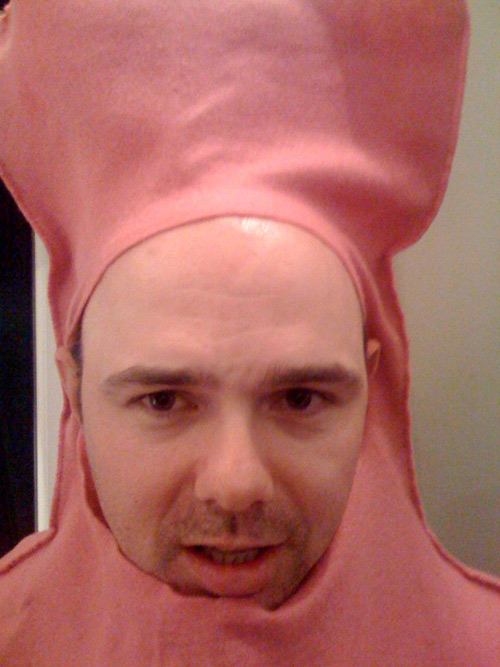 and the gimpest of all...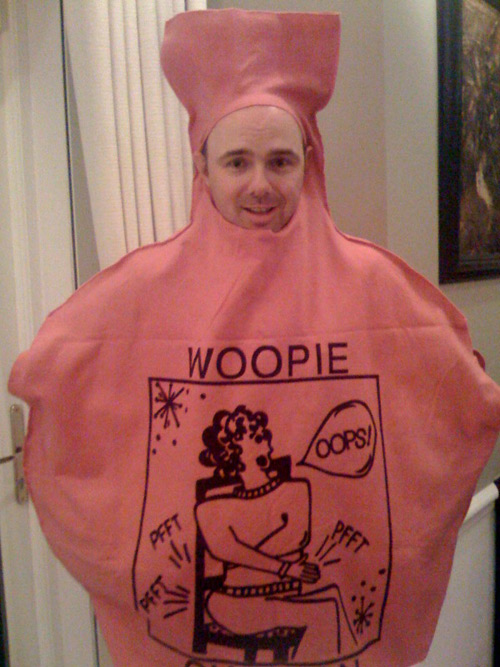 Look at his stupid face.


---

So I've sent an email to Al Pacino about Extras.

I can't tell you how incredible it would be to have him do the show. I hope his old mate Bob will put in a good word.

We've started the process of casting for The Man from the Pru. Hopefully I should have finished This Side of the Truth in time to start filming it next summer.

Karl and Suzanne are coming to dinner. He wanted to know what we were having so he could 'get prepared'. (Home made chicken and mushroom pie then apple crumble and custard if you're interested)

The fact that I'm now telling you what will be eaten in the future makes me think this blog is becoming a struggle.


---

Story going round that I injected my pet dog with botox.

I didn't. I haven't got a dog. I would never do anything to hurt or enhance the unconditional natural beauty of an animal. It was a joke. Retraction tomorrow.

Talking of absolute bollocks, Karl's blog entry today is mental.

October 27th, 2008
MORE BEE NEWS
Woke up on Sunday morning to the news on the radio that said scientists have found that bees can count to four. I don't know if this is useful for a bee or not. What can it do with that knowledge apart from singing the intro to most James Brown songs?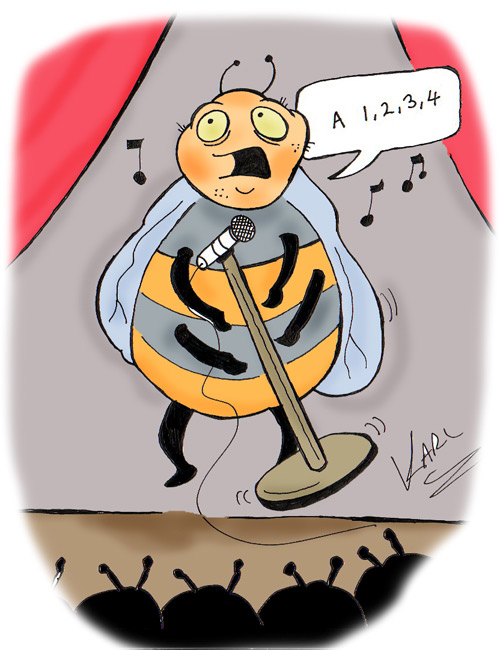 This is the problem with things constantly evolving, Bees will learn more numbers and end up spending less time on the jobs that they are here to do, like shifting pollen and making honey (which I think is more impressive than counting to four to be honest) and will want to do more interesting stuff. Like doing a sudoku.

Lynda Watson sent in this fact to the 'Learn Me Something' part of the blog.

"The Inuit/eskimo raise their eyebrows to say yes, and scrunch their noses to say no."

It's mad to think basic communication skills like this are being used by humans, and yet we've got bees doing maths.

Where do you think he got the inspiration for his drawing of a weird little round headed thing that can only count to 4?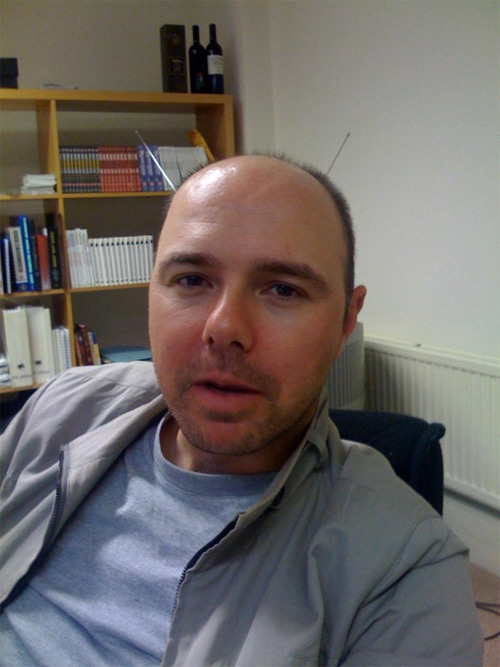 Ghost town got the highest score ever on The Richard and Judy Film Club with a massive 9.5 out of 10. I'm counting that as my first film award (if you don't count the 5 Emmy nominations in TV Movie category).

I'm also being given an award by RottenTomatoes.com this week for being the best-reviewed comedy. Richard and Judy... Rottentomatoes... just the Oscar now then. (I think Annie Hall was the last comedy to win an Oscar so I won't hold out much hope)

I'd love Karl to be given an official "Roundest Head Award". Any paper or website editors out there that could make this official? I would talk about it for years. And Karl would hate it.


---

Week thirty-four - October 2008

Have you been to see Ghost Town yet? Good.

Took this weird picture from the window in New York. It's a zeppelin in the night sky but the reflection of the room in the glass makes it look like a giant futuristic temple.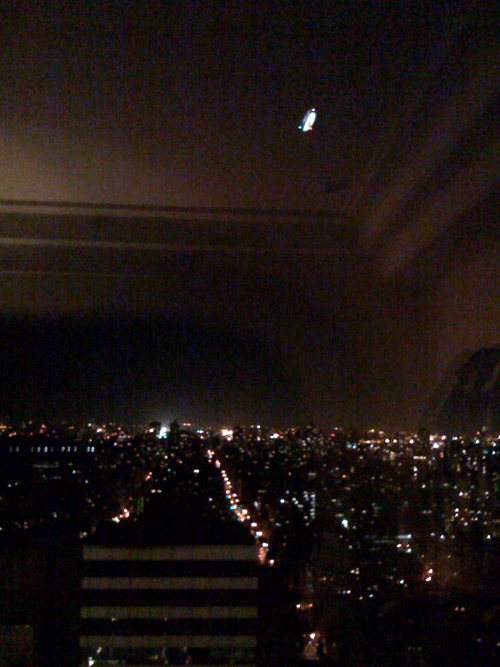 As I've got paintings of New York in my London home I thought I should have picture of London in New York. I started on this. Not finished yet but it's meant to be St. Pauls.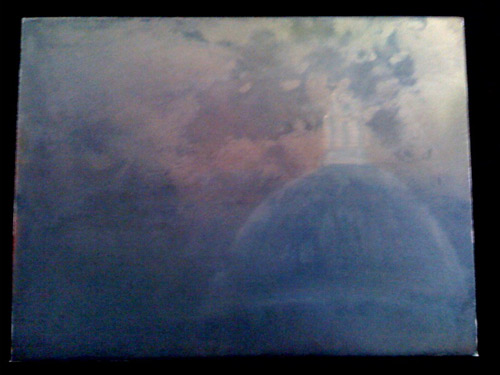 I think I'm better at this sort of thing...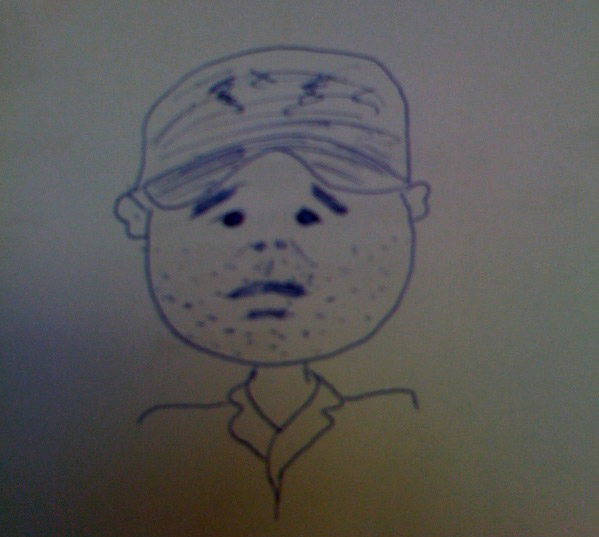 Here's the real deal. This may be the roundest I have ever seen it.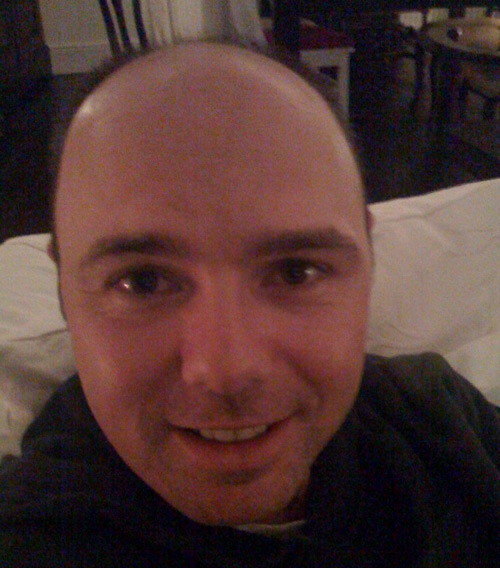 ---

David Badiel sent me this link.

I sent it to Karl who said, "It's like a politically correct Humpy Dumpty. Amazing.

Ghost Town is finally out all over the UK. Hope you like it.

Graham Norton was fun. Hope Louis sees the funny side of it.


---

The guys at Wildlife Aid read the blog and saw that Karl is less than busy. They have invited him to be a volunteer at the centre.

I told Karl this. He said, "careers going well then."

Then he thought about it and is going to do some work for them. I said the magic words "learning stuff".

The cameraman who films Wildlife S.O.S. sent me these pictures today. A bald hedgehog becomes a manc-hog. He's never met Karl but I love the fact he's "joinin' in".



---

Steve must have seen the thing in the press about me thinking about doing another Extras Special. He's in LA at the moment but the story that went out across America was that, although I would consider it, I thought Steve would take some convincing. Well I got an email today from him saying he's up for it. I started work on it immediately. Does anyone know Al Pacino?

Did Graham Norton's show. Great fun with an amazing Louis Walsh phone call. Unbelievable.

I've been asked to write and present the Letterman Top Ten List. I came up with eight or so but then cried for help from my clever American friend Matt. He came to the rescue but will get no credit.

Just saw the hedgehogs snuffling around. Time for bed.


---

The hedgehogs moved into the little houses we put out. They are bungalows actually; I don't think hedgehogs are great with stairs as their legs are very short. They are now beating the fox to the food as they know we put it out about 9pm.

Had lunch with Karl. He was moaning about the fact there is "nothin' 'appenin'." He said even the hedgehogs have more to do than him.

He made me laugh out loud in Goodge St.

We were walking along and we saw this weird fat woman coming towards us reading an A to Z. She was a very odd shape and just as we passed her Karl innocently asked, "Why is her arse on the front?" I burst and everyone looked at me.

Here's another very funny friend. Millionaire novelist and comedian David Baddiel looking for a bargain.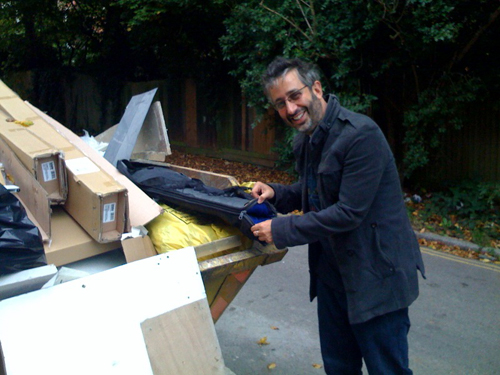 He's like a fucking womble - hairy, long nose... (that's racist)


---

The red ink tattoos on the arms of Razorlight's drummer didn't show up too well on TV.

Here's a lovely close-up of proceedings.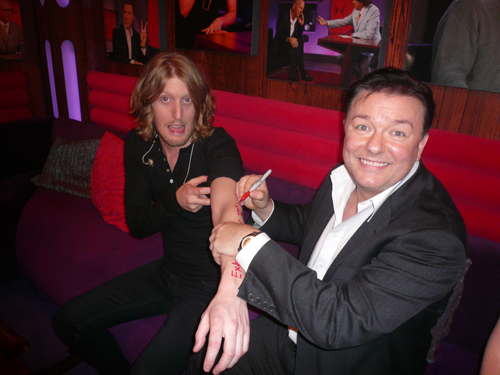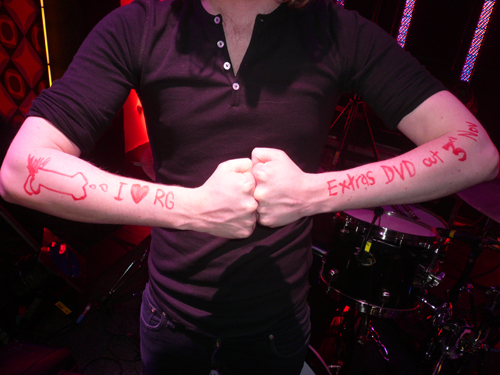 I was a bit rushed so the penis looks a bit like a small dog being sick. (Not the drummer's penis, the drawing...)

The nice reviews are still rolling in for Ghost Town.
Thanks for that.

Had lunch at David Baddiel's house. We showed his kids how we used to amuse ourselves before the Nintendo Wii.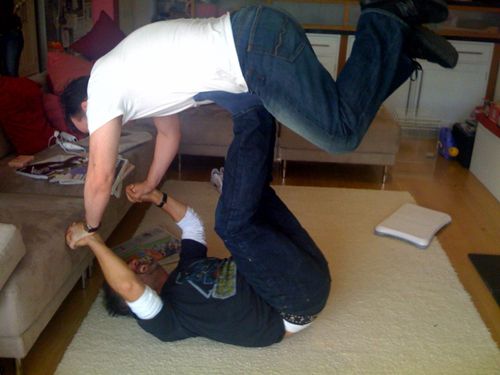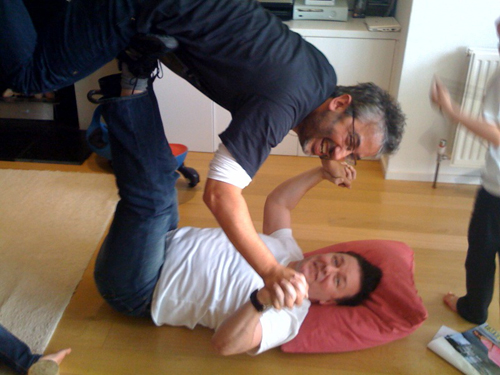 Just look how happy we are.


---

Week thirty-three - October 2008

Hog Blog...

Paramount Pictures could have saved a lot of money this week. There was no need to pay for the trailer of Ghost Town in the X Factor as I got about fifteen fucking mentions in the actual show.

I'm pretty sure now that Louis is confusing me with David Brent but he just keeps saying "Ricky Gervay" as an insult. Then everyone else is going 'Oooh, bit harsh Louis' like he's said, 'you look like a bit of a rapist-peodo-cunt there Daniel.' Unbelievable.

Poor Louis though. It's like Simon has got him on the show to ruin his career in public. I've never seen bullying like it. And Louis' only come backs are things like, "and so are you Simon."

Bless him. (But if you know him, explain to him that I don't go around singing in a cringeworthy way unless I'm doing David Brent or the like.)

We went back to the Wildlife Aid Centre to collect our rescue hogs. Hedgehogs that is.

Two fat, spikey things called Howard and Hilda (as in Ever Decreasing Circles).

We released them into the garden and they fled to the undergrowth. We got a glimpse of one of them late this evening then it was gone again. Even though we put them there, it was still a privilege to see the lovely little grunting tribble busying about. privilege Here is one before it ran and hid.

I don't know which one it is. I don't know which way up it is.

At this point there was no evidence that it was alive. But it was and is.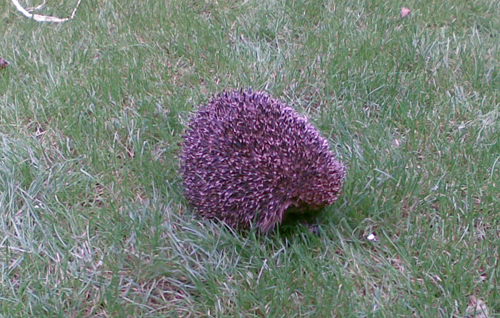 ---

Did Jonathan Ross Show. Fucking mental.

You wont see most of it as 80% is unsuitable for broadcast. I actually don't think any of it should be on telly but they need to put something out.

The drummer of Razorlight let me write things on his arm, like 'Extras DVD Out 3rd Nov' and 'I Love RG' and a picture of a big knob. Look out for that.

The song they do is a number one. (I sound like a middle-aged pop pundit from 1960)

Got to rush now and do another 30 interviews plugging Ghost Town. Still mustn't grumble.


---

Did loads of interviews today for Ghost Town. Here's a bit of one.

I found out that 1. every journalist in the world reads my blog, and 2. they all agree that Karl has a head like a fucking orange.

One even bought Karl a present. A whoopee cushion outfit. Karl doesn't know it yet but I will somehow get him to wear it for your viewing pleasure.

Doing loads more tomorrow including Radios 1 and 2 and Tonight with Jonathan Ross. I will try to mention "The Head" at every opportunity. Please do the same.


---

Had the UK special screening of Ghost Town. It was smashing and it didn't rain.

Richard Curtis, Alan Carr, Jonathan Ross, Graham Norton, David Baddiel, Steve Wright, Keith Chegwin, Lionel Blair, Karl Pilkington and loads of other freeloaders got in absolutely gratis.

But seriously...

Thank you to everyone who came along and said such lovely things about the movie. Curtis as usual was soooo nice and I said, "does this mean I have to pretend to care about famine on film again?" "Yes" was the answer.

Oh well, you scratch my back... in fact I will do Comic Relief if he literally scratches my back.

Oh no. I've just had a terrible thought. He once said that The Office was the greatest TV show of all time. What if he just said that to get me saving Africa? He wouldn't be that cruel.

Watching the film again reminded me how beautiful New York is at this time of year. I painted this when I was there.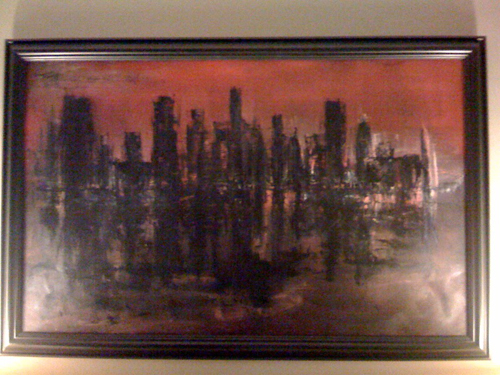 We're going back soon. but when we're there we miss this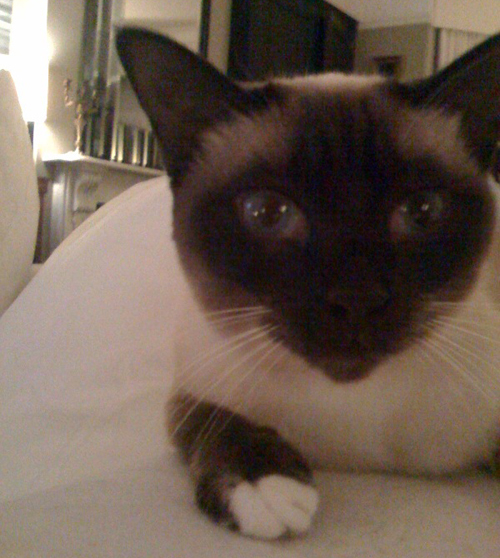 Swings and roundabouts.


---

Read that the living legend Dick Van Dyke thinks I'm funny. I'm so proud. He is the nicest man in the world. Everyone who has ever met him thinks the same.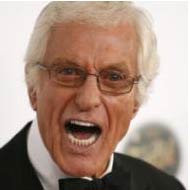 Dick Van Dyke to star in new movie with Ricky Gervais

Gervais is funniest, says Van Dyke

Ricky Gervais has been named one of the "funniest human beings alive" by legendary Hollywood performer Dick Van Dyke.

"He's one of the funniest human beings alive - I mean it Ricky," said Dick, who stars in the forthcoming film sequel Night at the Museum Two: Battle of The Smithsonian, with the British comic.

"I love that man and I got to meet him but we didn't get to work together (on the movie)," he added.

I was chatting to him once and found out we have something in common. We both agreed that Laurel and Hardy are the greatest. Then he told me a wonderful story. He used to know them and used to visit Stan, long after Olly's death. He'd go to his little house in L.A. and chat. Stan, he said, would show him sketches he'd continued to write for him and Ollie even though he knew they could never be made. How sweet is that?

Found this on YouTube. Karl gets a little mention.

We think the subjects we might tackle for the audibooks are; Evolution, Medicine, Space, History, Discoveries and Morality. I was trying to explain evolution again to Karl today. I don't think he'll ever fully understand it. I was trying to explain that any animal is as evolved as the next. (I know that is very crude but it's really hard to know where to start)

Anyway I said a termite is as evolved as a panda, say. "Definitely not." he said.

"No listen," I said. "They are both around. They both 'work'. In fact some could argue that the termite is 'more successful'."

Karl, more and more frustrated, listening to what he clearly thought was nonsense, suddenly ended the argument with, "What would you rather be? A panda or a fucking termite for fuck's sake?"

Good point.


---

Week thirty-two - October 2008

Did very little today.

Read that article about comedy in The Guardian and the first UK preview of Ghost Town in The Evening Standard-

"British comedians rarely prosper in the States - even the superbly abusive Little Britain USA has been getting a mixed reception. However, the new rom-com starring Ricky Gervais, Ghost Town, out here in a fortnight, is a triumph. Gervais plays a fabulously rude and selfish British dentist, working in Manhattan. After briefly expiring on the operating table, he becomes able to see and talk to the ghosts of the many New Yorkers who have gone over to the other side leaving unfinished business behind them.

Gradually, the dentist realises that other people and their feelings matter. What we see is David Brent humanised. Or to put it another way, what it takes to make an Englishman unbutton. Something supernatural. And by the end, that's no joke. In fact, it's enough to make you weep. A corker, this."

Nice.

My cat didn't do a lot either.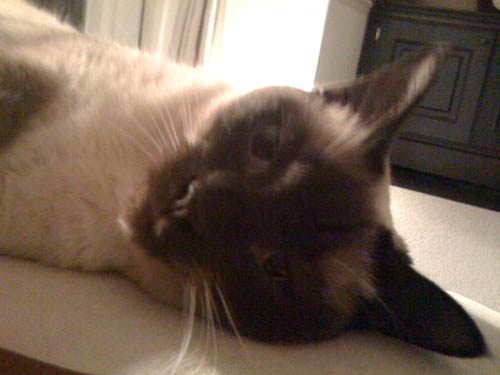 Still, Karl doesn't even do a blog weekends. How can he have a go at the cat?


---

Imagine if Louis Walsh made you like like a cunt in front of 10 million people.

Then imagine if you had friends like mine that couldn't believe their luck and immediately started texting you things like "Louis Walsh just made you like like a right cunt"

That would be a fun Saturday night wouldn't it?

There I was watching X Factor, when along comes the nice chap who lost his wife. He did his song then had to listen to the judges' verdicts. Louis wasn't impressed. "It was like Ricky Gervais doing karaoke."

I assumed at first that he meant David Brent. But then he compounded his point with "He looks like Ricky Gervais."

I never ever thought that one day a man such as Louis Walsh would use my name as an insult. Louis Walsh had a go at my looks! Fuck me. This is worse than when Dawn French had a go at my weight. My friends had their best Saturday night ever.

I had a great Saturday actually. We visited the Wildlife Aid Centre in Surrey run by Simon Cowell (not that one, the bloke off Wildlife SOS).

We've watched the show for years then a couple of weeks ago I got a letter from him asking if I could get involved in any way as he'd heard I was an animal lover. I called him up and said I'd help but my fee was pretty high... two rescued hedgehogs for my garden. (I didn't get where I am today without knowing how to drive a hard bargain)

We went along and it was amazing. Animals everywhere being looked after by loads of very nice people indeed.

I met a box of sleepy badgers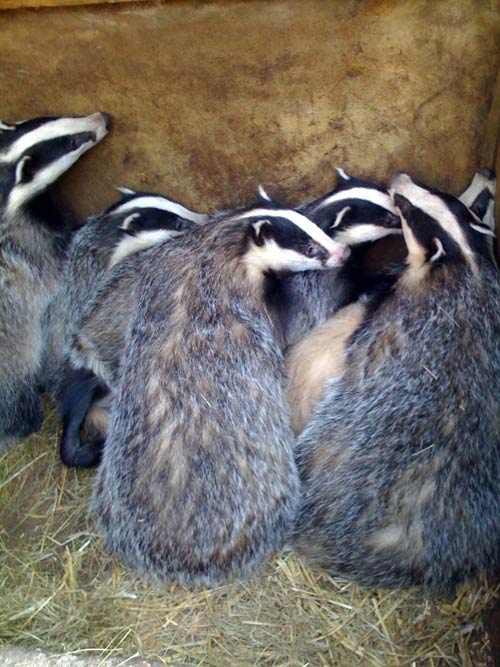 and a giant goose.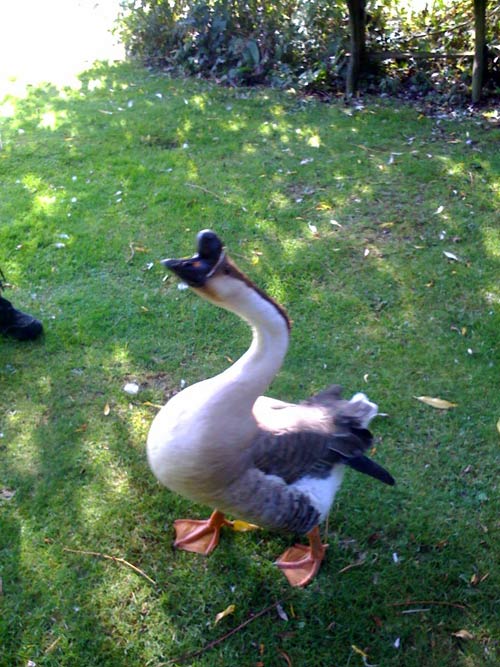 I was brave at first...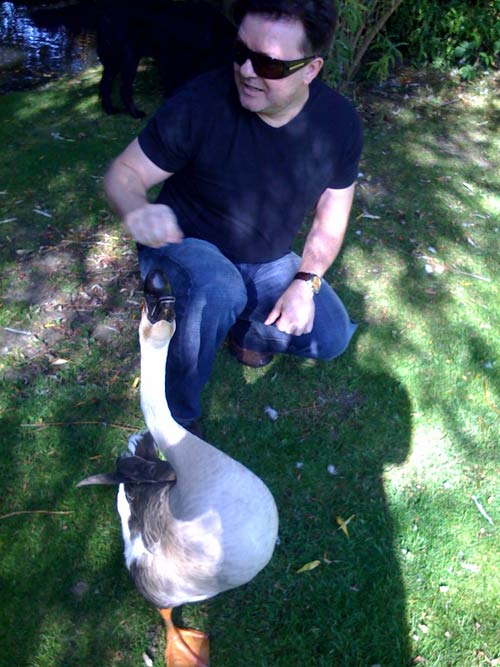 then it went for the goolies. And yes I jumped.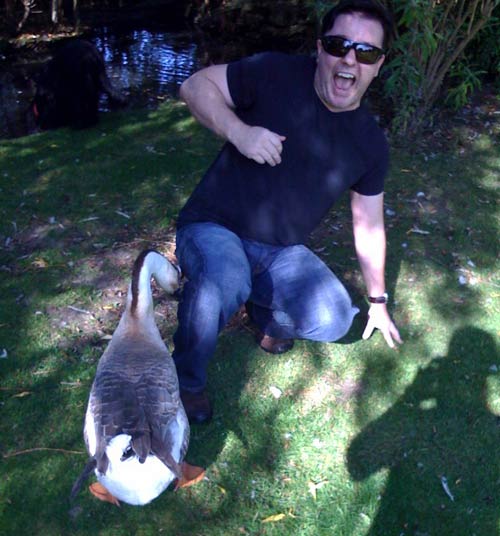 if you want to help out here's the website http://www.wildlifeaid.org.uk/


---

Spent the day at Pinewood mixing for a test screening of This Side of The Truth in LA next week. It's come along very nicely. I honestly think there's no other film quite like it.

Talking of things that are a bit different, Karl and Rob are here as I'm writing this blog. We have just had dinner and a cheeky pudding. I asked Karl to shave his bonce so that he looked more egg-like next to Rob and he said, "No I'm growin' it a bit for the cold weather." Brilliant. So the side of his head and the back of his neck will be slightly warmer this Christmas. Idiot. Rob had a lovely little shave to meet Karl.

Look. I think Karl looks a bit jealous.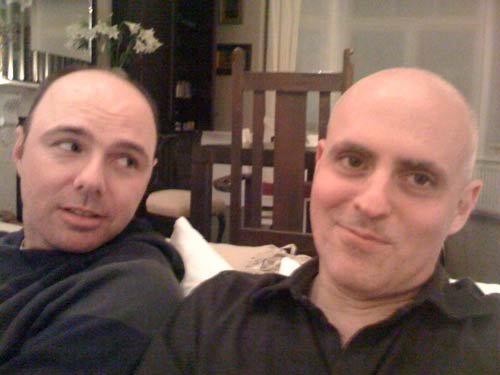 This picture gives a bit of a false impression. Rob's head is weird because it is scrawny and tiny, but it looks normal size here. Likewise Karl's head is weird because it is big and plate-like. But his looks normal too. Disappointing. They wont let me take another one. Who do you think is the weirdest?

And lets not forget Robin.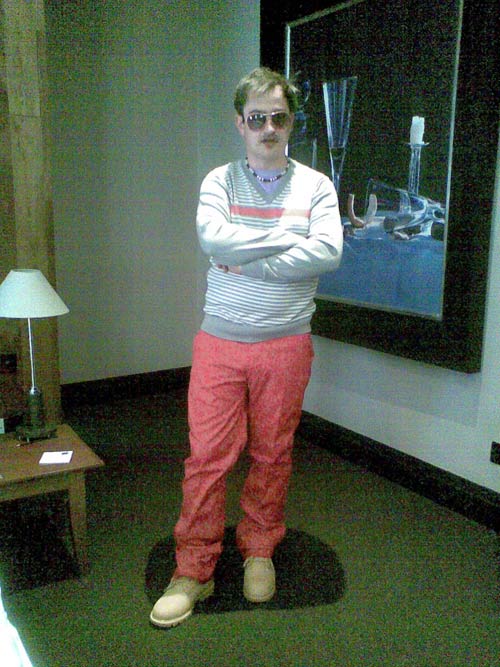 I took this one of Karl yesterday in the office. Because of the TV antenna behind him he looks like an ant.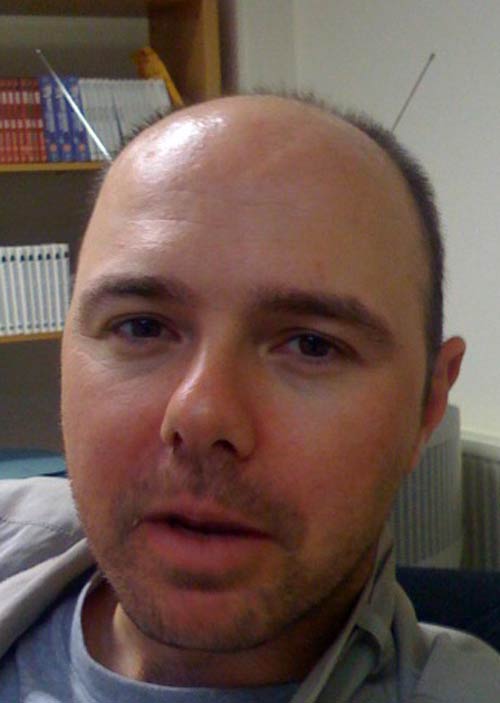 Anyway, discuss.


---

You will see this add appearing around town soon.





A heads up to readers of this blog - I am the Extra Special Guest on all 3 shows. Keep it quiet, but do come along. I'm only doing 15 minutes or so but it will be a great night anyway.

Started planning the new series of audiobooks today. We're kicking off with Evolution and wondered if you'd like the opportunity to ask Karl some questions.

We have set up a dedicated email address to send in suggestions and whatever. Karl or Steve will read them. I won't as I am too lazy. The email is aptly - askkarl@rickygervais.com.

The audiobooks will launch just before or just after Xmas.

Saw this in an American newspaper. Basically they compare McCain to David Brent.


---

Found this little documentary about Ghost Town on YouTube. It's a bit long and the last bit is just raw footage which is a bit weird but if you've got 20 minutes to spare take a look.

The great reviews are still rolling in from The US. You can check out the gist on metacritic and rottentomatoes.

I realised that the film is being released at the perfect time in the UK. It's not only set around Halloween but most of it was actually shot during Halloween. I remember we were filming in and around Central Park and I couldn't tell the extras from people just going to work. They really make an effort in Manhattan around Halloween.

Talking of effort. Take a look at this great animation of the Ghost Town trailer.


---

My cat is calm, normal and at peace.

Here it is looking out at our award winning garden. Karl will probably be annoyed that it is allowed to lounge on an antique sideboard. What he doesn't know is that sometimes I sort of push her around on it like a giant hot furry duster. Look at that shine.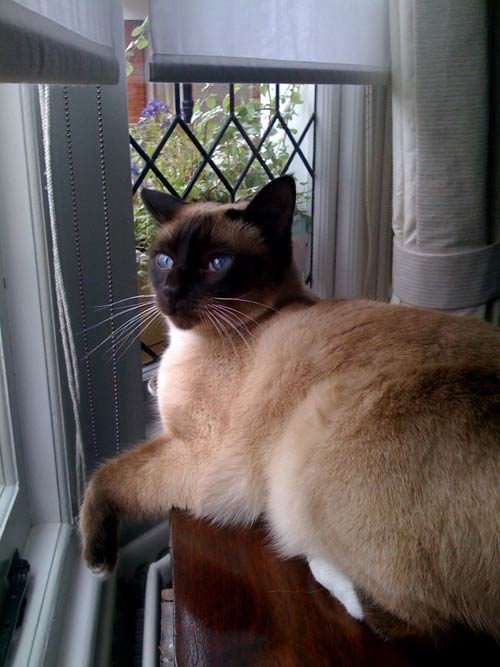 Talking of Karl, my other egg-headed-gimpling, Rob, is coming over from New York this week. I will get a picture of them together. I think they will look like a pair of testicles but I could be wrong. We'll see. They both love pudding so it will be interesting to see them eating at the same time.

Pencilled a couple of dates at a tiny theatre at the end of November for my warm-ups. Karl may do a little talk about his book which would be amazing. Might get Merch to do a quick set too. You will be the first to know.

I haven't told Steve that I'm performing with Bruce Springsteen next month. He may never speak to me again. I might wind him up and say Prince is a surprise guest.


---

Week thirty-one - September 2008

Foodage

Handed out a gong at the Crime Writers Awards then went to The Ivy.

We were at a table away from everyone else so it was difficult for other diners to see what I was eating. Here's what I had in case you know anyone at a newspaper who is interested. I had the ravioli starter with a piece of bread, then the deep-fried scampi and fries, then a sticky toffee pudding. Bang goes the strict Hollywood diet. We were there with Karl and Suzanne. I thought you might want a picture so I took about 12. All of Karl's head.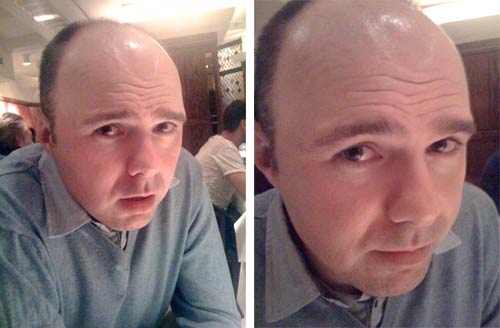 Oh and one of me looking at it.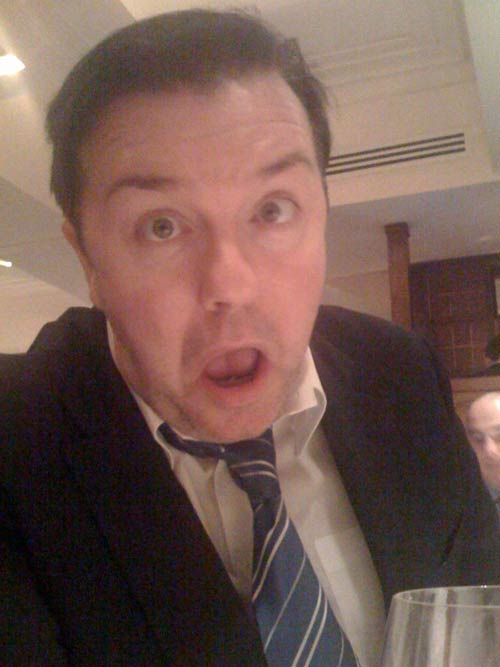 Karl got tired of this very quickly.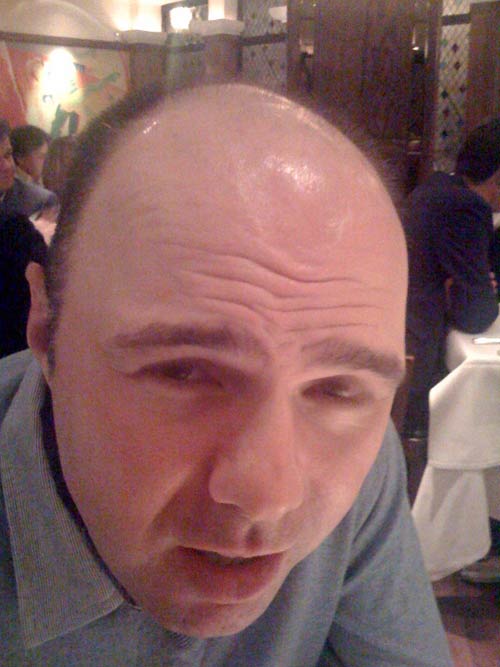 This made me enjoy it even more. I don't think he likes the head to get too much attention.

More Podcasts

We aren't going to do another series of The Ricky Gervais Show as such but we are going to do a new series. We think we might do ten or twelve 30 minute audiobooks over the next year or so, each one on a different academic subject.

It will be like a "teach yourself" book. Sort of Brody's notes for shaved chimps. Steve and I will teach Karl about Art, Biology, History, Sociology and record his reactions, musings, digressions, idiotic opinions and stellar lack of comprehension. We might even make him take some GCSEs at the end of it all.

Actually we should film that as a documentary. It would be like a cross between Pygmalion and Planet of the Apes. Maybe we could do a Christmas Special to kick it off. EVOLUTION would be good. "Amoeba - fish - mermaid - man." He's already got the basics.

Talking of evolution and religious holidays, I'm doing a few gigs with Richard Dawkins in December as part of an atheist alternative. It will be the first outing for material from SCIENCE (my next stand up show).

I've just had an amazing idea. I need to get Karl in the same room as Dawkins. It would blow both their minds. Right, that's my new project. Wish me luck.


---

Spoke to Karl this morning. He is having a bad day.

Here's his latest blog entry.

October 2nd, 2008
QUICK ONE
I'm writing this in a cafe that has free internet connection. (I say free, I had to pay £2 for a coffee to use the FREE internet) I'm doing it as quick as I can before the power on my laptop runs out as I have no electricity in the flat.

We've had no power from 10:30 last night.

It came back on at 3:24am when three lights and the radio came on and woke us up then went off again at 9:20am.

On top of that I've had my knackered boiler serviced for the sum of £111.63p. The engineer had to do his work in the dark due to the power cut. I don't know if the boiler works yet as it can't be tested until the power comes back on.

Bruce Parry might be good at surviving in the Amazon Jungle, but I'd like to see how he would get on living in my flat for a week. I'm sick of it.

If there is no blog tomorrow, you know why.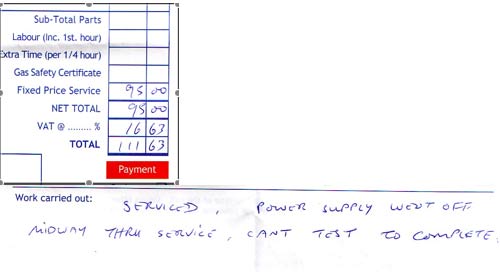 Thanks for continuing to send in the facts.

Johnny sent this one. "If you keep a Goldfish in a dark room, it will eventually turn white."

Suppose that's something I can try tonight to kill a bit of time.


There is a rumour going round the comedy community that posh bookworm and personal gimp Robin Ince took part in TV reality cook show Come Dine with Me.

This is sadly not true although the resemblance is uncanny.

He's even showing us his little thumb for Christ's sake.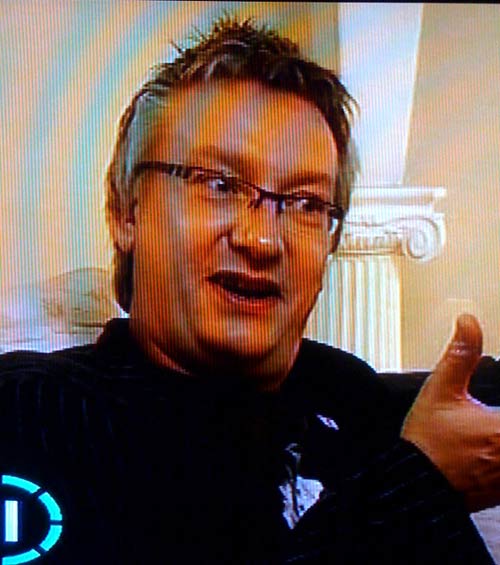 At one point in the program he says "my mate John Peel, he wears T-shirts with political images and band names on under jumpers and jackets." He is really so much like Robin is so many ways.

But he is not Robin.

This is Robin.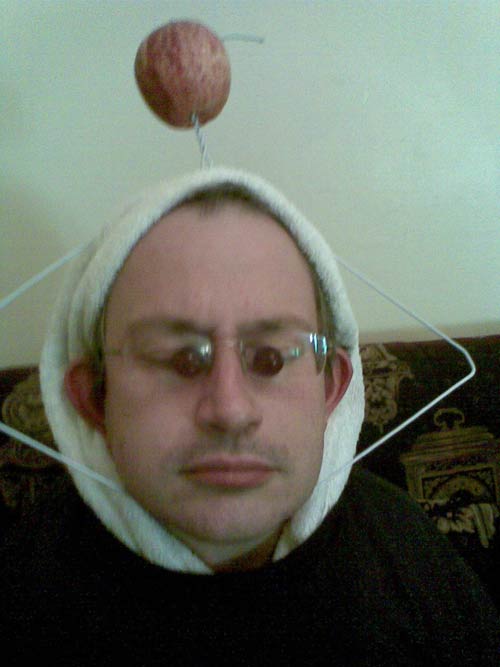 I designed his outfit. I sort of crossed one of the seven dwarfs with a nerdy middled-aged man and an apple-hanger grape eye type vibe. I think you'll agree it's quite effective.

I am hoping to do some warm up gigs with Robin before Christmas in little out-of-the-way theatres. Ricky and Robin try stuff out - 2 works in progress.

I'll keep you posted. I'll keep Robin in a cupboard.


---

Read an article on the Daily Mirror website today. It was an excellent piece but there were a few tiny little factual errors. I hope they don't mind me putting a couple of things straight for the record. My corrections are in italics.

Oscars odds taking the Ricky Gervais (It's meant to sound like 'taking the micky')
Derek McGovern 1/10/2008

1.There's talk that Ricky Gervais might host next year's Oscars, although it's Gervais doing most of the talking.

I have never commented on this except to say I was flattered by the rumour.

2.The roly-poly funster would have wowed the TV audience at last week's Emmys had last week's Emmys had a TV audience.

It got 12.2 million viewers

3. A source said: "The buzz around town is that Ricky should host the Oscars." But before rushing out to back him at 5-2 with Stan James to get the gig, be aware that the town in question is Stevenage.

Los Angeles

4. At the premiere of Ghost Town only a handful of people turned up. It looked just like a ghost town.

It premiered at The Toronto film festival on September 5th. It was packed and sold out in advance.

5. Gervais is not counting his chickens (he prefers eating them), saying: "In 20 years time when I am too fat to walk, I'll have The Office box set and the Extras box set, a couple of films, maybe three, and I will be happy with that." That's not an ambition - that's my front room.

This is my front room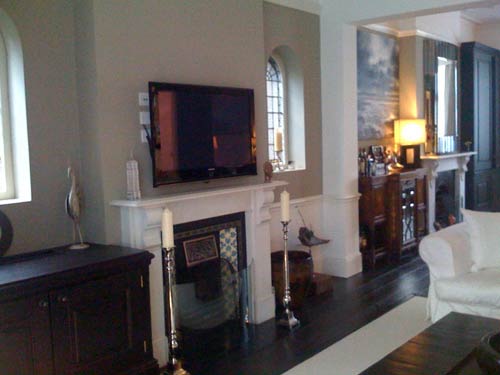 6. ADDITIONAL REPORTING BY JOHN SHAW

It took two people to write this. Then again it took two people to write The Office, and Extras, and Ghost Town, and This Side Of the Truth and The Man from The Pru. I hope they got as much satisfaction out of their collaborations as I did mine. I wish them peace.

Karl wishes I'd wish him peace. This is his latest blog entry.

October 1st, 2008
NORMAL DAY
The problem with having to do a blog or diary is that it makes you realise that your days aren't very interesting. I've just had a normal day today, done a few more interviews talking about my book and went round to Rickys office for one of his pointless meetings.

If you live in the north London area you may of heard my arrival to his office.

If you don't,I will try and paint the scene.

Ricky called me at 12:20pm

Ricky: "Where are ya"

Me: "I'm in Chalk Farm. I've just had a meeting"

Ricky: "Well you're only ten minutes away. Get on the tube and come over for a meeting here."

His meetings are very rarely useful. I can't even eat in his office cos he doesn't like the way I end up leaving crumbs around, so he put a stop to it ever since what he likes to call 'the pork pie incident' (I'll save the details for some other time. Actually I won't.)

Normally the meetings just involve him wanting a wrestle. Sometimes Suzanne will ask me what the meetings were about and I prefer to lie and tell her we were discussing doing some new audiobooks or something rather than the truth that he just wanted a wrestle. It's like being a member of Fight Club.

Anyway. I got on the tube and made my way over. Ricky had not wasted the 10 minutes it took me to get to his office. He had found a big piece of card, that once rolled up and sellotaped, made an excellent megaphone. He then waited by his office window for me to come into view at the end of the street.

I was making my way down the pathway when I heard:

"STOP. THIS IS THE ROUNDHEAD POLICE. YOUR HEAD IS TOO ROUND"

Four fellas working on the road stopped their drilling, people came out of the local cafes and restaurants and calls were put on hold as office staff came out to hear the warning again. Luckily, he repeated it.

"STOP. THIS IS THE CRANIUM POLICE. YOUR HEAD IS TOO ROUND."

I couldn't see where it was coming from. It was like that film Phone Booth where that irish fella is being threatened from some loon in a tower block with a gun. I went into the office where ricky was rolling about laughing on the floor.

There was no meeting.

Like I say, just a normal day.


---

--> Read this in the Chicago Times...

Is Ricky Gervais going to host the Oscars?
Although the gamut of suggestions from various entertainment bloggers run wide -- from a return by Steve Martin to two suggestions of Will Smith -- the question of who will host the upcoming Oscars is beginning to boil down to one name: Ricky Gervais.

As originally reported by Entertainment Weekly's Hollywood insider based on the British "Office" star's "give me back my Emmy" bit at last week's Emmys -- one of a small handful of moments featuring actual entertainment during the leaden broadcast -- Gervais was encouraged to meet with the newly announced Oscar telecast producers to discuss hosting duties. EW followed up with more commentary saying that having Gervais as the show's emcee "could make Oscar night an unpredictable, brilliantly subversive mess."

I can't comment on this but I am very flattered by the vote of confidence.

This, from the Daily Mail Online, is not so flattering... "Simon Pegg calls Gervais a fat idiot."

Loads of journalists called for a response. This is what I gave them.

"Simon is not only one of my favourite British comic actors but he is also quite astute, as according to my last medical, I am approximately 22lb over my ideal weight." Ricky Gervais.

Booked my 11th appearance on Letterman (3rd November). We don't even to a pre-interview anymore. He just goes off on tangents then says 'buy the DVD' or 'see the movie'. I'm plugging the Stand Up Special on HBO(15th Nov) on this trip. I'm also doing my 4th Conan O'Brien, Inside The Actors Studio, a Bafta screening and 150 other TV radio and print interviews. Still, mustn't grumble.

Oh by the way, for some reason The Podfather series has disappeared from every iTunes store around the world. No one knows why but they are putting it right. Thanks to everyone who bought the 5th series. Hope you enjoyed it. We haven't got final figures yet but estimates are that it's our biggest selling series so far and the biggest selling audiobook in the world. So cheers.

Yours sincerely,

a fat idiot.


---

Started laying down the music on This Side of The Truth today.

We are so excited about the soundtrack. We think it will send people rushing to iTunes when they leave the cinema. It may turn out to be the single most expensive thing in the whole movie. Classics mixed in with brand new. It was great to get back in the edit after all the craziness of plugging Ghost Town across America and the Emmys and all the stuff I don't consider part of what I do. (I know it is part of what I do, I just wish it wasn't.)

Still, mustn't grumble.

I'm just about over the jet lag now. Why does it take so long? The first night back I slept for 13 hours. That should be the end of it. Anyway it's my favourite weather at the moment. An indian summer I think it's called. Or Native American summer maybe. Went for loads of walks at the weekend and not only discovered an amazing little graveyard, but in that graveyard the most perfect tree.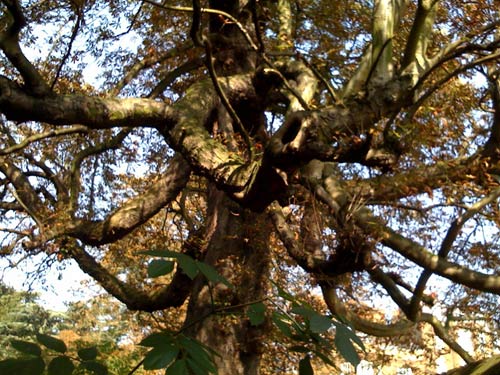 I can't really do it justice as I couldn't stand far enough away.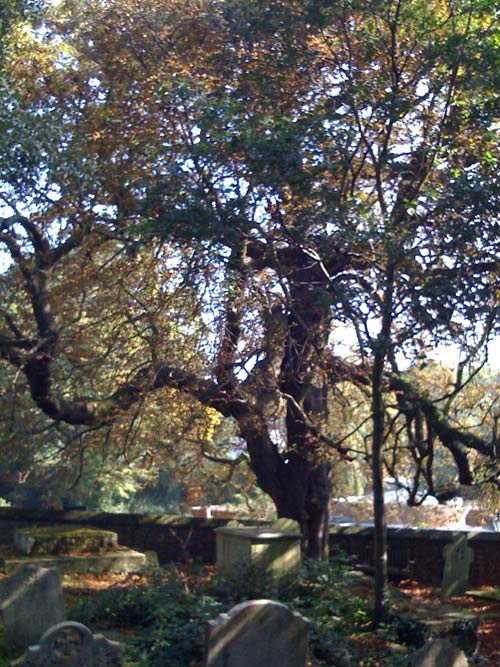 Love the camera on the new i phone.

Started looking into doing a few secret open spots around London to try out my new material. I've never been so excited about stand up. It's probably therefore going to be my least successful tour ever. Still mustn't grumble.


---

Week thirty - September 2008

The cat's throat is better.

It has stopped quacking but definitely chatters more than it used to. It sort of mutters when I get in or when it comes into the room. I like to think it is showing more affection than it used to. You know, almost like since it's been away for the first time it appreciates home more.

Of course, it might just be complaining in a sarcastic feline way though. "Ooh still here then? Not fucked off the The Emmys and stuck me in a big cage again."

I'd never think a dog was being sarcastic but cats can be aloof. Scientific fact.

Talking of Science, I've got another ten minutes of stand up ready. That means I must have about half an hour now to try out. I haven't got any time at all at the moment but I might be able to do a couple of warm up gigs in December.

Ahhhh! I just thought of Robin.

Why would he let me do this to him?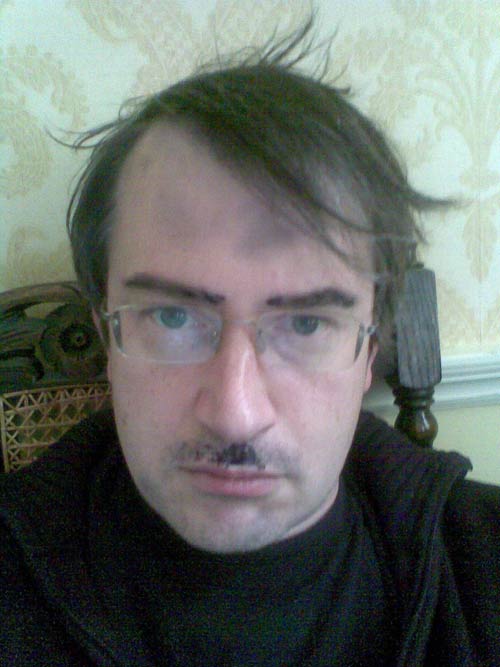 Forgot to put up my Jimmy Kimmel interview in which the studio audience just openly laugh at a picture of Karl's head. Here it is in two parts (part 1 and part 2). Karl is in part one if you're in a hurry.


---

During an interview in America recently the subject came up about me ad libbing in all my film roles and what it's like for me not being in charge as usually I write and direct myself.

I explained that I'm usually taken on with that remit and I said that directors usually hire me knowing that I will bring something to the role. I said, "If they wanted someone to stand where they're told and just say the lines as they're written in the script then they should chose any other actor to do that."

Obviously that was taken out of context by an english news site. i wont embarrass them as they are going to right the wrong, but this is the headline they went with. "Gervais admits he is the worst actor in Hollywood" Gervais admits he is the worst actor in Hollywood Brilliant. The thing that annoys me is this. They know exactly what they are doing. It's not a mistake. It's deliberate. The world would be a different place if things had always been like this.

Martin Luther King - "I have a dream."
TheDailyShit.com - "Lazy black man always sleeping"

Jesus Christ - "Let he who is without sin cast the first stone."
WeeklyRumour.co.uk - "Scruffy Jew starts riot"

Elizabeth I - "I know I have the body of a weak and feeble woman, but I have the heart and stomach of a king."
InternetCuntWhoCan'tGetArealJob.Net - "Scrawny cannibal lezzer eats own father"

Can't wait for tomorrow's headlines... Gervais says he's as misunderstood as Dr. King. Virgin Queen and Son Of God.



---

That Paul Giamatti may have beaten me to the Emmy but did he win a prize from The Heath and Hampstead Society today for his front garden?

Did he fuck!

Who's laughing now baldy?

I am.

Mainly because my cat is still making weird mewing noises for no reason. She only stops when she's asleep. Because we were away for so long we put Ollie in some posh cattery for the first time ever. (Usually Glyn stays here and watches the house and keeps her company.)

I think she picked up some strange nervous tick. Any cat psychiatrists out there know what's going on?

I sent a cat mad.

I thought that would happen to my friends before my cat. It's like some awful fable. I went to California to get gold but left behind the things I love.

Oh fuck, she just croaked like a frog. What have I done?

Here I am enjoying myself as my lovely Ollie pined herself into a freak.



---

Well I've got at least one answer ready for when I do Inside the Actors Studio.

What's my favourite sound? I'll tell you. It's that sound your cat makes when you've been away in North America for three weeks and it meows for 5 hours (literally) when you get home, showing so much affection that it starts to get hilarious. And as it starts to lose its voice it goes through the phase of sounding like a lion cub, then quacking like a duck until eventually it rasps like a baby crow. It is the cutest fucking thing in the world. It is still going now.

I fell asleep for a couple of hours and I could still hear it penetrating my unconscious state.

That clip of me challenging Steve Carell at the Emmys was on every news program across The US. I don't think anything I've ever done has got so much attention. I think it's probably because everything else on the show was pretty poor. A huge thank you to all the press who said I should present the whole show next year. I'll do it if Carrell does it with me. And I'll write it too, with Steve, Jon Stewart and a couple of The Simpsons' guys. I'll do the Oscars too.

My cat sounds like a toad now. What if she never stops?



---

Sat through another awards show last night. The 60th Emmys.

I think I was the biggest loser of the night. Not a sausage.

I'm so glad I got to do something.

I was just meant to introduce a video then ask for my Emmy back. Luckily, it got out of hand. I could've stayed up there longer, anything is more fun than sitting in your seat watching other people thank their wives and kids.

You may have heard a rumour that I will host next year's Emmys. All that has happened is I was asked via my agent if that was something I might be interested in. That's it.

But it's a nice rumour; not one about fleeing ghosts or being on a lettuce-only diet.

Anyway all the press here were very nice about my little bit.

Now back to Blighty.



---

Week twenty-nine - September 2008

Got up really early and read about 120 reviews today (I admit it OK?)

All of them really good. Even the posh reviewers loved it. I know I shouldn't sound surprised, but I'm so happy I could squeeze a head.

Ghost Town opens today as I fly to L.A. for the Emmys. It's out of my hands now. I did my best. I'm really pleased and proud of the film and I must have told every person in America about it at least once.

Called in to the Opie and Anthony show this morning. I love those guys. It must be the funniest, most laid back and honest radio show around. Just a bunch of mates hanging out chatting. Perfect. (And if you're reading these nice things I'm saying about you, then plug the film some more)

A few more days and I'll be back in England. It seems a long time away and I'm really looking forward to being in London again. New York remains the greatest city in the world but London is a close second. Nearly sorted out the apartment before we left so everything should be in place when we come back in November.

I'll miss the view.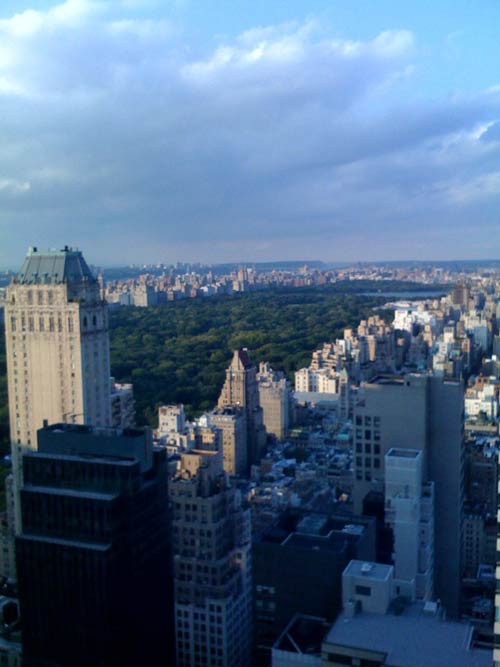 ---

Libelous story in the press today about the director of Ghost Town regretting casting me. Obviously he never said anything of the sort and went fucking mental when he read it. Law suits and retractions tomorrow...

"Regarding the crazy story "Koepp Regrets Casting Gervais," I don't know how anyone could have drawn that conclusion from my comments.
Ricky Gervais is the single greatest thing about our film, and what I thought I clearly said was that it was our privilege to bring him to a wider American audience.
The only thing I regret is that I'm not as talented as he is."
David Koepp.

The Hour did a lovely little video bio to go with my interview.

My Kimmel interview goes out tonight. Hope they leave in the bit where the audience just laugh at Karl's head.


---

Appeared on every TV breakfast show across America today. 8 minutes via satellite in every state. That's just about the end of the campaign here. A few more interviews at The Emmys no doubt and then back to London to finish This Side of The Truth. I'm handing out an Emmy by the way, which should be fun. Not as much fun as winning one but we'll see.

I can't believe how well Ghost Town is going down with the press, and I enjoyed the junkets a lot more than I thought I would.

Did the Daily Show last night with Jon Stewart. It was great as his audience is such an up-for-it comedy crowd. I'm doing it again in November to plug my HBO Special.

I've also been asked to do In The Actors Studio, which is hilarious.

I can't imagine what advice I will be able to give a room full of acting students... 'fuck around till you're 36 then write and star in the most successful British comedy of all time. Now off you go.'

Some of the press have picked up on something I said on the new series of The Ricky Gervais Show i.e. that people should shout fatty at me in the street. I'd like to make it clear that you should shout this at all fat people.

The 5th series is number one in the world by the way, and is out-selling all the other series put together. When Karl has bought a few more houses maybe we'll do the odd special. Maybe.

Took a picture of me and my freaky-headed chum Rob that sums up our friendship perfectly. I'm the happy, annoying one on the left.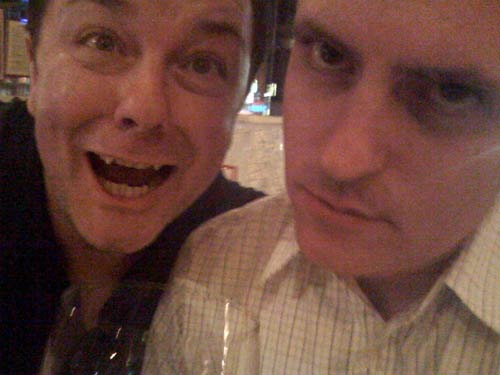 ---

So Series 5 of The Ricky Gervais Show is out. (on iTunes and Audible)

Hope you're all enjoying it. Sorry about the screw up with the pricing - it wasn't our fault and it's being put right.

Did loads of TV yesterday.

Regis and Kelly, The Today Show and Conan O'Brien, which was one of my favourite appearances ever on a chat show.

here's the photo...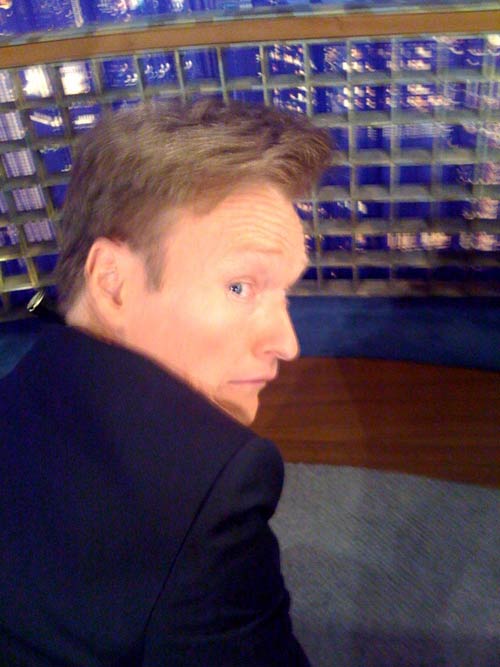 ---

Week twenty-eight - September 2008

Went to The 21 Club for dinner. As they seated us they proudly said, "This was Frank Sinatra's table (table 14)." I bet they don't say anything when they seat people at table 18.

I had the bibb lettuce with blue cheese, followed by the roast chicken with mashed potatoes, and sorbet for dessert. Ooooh! lettuce eh? And nothing else. I must be on a strict diet.

Two chaps from Calvin Klein came to measure me for a nice free tux for the Emmys. I am a very lucky boy. I once did a similar thing for Robin Ince.

Bought a huge carving for the apartment...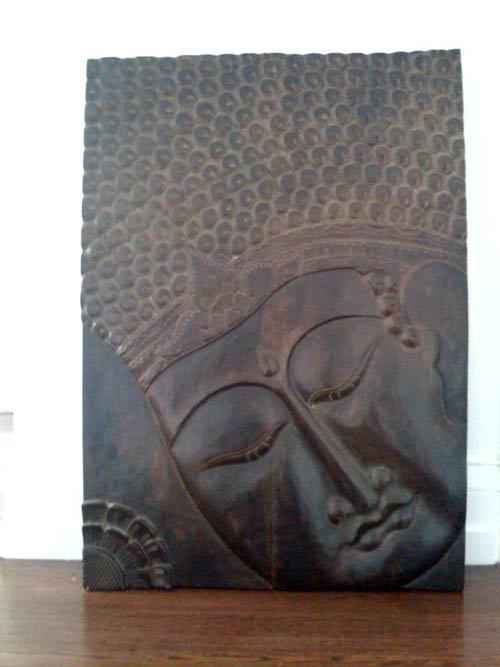 Big Telly, big lump of wood... soon be able to move in.

Found a nice little animation on youtube.


---

Had diner with Louis C.K. then went to a comedy club where Louis did a ten minute set. He was great.

Today we did a bit more shopping for the new apartment. Saw this amazing fact on a window in midtown...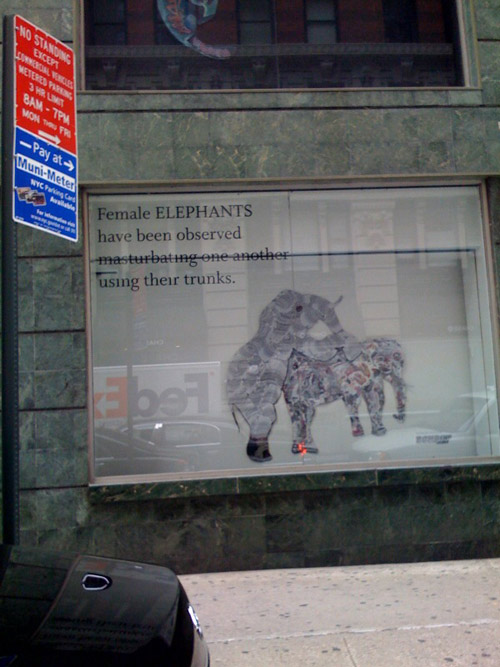 Lezzerphants!

I told Karl about it but he didn't think it was typical of the species. "Probably just a couple of slaggy ones," he said.

Bumped into Sam Jackson today. I basically just moaned about having to do loads of press for my film. He has done nearly a hundred movies and doesn't moan at all.

I asked him if he could mention Ghost Town during his interviews as I was fed up with it. He laughed politely.

My Letterman appearance goes out later. I'll post it when someone sticks it on Youtube. (I wouldn't know where to start.)


---

Had a day off from promotions. Started buying stuff for the New York apartment. So far, all we've moved in is a giant TV.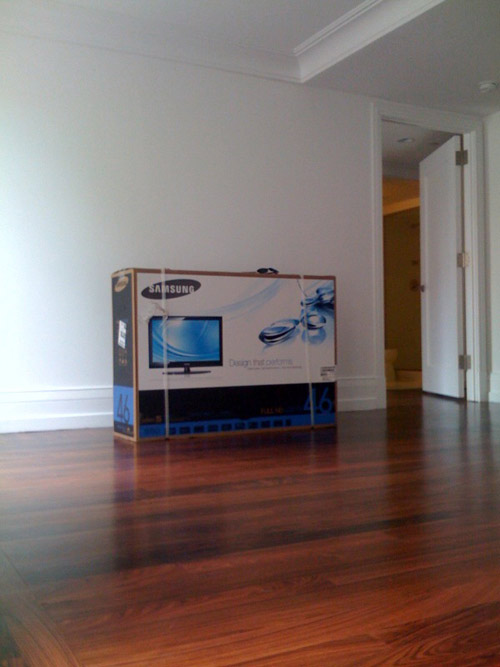 First things first - I'm from a working class background, OK?

Talking of TV. The Ghost Town ads have now got the press quotes on them and I've seen loads. Paramount are doing us proud. In return I think I have done nearly 100 interviews. Here's a few seconds of one of them.

Had a walk round Central Park Zoo. We've been about ten times now but today was the first time the red panda was out. He was sitting in a tree. The keeper told us that it was on a restricted diet. I nearly said, "You should call The Independent".


---

The previews of Ghost Town are amazing. We'll see if they translate into full cinemas in a couple of weeks.

I feel that the negative reviews will soon kick in as an antidote to all the good will though. Oh well.

Did my 10th Letterman appearance last night (it goes out 12th Sept.). It was my favourite one so far. For some reason he started talking about Des O'Connor. I said, "that's a cracking cultural reference for America" or words to that effect.

Karl is annoyed that he had to go to Rugby to sign new copies of his book. I don't mean he had to do a public signing. Oh no. Just sitting in a private room signing his name whilst being brought cups of coffee. And he still moaned.

We went to dinner with my Roswell look-a-like Rob Steen. We got given many puddings on the house. Rob had a little bit of everything. He is a very lucky boy. I hope Robin Ince isn't reading this. He isn't getting any free puddings at the moment.


---

Did 38 press interviews today (true). At least I got to do it in an arm chair. Small victories...

Everyone loved the film. Or maybe they were just saying that to my face.

Then we flew to New York on a private jet courtesy of the wonderful Paramount Pictures.

Went straight to a lovely French restaurant on the Upper East Side and had chicken and mash. (They called it Dijon cock something with pommes frites puree, or words to that effect. It was chicken and mash.)

Thanks to Aint It Cool. They've said nice things about Ghost Town, This Side of the Truth and Series 5 of the Ricky Gervais Show.

They even call Karl a cunt. Which is great.


---

Week twenty-seven - September 2008

Ghost Town is getting really nice reviews.

I did about a thousand interviews today saying 'thank you for the nice reviews'.

I'll say it again to critics of the world.

Thank you.

At least I'm grateful, which is more than I can say for Karl.

He is even moaning about doing his book now. That's all he's done this year. Apparently his publishers have set up a blog for him to keep to promote Karlology.

Whingeology would be a better title.

He's moaning about having to write a few words every day. Fuck knows what he'll write about. He's does fuck all. Anyway here it is just in case he ever gets around to entering something.

Can't wait... "Alright? Got up. Washed up. Whinged. Went to Sleep. (a couple of hours before my legs)"


---

Toronto is lovely. Unfortunately I have three days of press junkets at the film festival. You'd think that would be fun wouldn't you; talking about yourself?

Not for 6 hours non-stop it's not, saying the same things over and over again.

Still, mustn't grumble.

Then off to New York to squeeze the head of my little baldy Brummy chumster No.1.

I'm also attending the US premier of Ghost Town and going on loads of chat shows (including my tenth Letterman - breaking my own pointless record)

But the main thing is squeezing that little Roswell-like bonce.

I will also be buying him a little red Stetson and a new little milking stool. If there is time, we'll be working on the new Flanimals movie too.

But, there will be head squeezing.


---

Got the stats for the free podcasts today for August. We were downloaded 4,714,256 times, by 783,340 unique users around the world. Not bad.

The new series of The Ricky Gervais Show is ready to go and will be available from the early hours of 16th September.

This is the blurb that will go with it.

"Join Ricky, Steve and the round-headed Karl Pilkington as they explore such concerns as dead owls as objets d'art, gay weddings, juvenile weight problems, annexing arachnids and Karl's restless legs.

Karl nominates a few of his least favourite things for Room 102 and chooses a luxury item and a book to take to a desert island. Ricky provides a potted autobiography through the medium of body weight. And Steve explores how he might have faired in Nazi Germany."

Found a nice new animation on one of Karl's favourite subjects.


---

Week twenty-six - August 2008

Found this on YouTube.

The music is a perfect match for Karl's nonsense. It's like the soundtrack inside a madman's head.

My letter to Gordon Brown was published today.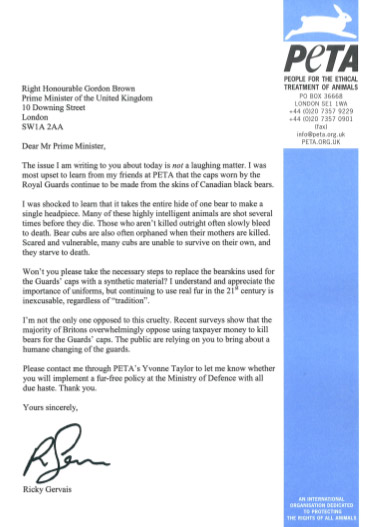 Click the letter to go to the PETA website and read an enlarged version.

I forgot to put in a stamped addressed envelope. I've been a fool. If I don't hear anything soon I'll give him a call. That's always better I think.


---

Story in the press today that I fled a hotel in L.A. because it was haunted.
Obviously completely made up.
Retraction tomorrow.

Found this great short film on YouTube. It is the Karl Pilkington "Brain Idea". If you haven't heard the original conversation it wont mean a lot to you. Listen here first.

OK. And now... "A Love of Two Brains". (Starring Clive Warren and Rebecca De Mornay)


---

Did a screening for This Side of the Truth in L.A.

It went very well and much better than we expected as it's only half finished. Back to London tomorrow to start work on it again.

Did The Jimmy Kimmel Show, which was great. He showed a picture of Karl's head and the audience really laughed for about 30 seconds.

Amazing.
(Karl could come to America and be a huge TV star. Everyone in the industry here loves him. All the writers and producers of every show ask about the little gimp. Here's some classic drivel.)

The Kimmel appearance, by the way, was a pre-record. It'll go out the day before Ghost Town is released. I'm seeing my fat face everywhere at the moment on giant billboards and TV ads. That's a good sign that the studio is right behind the movie. It's getting nice previews too.


---

A huge thank you to the guys at Celebrity Cafe for the massive vote of confidence. I don't even care that now I can only disappoint. It's the thought that counts.

Did my last day on Night at the Museum II. My character has morphed into one of the strangest little men in movie history. That is purely because I try harder and harder to put Ben Stiller off. He is my new Martin Freeman.


---

How cowardly is this?

Are you 'avin' a laugh?
Ricky Gervais appears to have forgotten his table manners. As Pandora noted last week, the comic was spotted dining out at The Ivy ordering only salad and making eyes at others' decadent choices. Was he on a diet, we wondered? Alas, Gervais has taken offence: "What sort of sad idiot watches someone eat then phones a newspaper?" he rages on his blog.
Of course, no one means to be seen at The Ivy.

That was the latest instalment from Pandora's Box in The Independent, this time by Alice-Azania Jarvis.

So even though they must have read my blog they still reported that I ordered only salad.

I thought I was quite clear.

Then they misquoted my blog. As we know I didn't say 'sad idiot' I said 'sad cunt'.

What sort of sad cunt can't even get that right?

Then the final bit of of sad cuntyness, "No one means to be seen at The Ivy" If I hadn't been at The Ivy would the report have been fair and accurate then? Why didn't they print the whole entry like I did theirs?


---

Week twenty-five - August 2008

Filmed my first scenes for Night at the Museum II with Mr Stiller.

I'll only be on screen for a few minutes again, but we got about half an hour's worth of out takes.

Met Robin Williams. He is a very nice man indeed. I didn't get to work with him last time but he still sent me a gift with a note saying "so sorry we didn't get to meet".

I'm still taken aback when I meet someone so iconic and talented and yet normal and nice.

I also got to meet the monkey this time. It is possibly the greatest monkey in the world.

Robin Williams. Monkey. Great day.


---

Hello. Look at this shit...

Is Ricky counting the calories?
All that time in Hollywood appears to have got Ricky Gervais flustered about his weight. On Tuesday evening, a mole spotted the star of The Office dining in The Ivy restaurant in central London, where he seemed to be adhering to a strict new dieting regime.
"Ricky was with his partner and a couple of friends and kept making these noises and telling them how jealous he was whenever their food arrived," I'm told.
"Meanwhile, he just picked away at a bit of salad. Then he had a fruit salad for pudding. I can only assume that he ordered involuntarily, as he spent most of his time eating it while gawping at my frozen berries in chocolate sauce."
pandora@independent.co.uk

That was in The Independent. THE INDEPENDENT! It's a column by Henry Deedes.

OK, so yes, I was at The Ivy with my partner and a couple of friends on Tuesday evening. And yes, I did have a fruit salad.

So am I flustered about my weight?

Not really.

Is it all the time I've been spending in Hollywood that has made me flustered about my weight?

Well no, I told you, I'm not flustered about my weight.

So am I adhering to a strict new dieting regime?

Well I'll let you be the judge.

Before I ate my fruit salad I had, as a starter, deep-fried scampi. I followed that with a Thai green curry. With rice. And bread (there was some delicious creamy coconut sauce left that needed soaking up).

Then I had my fruit salad. With ice cream, by the way.

What sort of sad cunt watches someone eat a meal and then phones in selected highlights to a newspaper?

I'll tell you. The cunt that was sitting next to our table who kept trying to strike up conversations with us about the food.

I'd say her name, but I don't know it. She knows mine of course. I'm on the telly. So she mentioned it when she phoned in the hot scoop to the press. It wouldn't have been such an important story if she had just called and said, "Hi Henry, it's your cunty friend. I'm at The Ivy and someone, with someone else and a couple of friends, is eating fruit. Thought you could mention it it your Pandora's Box column."

I love the bit when the nosey old bitch says, "I can only assume he ordered involuntarily." What sort of weird, unwanted pudding Tourette's is that? And wasn't she listening at that point? Ooooohhh! Call yourself a supergrass? Concentrate. Henry needs info.

I don't mind if The Independent know everything I've ever eaten.

But don't say things like I must be trying to lose weight because of Hollywood. It's not true. If you have trouble filling the newspaper, use a bigger font. Print a poem. Leave a space. Ask me. I'll tell you what I've eaten that day.


---

It has been the tradition that I appear on the last episode of each series of the Richard and Judy Show.

I couldn't do it this time as I am filming my cameo for Night At The Museum 2. I did the Tuesday show instead before jetting off to Vancouver. I mentioned the round-headed chimp live on air so it was well worth the effort.

While in Vancouver I'll also do some press for the Ghost Town premiere at the Toronto Film Festival - it has the opening slot which is both exciting and scary.

It's great to do stuff in Canada as half my genetic material originated there.

Then I fly to L.A. to screen This Side Of The Truth for the big-wigs at Warner Brothers. I'm doing the Jimmy Kimmel show too, he is a very funny chap.

Oh and by the way we are putting out a clip from the new series of The Ricky Gervais Show, which you can get free via podcast through iTunes.

Hope you like it.


---

The pencilled date for the new audiobook series is 16th September.

It's over 2 hours of drivel and our recommended retail price is £2.99. Hope you like it.

Karl is at his Mum and Dad's this week.

Doing nothing again.

He'll be able to have another year off if the new series does well. Maybe we should do another poster campaign. The last one got him off his arse for a while.

The good thing about him getting richer and lazier by the minute is that his fattening face means his head is rounder and more like a fucking orange than ever.


---

Week twenty-four - August 2008

Did our first screening of This Side Of The Truth.

It went very well. Everyone loved it and said nice things, but it doesn't really count as the audience was mainly made up of people I know and friends of people I know.

David Mitchell from Peep Show was there. I nearly didn't recognise him as he has lost so much weight. He used to look like a little fat owl but now he's properly thin and healthy. I went over to say hello. I've only met him a few times before and I should have just told him how good he looks.

What I actually said was, "Fuck me, have you got AIDS?"

He hasn't.

We then had a discussion about whether Israel was in Asia or Europe. I thought Europe, but as soon as he said it was in Asia I knew I was probably wrong. Not just because he is more of a swot than me, but also because I suddenly realised that my guess was based solely on the fact the Israel was one of the countries in the Eurovision Song Contest. I felt stupid but luckily Karl was there so he soon took the idiot spotlight off me.


---

Finished the final series of audiobooks today.

It was so much fun and a little bit sad. I'm afraid this really is the end. It was amazing that I got the two miserable gits to even do this. Anyway dare I say it, it's some of the best stuff we've ever done. We're hoping to get it out for the middle of September.

The official Ghost Town poster was released today.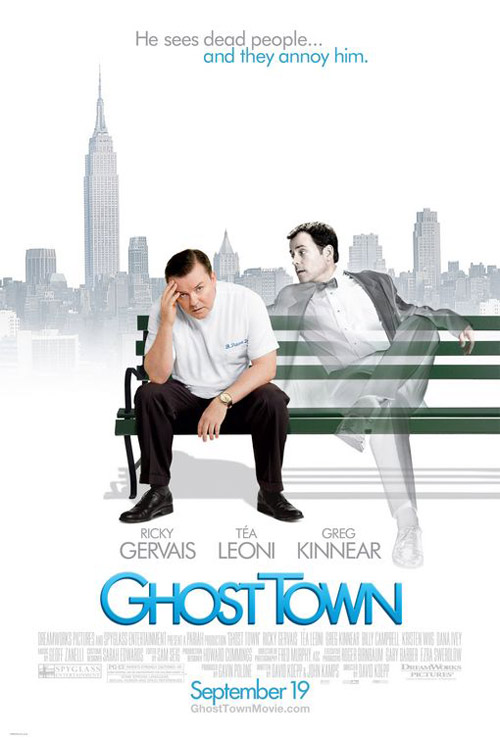 It's simple and classy. We didn't want any awful wacky stuff going on, or sickly rom-com nonsense. We tried to sell the concept without giving too much away. "He sees dead people and they annoy him".

Oh, and we wanted to show that it takes place in New York. So go and see it. Thank you.


---

Spent the day in a huge mixing suite in Pinewood getting This Side of the Truth ready for test screenings.

Lunchtime I gave Matt the unofficial Extras tour.

"That's the entrance to the Ivy."
"That's where Clive Owen had the sword fight"
"They're the bushes where George Michael..." etc.

Did the narration with Patrick Stewart. He may have the greatest voice in the world.

I know you've all seen this, but I want you to watch it again. He gives a masterclass in under-played comedy.


---

This is a sad day. I have decided not to work with Steve Merchant again. Why? Because I have discovered he is a racist.


---

Did an interview with The Sunday Times, South Africa. Extras Season II airs this month there.

The series is at various stages around the world. In fact the season finale aired in New Zealand last night. It went down well apparently.

I just hope this war thing doesn't interfere with the Russian remake of The Office. How cruel would that be?

Talking of cruel. Watch this. An hilarious new animation of Karl's worst Christmas ever.


---

Week twenty-three - August 2008

Went to see Louis C.K. last night.

He was absolutely brilliant. So honest. Definitely one of the funniest-stand ups in the world. Still fat and bald though.

Started recording the new series of audiobooks today. We might do three long episodes instead of six short ones as we go off on so many tangents and don't want to interrupt the flow of utter nonsense. Also we might just put them out all at the same time, available as a complete series only.

Cheers to everyone still buying the back catalogue. We got the stats through this week for all the downloads worldwide and it's mental, so sincerely many thanks.

The podcasts were number one in 14 countries. What the fuck do people around the world think of Karl? or Auntie Nora? or the kids with big heads and webbed feet who didn't even know each other? I can't believe they can even understand what he says.

Anyway, Karl is still wonderfully dim and today we had a conversation about a "little gay fella" which was one of the funniest things I have ever been involved with. The series should be out by the end of September.


---

So we've nearly got the film in good enough shape for the upcoming test screenings.

I can't wait to show it to a real audience... well as real an audience as you can have when they've got in free and have to fill out forms as they leave.

Had a storyboard meeting for Flanimals The Movie. It's with the same guys that did the Simpsons Movie and they're so much fun to work with.

You should see the results in about three years.

I remember once talking to Karl about how much he enjoyed Finding Nemo.

I told him that a couple of seconds of animation on a movie like that takes a week.

He said, "Not worth it. Just poke a real fish with a stick and film it."

Brilliant.

Watched Big Brother.

I'm not going to say anything about it as I read an article today that says it all.

It is by comedy-journo genius Charlie Brooker.


---

Thanks to Heat for a very nice preview of Ghost Town.

Me, Karl and Steve did a demo for a TV show idea today.

I can't tell you anything about it yet but I can say that when we were waiting for the crew to arrive, I wrestled Karl to the ground and hung on so tight that he couldn't breathe by the end.

I got a bit of a stubble rash on my forearm from the headlock but it's fine now. Luckily Steve filmed the attack and I will post it very soon.

I've been so busy with the films and interviews and stuff that I haven't had time to buy Robin Ince a hat.

He is losing his little tufty grey hair at such a rate that I'm worried he will be bald by the end of the year. I don't want him to walk round looking like Milhouse's dad. I must get him a lovely red stetson soon. I just must.


---

Bit of a departure for this blog - I've actually got some film news. This is a really nice review of Ghost Town on Aintitcool.com

Ghost Town

The film opens with Greg Kinnear, who is on his cell phone clearly lying to his wife (Tea Leoni) about looking at apartments, while yelling at his realtor for telling his wife about the secret love nest he was planning, he nearly dodges a falling air conditioner....only to be flattened by a bus. When his ghost wanders back in frame, you immediately know that this is going be be a somewhat "quirky" film. It doesn't open until mid September (according to the suit at the screening), but my girlfriend's dad got free passes for a screening here in Baltimore at the super fancy Landmark Theaters downtown, and he gave them to us. Win.

Co-written by David Koepp with John Kamps and directed by Koepp, this was a surprising little romantic comedy. I got offered a free pass by a friend who donates to the local film festival, and managed to go into the theater without hearing/seeing/reading anything about the film in advance. What I got was a not entirely fresh, but definitely interesting, take on the Ghost story (as in Swayze). Instead of centering on the dead, our story focuses more on the living (a recurring theme in the film). Ricky Gervais plays a bitterly acerbic English-born dentist who suddenly develops a "Sixth Sense". However, he finds the dead even more annoying than the living. Gervais has a LOT of room to stretch out in this spiky-yet-occasionally-vulnerable character and I found myself vacillating between thinking he was a loathsome prick or wanting to tell him shit was going to work out, laughing the whole time. The rest of the cast isn't quite as commanding, but they hold their own more than fine and really make this movie work. Tea Leoni is good, reminding me of a more awkward and endearing Mad About You era Helen Hunt. Kinnear does a variation of his character from Little Miss Sunshine (self centered type-A jerk) with a chauvinist twist. This is not a criticism. In fact, I feel like every actor was pretty perfectly suited to the part, even the supporting cast (Kristen Wiig in particular does a version of her Knocked Up character that isn't exactly anything new from her, but her scenes with Gervais are absolutely priceless).

I won't get into plot, because it's relatively simple and most of you will have it figured out in the first 5 or 10 minutes. What makes this film interesting is the way they get there. There are a couple of good twists and changes to the rom-com formula here that give the film a distinct personality (and advantage) that you don't expect from a movie like this. I especially liked their take on ghost mythology. What REALY sold me on this movie, and pretty early in, was the cast. This is a tight group, and every character interaction is different, distinct, and funny for different reasons. It's clear that a lot of thought went into putting this group together in these parts, and it pays off. I thought the pacing and flow of the film was perfect, even down to when and how fast everyone gets their Movie Epiphany™ moment. It never gets too saccharine or too predictable or too heavy handed with the "message", though one elevator scene with Gervais and Leoni gets damn close. Fortunately, Leoni has the chops to pull it off and it ends up working.

Overall, this was one of the better rom-coms I've seen in a good long while. Certainly the funniest, to the point that we should consider putting into into a com-rom category. The laughs come first in this flick, but the heart the cast injects keeps it moving. Have no fear gents, this is one of those rare and beautiful creatures you don't often see: the genuinely funny and entertaining Date Movie.




---

Karl and Suzanne came round for dinner.

Karl requested a pudding in advance so we got in some banoffee pie. When he arrived I told him we had got some pudding in as requested.

He said, "can you tell me what it is now, because I like to get me taste buds ready?"

"Banoffe pie," I said.

"What's that?" he asked.

"It's like a banana and toffee pie."

"Is it called that because it mixes banana with toffee?"

"Yes."

"What's the 'no' bit.?"

"There's no 'no' bit. It's 'ban' for banana and 'offee' for toffee," I explained.

Unbelievable.

He loved it. Rob prefers a lovely creme brule, but I think they see eye to eye on a nice trifle. One bowl, two spoons, no talking. I think that would make a good short film. A giant colourful planet with two little bald moons. Arty.

My little "unfortunate" chum Robin Ince was on Richard and Judy Today. He is such a good boy I have decided to buy him a hat to hide his hair. I'm worried he wont accept it as he is a proud man. I don't want to offend him. I just want my friends to be happy. Is that so wrong?

Talking of unfortunate, bald, stupid freaks, Louis C.K. got rave reviews this week. It's great when someone so fat and ginger and visually sickening gets a little joy. Go and see the doughy blob in action.

Watched Richard Dawkins' new program on Darwin. My all time hero being talked about by my second all time hero. I would love them to see my friends.


---

Week twenty-two - July 2008

Spent the day in the edit "locking the picture".

That's when you've the cut the film how you want it and then you get the music and special effects in a half decent state for test screenings. Then you tweak it a bit, and dub it and grade it and it's ready.

Louis C.K. watched it. He loved it and had some very useful notes. He is cleverer than he looks. (Obviously)

In the evening I introduced a special screening of Ghost Town.

It's not out in the UK till October 24th but the studio and distributors get feed back on the poster and marketing and things like that.

It went down very well. (Well they couldn't complain could they? - they got in free). Louis came to that too and said very nice things. It's the least he could do after i gave him a quote for his poster. Steve came too and luckily loved it also. I felt really good about that as I know he would tell me if he thought it was a load of bollocks. Louis is on Steve's radio show this Sunday by the way. imagine if they just spent two hours saying how fucking awful the film was but they couldn't say it to my face.

Did a photo shoot for Time magazine. (to go with the interview I did walking round the Getti museum in LA)

In case you haven't seen it, the guy who interviewed me last time in New York was very funny.)

Spoke to Karl today. He had had a busy day down in Kent.

He'd been to the butcher's and back!

As you know, we have decided to put a bit more effort into our farewell audiobook series so one idea I had was to give Karl his own desert island discs. I did a pre-interview just like the real thing, and now I can't wait to record it.

I really think he's got a bit more stupid. I know; How is that possible?. Just wait and see. if you're not familiar with this British institution here's my appearance from last year.



---

Art, imitating life, imitating art.

Well, if my stand up is art and my life is having paps take pictures of me minding my own business that is.

On my last tour both in the UK and America I talked about tabloids needing an adjective; they can't just say 'Ricky Gervais', they need to say 'Ricky Gervais, tubby comedian'.

Well it's getting worse. Now they don't even bother with the 'comedian' bit.

I like "finally attempts a workout" - as if;
1. Everybody has been asking "when is that fat git going to do some exercise?", and the editor has been going "Calm down. If he ever gets around to it we'll be there to photograph it."
And 2. I could only "attempt" a workout. Without any hope of actually achieving my goal. Yes I know they're right that I looked sweaty and fat, but I have an excuse. It was the hottest day of the year and... I'm fat.

I suppose there has been some improvement. The first time they published the picture of me in LA they had the caption "Is Ricky Pregnant?."

Karl called me today. He watched Big Brother last night for the second time ever. He was staggered by the housemates.

"It's like a mental home," he said.

I asked him who he would share a room with if he had to.

"Probably the blind one," he answered.

"Why?" I asked.

"He wouldn't moan about how you had the room set up or if you had the comfy bed or not," he said.

"Why wouldn't he worry about having a comfy bed?" I asked.

Karl replied, "'cos I'd go in and say 'I'll av this bed over here you have the nice one.'"

Two other great Pilkington quotes

1. On Darnell, the albino chap; "Is he black? When I turned on I thought I was watching it through night vision."

2. On Katreya; "She looks like a cartoon cow."


---

Had lunch with Matt (Robinson) and Louis CK.

All three of us had chicken and mash (true)

We ate at the Grouch Club. Me and Matt got there first and waited downstairs for the dopey bald lump to arrive. We looked out and saw him outside having a cigarette and drinking a coffee. Matt went out and greeted him as he finished smoking and drinking even though he was already fucking late. I put my head outside the door and said, "Come in, I can't come out there"

Louis said, "You can't come out? Why?"

As he asked the question, a beggar said "Ricky! Can you spare a couple of quid?"

I felt in my pocket and realised I only had £20 notes. It was like something from Extras. It was Louis' fault, so I said, "Louis can you give me a couple of quid?" He said, "You want me to give you money to give to him?"

Still not leaving the building I said, "Well you can give it directly to him if you want..." "No" Louis said, "I want you to give it to him"

He gave me some change which I handed over to the nice homeless chap.

Over lunch as we discussed comedy and the stand-up and stuff we were doing, I suddenly realised that Louis is the stand-up I was meant to be but wasn't brave enough. At the same moment I thought this, I said it out loud and added that my next stand up was going to be the real thing. It was invigorating. I went home and wrote the best 10 minutes of stand up I have ever written.

I'm still getting an adrenalin rush thinking about it now.

In fact I'm a little bit annoyed that I've got three films to release before I can gig again. That's mental I know, but maybe it will wear off by morning. Anyway here's the big sweaty bollock on Richard and Judy


---

We had a chat today about the new series of audiobooks.

It was suggested that we put a bit of effort in as it's probably the last time the three of us will do this.

That sounds like a no brainer but I think the thing that made the podcasts what they were (whatever the fuck that was) was the fact that they were unplanned and a complete shambles. Maybe we'll plan some bits and keep the rest a complete shambles.

A huge thank you to everyone still listening. We're still number one podcast and last time I looked number 1,2,3 and 4 in the audiobook charts. We're like the Beatles of internet drivel. Me and Steve are Lennon and MaCartney and Karl...

well, he is actually like a beetle. Anyway. Here are some of the best bits. (or worst, depending on which way you look at it)


---

Week twenty-one - July 2008

The Chilean version of The Office debuts August 6th. Watch this little promo on the new official website.

How do you shout "Do the dance" in Spanish?

The Russian version probably wont air till next year but will be a massive 24 episodes for the first season. That's nearly twice as much as the original's entire output.

As soon as David Brentski has been cast I will post a picture. We are looking for a middle-aged slightly overweight unknown actor with an funny face. Do you think that could work? Good.

Talking of funny, my bald ginger friend Louis C.K. arrives in the UK this week. He gets a lovely plug here.

His first gig is Tuesday night (hot from his appearance on Richard and Judy at 5pm.) I can't recommend him enough. Buy a ticket


---

So things are all go with the latest Office remake - Russia.

It's very exciting and very flattering. I can't believe how things have gone. I still remember the first time I did David Brent for Steve. It was the summer of 1997 in my office in the original Xfm. If he hadn't laughed I wouldn't have done it again. Scary really.

Oh god, I've already started looking back over my career. (And the other day I honestly commented on how young a policemen looked.)

Anyway, Russia, with a 150 million population I'm looking forward to some good ratings. Ghost Town is released there in December so it would be a good time to go.

Do you think it will be cold then? We went to Prague once in winter and it was minus 23. My beard froze. (I already had a beard when I arrived - it didn't suddenly grow when I entered a snowy country like in those Santa Clause films)

I almost certainly won't have time for set visits as I think I'm too busy already. Karl could pop over for another holiday though. He's off to Kent again next weekend. I keep trying to find stuff for him to do but you can lead a horse to water etc. I'm sure he's researching monkey news ready for the new series of audiobooks. He counts that as work. This is one of the most stupid things he ever said.


---

Spent the hottest day of the year in an editing suite.

We basically finished the fine cut of the film today. Now we wait for the FX, music and public screening comments. But it's turned out smashing.

The Man from the Pru script is ready to start casting. And Ghost Town has started its campaign for the Toronto premier.

I forgot to call Karl today and I haven't called Robin for nearly a week. That's how busy I am. I did call Rob, my bean headed brum-chum, to annoy him but I've got to sort things out. Maybe you could help me out. If you see Robin scream "ahhh Robin" and if you see Karl say "do some work you lazy manc chimp twat."

Talking of weird mates, here's a nice article about Louis

Talking of talking about weird mates, I wanted to put up a gallery of my freaky friends to illustrate my point. They are all a little bit deformed and I thought it would be funny to see a picture of them all together - Robin, Karl, Rob, Nigel... but Rob refused.

I said, "Why?"

He said, "because I don't want to be part of the freaks."

I told Karl what Rob said and I think he felt a little offended. Rob has GOT to start thinking about other peoples feelings.


---

Just a little bit of jet lag. Maybe I've been lulled into a false sense of security and I will sleep all day tomorrow.

I was invited to the Batman premier tonight but the fear of coming over all sleepy during the biggest film of the century worried me a bit.

Last week in New York, Christian Bale came over and shook my hand and was a very nice chap indeed. Batman likes me! I may go round starting fights with ruffians just so he can suddenly appear and show them what for.

He is not to be confused with Bateman, who I suspect would be no good at all in a fight.

Also while in New York I saw this shop. English people may find this funnier than Americans.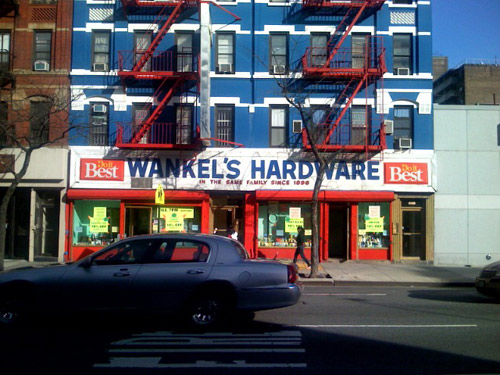 ---

Week twenty - July 2008

Went to The Hamptons for a special screening of Ghost Town. It was in the biggest house I've ever seen. Guests filled a 100 seat screening room.

All the big wigs were there from Mr Spielberg to the editor of The New York Times. Had a chat with one of my acting heroes Alan Alda. He is a very nice man indeed.

The film looked great on a big screen and New York looked especially beautiful. I think it was filming Ghost Town that really made me fall in love with the city. This is the view from the chopper as we took off.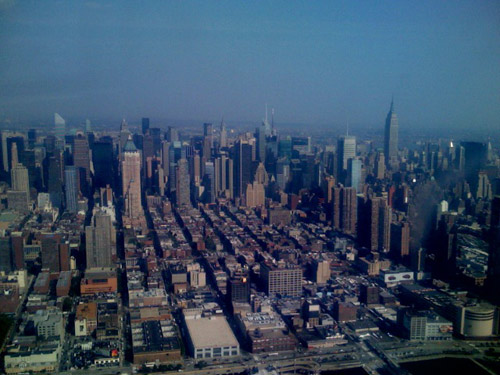 Flew back to London in time to see a blind man screaming "get me some butter!" as he'd got his knee stuck in some railings.

Yes, Big Brother.

It's great to be back.

It was a great trip. I've got about a month now to finish editing This Side of The Truth before the Ghost Town premier and The Emmys. Wish me luck.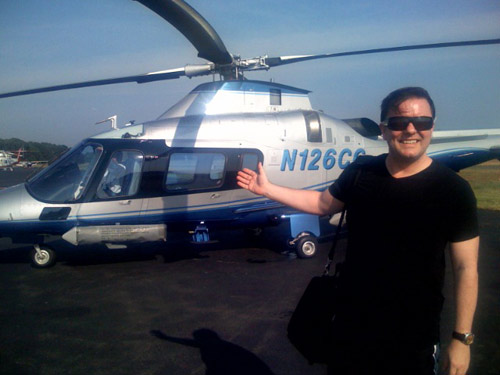 ---

Woke up to the news that The Office had 8 and Extras had 6 Emmy nominations. Interesting fact...

Did some press for the HBO Special recorded last night. It's probably going to air the second week of November.

Recorded my 9th Letterman appearance which was one of my favourites so far. I must feel at home there as I accused him of being on crack at one point.

Had to buy a jacket and tie as we had reservations at The 21 Club. Bought the jacket - it was very reasonable. Bought a shirt and tie to go with it. Didn't bother to check the price of either. The tie was more expensive than the jacket. Brilliant.

Tomorrow we go to The Hamptons for a special screening of Ghost Town. They're sending a helicopter. I'm like Airwolf.

I had chicken and mash by the way.


---

Did the 3rd night at Madison Square Garden tonight and luckily, as we were filming it, it was the best gig so far.

Heard some great news today about another Office remake. This time it's a big one - Russia! I can't wait for production to start on that one. I'll post a scene as soon as I get some footage.

Also I heard a rumour that Amy Poehler is involved in the American Office spin off. Could it be true. Or could it not? I'm not sure. Or am I? All I'm saying is It would be amazing if she were involved. Or would it? Yes it would.

Worked with my little shaved rodent chum Rob today on Wild Pig Babies. New York was really hot today and he was worried about burning his little eggy dome. He can't think if his yoke is over heating. We sat in the shade. He was fine. I checked - I said, "Are you OK Rob?" He said, "Yes I'm Fine."

Called Robin Ince today. I was with Matt and Ed, the promoters, and we were chatting about the next British tour 'Science'. We decided that Robin can be support but we have to put a new clause in the contract. As well as a sound check there will be a bed check. When we get to the hotel, we will all go to Robin's room and Robin will jump in bed and snuggle up for one minute saying "Ohh I'm a snoozy little pigglet!" then we can get on with the business of making people laugh. Robin was concerned but I explained that he would get bonuses. Normal.


---

As promised, a little pic of my super-freaky friend Rob. I don't want to upset my chum number one too much so I have picked the nicest of the pictures where his head does not resemble a pear in any way. It looks more like a little baked bean.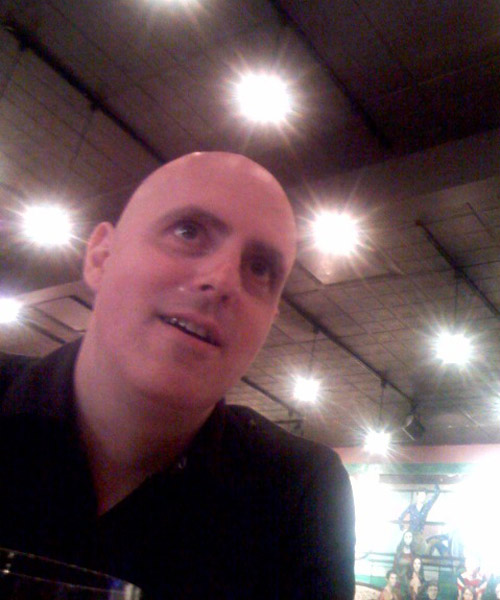 He likes me to sing him songs about his bean-shaped head.

I sing him this one sometimes... (sing it with an Italian accent for full effect)

Little Nobby Steen
Little Nobby Steen
Little Nobby Steen keeps his head real clean
He cleans it with a sponge and a squirt of Mr. Sheen
And when he gets a tan he looks a like a baked a bean.

We worked on Wild Pig Babies today

Here's a sneak preview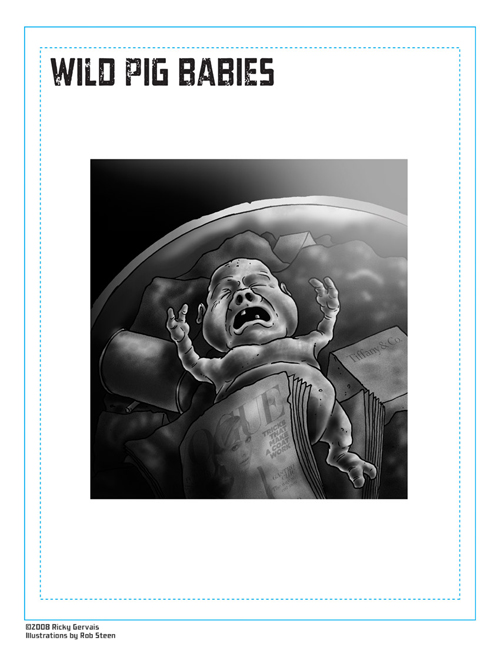 ---

Did an interview for K Rock with my old pal Ian Camfield, which was great fun. They filmed it for their website so I'll link to it when it's up.

Did the first Madison Square Garden show.

The crowd were fantastic so a big thank you to everyone that came along.

Louis C.K. was the support and was so good I was actually worried they'd be laughed out by the time I got on stage. He's too funny. But also fat bald and ginger - so swings and roundabouts.

Talking of fat - a huge thank you to the Daily Mail and the News of the World for printing the picture of me in L.A. One of the biggest laughs of the night was me telling the crowd about the caption which read, "Is Ricky Pregnant?" Cheeky buggers.

After the show, me and Jane met up with my pear-headed chum Rob and his wife Jill for a drink.

At one point a group of English people (who had flown over specially for the gig) came over and said, "Is that Rob?"

They recognised his deformed bonce from the blog. Excellent. I will show you new pictures of my freaky friend tomorrow.

Good night


---

Week nineteen - July 2008

Did the second night at The Kodak Theatre. They were even livelier than last night. That happens on a Saturday night sometimes.

After the show we had a quick beer backstage. There was Jonah Hill, Jen Garner and Ben Affleck, Matt Groening, Vince Vaughan, James L. Brooks, Ryan Gossling, and, here's the weirdest bit, Ant and Dec! They are over here promoting a new show.

I said, "I bet you'll be tanned and super-thin in a month."

Ant thought this would be a bad idea with his head as he'd look like a lollypop. (For Americans reading this, Ant and Dec are like two very funny Ryan Seacrests and probably Britain's biggest presenters. They are very nice too.)

We fly to New York tomorrow to do three nights at Madison Square Garden and film it for an HBO special. I love New York but LA really grew on me this time. I will see my pear-headed chum Rob and work on our new project together. Can't tell you too much at the moment but it is called Wild Pig Babies and it's very weird and disturbing.

I am now going to watch the Rampage Jackson v. Forest Griffin fight in bed. Goodnight.


---

Sorry I haven't been blogging as regularly as usual but what with the time difference and being mental busy blah blah.

Did The Kodak Theatre last night and it is my new favourite venue. The crowd were amazing too. Had a chat with Matthew Perry who is a very nice chap indeed. I told him that he was one of the influences for Tim in The Office. He said he was flattered (but could probably sue me if he wanted to).

Had lunch with the guys at MRC (the company that financed This Side of the Truth). I had chicken and mash.

Hope you like the Ghost Town trailer.


---

Did a couple of warm up shows at The Brentwood Theatre.

They went very well indeed and I'm really looking foward to the real thing. The Who and the guys from The Simpsons and The Tudors came to the show tonight.

What's really weird is, sentences like that one don't seem weird to me anymore.

Did a big press launch for the HBO special today.

It was fun but I felt like Kofi Annan as 200 journalists asked me questions. Although he pobably doesn't say things like "I love telling jokes about Hitler and famine." Apart from that we are very similar.


---

Walked around the Getty Museum with a nice journalist chap from Time Magazine. I was being interviewed obviously; it wasn't some weird art date.

Me and Jane popped over to Kathy Griffin's house. It was about the same size as the Getty Museum but with dogs and assistants instead of curators.

Went to the new Gordon Ramsay restaurant at the London Hotel for dinner. I had chicken, but no chips. With in depth reviews like that maybe I should be an international food critic.

Spoke to Karl about the new series of audiobooks. I am persuading him to include a monkey news. Then I found this on YouTube. Maybe there could be a whole new feature with pure mammalian drivel.


---

Flew to LA.

Stewart Copeland and Andy Summers were on the plane.

They said hello. I said "If Sting doesn't turn up I can sing you know."

Stewart said "Can you play bass?"

I said "I don't know, I've never tried." He said "you'll be fine, Andy will show you everything you need to know."

I think I may be the new frontman for The Police. Excellent.

Had lunch at The Ivy (very different from the London one) with Joel Surnow the creator of 24. I told him not to tell me exactly how many torture scenes there were in the next series. I want it to be a surprise.

I had chicken and chips by the way.

Did the photo-shoot for the poster of Ghost Town then intoduced a special screening for the film. It went down very well indeed.

Went to an old-school Italian restaurant for dinner. I knew it was the real deal when I walked in and saw Al Pacino sitting there.

Al Pa-fucking-cino!

I had the spaghetti al pesto by the way.


---

Week eighteen - June 2008

Called into to Jonathan Ross show to offer a reward for a missing dog. It is a little 8 month old whippet called Manon. It was stolen from Hampstead this week. If you bought a fawn whippet puppy with tiger stripes and grey eyes take it to the vet and find out if it's him. He's computer chipped you see. Any info call the Mayhew Animal Centre. Thanks

Thank you too to Jason Bateman for the nice mention. He called me yesterday about coming along to one of The Kodak Theatre shows. I'm tempted to leave his tickets under "Teen Wolf II". I think he'd see the funny side although I did sneak that gag into about 19 conversations when we were filming. In my opinion it gets funnier.

I told Karl about the trailer for the new Brad Pitt movie about a man who is born old and ages backwards till he ends his life as a baby. He was gutted, as he thinks they've stolen his idea. What a fool. I wont tell him if you don't.

He also thinks that Donal Macintyre's program about selling apes on the black market was inspired by his xfm feature "Cheap as Chimps". Talking of chimps...


---

A big thank you to Hollywood gurus TVSQUAD.COM for this vote of confidence

"The "Japanese Office" from Steve Carell's episode featured a brief cameo from Ricky Gervais, which reminded me that he'd never been on SNL before that. Gervais' star is rapidly rising in the States, with NBC's incarnation of The Office and Extras both being smash hits, and he always seems to be promoting something, so why hasn't he hosted?"

A good point well made guys.

Actually, I have now been invited to host twice but wasn't available on either occasion. I love the show, it's an institution and I would absolutely love to host it soon.

Maybe next year.

Got a call from my old pal Ian Camfield. He now works on K Rock in New York and I'm going to pop in for an interview.

He takes his rock very seriously so I used to wind him up with fake bands and songs when we were on Xfm together. Things like "Have you heard the new single by Velvet Nazi 666, Earplugs are gay?"

He also loved The A Team. I remember asking him once how the FBI can't find them but an old woman having trouble with her landlord can. He answered "Because Hannibal will sometimes disguise himself as an elderly Chinaman."

Brilliant.

As we know from Karl, there are no elderly Chinamen.


---

Did a new cut of This Side of the Truth Today. I did a rough guide vocal for the narration. I can't wait for Patrick Stewart to do the real one as mine is rubbish. I tried to do a really deep ominous speech but I kept cracking like an adolescent boy as my vocal chords couldn't take it. Patrick has the best voice in the world. He even makes that Shakespeare stuff sound good.

I'm doing the photo shoot for the Ghost Town poster next week in LA. Luckily I've kept my hair the same. I've kept it the same for 15 years to be honest. Empire magazine have some exclusive pictures apparently

While I'm over in Cali I thought I'd do a couple of gigs.

Did a bit of scouting for The Men at The Pru. Filming won't start till next May or June but locations can really inspire. I've also been reading books about my home town of Reading. That's where the HQ of The Prudential Building Society was in the 70's.

Anyway to more important things. I can't wait to see Rebbeca's Buzz Lightyear-type face when Jennifer is evicted.


---

Did an interview for High Life Magazine today. That's the one you get on planes.

It was a light hearted piece loosely based around my travels, favourite countries, best hotels etc.

About halfway throught the interview the journalist asked me what the best meal I'd ever had was. I think she thought I was slightly mad when I immediately listed, in order, my favourite starters, main courses and puddings and went on to rate restaurants around the world on ambience and service.

So my favourite starter was probably the fried red mullet at Gordon Ramsay's in The London Hotel, New York (second place goes to Raymond Blanc's risotto at Le Manoir in Oxfordshire). My favourite main course... maybe I should just let you read the article for yourselves. I don't want to spoil the ending.

Spent the rest of the day editing then watched Celebrity Masterchef (nothing really competed with Ramsay or Blanc) and of course, Big Brother. The bit where they were moaning then had to dance to Welcome to The Jungle dressed as animals made me smile. No fights or nervous breakdowns though. Still, ages to go yet. Maybe we should have had a full on riot in The Extras Special. I think I missed a trick there. I suppose there was a bit of a break down though.


---

I've made the front window of an art Gallery.

It is a very proud day. Now I know how that slightly miserable bird that Leonardo painted must have felt. (If she actually was a bird. I've heard rumours.)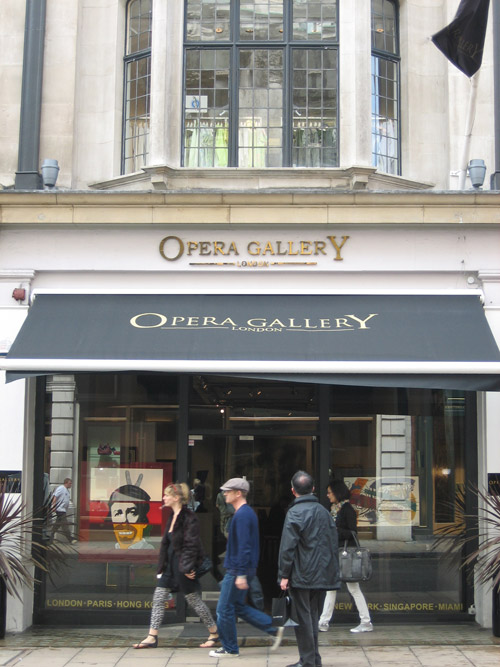 Time magazine have asked for another interview. I said yes immediately as I had such a good time with them last year.

Finished the third draft of The Man at The Pru, took another eight minutes out of This Side of the Truth and still had time to watch a cow-faced moron try to get extra screen time by showing of her fat bags of suet and cutting Mohamed's belt in half.

Yes, I watched fucking Big Brother again OK!


---

Started the fine cut of This Side of The Truth today. It's so much fun even though it can be heartbreaking losing huge gags that don't drive the plot and make the film too long.

We started laying on the music too which is one of my favourite parts of the process. (How can a chord-change make you want to cry?)

As if that wasn't fun enough, I had a filet o' fish and a chicken ceasar salad from MacDonald's for lunch. The fish and chicken were great. Obviously I didn't try the actual salad. No Point.

I was made an honorary member of the secular society. Thanks to those guys. And a huge thanks to Jay Z for the coolest name-check I've ever had, on the Jonathan Ross Show - part 1 and part 2

Ironically times like these could be called salad days.


---

Thank you to The Sun newspaper for spreading the word about spitgate.

It's a shame the photo of me they used makes me look like a dressed-up lesbian but that's life. (If Darnell were to put on glasses he'd look like Steve Merchant)

This is the new photo for series 4 of the The Ricky Gervais Show. (I look a bit more butch in this one)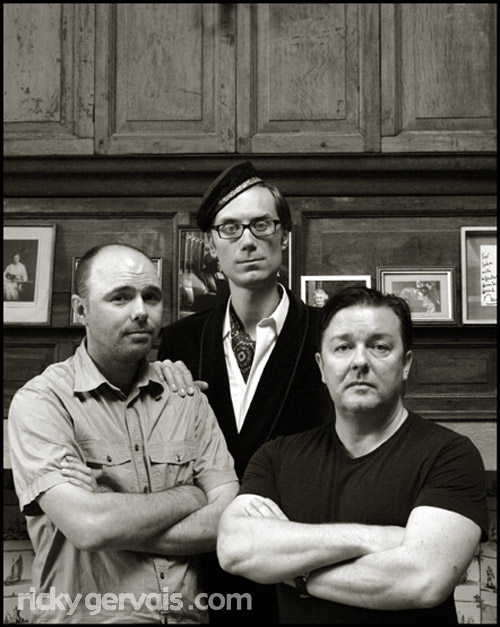 We are planning to do another series of 6 that runs from October to December.

I know that's a long way away but in the meantime feel free to listen to the back catalogue on iTunes and let me know what you'd like me to ask Karl about.

Listen to the free NME show here (And if anyone from The Sun is reading this give the podcasts a plug too please.)


---

Week seventeen - June 2008

Extra! Extra!

I have persuaded Karl to do one final series of Audiobooks. We have already booked the studio time and will start recording in the autumn.

This will almost certainly be the last time as we think we've achieved everything we set out to do.

I started doing podcasts to cut out the middle man i.e. the broadcaster. I started charging for them partly because it hadn't been done before and I needed to see if it would work and partly to make Karl some money.

Well Karl made some money and the experiment worked. We have sold over two million Audiobooks worldwide and have had the free podcasts downloaded over 53 million times.

Many people have tried to charge since and can't understand why they haven't been as successful.

I will now reveal my secret; All you have to do is find an orange-headed, monkey-brained Manc twat who talks before he thinks and poke him with a stick. You'll conquer the world. Good luck.

I often take pictures of myself on my i phone when I'm bored. My aim is always to look as awful as possible without the aid of wigs, make-up, padding or props. This is one of the best ones I've ever done.


---

I'm working on the third draft of The Man from The Pru, preparing for The US live dates in a week or so, starting on the fine cut of This Side of the Truth and doing loads of long lead publicity for Ghost Town.

But I can't concentrate on any of it as I'm still fuming over that filthy little cunt, gobbing on Mohamed in Big Brother.

Why did I fucking watch it?

And all the other dick heads in that clique were so "brave" picking on him and Rex, who put a bit of water on that shitting little picture that a mother wouldn't even put on the fridge if it was the first time her backward child had done ANYTHING.

Fuck me she milked the tragedy.

They weren't so fucking brave when Darnell came in were they? Aghhhh!

So, now I'm hooked, I want Mohamed or Darnell to win. I like Mario too, but only because he reminds me of David Brent.


---

There is an awful fake poster for Ghost Town going around. It is fucking dreadful and nothing to do with me or anyone else concerned. It's a screen grab of me with a slogan that makes no sense. Please don't fall for it. Good. Let's move on.

Had a great day filming the scene with Steve Merchant and Shaun today. They were both so funny.

Also Karl dropped by to join in on the EPK (electronic press kit) as we didn't get to do his in Boston.

He was late. So the interview consisted of me asking him why he was late. I did this up to the point he shouted, on camera, "Oh fuck off!" Then I wound him up about swearing and biting the hand that feeds him.

So a great day.


---

Happy birthday to me,
Happy birthday to me,
Happy birthday dear me,
Happy Birthday to me.


A very clear and simple message in that song.

So after opening my lovely presents I went to work on the new film with Steve.

It started off badly with us doing a complete overhaul on the script (we even changed the title to The Man from The Pru), but then it turned out to be one of those really exhilarating creative experiences that I'm still buzzing about.

It's 20 times better from a few fundamental changes. The writing is really where it's at for me. The filming's fun, the casting is great and the edit can be as creative as any part of the process. But nothing gives me a rush like the first time an idea comes together.

I sound like Hannibal from the A team don't I.

Maybe I should do a re-make. "BA" could be Michael Clarke Duncan or Rampage Jackson. Ooh racist... why does he have to be black? Because he does.

"Face" could be Brad Pitt or Matt Damon. "Murdock" - you've got your Jim Carrey and your Steve Carell (don't know if he does re-makes though).

And me as Hannibal. No, I know I'm not the best person for the job but it's my idea. And I wouldn't be in it much because gloves make my hands sweat and I can't drive. Oh forget it.


---

Had some great news today about the American version of The Office.

Steve Carell (now one of the most bankable film stars in the world) has just signed up for another three years with us. He is the hardest working man in Hollywood and the harder he works the better it is for me. I mean... well done Steve you are wonderful.

I had to wear a beard for one day on This Side of The Truth and I hated every minute of it. Steve had to do months of that in Evan Almighty and I heard he didn't complain once. He is a very nice man and deserves all his success. I am just as dedicated to my art without compromise but only between the hours of 9 and 3pm.

We are also working on a spinoff series of The American Office but I can't tell you anything about that yet.

I'm doing a photo shoot tomorrow for HBO for the stand up special. They said, "can we get you in your stage outfit?" I said, "yes" and put a clean black T shirt in a carrier bag ready to go.

Today I did an interview for American Esquire. It was great but I have to do the photo session in New York. Luckily I have another clean black T shirt.

NME radio officially launches on 25th June (my birthday. What a nice homage.) The show we did is now available as a free podcast on iTunes. Please download it now. Go on... for my birthday. Thank you

Get iTunes (here if you don't have it already) and get the special podcast here. It's only just gone up so if it's not listed yet just subscribe and you'll get it whatever.


---

Went to Amberley Castle for the weekend.

It may be the most wonderful place in the world. Jane bought a Victorian bird cage from a local antique shop. She only bought it because it looked nice, we haven't got a bird to put in it. Which is a good thing. I think it's a more beautiful objet d'art when it's not doubling up as an avian prison. I suggested we leave it in the garden with seed in it so wild birds could visit it but then still be free. It could be like their Amberley Castle.

I went for a run around the grounds and village on Saturday with my iPod and listened to the new Coldplay album twice. I think it's the best thing they've done (apart from being in Extras of course).

Here are some nice outtakes from Chris Martin's acting debut.


---

Week sixteen - June 2008

I did loads of phone interviews this week for Ghost Town.

US radio, press and internet - every person who had seen the film said it was their favourite movie of the year. I know it's only June but still.

Maybe they were just being polite.

Also I shouldn't say everyone loved it as that's like a challenge to all other journalists to to start the backlash. Oh well, I think I had a backlash last July for a couple of days but I'm not sure.

Watched a full rough cut of This Side of The Truth this week with Matt who flew in from LA.

It was so encouraging. We laughed all the way through but then we would wouldn't we? It's too long of course, but that's a good thing. The more you tighten, the better it gets.

I remember I was depressed the first time me and Steve had to keep losing jokes to get The Office to 29 minutes. (I watch some sitcoms and wish they'd have lost another 28 minutes or so.)

I don't want anyone to say "It was great but about 20 minutes too long."

It's a tough one cos you don't want to edit the guts out of it either. You just mustn't get attached to your favourite bits if they don't drive the narrative or develop the characters in any way; they're the first to go however funny they might be. Anyway we start working on it again next week.

Worked on some stand-up getting ready for the US dates. Wrote a great new bit about Hiltler's friends and family. I know - hilarious right? I don't know what I'd do without Hitler, Famine and aids.


---

Started putting the second draft of Men at The Pru together today.

We had our first little workshop with a couple of key characters which went really well. Then we got side-tracked and started coming up with ideas for a new sitcom. I say we... I started getting side-tracked and coming up with ideas for a new sitcom and Steve said "yeah all good stuff but should we not just finish this film first". What a square.

Went to see Coldplay do a gig in the BBC car park.

Very convenient for me as my car was parked actually in the venue. They were fantastic. Chris is so endearing both on and off stage. I got a text from him on the way saying "come down to the dressing room before the gig." So we went to see him. I was worried they'd all be trying to focus and I'd mess with their karma. But no. It was like they were just hanging out on a Sunday morning with not much to do. Not nervous. No big deal. At one point Chris stubbed his toe, and, in pain turned to me and said, "you'll have to go on instead." I laughed. He is a very funny man. But a part of me... It would've been a very different gig. As you all know by now, Chris recovered and wowed the crowd. I was that close. Oh well, I've still got this comedy lark to fall back on.


---

I hadn't thought this through. Ghost Town premiers the same week we start test screening This Side of The Truth and casting The Men From The Pru. I became a comedian to avoid work. If this blog stops for more than a week I've had a nervous break down.

Anyway, mustn't grumble. I'm not like Karl; I count my blessings not my money. Here is a funny clip from his first TV appearance a couple of years ago.

Look how startled and humble and round headed he is.

My favourite bit is when it's mentioned that the podcast has had ten million downloads and Karl says "yeah, I've made a few bob," like he thinks someone is going to mug him in the studio.

OK, so I may have, possibly, maybe, in a slight way, have persuaded Karl to do another (and final) series of the podcast. Don't quote me on that and please don't annoy him between now and September.

I thought it would be good to answer some of your questions. They can be anything from "What's the meaning of life" to "Karl, why are you such a citrus headed chimp"

I'll keep you posted.

Oh by the way there is a story going round that I'm "singing the theme tune to my new TV project called Toyboize". It is nothing to do with me. It's the brain child of Keith and Jamie from The Office. I just wrote a song for them because they asked me to. So that's that.

---


Week fifteen - June 2008

Steve did his fitting for his cameo.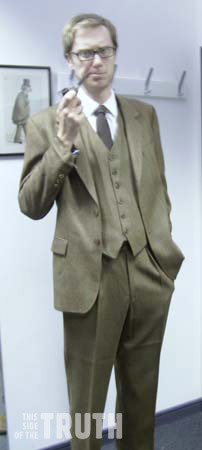 I know he would secretly like to dress like this all the time.

I spent some time in my new office this week. Steve an I started on the second draft of our movie script (Men from the Pru). We have even started putting together an ensemble of the best actors we've discovered over the last few years.

Next week we are meeting up with the great Steve Spiers (the dullard from the Sam Jackson episode of Extras) and David Earl (the obsessed fan from the David Bowie episode).

Here's a deleted scene with Spiers in action.


---

Called Karl today.

He was fed up (shock fucking horror).

He had to change a tyre on his new car as a nail had caused a puncture. He said it was the third time that had happened.

"When I'm looking for a nail to do a bit of DIY I can't fucking find one," he moaned.

Karl used to employ professionals to maintain his house(s) but got fed up with them too. I remember once he was trying to get hold of a handyman but couldn't because no one wanted to work on Easter weekend.

Karl said, "It's a wonder Jesus ever got crucified."

Amazing.

(there's a couple of new Karl-related animations on YouTube here and here


---

Steve got back today from his trip to New York.

He left for the airport last Thursday after we recorded the NME radio show.

After missing his flight he came back home and flew to America on the Friday instead.

What is it with my friends? I've never missed a plane. I've never missed a bus for fuck's sake. He's missed four flights since I've known him. The first time was because his passport had expired and he didn't realize you had to renew them.

Here he is with me and Karl, unaware of the catastrophic journey ahead.




---

Had lunch today with Jonah Hill and Karl Pilkington.

Jonah is having a bit of a European break; Karl just wasn't busy. He wont need to work now for a few weeks after the money he got for doing the NME show. He wouldn't usually make that much, but of course he took mine and Steve's share too.

The show is still being played at odd times for a week or so, or you can listen to it here in bite size chunks with all the music taken out.

Steve gets back from New York tomorrow and will immediately have to have a fitting for his role in This Side of The Truth. Shaun had his yesterday. It went something like this...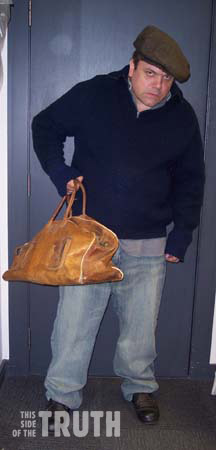 The bag has nothing to do with it.

He was just looking after Karl's money.


---

Met with my live promoters Ed and Matt today.

We were planning the US tour dates but soon got talking about the UK tour we did last year.

The main subject of conversation was little Robin Ince. We listed all the times he was a good boy and bad boy.

He was a good boy when we had our photo taken at the sound check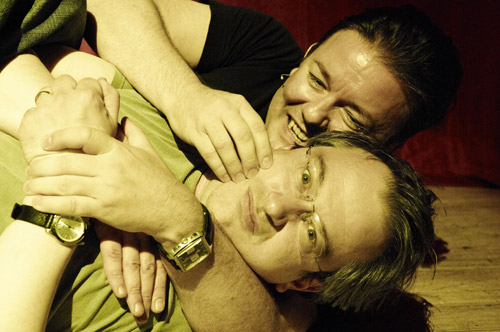 But he was a bad boy, being all grumpy, when I made him dress up as a couch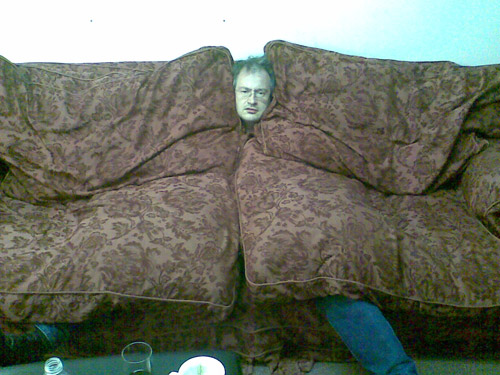 He was a good boy when he let me make him look nice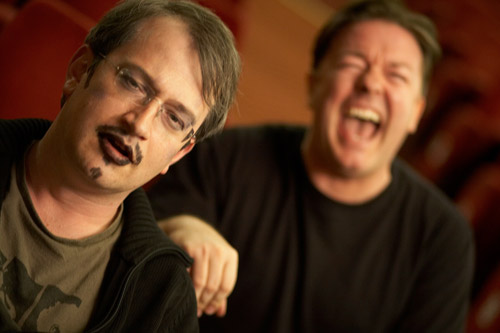 But he was a bad boy for looking all depressed even though I let him be king for a while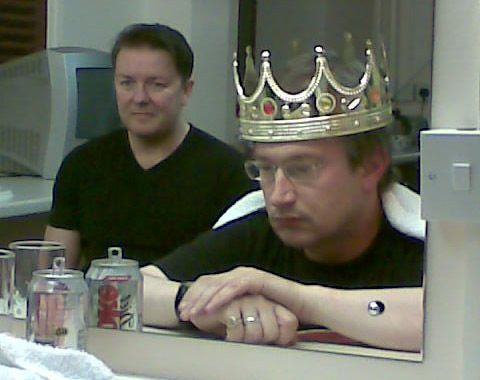 Sometimes I don't know what more I can do for my friends.


---

Spoke to my baked bean-headed New York chum Rob today on the phone.

Apparently I left the area just in time. Manhattan is sweating. It's in the 90's with sauna-like humidity.

You lose about 30% of body heat from your head. With no hair as insulation he must look like a little novelty fountain.

He keeps cool by throwing drinks over himself.

Well he did last time I was there.

OK I may have been partly responsible. I wobbled the table, and no drinks spilled, but Rob grabbed hold of his glass and it went all over his trousers. I think he was trying to cool down his plums. They are probably a similar shape to his head but more insulated.


---

Read an article today about the Edinburgh Fringe that gives Louis a nice plug.

He's also playing the Soho Theatre in London.

He is a fantastic stand up. And a coward - here's the footage of Louis shouting strange things in fear as promised...





---

Week fourteen - June 2008

Just watched a great new animation featuring Karl's best job ever. Love the bit where he goes up and down the stairs.

Karl and Suzanne just came over for lunch and a walk on Hampstead Heath. We bumped into Lisa Tarbuck walking her dog Wilf.

Karl pointed at its bollocks with the tip of his shoe.

Everyone said "don't poke your foot at a dogs testicles."

He then saved a beetle from drowning in the pond by sticking the tip of his shoe in the water and letting it climb on.

Everyone said "well done."

He is like a bad super hero who can use the tip of his shoe for good or evil.


---

There is often a lot of waiting around on film sets.

That's probably why some people fall asleep.

Because Jake was such a good boy and stayed awake for a whole day, I sang him a song.





---

I am just about over the jet lag now. I will be fully recovered by the time I have to return to The States for my stand up shows.

I'll be doing a bit of publicity for Ghost Town including my 8th appearance on Letterman. Always good fun.

HBO are recording one of the Madison Square Garden shows for a TV special in the fall, (or autumn as I call it). It will then be released on DVD which I'm very excited about.

We recorded a special edition of The Ricky Gervais Show podcast today as part of a test transmission for the NME radio launch. Steve showed us the hat he bought to go to Vietnam thinking he would look distinguished. I thought he looked like Miss Marple. And Karl has strangely decided that monkeys get preferential treatment. I don't know what he means but maybe you will when you hear it.

I also got some camcorder footage of the never before seen podcast recording. There is one shot of Karl thinking that's at least 20 seconds of nothingness. Steve said it looks more like a still photo. The head by the way looked rounder than ever.

You can listen from Monday at midnight I think. Karl believes that even though you can listen for free, some people will still moan. I pointed out that no one in the world moans as much as him. I hope you like it.
More about how to listen here...


---

Spent the day with Steve Merchant in an editing suite. Nigel popped in so I got him in a headlock. It's great to be back. While I was wrestling the hamster faced little git, Steve was going through all the out-takes and deleted scenes from The Extras Finale for the DVD. We have some really great stuff. Also we are going to record a directors commentary. We've only ever done one other commentary and that was for The Office Finale. I think the DVD will be out in the autumn. (this fully-loaded DVD won't be out in the US I'm afraid, but I'm sure you can get it from Amazon)


---

Karl Pilkington's piece on the Culture Show following his visit to the set was broadcast last night. Watch it here. Plus there's en extra bit on the BBC website of me giving Karl some dialogue coaching here


---

Ahh, home at last.

The filming was fantastic. I really think things couldn't have gone better but nothing beats home.

We have one more day's filming (with Steve and Barry, I mean Shaun), but that is literally down the road from me in sunny Hampstead. I say sunny, it's fucking pissing it down, but the garden looks beautiful. It's good for the farmers too. (my mum used to say that).

Before I left The States I did a commentary with David Keopp (the director), for the DVD of Ghost Town. Yes I know the film isn't even out yet but I get booked up a long way in advance. I saw the first trailer (out soon) and I laughed; which is a good sign. Well it's a good sign if you laugh at the same things I do. Anyway I'd love the film to do well because it's a very funny and classy grown up comedy. David has done a great job. Please go and see it on September 19th.

I'm recording a show on Thursday for the launch of NME Radio with Steve and Karl. (it will be broadcast from 9th of June on NME Radio - www.nme.com/radio, Sky channel 0184 and Virgin Media channel 975)

I haven't even worked in my new office yet. Glyn moved in for me while I was away. It's on Hampstead High Street so me and Steve can walk to work. It's so great to be back. I can't wait to start on the second draft of The Men from the Pru, edit This Side of The Truth and squeeze Karl's fucking head. I love America. But I love England too.

I am a very lucky boy - just like Robin Ince when he is on tour with me.


---

Went to New York again for the weekend.

Gave Louis a ride on the old jet. We had dinner on the Upper East Side then Louis checked in to a hotel as he had forgotten his house keys.

He also left his phone behind.

Then he forgot he was having a sofa delivered.

Then he nearly missed the plane back.

Then when we got back to Lowell he realised that he'd left his Lowell keys in New York.

Fuck me. He's 40 years old.

Then he told me that he was immediately driving back to Upstate New York to be present at the cremation of his dog Loona.

She was killed yesterday by a truck and Louis wanted to see her one last time.

He was really broken up about it and the way he talked about her almost made me cry. She was a lovely dog apparently and Louis is a lovely man.

The plane journey by the way was pretty scary. We were warned as we boarded of "really bad turbulence". It was indeed really bad, but I was nowhere near as scared as I thought I would be when I saw how scared Louis was. I nearly burst at the mad things he was shouting out in fear. Luckily, I taped it and will stick it on this blog next week sometime.


---

I think we may have exhausted Jake.

Guy took a paparazzi style video of him sleeping at work. Look how he fights to keep his eyes open like a drunk puppy. He then moves his hand around as if to say "look I can't be asleep I'm doing stuff". I love the last bit with those rolling eyes like a dad being woken up at Christmas.

I may dip some nerf darts in wasabe. That should buck up his ideas.





---

Week thirteen - May/June 2008

A short while ago I told you about the bee that terrorized Jonah Hill.

Well it came back.

Here they both are in action. With me. Also watch out for a late appearance by Louis CK.





---

Had a great few days filming with the very funny John Hodgman.

I can't put into words why I find him so funny so here is a short behind the scenes clip.





---

Had a set visit today by Boyd Hilton from Heat Magazine.

He has been very nice to me over the past few years giving The Office Christmas Special Heat's only ever 6-star review.

It was because of that extra star that I decided not only to allow him access to the film but also to carry him everywhere.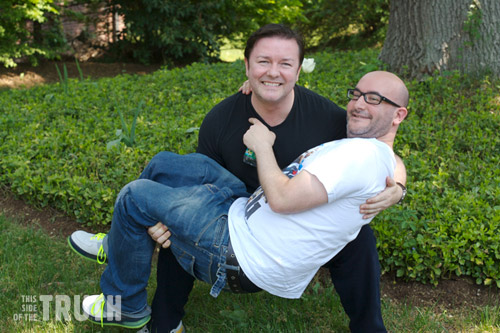 ---

My terribly bald friend Rob feels that I did not give a true picture of the events of last weekend in New York on a recent blog post. Like the ever-caring friend that I am, I am giving old pear-head the chance to put things straight.

These are his words:

Right to reply:

I would like to respond to some of Ricky's recent blog reports that appear to represent me as some sort of charity case on his version of "Jim'll Fix It."

He has predicted for me that I will only live another ten years. He has also predicted that I will lose an eye. He likes to remind me of these two things quite frequently.

Ricky says that he's going to make my remaining years "the best yet." This weekend I asked for many things from him and none of them were to "hold a puppy" (though that did actually happen).

These are some of the things I did ask:

Stop trying to wrestle me in the middle of Central Park

Stop rubbing the top of my head

Stop choking me

Stop taking photos of me while I'm eating

Stop pulling out my chest hair

Stop saying "You know what?" and then singing "...goes up, must come down" every time.

Stop washing your fingers in my glass of water

Don't sit on me

Don't tell waiters at restaurants "he loves a little Creme Brulee"

Try to behave like a normal human being


This is just an abbreviated list, it goes on and on. Obviously, I didn't get any of these things.

Apart from that we had a pretty good weekend.


---

Week twelve - May 2008

On Sunday we met up with my old bald friend and his wife for lunch.

We had Mexican in a place on the Upper West Side and then went for a walk around Central Park.

I kept my promise to Rob about making his last few years the best yet. I said he could do anything he wanted. He said he wanted to hold a puppy.

So be it.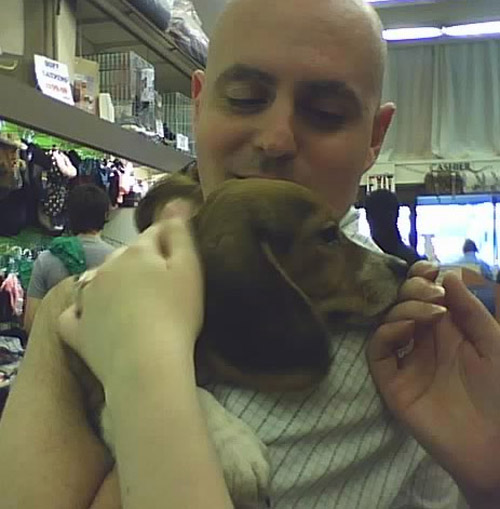 ---

The most satisfying week so far. Most stressful too in a way.

Not only is it nearly the end of filming but we also filmed the final moments of the movie. Throughout the filming I've been saying things like "great we've got it move on." The last couple of days it was more, "let me do just one more" about 3 or 4 times per scene.

Hence we did 5 days filming till 6 or 7 o'clock. I might as well work in a third world sweat shop.

Popped to New York again for the weekend. Spent most of Saturday looking at apartments to buy.

Unlike Karl we'll probably just buy the one.

Karl has finally recovered from being ill after his one day's work on the film. He was also being followed by BBC's The Culture Show. It broadcasts on June 3 and 10. It will be the first look anywhere in the world of the movie so I hope it makes us look good.

Talking of looking good....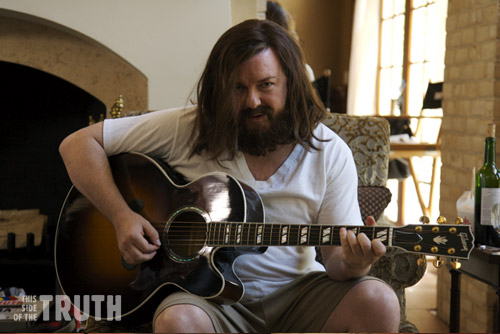 Went to The Four Seasons restaurant Saturday night. Probably the finest eatery in Manhattan.

We had a wonderful time but then Rob got a bit fed up just because I pointed out that from the way he looks at the age of 45 (terribly bald, grey eyebrows, tufts of hair missing on the chest) he will probably only live another 10 years.

So like a good friend I vowed to make those years the best yet. I said he could have anything he wanted. He had some chocolate cake. The look on his little face was a joy. Jill and Jane had pudding too but I don't think they appreciated it as much.



---

News Extra...
A spy says some
nice things
---

One week of filming, or principle photography as we say in the bizz, left. Then back to England for the edit.

The edit is my second favourite part, behind writing. There's a hundred films in there somewhere, and a couple of them are very good indeed.

I must say I've enjoyed this shoot more and more. I might even do this movie lark again one day.

Shot some great scenes in a beautiful church over the past two days and once again we defeated the weather. We have been very lucky so far and we only have two more days outside. One of those is back in London shooting a cameo with Steve Merchant and Barry off Eastenders.

Or Shaun as some people call him.


---

I am filming in the middle of nowhere tomorrow. It's worth it as it is a beautiful location.

I am in a hotel in the middle of nowhere tonight. I just watched American Idol and Hell's Kitchen on TV. I should be learning my lines but I needed to watch my fellow Brits, Simon and Gordon, shouting at poor unsuspecting US citizens like the power-crazed foreigners they are. Oh dear. I wont do so much shouting tomorrow.

I heard that the first trailers for Ghost Town will be out this month. I'll keep you posted.

Karl has been ill ever since he did his cameo in the cold. One day on a real job and he's knackered. Maybe he needs a little holiday.

Here is a picture of me in a low budget re make of iron man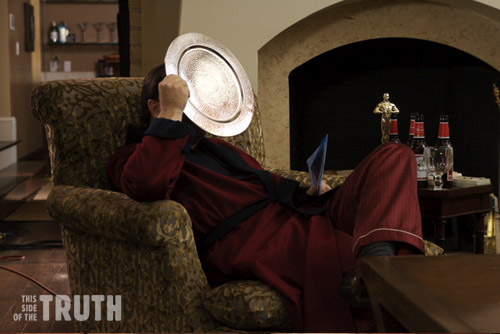 ---

Popped to New York again on the old jet.

I did an interview with the NY Post and helped out the Saturday Night Live team by introducing an Office spoof.
Here it is...

Went to dinner with my terribly bald friend Rob and his wife Jill.

This time we went to Gordon Ramsay's at The London. I took a suit especially.

Rob wore a suit too but didn't bother putting on a tie. This turned out to be a big mistake. Just before pudding I reached over and pulled out a clump of his chest hairs.

He couldn't believe it.

We guessed that this had never happened before in a Gordon Ramsay restaurant.

I wanted to check the incident book to make sure it was a first. We then agreed that is was unlikely that;
1. there would be an incident book for public reference and
2. that the entry "...one gentleman then extended his arm and pulled out a clump of chest hair from another gentleman dining at the same table..." would ever make it into such a book.

The meal was amazing by the way.

When we left the restaurant we saw an elderly tourist couple taking a picture of a building. The man, without asking, pulled the woman in front of him and rested the camera on her head to steady it.

We found this nearly as funny as depilating a friend's chest.


---

Week eleven - May 2008

Two weeks to go. Well, two weeks filming, then a few months post production.

Did a scene with Jonah and Louis today. It was outside so a bee came over to watch. Jonah was very uncomfortable with this. He doesn't like bees. He probably doesn't like the way they are willing to die just to sting him. He was convinced it was out to get him.

I said, "don't worry about it."

He continued to worry about it.

Louis made things worse by telling us that once, a bee was bothering him, and some friends advised him to just stand still. He did. The bee stung him on the neck.

So Jonah was nervous now.

The bee ruined a take as Jonah leapt from his sun lounger waving his arms. I laughed. Then Jonah leapt again a few moments later and shouted, "Fucking spider on my leg."

I leapt up too. A bee is one thing but a fucking spider....

"There it is! " Jonah said.

I jumped up and down on it like a mad man. Louis said calmly, "I think the fourth stamp broke its back."

I felt bad about squashing it but it was either him or me. And the spider is the only animal I am willing to squash.

In a way I wish the bee had killed it. That way we'd all be happy. The bee would be doing a good thing by saving me and Jonah from the spider. The bee would die a selfless death and not sting Jonah or Louis. And I would not have had to leap up terrified and commit murder.

But life isn't perfect. If it was I would have been one of the friends that told Louis to stand still. That would have been one of the funniest things ever. This isn't so much a film blog, as a hypothetical invertebrate situation blog. I hope Louis accidentally swallows a moth one day.


---

I did loads of interviews today. I was asked to describe my character many times.

I explained he is a loser and basically a nice guy. He is a very unsuccessful screenwriter in his forties with average looks, moderate intelligence and little hope for the future.

This picture sums it up perfectly. Meet Mark Bellison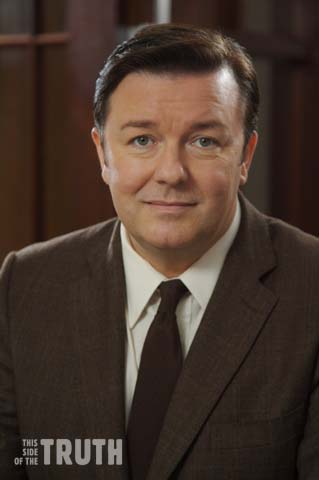 ---

Blog makes it to TV.

Blog on TV makes it to blog.

And so on.


---

Spent a couple of days filming in Quincy. (Not the nosey pathologist, the town ... Why was he allowed to get involved in police business? "OK Quincy, he died of stab wounds now fuck off back to the lab we're busy. Oh and stop trying to seduce that lady, it's embarrassing.")

The forecast was for heavy wind and rain which would have made shooting nearly impossible.

Luckily the forecast was wrong. So we didn't need to go to plan b. Which was lucky as there was no plan b.

It was some of the funniest stuff yet. Rob Lowe, Jonah Hill, Jeffrey Tambor, Louis CK, and Karl Pilkington all in the same scene. Amazing.

I was in it too but they were all much funnier.

There was a competition between Louis, Jonah and Karl. It was simple test of who could look the most stupid and vacant on camera.

It was so unfair. Louis and Jonah had no chance. Karl was never told of the competition by the way.

I wont give too much away but the scene took place around a dead wild boar...





---

As promised, here is the footage of me shooting Jason Bateman in the arse...




And here is me continuing to bother Jason while he's having his make-up done...




---

Week ten - May 2008

I did an interview with the Lowell Sun. Here it is. Can't wait to show Karl. They refer to him as Karl Plinkington.

On the Set of 'Truth:' Gervais Wants You to Laugh
By Rachel R. Briere, The Sun, Lowell, Mass.

LOWELL -- It's been all Hollywood hype until now. British comedian Ricky Gervais gave us the truth about his big-screen debut while on the set outside Cobblestones yesterday.

Anyone who has been following the actor since he landed in Lowell to shoot This Side of the Truth knows his affinity for "chicken and mash" and Nerf guns. But what does he think of the Mill City?
He finds it just "lovely."

How do the mashed potatoes at Cobblestones rate?
Wait, what did I have at Cobblestones? I had ... fish 'n' chips and they are brilliant. I saw fish 'n' chips on the menu and I just blurted it out to the waiter. They were really good. No mash there ... yet.

Why did you choose Lowell, of all places, to film?
Well, I wanted the East Coast, for start, and obviously Massachusetts is giving good tax rebates compared to New York, which saves some money. We looked around at eight different towns and it was definitely Lowell. It looks so good on film.

Is it because of the architecture?
It's because it is very different. There is no town like it. I think it is really important to make your own iconography. On the face of it, it looks like what you imagine a typical American town to be, but different. So it's just perfect. It's really got a lot of character. The architecture is great. Every building is different.

We shot in the (Lowell Five Cent Savings) bank, in the building that Kathy Griffin and Pat Benatar performed in (Lowell Memorial Auditorium), we turned that into a casino. That's a great old building. Cobblestones and La Boniche ... but it's got character. It's just something that already looks quaint and the streets look great. I love the way they put the lights in the trees. It's going to look really good. Lowell is going to look great in this film.

Other than for the film, do you personally enjoy Lowell's hot spots?
Well, we've got catering (laughs). So I get home, usually make myself spaghetti, and I am in bed in an hour and a half. I learn my lines, I eat, shower and go to bed. I need sleep. I got a lot of hats on in this film -- not literally, but with directing and acting, there's no spare time.

Talking about many hats, which do you prefer -- film, TV, stand-up or radio?
I like them all. Obviously, film. Film is generally regarded to be the zenith of entertainment. Making a Hollywood movie is pretty much as big as it gets. I always wanted to do that, but I resisted doing it for the sake of it. I always thought my first film probably would be one I wrote and would direct.

But I love radio. I started in radio and it's free and immediate. As soon as you state something, it's done. I love the podcast. My favorite thing I do is with Karl Plinkington -- the half-man, half-monkey. I love television 'cause it's fast. I like something that is part of the common conscience. I love how everyone watches TV.

This movie is shooting at a high rate of speed. Is that because of your TV background?
No, because I am very lazy and need 10 hours sleep. Probably, but the way I shoot happens to be fast.

I'm there anyway and I don't like sitting around. I know what I want, I know what I am looking for and I know when I got it, so I don't have to do it a thousand times. When it happens, I say that's the take.

Tell me about your character in this movie.
I play a loser. Typecasting, that's what I do. If you need a putz, call me. I'm a loser who is a screenwriter in a world where lies haven't been invented. There's no fiction, there's no dreams, there's no imagination as we know it, so films in this world are very literally. They're just people reading from a book. I write those and I'm stuck with the 13th century. No one really cares about that. When I discover I can lie, the big upshot is that I can make things up so I come up with the best stories ever told. They're all just fantasy, but I come up with some pretty amazing films that have ever been made because I can make things up.

How is working with Jennifer Garner as your leading lady? Great. They're all brilliant, from Jennifer to Louis C.K. He is going to be a star, he is just so charismatic and sweet. Rob (Lowe) is great, even though I shot him in the eye. We got great new people we discovered. You know, there's 74 separate characters in this film. We cast starting from scratch just like we did with The Office and Extras. There are a lot of unknowns in this. They're brilliant and they're great. For every famous person, there's three unknown.

How about the extras?
I don't mix with them. They're kept in a cage (laughs).

What's with the Nerf sneak-attack videos on your blog?
In preproduction, we got Nerf guns and we filmed myself and Matt (Robinson) shooting our assistant. Warner Bros. saw this and sent us some Nerf guns. But these are the best Nerf guns you have ever seen. This is proper futuristic weaponry. So now whenever we get bored, we shoot Jake (his assistant) in the face.

When can we expect This Side of The Truth to debut in theaters?
Oh boy, between March and September next year. We'll find a week where we're not up against Indiana Jones. That's very important.

Can people expect to laugh a lot from this movie?
Yes, it's a comedy. Some say it's romantic comedy, others (say it's a) high-concept comedy. First and foremost, it's a comedy. It's an excuse for jokes and drama. I want people to go there thinking they're seeing the funniest film of the year. An hour and half of comedy that's exhausting. That's why there are plots, there is investment in characters. That's why you have got to care about them.

You can't laugh at someone if you don't care about them. I can't laugh at someone I don't like. Hitler could tell the best joke ever and I wouldn't find it funny (laughs).


---


I sent John Hodgman another e-mail requesting material for this blog.

Here it is with his replies...

R.G. Your last blog entry was very popular. I would like to sign you up for a three blog deal with the option for more. Also there is an option for less.

Please fill out the following questionaire for entertainment purposes only.

1. You often wear a suit. Why?
J.H. THAT IS A RECENT DEVELOPMENT in my life, one largely due to television. As you may know, before I appeared on The Daily Show with Jon Stewart on November 16, 2005, I was merely a stay-at-home scribbler, a professional freelance writer, and thus: a nudist. (That is not entirely true. I sometimes wore a gendarme's cape). But like the rest of my life, this all quickly changed. I don't know how it is in your country (Belgium?), but over here, television censors require that you wear clothing at all times, and no capes. So what you see when I appear on TV is not so much a wardrobe choice, but my approximation of human clothing. But now that I have discovered suits, I have to say I like wearing them. I find it very liberating. I feel much more in touch with my body now that it is encased in many concealing layers of Banana Republic, as nature intended. And, plus, I am asked to leave the supermarket far less frequently.

R.G. 2. When you wear this "suit" you often accessorize with facial eye glasses. Again the why?
J.H. LIKE MOST PEOPLE, my eyes are located in my face, so I find that the facial eye glasses are really the only way to go. Here is a bit of trivia, did you know that my right eye is situated slightly higher in my head than my left. Optometrists call it a "right hyper," which coincidentally was my nickname in grade school.

R.G. 3. Language is your tool. Do you also own a hammer and a lathe? A screwdriver?
J.H. I DON'T EVEN KNOW what those things are. Wait. I know a screwdriver is a kind of mixed drink of vodka and orange juice; the legend is that it was originally enjoyed by construction workers, who stirred them with their "screwdrivers" (I think you know what I mean). But what is a hammer and lathe? Vodka and woodshavings? If the answer is yes, I will try it.

R.G. 4. Have you ever kissed James Lipton. Elaborate. Not too much.
J.H. I HAVE NEVER MET JAMES LIPTON, actually. And that is what made the kiss so very awkward. (It lasted a day).

R.G. 5. Would you rather have a beak or gills?
J.H. I THINK I JOIN MOST AMERICANS in agreeing that I would rather be able to breathe underwater than to have a horrible physical deformity on my face. (No matter how much I love cracking seeds and nuts)l. But maybe it's different in Belgium? You tell me.
And also, I have this question: FLIGHT OR INVISIBILITY?

That is all.


---


Me and Jason Bateman.

I think we're both attractive in our own way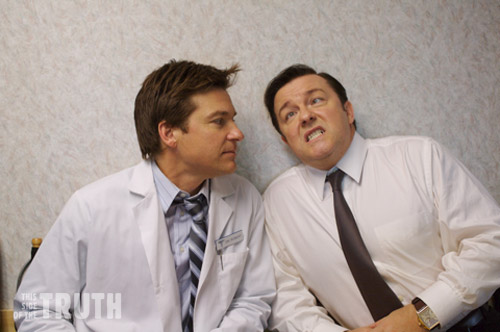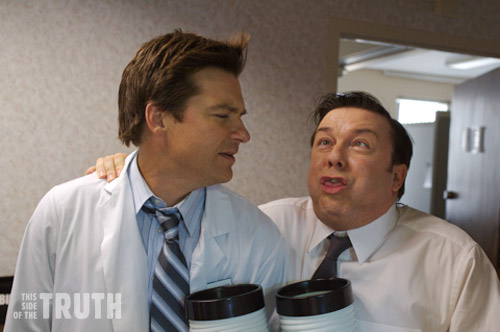 ---


So the end to a great week.

Yesterday I spent the day pretending to confuse Jason Bateman with Michael J. Fox. The more he didn't laugh the funnier it was.

He got most annoyed when I thought he was 40 something. "I'm 39" he said in a high voice, and asked for more make-up.

At one point the sound-man said he could hear Jason's hair because there was so much product in it.

After lunch I went to his trailer to shoot him with my biggest nerf gun (that sounds like a gay euphemism but it isn't). I knocked on the door.

"Who is it?" he said in a camp Teen Wolf Too type voice.

"Ricky" I said.

So for a joke he opened the door mooning me.

This was a bad Idea for two reasons.
1. I shot him in the arse.
2. We were filming it on the cam-corder.
Footage coming soon.

Make-up is for girls...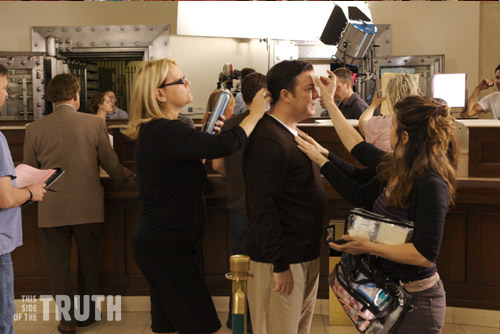 ---


Shot a really funny and sweet scene set in an old folks home today.

It was peaceful. People just sitting around not doing much. But that's what film crew's are like (OK that's the last time I do that joke).

No but seriously, looking around at the old guys dotted about looking vacantly into space I thought of Karl Pilkington. So I called him. He's on holiday again! I spoke to him for about 30 seconds then had to shoot a scene. Later I got this e mail from him.

Alright

Sick of it here. Came away to try and get the book done but can't concentrate. The villa looked good in the brouchure but what it didn't tell you was the fact that I'd be stuck in between two familes with more kids than the Waltons.

It started with just the one Scottish family who has a couple of kids who are allowed to run riot. The mam keeps telling 'em to shush but they take no notice. The mam is very ginger and just sits in the shade while the dad does nothing but sit there burping, tanning his tattoos and singing the Scooby Doo theme tune to keep the youngest of the kids happy. The scottish accent is well hard sounding. When he sang Bob the builder theme tune it sounded well threatening when he got to the 'can he fix it' bit.

But now they seem pretty quiet compared to the new mob next door. I think it's two families and an aunty from Wales. There's about six kids. One of which I think there is something wrong with. He's a stocky little fella with no neck and big ears who gets upset pretty quickly if none of the grown ups watch him jump in the pool. He got upset yesterday and tried to drown his brother. He didn't really get told off for it, they just sent him inside to play pool. (they have a pool table and table tennis in their villa, we haven't even got a bleedin' radio) The back of the lad's ears are really red from the sun (at least he can't burn his non-existent neck though). As I type this he is dancing to that song by Mika. The older people are clapping him. They'll probably get him on that 'Britain's got Talent' programme.

Can't really escape them either as there's not much to see round here. The holiday rep asked if we were interested in going on a trip to the leather factory.

see ya.


---


Matt (my co-director) did his cameo.

He had to step forward from a crowd and say one line.

It is about 2.5 seconds of screen time but I thought it would be a great idea for him to spend hours in make up to look like a complete nerd.

He was very professional and a little nervous so during the first take as he delivered his line he was shot in the face with nerf guns.

We have this on film.

Here is Matt, about to go to make up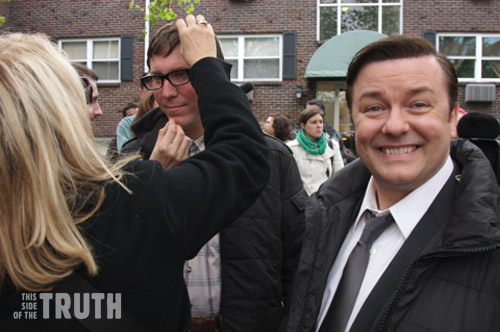 ---


What a great few weeks.

Broke Karl Pilkington. Won a Bafta and a "looking surprised" competition. Oh and started filming my first Hollywood movie.

We had a set visit from the big-wigs at Warners and Universal today.

There weren't quite enough nerf guns to go round so I think they will get some more if they come down again. I think the company that make them should send us supplies for all the free advertising. I also love Rolex, Hugo Boss and Bollinger.

Simon and Garfunkel have let themselves go a bit...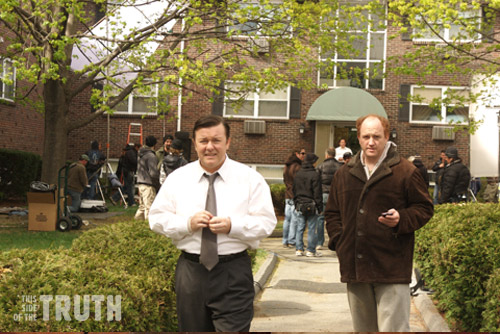 ---


update...
Rob got back to New York 3 hours late.

Here are the pictures from the looking surprised competition.

Ricky looking surprised...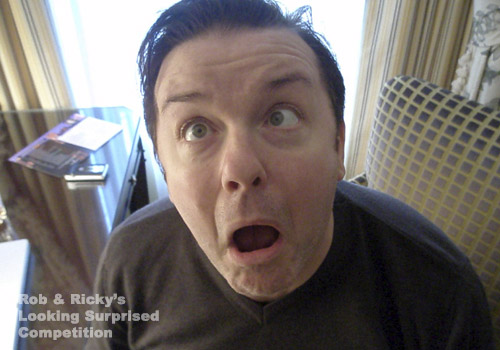 Ricky looking very surprised...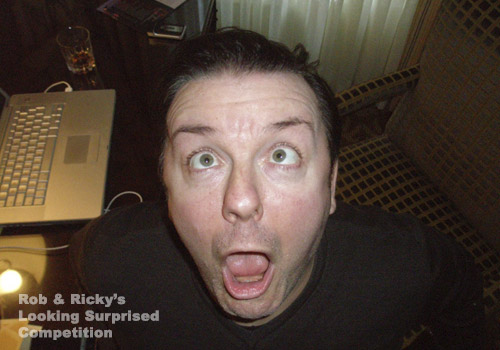 Ricky looking the most surprised...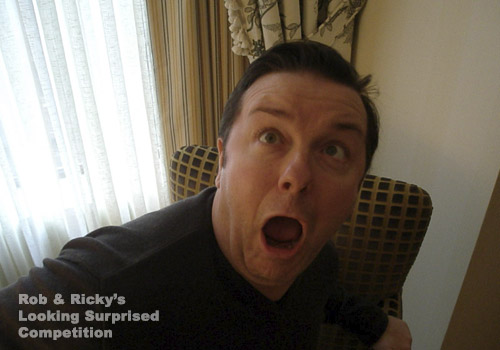 ---


Stayed in Boston this weekend.

My egg-headed Brum-chum Rob and his wife Jill flew from New York for a visit.

I got a text from Rob late Friday night which read "Damn you and your private jet. The plane is delayed by two hours." I can even annoy people without being near them.

I met up with them on Saturday for lunch at my hotel. The restaurant was too noisy though (and by that I mean there were some other people in it) so we went and found a very nice quieter place called PAPA RAZZI'S.

There were photos of famous people all over the walls. I chose a table next to a very nice picture of the very funny Richard Lewis. He looked like something out out of The Velvet Underground in this particular snap shot. Actually he looks like that in real life too.

I had chicken and spaghetti (they didn't do mash).

After lunch we walked along Charles Street. I saw a little red cowboy hat and offered to buy it for Rob as long as he would wear it. He said that wasn't really a tempting offer.

It was raining so I shared Rob's umbrella. He was worried that if people recognised me they would think that he was my butler. I decided that he could have the umbrella and I would wear his baseball cap. This annoyed him for many reasons.
1. he had suggested before we left the hotel that I should take an umbrella.
2. "You can't just take someone's hat", (I've never heard this before).
3. his head was cold and I've got hair.
4. the hat was getting wet now.
and 5. I stretched it.

We went to L'Espalier for dinner. Rob had so much to eat I was worried he was going to be ill. (He is very sickly and is often poorly.) During the meal I threw a cork at his head which bounced back to me and I caught it. This really annoyed him as I was still armed.

Trying to avoid a repeat offence, Rob stretched his arm out to grab the cork. I grabbed one of his fingers and he was trapped. His arm was fully stretched across the table and he was thus unable to yank it free incase he knocked stuff over.

He quietly begged me to let him go. It must have looked very romantic. I eventually let him go. Later I threw the cork at his head again.

After dinner we went back to my hotel. Rob and I had a competition to see who could get a photo of themselves looking the most surprised. Rob said it wasn't really a competition as only I was taking part. I will post the photos in my next blog.

On Sunday we went for brunch. I accidentally got marmalade on Rob's jumper. I put a crumpet in my pocket and we went to feed the squirrels. They didn't like crumpet but the ducks loved it. A goose came over for some and scared me. This made Rob very happy.

That's what I do. I make my friends happy.


---


Week nine - April 2008

Woke up to the news that I won an LA Bafta - never heard of them before this week but it still counts. (Until they start handing them out to everyone.)

It was for the Daniel Radcliffe episode which I think is the same episode that won the Emmy. (Or maybe it was the Golden Globe)

Anyway I knew it would be a good episode when we came up with the newspaper headline "TV bully kicks dwarf in face".

Had one of the best few days filming so far.

We shot the biggest scene of the movie over three days with hundreds of extras. Possibly the best group of extras I've ever worked with.

We had our first set visit too. A lovely chap from the LA Times flew in to interview me and Matt and a few of the cast. He saw me directing, and acting, having a laugh with the crew and keeping the background artists amused.

When he left I shouted at people and had an orphanage closed down because I needed somewhere to keep my plane dry.

He saw none of this so the article should be very positive.


---


Feeling the pressure of keeping up an internationally acclaimed blog, I thought I'd call in some help from the people who owe me big.

I sent an e-mail to John Hodgman who is soon to star in this film. Here it is with his replies...

RG. Write something funny for the film blog. I'm running out of things to say. Please complete this questionaire

1. Although you've never said it publicly, you consider Ricky Gervais to be not only a handsome man, but also a genius. Why? Why have you not said it publicly?
JH. I consider Gervais a handsome man because he gives people rides in horse-drawn carriages. I consider him a genius because he does it FOR MONEY. Also, he has a brilliant comic mind. His eyepatch is hilarious, and not just for the usual reasons (lack of eye).

RG. 2. Like all intellectuals you both need and despise your fans. What do you hate about them most?
JH. On the contrary, I love my "fans", and that is why I keep an ongoing conversation with them via my blog, areasofmyexpertise.blogspot.com and my twitter account, www.twitter.com/hodgman. The only thing I really despise is advertising.

RG. 3. Would you rather have giant frog feet or lobster claw hands? Why?
JH. Frog feet, obviously. My carny days are over, and I like typing. I also hate it when people try to eat my hands with butter.

RG. 4. Who would you have play you in a biopic; Phillip Seymore Hoffman, or Gary Coleman? (Be careful. This is a trap to see if you are racist or not)
JH. Philip Seymour Hoffman as "young hodgman--the carny years." Gary Coleman as "old hodgman." and Gary Oldman as "immortal hodgman in his castle, 1000 years from now."

RG. 5. Why are you a racist?
JH. I am not a racist. I just think that the people with lobster claw hands now enjoy an institutional advantage over other Americans that isn't fair in a supposed society of equals.

I hope this helps you fill up your blog. See you soon. Thank you, and

That is all


---


Jake is still alive after the wasabe incident.

Today we dressed him up as a caveman.

This was actually useful as it was a make up test for a scene we're shooting next week. He looked really weird. His nose was big and his eyebrows made him look really mental.

He looked even worse in the caveman make up. (You must've seen that one coming.)

I read an article today in Variety magazine entitled "Who will be the next Ricky Gervais?" It was basically listing the hundreds of Brits trying to break America.

A very flattering title; it suggests that I am the zenith of international achievement. However, I don't think that I'm quite done being the first Ricky Gervais yet. I haven't started my US tour yet. Ghost Town, my first lead in a Hollywood film isn't even released until September. I'm halfway through my directorial debut.

If these are all flops no one will want to be the next Ricky fucking Gervais.

It's so funny when I read that so and so is going to be huge in America because their sitcom is being re-made. It's usually the last we hear of that little project. But since the success of The Office it's like The Goldrush. I think it's peoples' PR machines getting carried away. I was "Huge in America" about 3 years before any one really new my name.

Take everything you read with a pinch of salt. Or wasabe...

I'm up for an LA Bafta tonight apparently. I'm not sure what that is but I'll have one if they're handing them out. Winning that could make me the next me.


---


We fed Jake a spoonful of wasabe today.

I don't know why he ate it.

As he choked, went red, sweated a bit, then went to lie down in Matt's trailer before throwing up, he said, "I thought it would be funnier than this."

So did I, Jake. So did I.

It was funny when it happened to Karl Pilkington. I think that's because it was by mistake. We were in the Ivy in London and Karl had ordered an oriental mix starter. I suddenly turned to see him gasping for air and water.

"I ate that green stuff," he spluttered.

"Why did you eat it all at once?" I said.

He replied, "I thought it was a mushy pea."

Why would they put one mushy pea on a plate. Idiot.


Louis CK did some eating today too. He thought it would be a good idea to start the scene by eating a chocolate.

Of course for continuity he had to eat a chocolate at the beginning of every take. He felt sick by lunch time. I warned him but he didn't listen.

We did lots of ad libbing today and ruined most takes laughing.

On film, with two cameras running, that's a lot of money down the drain. We had fun though. I think we were the only ones having fun.

I pointed out to Louis that no one else found us funny. He didn't care. He was eating free chocolates.

I looked around the room at all the stoney faces. It felt like the set of Schindler's List.

Matt pointed out that crew are trained not to laugh when they are recording stuff.

Anyway, we've got so much more footage for the DVD gag reel. (They didn't even have one on the Schindler's List DVD and that sold millions)


---


We converted the place Pat Benatar played last week into a casino today. It looked great. The art and props department worked over the weekend and did and amazing job.

I'm always slightly humbled by the amount of effort people go to for a a few minutes of comedy.

Then I get over that and start shouting at people to hurry up because I'm hungry.

That's me explaining to the DP- "I want a pizza, this big"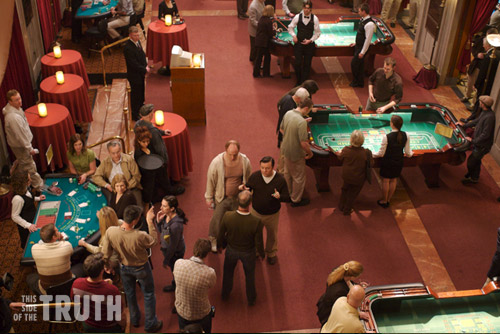 I was filming scenes with Louis CK. He is so good in this.

I think people are going to love his character, Greg. He's so useless, and stupid and sort of sweet in a slobbish, irritating way.

And luckily his character is very similar. ( I don't give a fuck if you saw that one coming)

He seriously is great. (He is playing London by the way so you must get a ticket if you've never seen him live)

I noticed today that he looks like a giant Teddy Bear. This amused me so much more than him.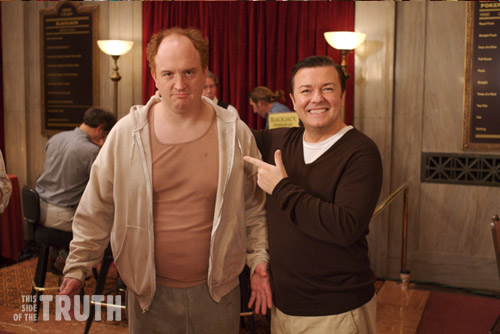 ---


Popped to New York again for the weekend.

We got to the tiny airport near Lowell about 20 minutes early and the two pilots were waiting. One of them said, "Hi, ready?" And we were off. Amazing.

At first they couldn't shut the door properly. They said, "It's not a problem because I was told that an identical plane is standing by as back-up."

He tried the door again, then stopped, looked at me and Jane, and said, "You must be pretty important if they have a spare plane for you in case."

I laughed and stopped myself from saying "That's good. Last week they thought I was the fucking chef."

The door closed and we arrived in New York about an hour later. I got to The Four Seasons and immediately had a nap. (It must've been the champagne on the plane.)

We met our friends Rob and Jill at the the world famous 21 Club for dinner. It really is a magical place. We sat at Frank Sinatra's table. The food is amazing. I had chicken and mash.

As a lovely surprise they brought us free champagne and a special extra course compliments of the chef. Unfortunately it was four whole soft shell crabs. I felt really bad, but we had to send two of them back. Jill is a vegetarian and I can't eat things with that many legs.

It was a lovely gesture though.

Rob was a vegetarian until last year but he managed to eat pork, followed by steak followed by a whole crab. No wonder he couldn't finish his trifle. He loves trifle. And creme brulee.

On Sunday we did a bit of house hunting before returning to Lowell on the jet. I felt like Karl Pilkington. Oh I nearly forgot - Karl has agreed to do a special one-off show. I'll tell you more about that soon.

If I do get a place in New York it will need a big garage for this. John Travolta's got a much bigger one than me. (grow up)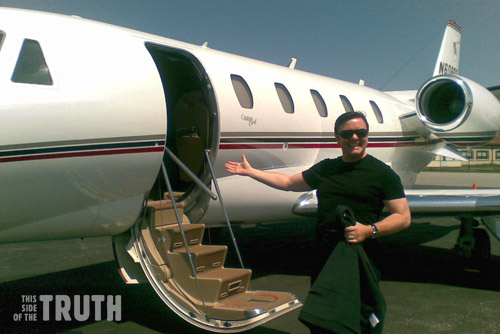 ---
Week eight - April 2008

There was the most amazing sunset over Lowell last night.

I like this town more and more. It looks beautiful on film too. It is the perfect setting for this movie.

On the one hand it's a classic American small town and on the other it's a town like no other town you've ever seen before.

I filmed the first scenes with Jennifer Garner today.

She is a perfectionist so we did two takes in the last scene which meant we didn't wrap till 4.45.

On a more positive note, we cast another big name in a cameo role.

I can't give away who that is but I have warned the hair and make-up department that he'll only need make-up.

Who knows who he is? The good people of Lowell think they know the answer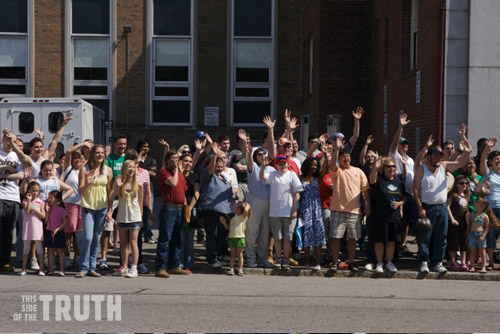 ---
It was very hot today in Lowell.

We were inside an air-conditioned bank though.

As a brit I hate missing a lovely day. We always think it may be the last of the year.

As a brit I would have also complained about the heat and the sun in my eyes if we'd have been filming outside.

Luckily we finished at 4.30 and I went for a jog around the town. I ran past loads of trucks. It turned out to be Pat Benitar's road crew. She is playing the local venue.

We have to turn that into a casino next week so I hope she leaves it tidy.

I heard that Extras is up for another couple of awards. A Banff and an LA Bafta. I can't go the the ceremonies but I wish me luck.

I got to do a couple of scenes with my regular stand in Michael. He was playing a homeless man so it was nice that I looked better than him for a change. (he still looks better than me though, doesn't he?)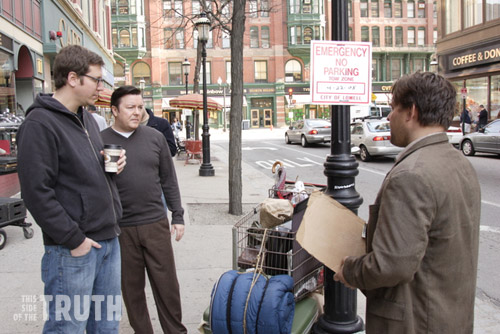 ---
Two great days in a row. And by that I mean we finished at 4pm. (People warned me that the hours would be slightly longer on a film than TV).

People can't understand how we are doing such short hours.

The answer is simple; I am turning in some very shoddy work. This won't even go straight to dvd. This is going straight to radio.

No, but seriously,... I think the answer is, don't do shots you know you won't use. And rush the crew - they love that.

Here is Rob Lowe hiding behind a girl. Look at his little gun.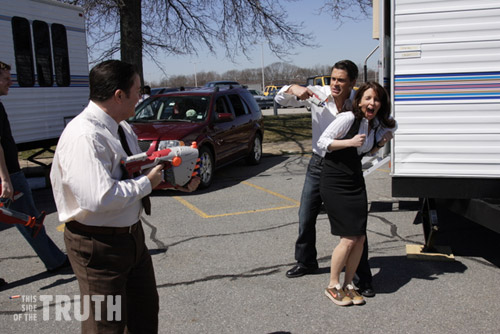 ---
I went to New York again for the weekend to see my friend Rob.

The nice people at MRC (the financiers of this movie) have given me a private jet for the duration.

It's un-be-fucking-lievable. It's the closest thing to actually being able to fly yourself. It's a company called Marquis Jet and they know how to run an airline.

It's 48 minutes to New York. They take off when you get there and there's no fuss. It's so casual.

They ask for some ID when you get on. They show you where the exits are, where the refreshments are and you're in the air in about 3 minutes. Even the food is great.

Being the only person on a plane is weird but being the only person in an airport is weirder. I turned up in my usual attire - black T-shirt, sweat pants and trainers and the pilot told me that someone thought I was the chef.

A limo met me at the other end and I was at The Four Seasons in half an hour (the best hotel in the city). I went to my room, got changed and went to the gym. I worked out, then went to the front desk and asked for another key as I had locked the first one they gave me in my room.

I met up with my pear-headed pal Rob and we ate pasta and drank wine.

We came up with the idea for the next Flanimals book. Fladpoles - alien larvae that can turn into any adult Flanimal. Then I got Rob in a head-lock so he went home.

Oh, the filming is going well too.

Here, Gervais, Fey and Lowe turn on the photographer. Look at my face. How brilliant do I think this is? I'm 46 by the way.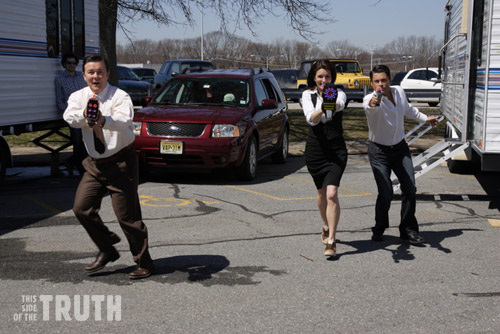 ---
Week seven - April 2008

Lowe wanted more punishment.

We are about the same age but as you can see Rob has let himself go a bit.

We were about to do a duel here until someone said we had to walk a whole 10 paces.

I got my assistant to drive me.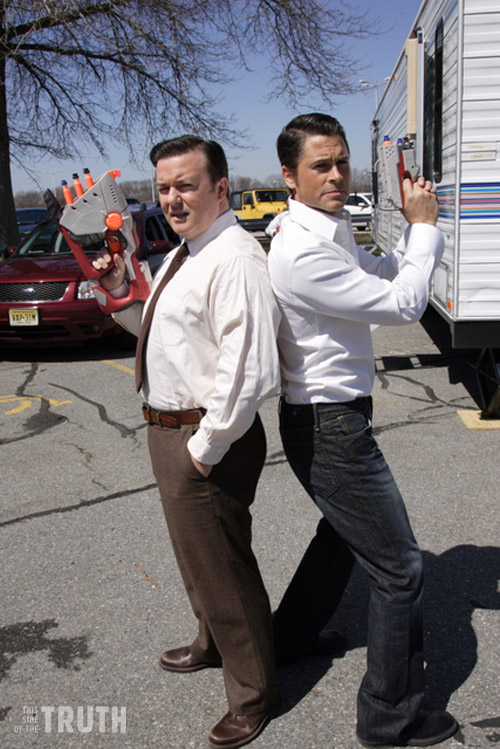 ---

Did some really funny scenes today with Rob Lowe, Tina Fey and the great Jeffrey Tambor.

Lunch time I had chicken and mash and introduced Rob and Tina to the joys of Nerf guns.

Warner Brothers saw this blog and sent some of the most incredible Nerf weaponry in the world. One gun fires six darts at once and has a rocket launcher.

It soon got out of hand and in one particular stand off I shot West Wing star and Hollywood hunk Lowe in the eye.

He was fine but it made me think how embarrassing it would be to have to phone up Warner Brothers and explain that the film is delayed because the director blinded one of the stars while "having a laugh".

I made a rule that everyone had to wear sunglasses.

We continued and I sweated for the first few takes after lunch. It did not affect my performance. It didn't affect anything. I always look a bit sweaty.

At least my right eye wasn't bloodshot like that loser Lowe.


---

It was a lovely day for a bit of directing...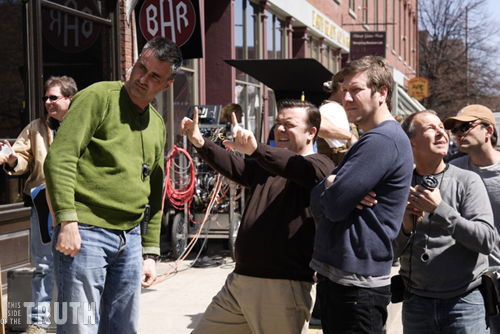 But I'm happy when the day is over too...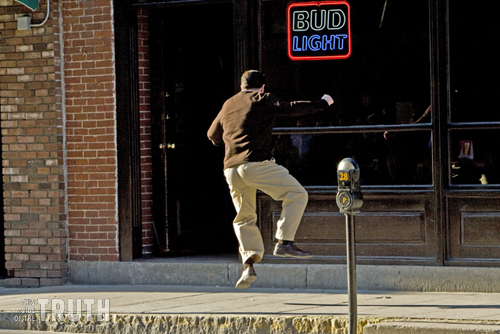 ---
I just had two great days shooting scenes in a bar with Louis CK, the funniest stand up working America.

We ruined about half the takes laughing but at least we know we've got some good DVD Extras.

We shot our first outdoor scene today too and a huge crowd filled the streets to watch. Usually I would hate this and get stressed out, but because the people of Lowell were so quiet and polite it was actually quite pleasant.

It was like filming in front of a studio audience. They even laughed when I fucked up.

However, the Lowell sun misbehaved a bit. Not the newspaper, the gigantic ball of burning gas 93 million miles away which was meant to drop behind a building by 3.15.

It didn't.

In fact at one point I'm sure it actually went up a bit.

So in those scenes I will be squinting like a fat little mole type creature.

Before I do my next film I will learn how to control the elements. Then I will destroy mankind. (I meant to just think that last bit in my head.)

---
I went to bed last night at 8.45 pm. I set two alarm clocks.

I didn't need either of them.

I got up at 6 am and had an egg. It was like something from Rocky. I left out the run and all the punching meat and stuff and went to the set.

We were shooting a scene in a bar in the heart of Lowell. I had chicken and mash for lunch. The day went brilliantly and we finished two and a half hours early.

No point in working yourself to death. It's only a film.

Talking of films. I saw the finished cut of Ghost Town. It's really fantastic. It's a funny, sweet, grown-up comedy. I'm really proud of it and I think David Koepp has done a great job.

But then again we were there till 7pm some nights.

---
Week six - April 2008

I do my first scenes (as an actor) tomorrow. They are with Louis CK so should be a lot of fun.

We picked out his clothes yesterday. They are disgusting.

He shaved off his beard for us. He was a little concerned as he had been growing it for most of his career. When he had finished I said "I think it was better with the beard."

He did a double take and I immediately let him know I was joking. We then did a 10 minute rehearsal before Matt and I showed him how good we were with our Nerf guns.

He watched like a bored parent as we ran around shouting "look at me look at me". I feel like Tom Hanks in Big. Hollywood is my best toy. A big thank you to these guys for saying nice things


---

So the stuff we shot with Chris Guest in fantastic.

Why wouldn't it be? He's a comic genius.

I think I told him as much when I interviewed him. Here's few minutes of that interview.


---

My girlfriend Jane and I went to dinner with Christopher Guest last night.

We went to arguably the best restaurant in Boston, L'Espalier. It is very posh but luckily serves chicken (I don't like things that are still bleeding or have too many legs or live in shells).

It was great though. Chris flew back to LA ridiculously early and I'm so grateful to him for coming all that way for his amazing cameo.

He is certainly a living legend for a generation of comedy fans. He is also one of the nicest people in the world. Here he is in a classic scene from nearly 25 years ago.


---

Today we did final hair, make up and costume screen tests. Here are some pictures.

This is Gia, one of the cutest things I have ever seen. I worked with her on Ghost Town and simply had to hire her for this movie too. She also comes with a hair stylist called Sasha.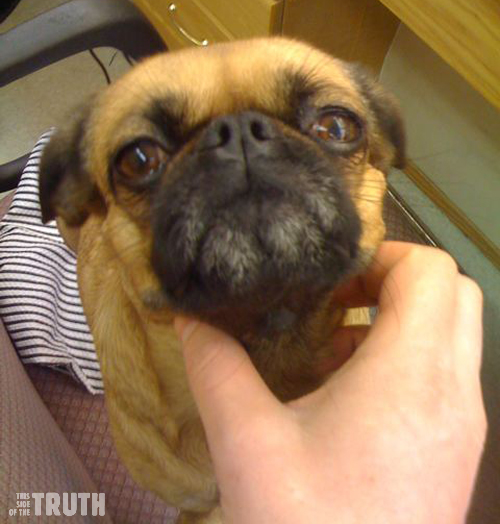 Me in a brown suit.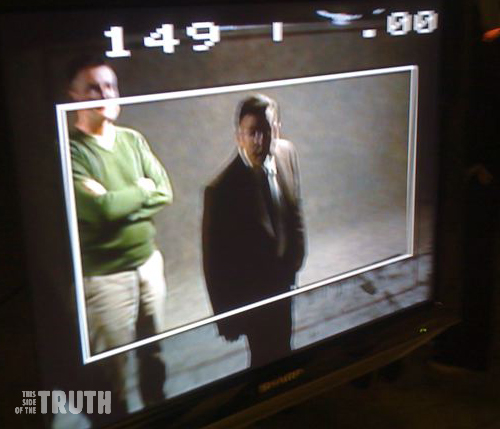 The clapper board.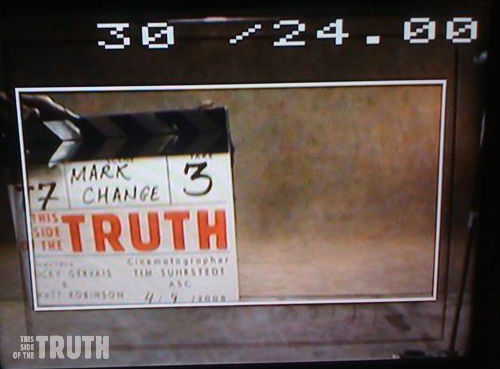 Me trying to look cool. (It nearly works because I'm far away and I'm pretty sure the picture is distorted and makes me look thinner.)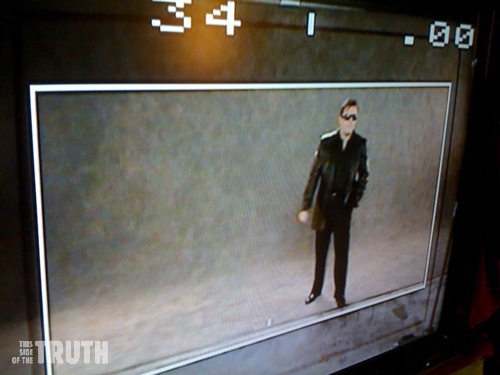 ---

+++++ STOP PRESS +++++

Mega nerd alert warp 9.

The magnificent Patrick Stewart has joined the cast of This Side of The Truth as the narrator.

His cameo in Extras was one of my favourite filming days of my career and I can't wait to hook up with him again.

Here he is with one of the finest comic performances of all time.

---

So with hours to go before we film the very first second of this movie, things are going well.

The crew are great.

The cast is ridiculous.

And the script, even though we say so ourselves is very funny.

But I think we can still screw up the film. Here's how; I will ruin most takes by trying to make the other actors laugh or by laughing myself. We could well go over budget or just run out of money and never finish the film at all. I would have had fun though. Just know that.

Here is a documentary in two parts (part 1 and part 2) showing my work.


---

Ricky is looking forward to the first day's filming with Christopher Guest.




---

Scouting for more locations;

Scouting at a graveyard. Nothing funny about that.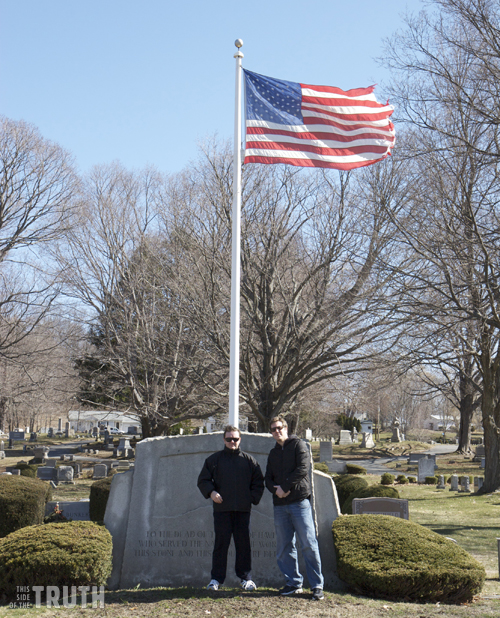 The Two Directors put on a puppet show using only their heads.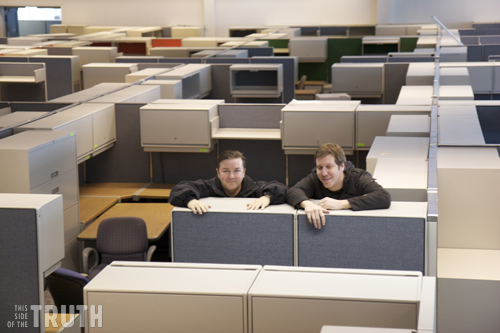 ---
Week five - March/April 2008

I had a couple of days in New York ahead of getting deep into production.

I think it is my favourite place in the world.

I put a few posters up of Karl Pilkington around the city and played with my chum number one Rob Steen.

He lives on the upper Westside and has a bald head I can squeeze.

It is not round like a fucking orange but it is quite a weird shape. It is more like an upside down pear.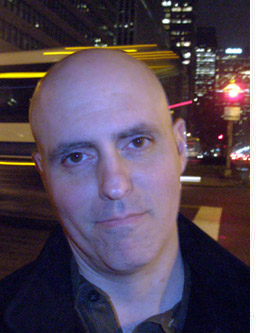 (Although, like Karl, he had never really noticed this until I pointed it out; Glad to be of service.)

Rob does the Flanimals books with me, but we are not doing one this year as I'm too busy.

Unlike Karl, Rob was up for continuing to work, as he is not a lazy Manc twat.

Talking of work I am looking forward to shooting this movie so much now. I think we may have assembled the best comedy cast in the world today.

I hope they are as professional as me. Here's a clip of my cool calm direction.

---

Today, Ricky has been scouting for set locations in Lowell near Boston, MA...




---

Hello movie nerds.

This interview from last summer sees me refer to the film as "The other side of the truth".

It only had this title for a few weeks.

"This side of the truth" is better yes?

Another one we kicked around for a while was "The truth about lying". Please tell me we made the right decision.

---

The problem with a blog is I want it to be interesting.

Now I had a great day but I'm not sure it would be interesting to anyone else in the world.

We did our final shot list, picked out a moustache for Christopher Guest, confirmed a cameo I can't tell you about and I foolishly had salad for lunch.

What was I thinking? I was starving all afternoon. (There are people actually starving in the world so to use that term flippantly is wrong)

Yeah, I was starving, so I had two dinners to make up for it. Roast chicken then pasta.

I'm worried about continuity. If I were to suddenly lose weight the film would be ruined.

See, not very interesting at all.

Oh we had our US release of Ghost Town confirmed today too. It's September 19th. I think I'm more excited about that than I was about The Office or Extras. It's such a classy movie.

Well, you'll be the judge of that. The first trailer will surface in May.

---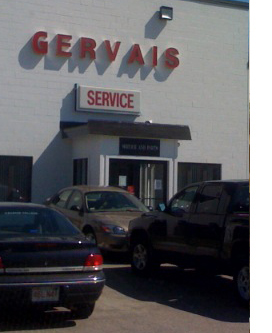 As you can see my influence in Lowell is already being felt.

I hope to have a sign like this on every building before I leave.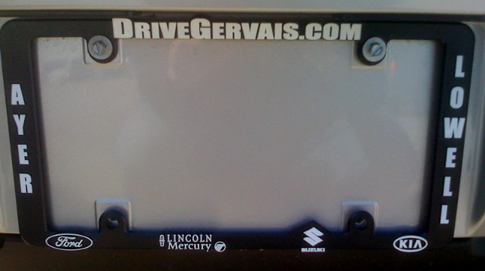 ---
Blog Extra...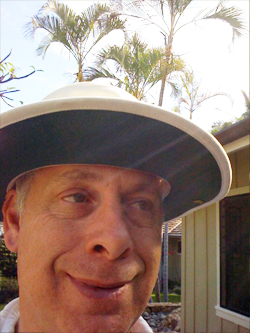 I have no news at all.

I just wanted to share this with the world.

I received this photo from Christopher Guest in an e-mail a few moments ago.

He wanted to show me how he was preparing for his role in the movie next week.

I get things like this from him on a regular basis. It tells me 2 things. One, everything is OK in the world. And two, there is no pressure on me to grow up, just because I am in my 40s.

---

Week four - March 2008
So according to imdb.com we are the 1375th most talked about film this week.

That's not good enough!

I want to be in the top 100.

I'll teach them to enter me into a popularity contest.

Go to imdb.com and click on This Side of the Truth about 800 times each. That should do it. We'll see who's more popular won't we. WON'T WE!

Live the dream.

---

I was never any good with a Rubik's cube.

At least, I doubt I would have been any good at it if I'd have actually tried. But that's not the point.

You know how if wanted to change one square you might have to do about 15 moves because of all the knock on effects? Well that's like fucking scheduling a fucking film.

One thing changes and you have to make thirty phone calls and spend an extra 50 fucking grand and stay at work for an extra two bastard hours (Not me obviously but I feel for the rest of the crew.)

I went into comedy to avoid work.

Even this blog is a headache.

When I was filming Ghost Town, which was my first lead in a Hollywood film (an opportunity most people would give their right arm for), I moaned.

I was interviewed by the BBC on set and I even moaned on camera.

---

Some rival New England news outlets are trying to stir up trouble between me and the good people at the Lowell Sun.

These miscreants, who shall remain nameless, suggested that I insulted the local Lowell tabloid and that the editor replied with a threat to have me whacked.

May I point out that we were BOTH JOKING.

And to the Lowell Sun, don't listen to them. I'll give you an exclusive before we move out of your lovely parish.

My thanks to the guys at fabfunk for putting us straight in at number 3 in the film news chart. I demand a re-count.

See? We're not just big in Lowell.

Louis CK, who is from this neck of the woods is also getting written about...

...
And now he's getting ready to try his hand at full-on acting in Ricky Gervais' upcoming This Side of the Truth (co-written with Matthew Robinson), which begins shooting next month. The film has a gigantic cast (Jennifer Garner, Jonah Hill, Tina Fey, Christopher Guest, to name a few) and Louis has a fairly central role. "I play the best friend. A big dummy," he said. "[In the role,] I'm sort of a big, stupid idiot."
...

Here's the full article from the Hartford Advocate.

And here's a nice clip of Louis in action. It's the effort I admire.

---

How do you like our logo? You hadn't noticed? Well look now. You don't really care either way? Good. That's what we were aiming for.

So, a final bit of casting news is that Stephen Merchant and Shaun Williamson will rekindle their on-screen partnership with a small cameo in the movie.

Barry, I mean Shaun, will play my father. Yes I know he's about my age but it's a flash back and he does look a bit like me. Stephen on the other hand looks like no one I've ever met.

Here they are in action...

---
Blog Extra...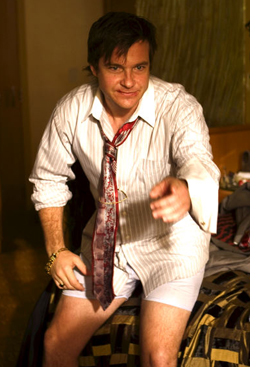 Jason Bateman was furious with me for blogging the details of his botched sex-change operation and out of control drug abuse. He burst into my trailer fuming and shouting "I'm not high, I'm drunk. I'm fucking drunk OK? Drunk."

He then started to take of his trousers mumbling "I'll show you a fucking sex-change. They fucking butchered me and you think it's funny. I was teen wolf you mother-fucking limey"

"Well, teen wolf too" I said.

"How are you spelling the too bit?'' he snapped. "T double O" I replied. "Good," he said, a little calmer.

Then, tearful he thanked me for casting him and left. He may have left without his trousers but he left with his fucking dignity god damn it.

I captured the moment on my iPhone.

---
CASTING UPDATE....
...Jason Bateman is the latest addition to join the cast.

"I'm a huge fan of Jason" says Ricky. "I love his acting style and he's a lovely guy. When he kept calling me and begging to have a walk-on part in the film I said yes immediately. Well, I said, 'why are you so desperate?' first."

Apparently "Master Bateman" as he likes to be called, has spent his amassed wealth on crack and a botched sex change operation.

Now he has what he calls, "a mess down there", but he doesn't care as he is permanently "out of it".

---


Week Three supplementary entry...
Thanks to all the movie and news websites that said lovely things about the latest cast additions, especially buzzsugar.com who even put up similarly lovely pictures of all the actors.

My favourite pic was Louis CK's which I can only assume was his mug-shot from when he was arrested for armed robbery in Bolivia.

Matt made me feel bad about suggesting that Jake would let himself become our gimp. To put Matt's mind at rest, Jake has a long way to go before he degrades himself as much as my long-time editor and hamster-faced geek, Nigel Williams.

Proof, as if it were needed...

cheers

P.S. This Side of the Truth lawyers, Fungelstein Bodgit and Lim require me to point out that the esteemed Mr CK has never been arrested for any violent crime in any country anywhere in the world ever. Also, the photo makes him look less intelligent that he actually is.

Week three - March 2008
With the main cast complete we have been concentrating this week on the smaller supporting roles. We've been casting in Boston and New York as there are about 70 distinct speaking roles to fill.

We are trying to avoid the "Hollywood actor look". No botox, perma-tans, or unfeasibly white teeth. Normal people. And by normal people I mean people bordering on a freak show exhibit. (In case any of the successful applicants are reading this I don't mean you.).

We want fat, thin, young and old of every race and demographic. Preferably with faces like a catcher's mitt and teeth like a vandalised grave yard.

Makes me look better too. Perfect.





I should point out that in the first picture I am not employing the services of padding or make-up. I think I have let myself go a bit.

Thank you to all the film and comedy websites that have linked to this blog and of course all the film fans that have logged on. I thought I should do a quick FAQ to answer some queries.

Is the film financed with American or English money?
American. The film is funded by MRC and distributed by Warner Brothers in The US and Universal in the rest of the world. The film is completely American; finance, production, location, cast and crew. Except me. (I may wear a bowler hat and drink milky tea all day on set.)

Is it like Liar Liar in reverse?
Not really. It's a contemporary world rather like our own, but in which the human race has never evolved the ability to lie. I play a loser who discovers one day that he, and only he has the ability to lie. In a world where no one even understands the concept of lying, everyone totally believes, without question anything I tell them. I can say anything at all and they accept this as the gospel truth. I can get anything I want. Or can I?

Is Jake (Matt's and my assistant) destined to become our gimp.
Yes. I think this new-found fame has gone to his head. Whenever I want to torture him now I have to go through his agent.


---
CASTING UPDATE....
Latest cast additions just confirmed - John Hodgman, Tina Fey, Christopher Guest, Jeffrey Tambor join Louis CK, Rob Lowe, Jonah Hill, Jennifer Garner.
Oh and me, Ricky Gervais, obviously. Not a bad cast for a comedy.
---


Week two - March 2008
We've nearly finished casting. It's an amazing line up but I can't tell you all the cast just yet - not until the contracts are signed in blood. I should be able to spill the beans, as we say in England, in about a week or so.

I picked out all my costumes today. Some directors/lead actors would choose their wardrobe based on style, creation of original iconography and aesthetic enhancement of the fictional world. I chose mine based on comfort, how long they take to get in and out of and on what I would want to keep when the movie is complete.

I also had to choose a beard. I hate beards. They itch and the glue takes ages to get off. It's only for one shooting day but it's a pain.

(In the film I'm writing with Steve Merchant I'm playing a man with a bad back who sits in an arm chair all day. If I can hide a toilet in the armchair I will have created the perfect acting job for myself)

But anyway, back to This Side of the Truth.

Only a few weeks away from shooting now and I'm really looking forward to it. We're in good shape and we've even started planning the DVD extras. Matt, (co-writer/director) wants Karl Pilkington to do an alternative directors commentary. Can you imagine? Karl will probably be busy with his own film idea by then. It stars Clive Warren (?) and Rebecca De Mornay.
Listen...


---


Week one - March 2008
I just spent a week in Boston scouting locations for This Side of The Truth, a movie written and directed by me and Matt Robinson.

This is the first movie either of us have directed and only my second lead role in a Hollywood film, (my first being Ghost Town, released later this year).

So when we met the crew and production staff we had to make a pretty good impression to be taken seriously.

The first thing we did was send out our new assistant Jake to buy some nerf guns.

We shot each other for about 20 minutes but were interrupted by our producer saying it was time for a conference call about special effects.

During the call me and Matt passed each other off-putting notes and obscene pictures to make each other laugh. I lost, and at one point had to leave the room.

We finished the day by asking the designer why he had spent so much time on the testicles of the model boar he had made. Once again myself and Matt were the only ones laughing.


I hope we find the finished film as funny.

---