---
RICKY'S BLOG - Read Ricky's thoughts on his upcoming projects, visits to restaurants and round-headed friends.


---
Week one hundred and ninety-eight - December 2011
---

"And so this is Christmas,
And what have you done?"

Actually it doesn't matter what you've done, because I'll probably get the blame for it. Ha ha.

I was all "controversial" again the other day, by suggesting to some lunatic fundamentalist that it wasn't nice to want gay people to burn in hell.

So I ended the year the way I started it. Annoying as many people as I entertained.

Still, mustn't grumble. As Oscar Wilde said, "There's only one thing worse than being talked about, and that's not being talked about."

[Daily Mail - Ricky Gervias Twitter Spat] - Spot the difference in tone between the comments left by the readers of that paper, and the ones after this publication.

It takes all sorts.

The irony is that I've had overwhelming support from nice people of all faiths saying how they are ashamed that he says such things in the name of God. Maybe I'll start a new movement, where people of all faiths and lack of it, join together to denounce bigotry. Atheists could be the neutral whistle blowers and soon it wouldn't matter which God you believed in, your message would be tolerance and kindness... ... (Awkward silence. Glances to camera. Clears throat.)
It will never work will it. Oh well. It filled up the blog.

Merry whatever you celebrate at this time. And a happy new year of that too.


---

Spent the last few days playing around with ideas for my 3rd (and final) hosting gig at The Golden Globes. It's going well. Thanks for asking.

I would say that there's nothing too offensive in there, but I honestly thought that last year. So I'm not sure of the rules anymore.

Actually I am... There is NO joke that everyone in the world will like so don't worry about it.

Also received about three thousand tweets asking me questions. (I'm not complaining. I'm very flattered. Honest.)
These are about a variety of topics but I'd say two subjects account for 99% of them.

The first is about the existence/non-existence of God/Gods.
The second is about air dates/release dates for TV/Film/DVDs etc.

The first question is easily answered, but the answer is not often easily understood unfortunately. So, lets leave that one as ignorance is bliss apparently.

The second I will answer here and tweet it like a personal Time Out. I know this will do no good at all as the majority of tweeters simply want a reply or an RT and really don't care about the info, but I'll do it anyway.

The Golden Globes - 15th Jan NBC
An Idiot Abroad 2 - 21st Jan Science Channel
Life's Too Short - 19th Feb HBO

The Ricky Gervais Show will air on HBO sometime after Life's Too Short, but we haven't fixed a date yet. The first episode is the one where Karl pitches his second brilliant body-swap movie idea starring Tom Cruise.

Just because it's nearly Xmas, here is a little exclusive still from that classic film...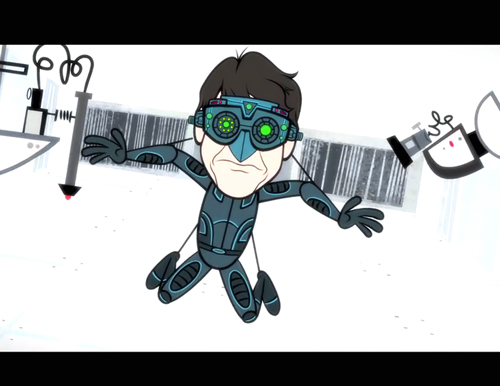 ---

Sorry I haven't been blogging as much this month. I'll make this a bumper edition. I've been busy.

In between Xmas shopping with Karl, arguing with extremist fundamentalists on twitter and plugging various shows and DVDs, (only the last one of these is absolutely necessary, the first two I do for fun) my main focus of the the last few days and the next few weeks has been the Golden Globes. I've written a few jokes, written and recorded the promos and done the press pics. Now I just have to pop up on a couple of chat shows and do press interviews. The problem is I think I've said everything there is to say about the ceremony really. But that won't get me off the hook. It all started for me in America at the Globes I guess. And now I've come full circle. This WILL be my last turn as host. At least for a long time anyway.

It all started 8 years ago.

A couple of weeks after the final episode of The Office aired in the UK I was flown to LA by the BBC to attend The 61st Annual Golden Globe Awards.

I nearly didn't go as I thought it was a long way to travel to lose. And I was quite sure that that was exactly what was going to happen. Arriving on Saturday 24th January, the day before the ceremony, I had to go shopping on the morning of the awards for something to wear. It wasn't Armani, it wasn't made to measure and it wasn't even given to me for free. Didn't they know who I was? No. Hardly any of them did. Anyway, the new outfit did he job, so now I could get this pointless exercise over with. Jane and I got back from the shopping mall and immediately had to get ready. It's nice putting on a tux with jet lag in 90-degree heat. We left the hotel at about 2pm and I hadn't had lunch. I got the limo to stop at a garage on the way and I bought a family pack of some sort of Cheesy Wotsits. I ate these in time to get out at the red carpet. Jane pointed out that I now had orange hands and lips. I washed in the ice bucket and tried to get some of the gunk off my teeth and gums with a tissue. We wondered if the girls from Desperate Housewives in the limo next to us were doing the same thing. Maybe. They did all look a bit orange when they got out, but it was probably a tan rather than monosodium glutamate.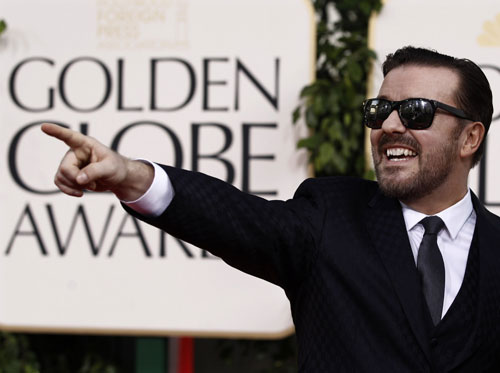 To cut a long story short, the unthinkable happened and The Office won the Golden Globe for best sitcom.

I made a rambling impromptu speech and of course forgot the name of the organisation that awarded the honour.

Little did I know how many times my name would be linked with the Hollywood Foreign Press in the future.

Moments after I won the Golden Globe for best actor in a comedy. I made another rambling speech and was swept off to do loads of interviews. I can't remember any of them to be honest but I remember thinking it was one of the most surreal and important nights of my career. It still is.

The next day I shot my first dramatic role in the TV show, 'Alias' - I still haven't seen the episode but I've heard it came out ok.

The same week we started negotiations on a US remake of The Office. That came out ok too. And I was called in for an audience with the team behind The Simpsons. Matt Groening asked if I'd like to appear in the show. I said, "what are the hours?" He said, "the hours are great." I laughed and said, "I'm joking. Of course I want to be on the show. It's the greatest show in the world."

Later Al Jean asked if I wanted to write the episode too. This moment overtook winning the Golden Globes as the greatest moment of my career so far.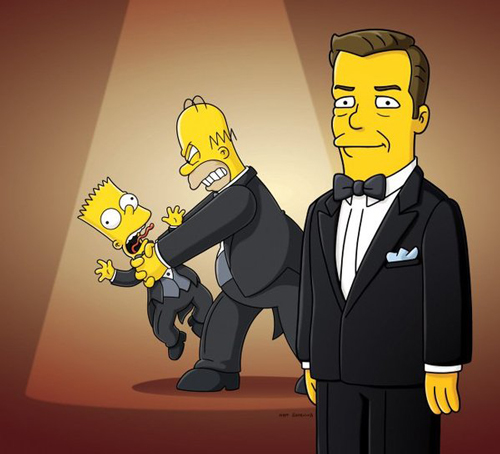 I also met one of the writers, Matt Selman. He directed my episode of The Simpsons a couple of years later and at the moment we are working on The Flanimals movie together. So that came out ok too.

A lot happened that week in January 2004. The effects of which are still being felt. I was asked to host the Golden Globes in 2010. I guess it went ok as they asked me to host again in 2011.

Judge for yourself how that went...

I did it twice because I wanted to improve on the first year's performance. I think I did that. I did it by realising a crucial fact about award shows. They are fucking boring unless you are winning an award. Celebrate yourselves by all means. Take yourselves as seriously as you want and hand each other prizes. But don't televise it unless there's something in it for the viewers. An award show is not a spectator sport. I tried to make it one. I made a choice. Please the 200 most privileged people in the world, in the room, or please the 200 million ordinary people watching around the world on TV? I chose the latter. It wasn't a particularly brave decision as things like that don't really affect me either way. I don't really count them as part of my oeuvre. They are outside my career so to speak. I host the Golden Globes, like some businessmen play golf. For pleasure. Then, Monday morning, I'm back at work. I don't have to worry about what I say based on who might give me a job one day. If I think it's funny, and/or true, I'll say it. You see, I create my own labour. I write all my own material. I direct and produce all my own stuff basically. I'm not beholden to any so-called 'big wigs' or overly important people. Some would say I've got 'Fuck You' money. I would say I please myself and always have.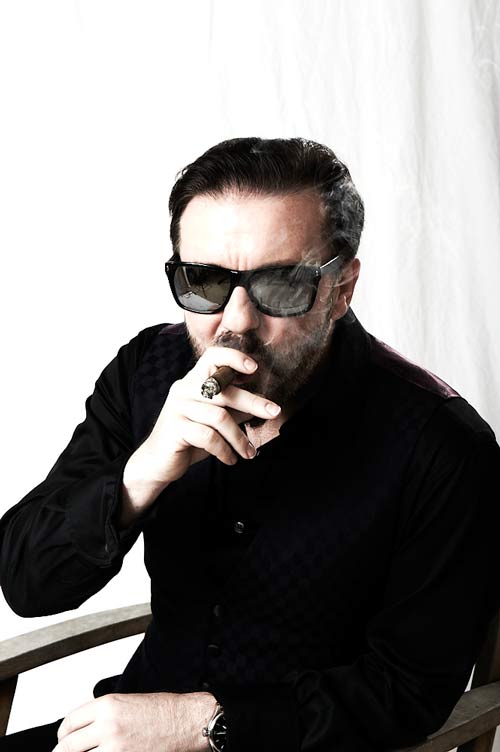 It's not about power. It's about artistic freedom. And if it is about power, it's a power you can give to yourself anytime you want. If you can't be bought, you're the richest man in the world. I just always feel if you can make something from scratch you'll always be OK. Growing up, one of my favourite quotes was "Ability is a poor man's wealth." John Wooden said that. And I tried to prove him right.

Amazingly I've been invited back to host next year's ceremony too. What have I learned from last year's outrage? Nothing at all. Ha ha.


---
Week one hundred and ninety-seven - December 2011
---

Did some more Christmas shopping with Karl. I hate shopping. I hate Christmas shopping more. I hated it when I wasn't famous. I hate it even more now.

With Karl it is my favourite thing in the world. Why?
Well...
1, He hates it more than me.
But
2, We are both stressed but laughing ALL the time. I know this isn't in the slightest bit funny or even understandable to you but it's true.

You had to be there. We're glad you weren't though. He asked someone if this paperweight was a "Damien Hirst."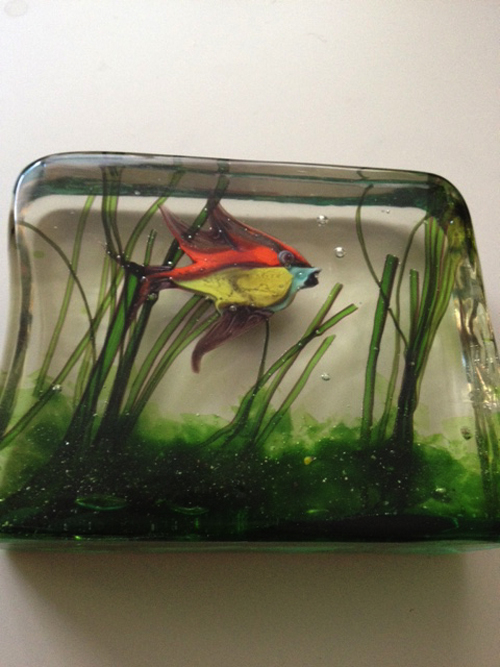 Yes sir, of course it is. It's nearly 20 quid you round headed div. He saw the funny side of it when I explained that it probably wasn't a Damien Hirst at that price.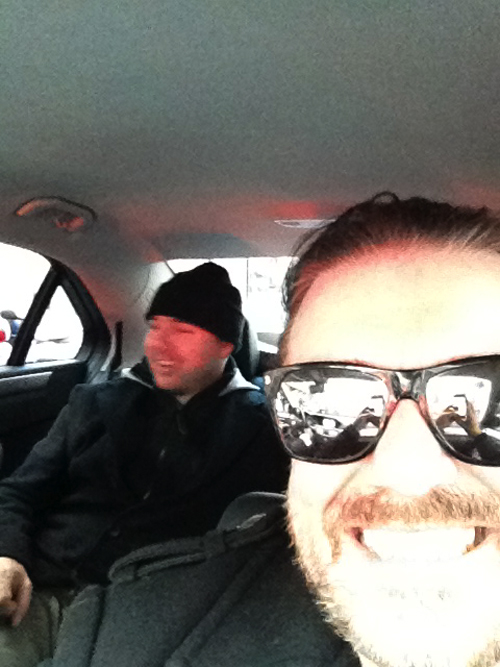 I stitched him right up in Selfridges.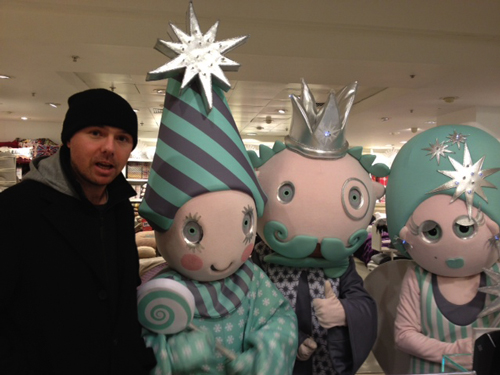 And he still hasn't met anyone with a rounder head than his

I treated the little gonk to fish 'n' chips in Marylebone High Street then we went back to the office for a chat about An Idiot Abroad Special: The short way round.

This is the exact moment when, out of the blue, he asked me the difference between the brain and the mind. I said save it for the new audiobooks and we went home.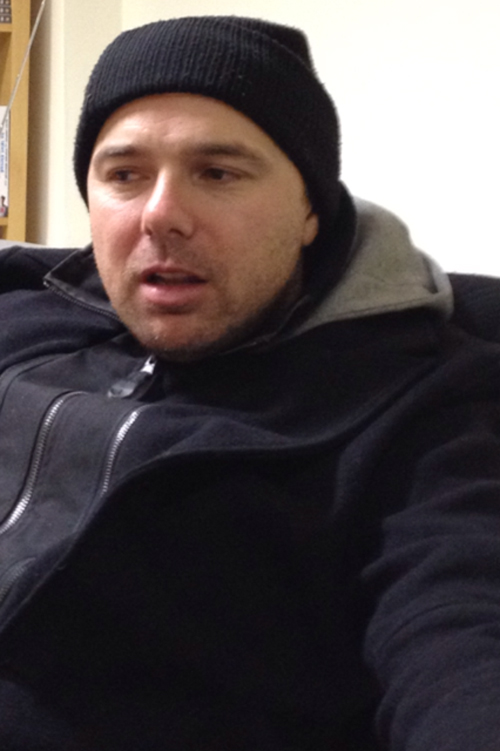 Gump.


---

I think I experienced the perfect Sunday.

I woke up in my favourite hotel suite in my favourite hotel in my favourite city in England, to the sound of Jane saying, "your scrambled eggs will get cold."

Eggs, toast, coffee and orange juice with the sun flooding in through the south facing windows of the Percy Blakeney Suite of The Royal Crescent Hotel, Bath.

A walk around the Xmas market (soon to be renamed Rickmas) and a visit to the fashion museum. There were outfits from the 17th Century but the things that really made a connection were the things I'd lived through. (The 80's were ridiculous.)

Had a "Christmas dinner" panino (turkey, stuffing, the lot) for lunch (this blog is food heavy, I know), then spent the afternoon in front of a real fire watching the George C. Scott version of A Christmas Carol. (Only Muppets could improve that film.)

Had a little visit from Toby, the house cat.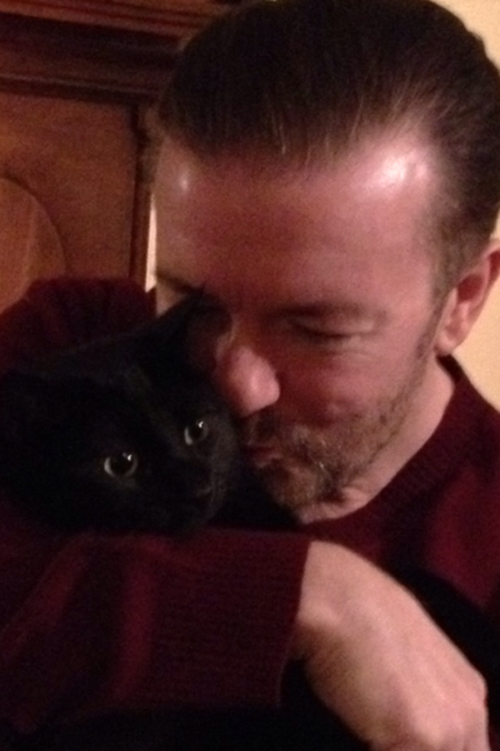 (He's got that expression an 8 year-old boy does when he's made to kiss a toothless old nan.) Went to the gym and used the Power Plate. I love it. And nowadays at least my body stops wobbling immediately after the machine stops. It really is great. (The Power Plate I mean, not my body.)
Although...?





Is that the face of Jesus in my elbow?... It's a miracle!
That reminds me of a tweet I got from a guy saying, "If we religious can accept scientific facts, why don't atheist do us the same courtesy of accepting Jesus' miracles?"
Ha ha. Good point.

After a shower we had an early tea of fish and chips (this really is like a child's essay isn't it) as we had tickets for Handel's Messiah by candlelight at the Theatre Royal. It was quite magical.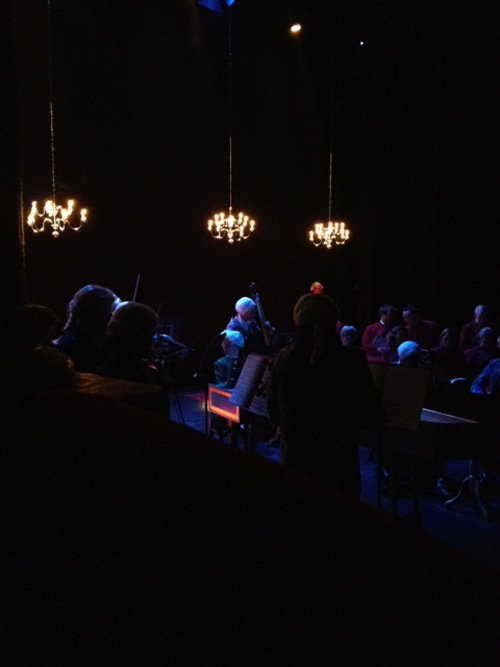 (Yes I know I'm an atheist, but Handel made a beautiful work of art. Good for him. (I don't believe in ghosts either but I love that film about that fat British dentist living in New York talking to dead people.) Art is art. Fiction is fiction. Talking of which, when we got back to the hotel we drank champagne, ate cheese and watched It's A Wonderful Life. The greatest Christmas movie of all time. No I don't believe in angels either but kindness trumps religion any day. Even Sunday. Especially the best Sunday ever.


---
Week one hundred and ninety-six - December 2011
---

So I went shopping with Karl.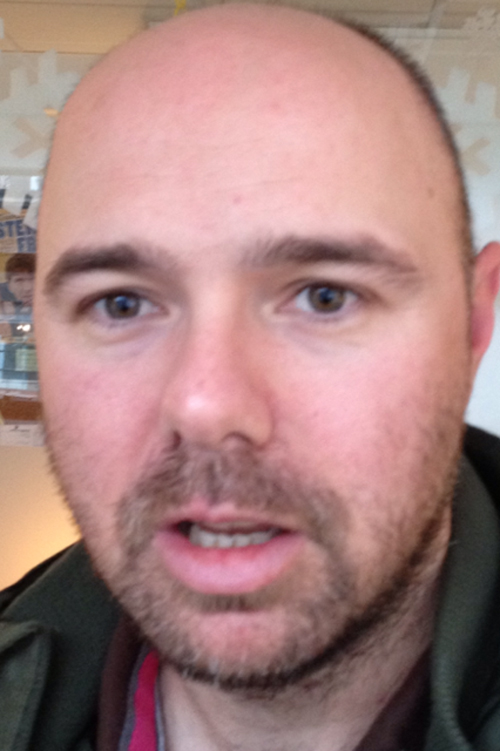 It's even more fun than the podcasts because he's also got real life and the public to contend with as well as me.

I was buying Jane a posh clutch bag as for her birthday in the Bond Street area.
"That's nice," I said pointing at a small purse type thing on its own plinth protected by lasers.

"Snake skin Sir," said the European man with interesting hair.
(Hmm. I knew she would prefer a synthetic material and exotic animals that aren't even killed primarily for food wouldn't have gone down well.)
"Oh OK... that one?"
"Alligator"...
"Oh... no... I don't.... that one?"
"Ostrich."

At this point Karl piped up and said, "Why did Noah go to all that trouble?"

I fell about laughing and left the shop.

I eventually found this. A beautiful Alexander McQueen one. Velvet. Nothing died so that she could carry lipstick and an iPhone to an awards do.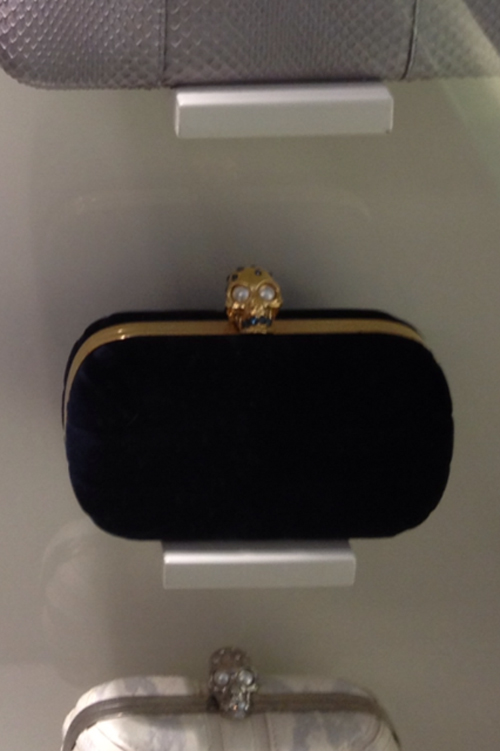 Now please buy one of my DVDs to cover the cost.

Have a great weekend.


---

In case you missed Karl and me on breakfast TV.

He was annoyed when he found out that they'd labelled him "comedian." ha ha.

After the interview I got him to record a little message for all his social networking fans.

Had a little meeting with NBC about recording some on-air trailers for the Golden Globes. I've written about six or seven little tags and we only need a couple so hopefully it will all go smoothly when we record them next week. I always feel the outtakes are better than the finished product with those sorts of things but it's all in a days work for a "controversial Golden Globes host."
That's one of the ideas actually; reading out some of the press comments about me. "Ricky Gervais will never be invited back" has to feature right?

Had a fitting for my tux today. Who am I wearing? Ted Baker. Thanks for asking. It's a deep red. Some people think I'm the devil so I thought I'd play up to that. A couple of years ago I would have looked more like a post box in red. I might even start wearing horizontal stripes now. Maybe I could even stop wearing black T-shirts? Nah. I've got about thirty-three so it would be an upheaval.

Doing the final dub tomorrow on the Derek pilot.
After I'll take Karl for another posh fry-up. He loves that.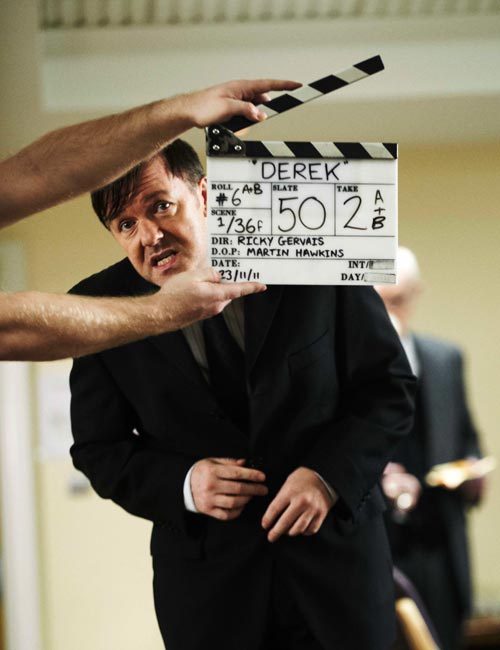 ---

Showed Karl the finished pilot today. He loved it, luckily. Could've been awkward. At least I know he means it as opposed to him being a polite yes-man. (That is literally impossible. Ha ha.)

On a serious note, he should very proud, as he is great in it.

After, we went posh shopping for Xmas presents. So funny. I can't tell you about it yet in case Jane reads the blog and guesses some of her gifts.
All I can say is I wish I'd filmed it. Amazing.

I can tell you that we took a little coffee break at Fortnum and Mason. (I've changed.) The waiter had a photo with us and gave us some complimentary champagne. (Karl's changed.)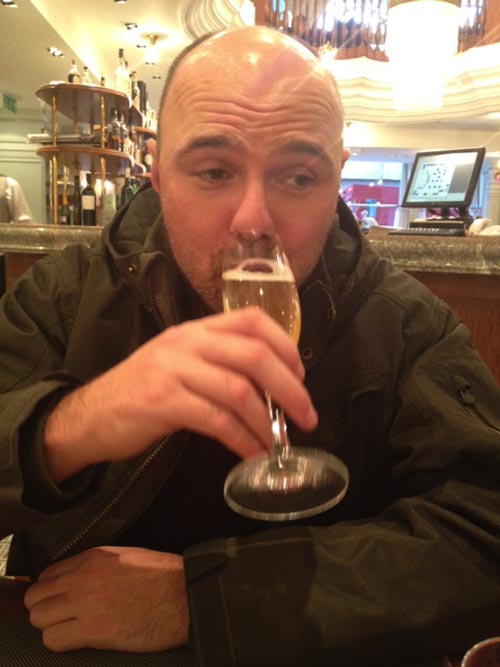 Fuck me. Only he can make Bollinger look like he's drinking it at a Salford bus stop.
Manc!

We talked about The Short Way Round too. We're thinking of making it a big two part special for the end of next year.

I know that's a year from now but these things take time.
You know it's worth the wait.


---
Week one hundred and ninety-five - November 2011
---

The non-broadcast pilot I shot for Channel 4 has turned out pretty, pretty good.

Got a few people on twitter asking why I do a pilot when I could get anything commissioned. Well that's exactly why I insist on piloting. It's for me. We piloted The Office twice. With Life's Too Short we changed it from "eye of god" to fake doc after shooting the pilot. Its always worth a dry run as you'll always learn something.

I've learned I don't have to write and film so much for each episode. We shot for 4 days and we got about 35 minutes out of it. Still mustn't grumble. Think I might call it THE HOME by the way.

Did Chatty Man with Warwick last night. It was fun but I'd pulled a muscle in my back weight training (again). I was hobbling and crooked. I said to Alan, "I'm bent out of all proportion." (too easy?)

Hope you like this week's ep of Life's Too Short with the mighty Steve Carell. Quite a painful scene. But you probably guessed that.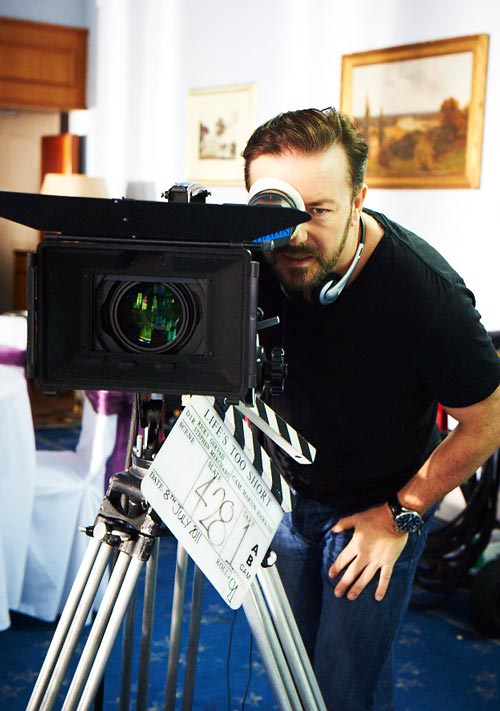 ---

So it seems everyone has xmas in their sights around these parts. We went to two festive events over the weekend in Hampstead and Primrose Hill.

Lovely.

I get loads of questions about how I celebrate xmas, being an atheist. I celebrate it the same as everyone else. Seeing friends and family and eating and drinking too much. Jesus is born, I get presents, he dies I get chocolate. No big deal. Here's Karl explaining the true meaning of xmas.

Spent the day editing the non-broadcast pilot. I get an adrenaline rush every time I think about it. I'm so excited about the project. Haven't felt this way since The Office if I'm being honest.

The pairing of Karl and David Earl is sublime.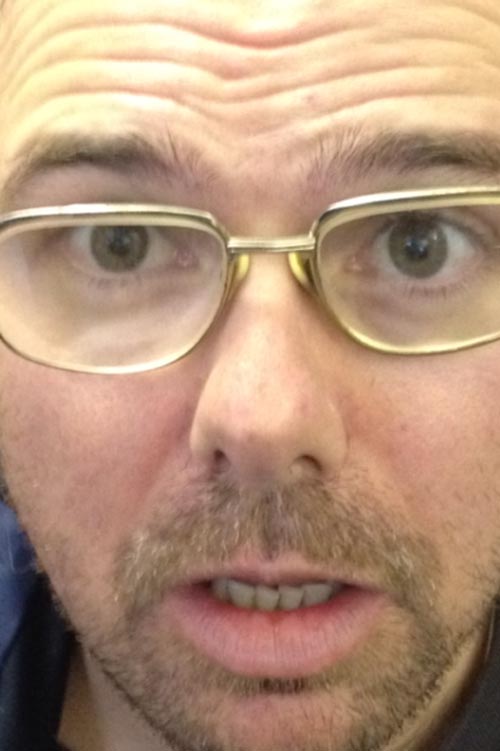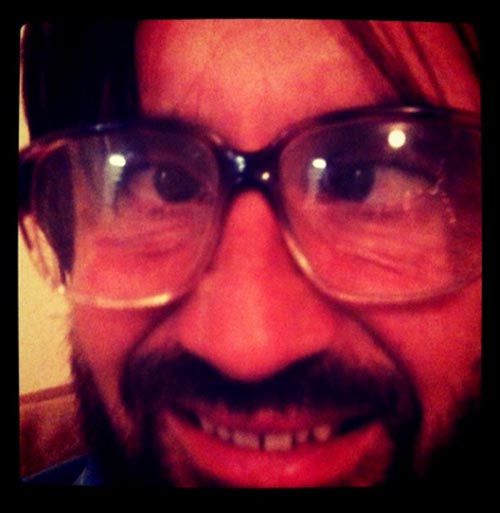 Here's an article about it. Some information is incorrect but I'm not telling you which bits.

It's certainly 50% right which is more than most articles about me these days. Ha ha. Still mustn't grumble.

Don't forget to watch the repeat of episode 3, of Life's Too Short Tuesday 10pm BBC2.

Or catch it on iplayer.

And remember nothing is weird, just different...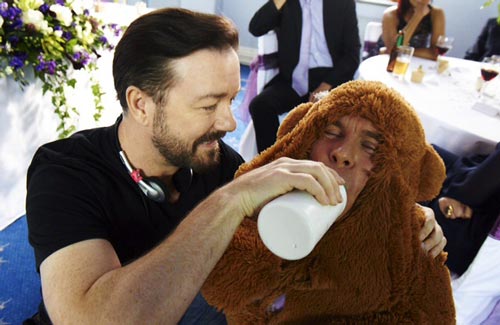 ---

Finished filming the little pilot with Karl today. We both had the best time ever. He really got a buzz out of acting. He was playing a complete weirdo div useless miserable bald-headed Manc twat. He nailed it.

Wrote a couple of gags for The Globes too.

Here's me rehearsing my monologue.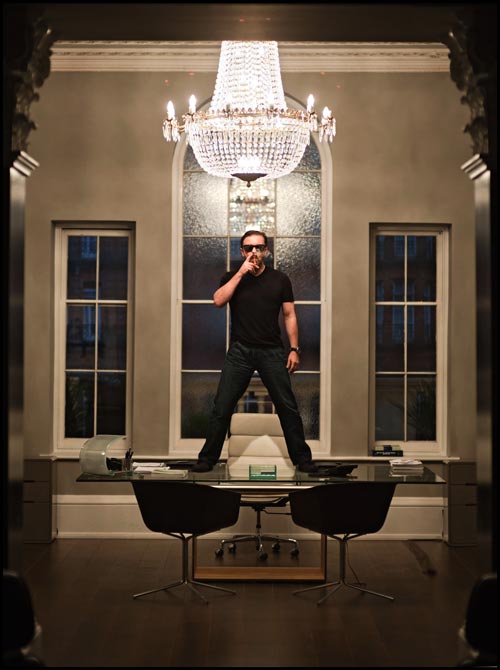 Please bid for my autographed tie. For charity obviously.
It's the one I wore at last year's ceremony.

Here's proof.

Talking of The Globes... Good on you Mr Cowell.

And he did like being insulted by me.

Hope you enjoyed this week's Life's Too Short.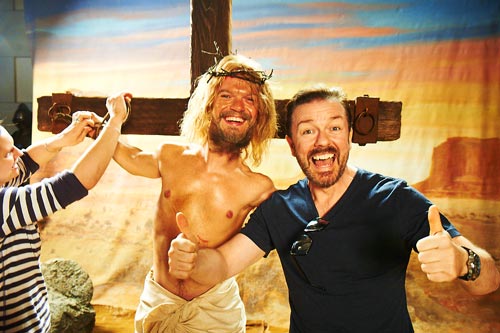 Have a great weekend.


---

(This blog may contain irony)

Had an amazing day filming with Karl and loads of lovely old people. Are you allowed to say old? (Yes. Of course you fucking are.)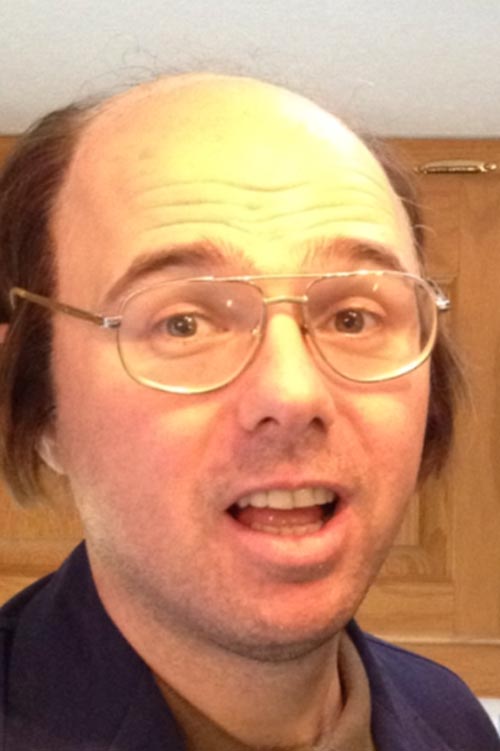 Anyway if was great. Warwick popped down to set to have a little meeting, (it WAS a LITTLE meeting OK?) about my idea to send him and Karl round the world for An Idiot Abroad Xmas special next year.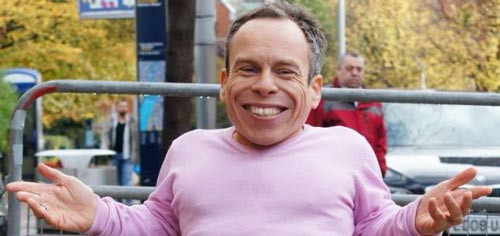 Karl wondered if there would be a world record in it, as no one else has ever cycled round with a dwarf in a basket before. Nothing to beat. (Dwarf is an acceptable term by the way. If they really are a Dwarf. Less so in the US. Still...) Anyway, I had a lovely time with all my little chums. (Yes I know only one of them was literally little but that shows I wasn't just being patronising to him for his size but rather looking down on all my friends the same. So... equality.)

Wrote another couple of gags for The Golden Globes.
Booked my flight to New York straight after.


---

Up ridiculously early today as I'm filming a little pilot this week. Very excited about it obviously. It's an ensemble piece which includes Karl in his first real acting role.

He's nervous, but he shouldn't be. He's great and I'm only bringing out what's already there, if you know what I mean.

I was going to eat this in the bath...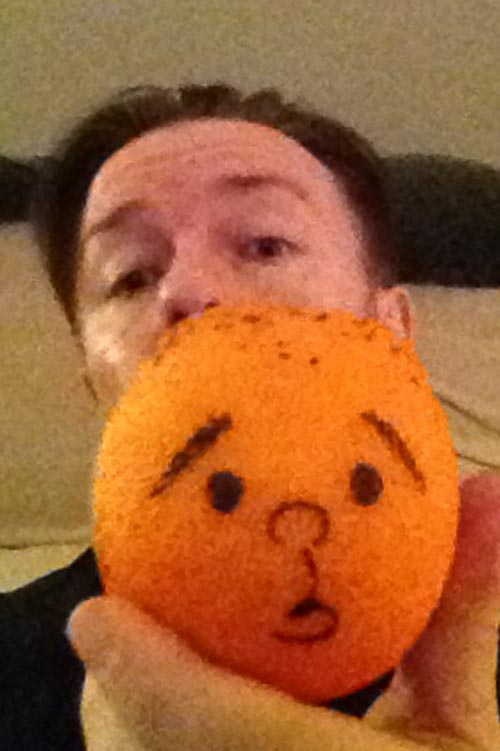 Started writing the monologue for The Golden Globes over the weekend.
Can't work out whether the adrenaline rush I got was excitement or fear. Adrenaline as you know is used for the 'fight or flight' mechanism.
I may have to do both.

This is funny.

You can now own the second series of An Idiot Abroad on DVD.
Hurrah!

Don't forget to catch up on Life's Too Short with iplayer or watch last week's episode on Wednesday night.

The new episode (3) is on Thursday at 9.30 on BBC2 as usual.
It contains one of my favourite story lines of the series. It will also get the most complaints so far. Which I will ignore of course.


---
Week one hundred and ninety-four - November 2011
---

Canada got the second series of An Idiot Abroad this week.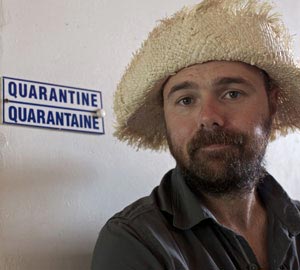 Before the US! There'll be trouble now. Starts on Science 21st of January - the week after The Golden Globes.

Started writing gags for that today by the way. I should apologise to everyone now; but I won't apologise after so what's the point?

The first episode of Life's Too Short is up to over 5 million thanks to the repeat and iplayer.

Watch the second episode now if you missed it. (The TV repeat is on Wednesday.)

Got another email from Mr Depp today saying, "how did it go? Do I immediately have to go and live in a hole with badgers?"

I told him that Britain loves him more than ever. I think him and Neeson will fight it out at The Emmys for best cameo next year. Ooooh... Big words Rick.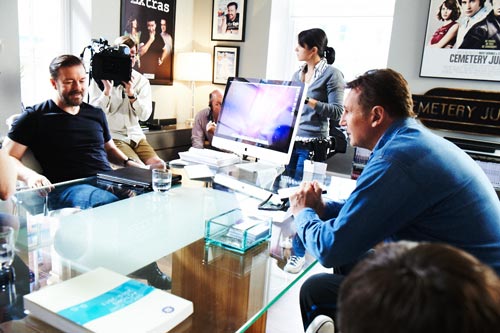 Please buy the AIA2 DVD
. Available from Monday 21st.

Nearly finished Series 3 of The Ricky Gervais Show. Best one yet (But I would say that.) It is though. No rush now as it won't air till after Life's Too Short on HBO. Starts mid Feb. So expect more of the animated twonk in the spring.

Spent the day with Karl working on a new project. I know this is the most annoying statement in the world but... I can't tell you anything about it yet. Sorry.

Have a great weekend.


---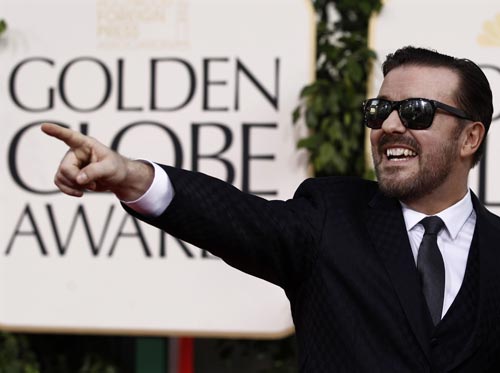 So it looks like I'm hosting The Golden Globes for a third and definitely final time.

It was a tough decision to be honest. There were many pros and cons. I loved doing it, but I was worried that I couldn't improve on last year. I'm in LA anyway as I'm launching Life's Too Short on HBO. But then I didn't want the Globes to overshadow the series. I knew some people would be uncomfortable with me being host. (This was a pro by the way.)

What actually tipped the balance and made me say yes, was the fact that it would shut up all those fucking idiots who said that I'd never be invited back. Is that the wrong reason to do something? Ha ha. I think it is.

Now here's the thing. The outrage I caused was of course, as usual, totally out of proportion to the things I said. I don't think anyone had any right to be offended but they were. This year I'm going to make sure their offence is completely justified. The best thing about it is writing the gags. I love writing one liners. Particularly when they can't be used in any other context. It gives them a special weight on the night if you know what I mean.

Follow me on Twitter and let me know your favourite targets for the monologue.
I'm enjoying it already.


---

So the week ended with a talk at the 92nd Street Y. You wouldn't think a 900 seat venue was good for an intimate chat, but it seemed strangely cosy and relaxed. I was interviewed by the mighty Bill Carter, and showed clips from all my upcoming projects. The love in the room for everything Pilkington was palpable. I'll tell him, but as usual he wont be impressed.

If you missed Life's Too Short on Thursday, episode 1 is repeated this Tuesday. I think Neeson should get nominated for an Emmy in the guest star category to be honest.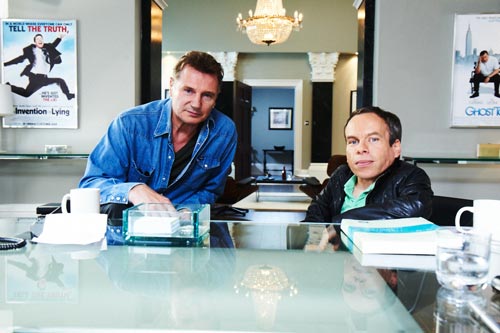 It's the end of An Idiot Abroad I'm afraid. There won't be a third series but we might do a special. Not sure yet, but working on it.

Relive the magic on DVD
.

And get rid of all your chairs. Who needs 'em?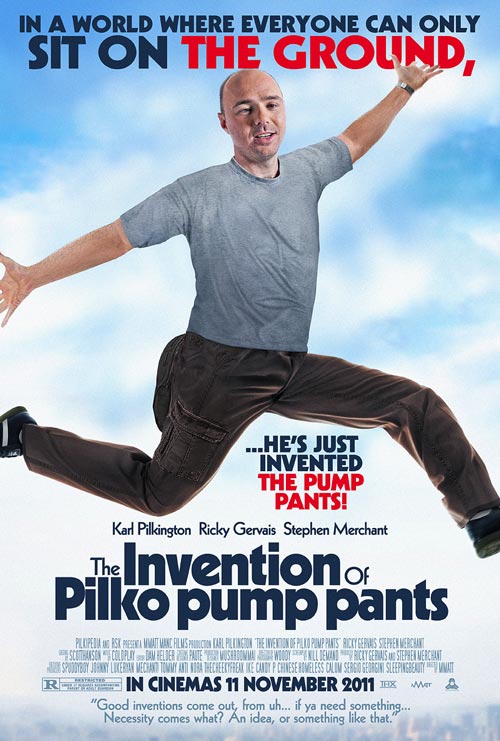 ---
Week one hundred and ninety-three - November 2011
---

Still buzzing from last night's gig. The audience were amazing. I even tried some brand new stuff and it really made me want to do some warm-up gigs before Xmas.

Also met Jim Gaffigan for the first time and he's so funny. Not to mention hanging out with Jon Stewart, Bill Clinton and Bruce fucking Springsteen.

Quite a surreal night to be honest. And it raised a shitload of cash for wounded soldiers.

Springsteen auctioned off his guitar for $170,000 which helped.

We had pretty good seats too...





Did a thoroughly enjoyable interview for US Esquire today. Talked for hours about life, the universe and everything. Oh, and Karl Pilkington.

Do not miss episode 8. I know I've been going on about it for 3 weeks but it's special.

Don't forget to check The Ricky Gervais Podcast on iTunes immediately after the show too.

Have a great weekend.


---

The most beautiful day in New York.
Central Park was stunning.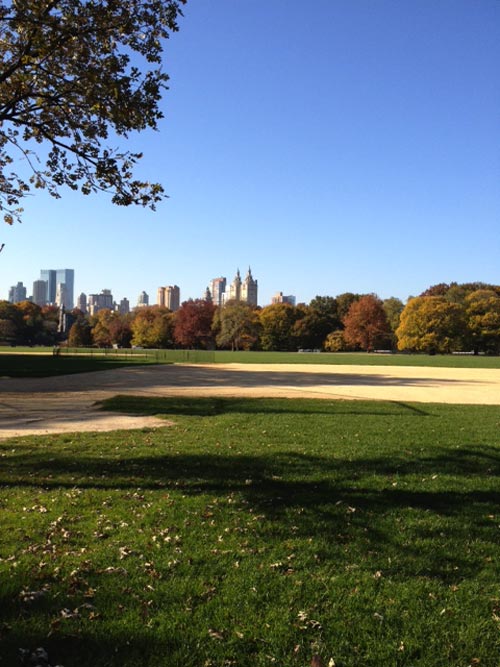 It's not often you have to wear sunblock in November.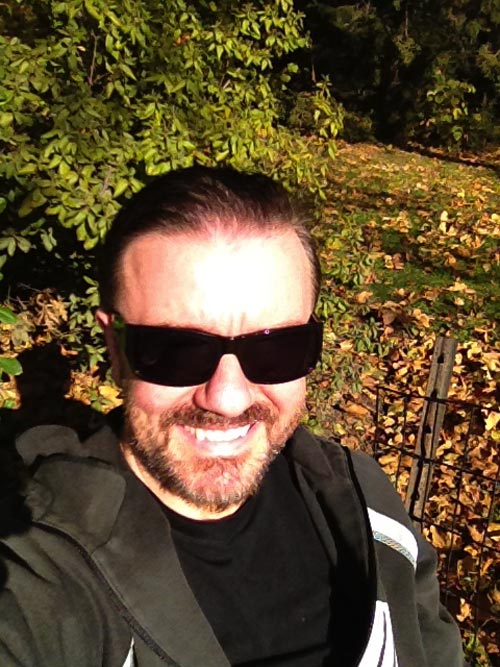 Had some fun on Twitter today harnessing the creative talents of my followers.

Their mission was to design a stand-up poster to reflect The Guardian's description of me as a "Verbal Thug".

Here's a few of the results...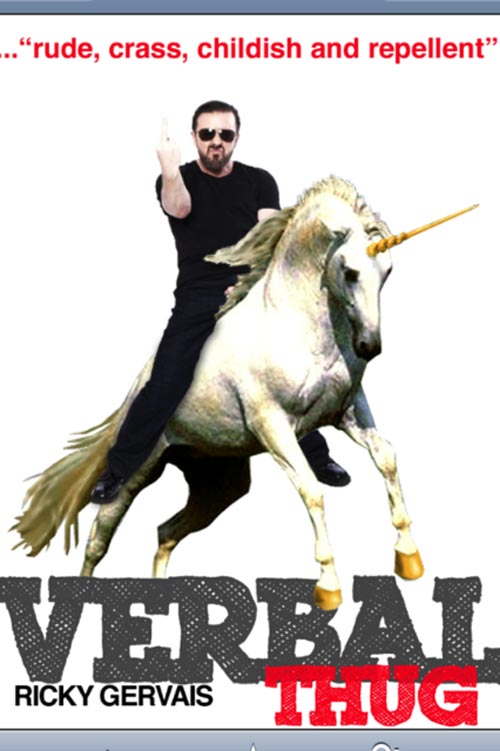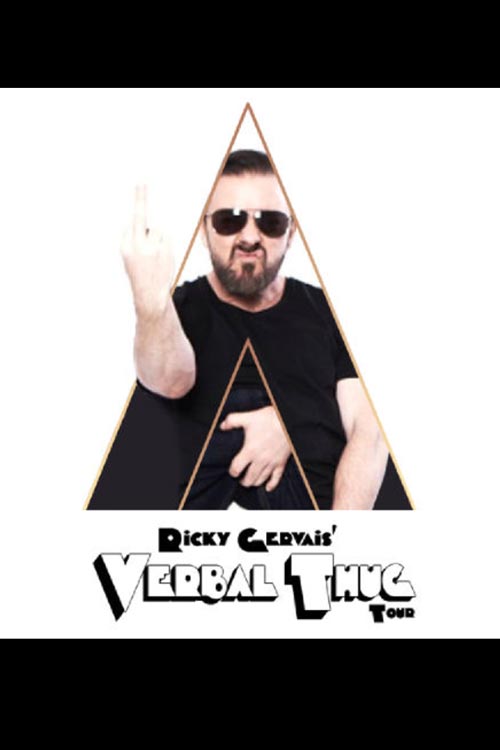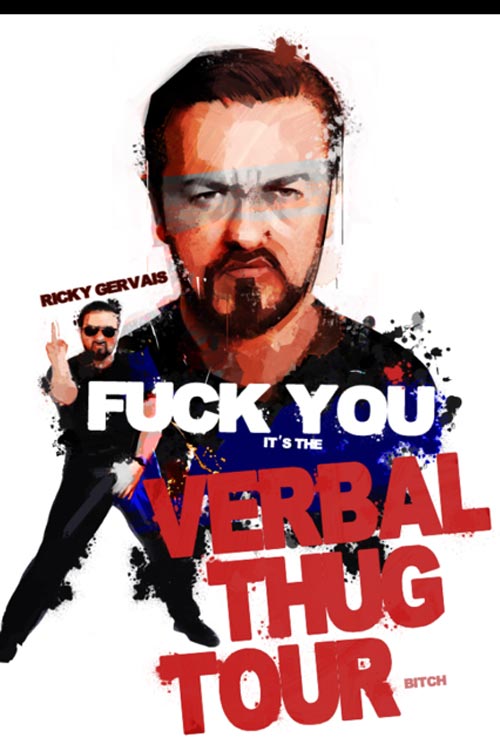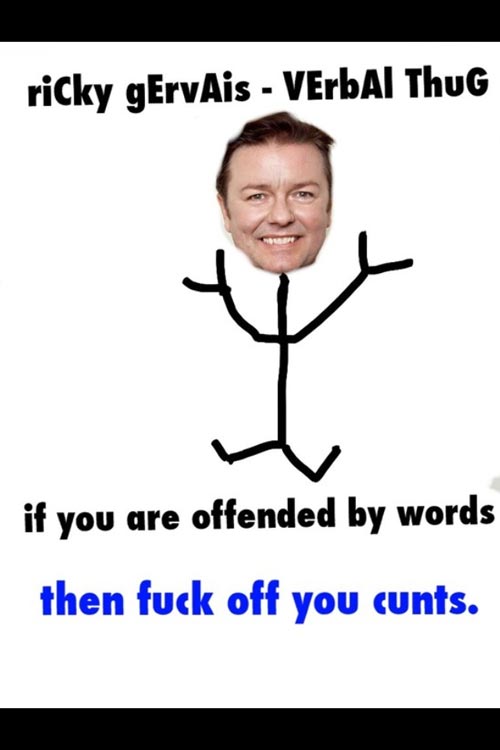 I'm also proud to be part of the "unholy trinity".
And, no the photo isn't air brushed! (Although I think I am holding it in a bit.)

In case you don't know already, the premiere date has been set in the US for AIA 2. Here's a little exclusive clip too.


---

So that's just about all the promo done for Life's Too Short. Just hope people watch it now.

Here's a little clip of me and Mr Depp on Graham Norton discussing toilet-dwarf-gratification.

The "making of" show seemed to go down very well, if that's anything to go by. Can't wait for all the obvious, "it's not as good as the office", and "another controversial comedy" etc. Still mustn't grumble.

I'll be smoking a cigar in celebration anyway...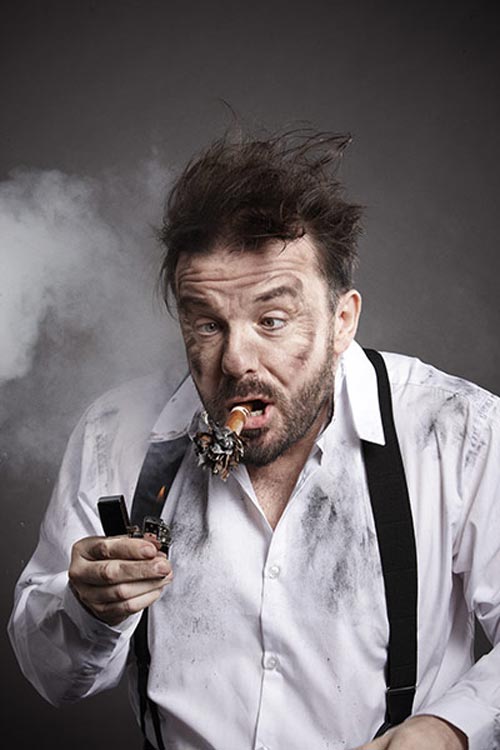 Do not miss the final episode of An Idiot Abroad.
It's my favourite episode of both series and there's a couple of magic moments. One of which will be available to download immediately after the show at 10pm on the Ricky Gervais podcast feed. [iTunes link]

Oh and most importantly, buy a poppy this week.


---
Week one hundred and ninety-two - October/November 2011
---

Did a photoshoot and interview with Karl today for a feature in The Independent about "how we first met."

Hope they use the pic of Karl sitting cross-legged on the floor with me leaning on his little roundy head.

After, we had lunch and a little meeting about our next projects. Karl thought the jacket potato was really expensive as "potatoes only cost about 10p." Brilliant.

It's like going out with your nan.

Did The One Show which was fun. It's a mad, eclectic format but they managed to show lots of clips of Life's Too Short which is the important thing.

Here's a little Q and A I did for it.

And here's the Absolute radio thing.

Thanks to everyone who bid for my wooly hat for the St. Mungo charity. Extremely generous of you.

Don't forget to watch ep 7 of An Idiot Abroad this week. He's in Japan and he fucking hates it. Ha ha. I bet Judith Chalmers never complained about the price of spuds.

Have a great weekend.


---

Did a few radio interviews today plugging Life's Too Short.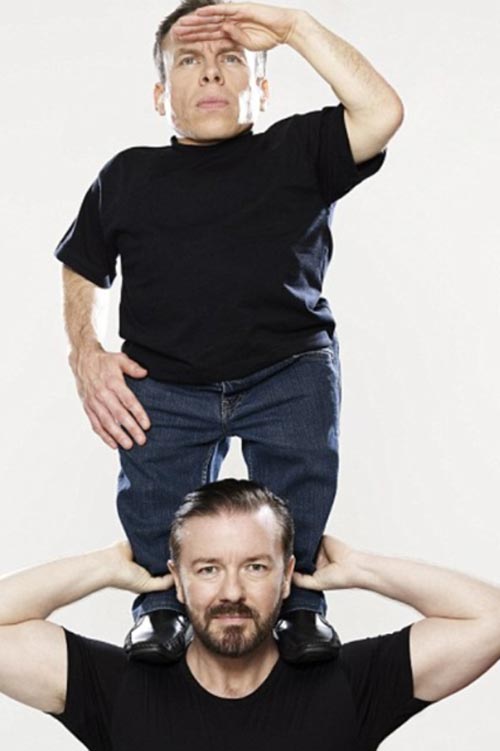 Here's a little video of my and Warwick's Radio Times photoshoot.

And here's some journalism at its best.

Ha ha. Spot on.


---

Well my favourite episode so far of An Idiot Abroad seems to have gone down well.

The rendition of 'Jump' at the Glee Club can only be shown on Sky by the way. We were denied permission to use it on the DVD or outside the UK.

There's always YouTube but that is highly illegal so definitely don't watch this.

This week he's in Japan. And next week is my favourite episode of both series. A couple of little surprises for you too.

Thank you to everyone around the world who bought The Office box set on download [iTunes link] or DVD [Amazon UK link]


I'm doing Graham Norton with Johnny Depp this week (stop sniggering at the back) to promote Life's Too Short. Should be fun.

There is a special 'making of' programme next Saturday on BBC 2 at 10.15

Oh and Karl has agreed to do a brand new audiobook with me. It's basically him reading Flanimals and dissing it probably. I will be there to help him with the long words. As usual.

He has also agreed to be a voice in The Flanimals movie. He's already stressing about it too. Ha ha.

Please bid on my Pilki hat by the way.

It's for a good cause. St. Mungo's. Can't argue with that can you?


---
Week one hundred and ninety-one - October 2011
---

The little Life's Too Short clip of Johnny Depp has really done the rounds.

Great reaction, even from the people who thought it was real and that Johnny was really angry with me. As opposed to him acting the lines very very well. Ha ha.

Quite amazing really. Apparently he keeps getting asked about it when he's doing press for his new movie. Perfect.

Talking of globally loved actors, Graham, I mean Karl, is in another unpaid advert... "sick of it."

Don't miss Karl in the USA on the new An Idiot Abroad. So many great bits this week.

Glee, wing-walking, a cuddle party, the Amish, a real life Indiana Jones and the thing so scary that Karl chose to wing-walk instead of it.
Best one so far I think.

Have a great weekend.


---

Thanks for making The Office number 1 after 10 years. [The Complete Office at iTunes] Amazing.

I have another DVD coming out on the 21st of November.


I will say something offensive and controversial one week before. Ha ha.

(That's a joke by the way, but some people on the internet who "know stuff" believe this last week has been a masterminded PR stunt. I quite like that myth if I'm honest.)

Now, you must all buy the greatest comedy album of all time
.

I wrote something for the sleeve notes.
This in fact...

I first heard Derek and Clive late one Saturday night in November 1976.
My family were at my sister's house. My brother Bob had got a copy of Derek and Clive Live, and was playing it in the front room. I was 15 and felt like I was being let into an inner circle of comedy.
My mum came into the room from the kitchen at the moment when Mr Cook was telling Mr Moore that the worst job he'd ever had was retrieving lobsters from Jayne Mansfield's arsehole.
My mum said, "Bob! Turn that off. What if the vicar came round?"
Bob replied, "It's midnight, so I'd tell the cunt to fuck off!"

I think I've listened to all three albums over a thousand times in the last thirty odd years.
They actually get funnier with age. And I think it may be my favourite piece of character comedy ever.

No, it's not big and it's not clever. But it's fucking funny. Cunt.


---

So The Office is now available for the first time on iTunes everywhere.

Buy it if you haven't got it already. [The Complete Office at iTunes]

The anniversary box set is also available today. [Amazon UK link]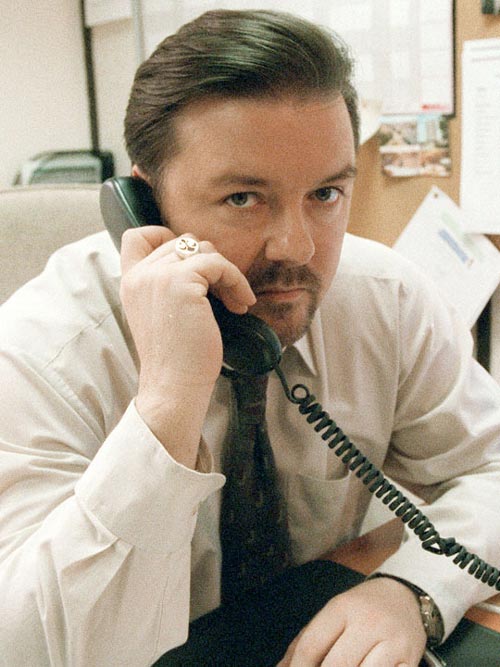 But enough of the past.

Did some more work on my new stand up today. I was meant to be working out stuff to do in New York at a couple of charity gigs but I couldn't stop working on Humanity.

In the last 3 days I think I have written some of the best stand up of my life. Obvious why. It's the angriest, most honest and hopefully the funniest (and I'm sure the most "offensive" too, but that's not my concern. Offence is taken not given) I've ever done. In my opinion. That's my new catchphrase I think. Can't wait to start doing warm-ups now. People are gonna get it in the fucking neck. Ha ha.

Street Porter's safe though.

And so is Robin. Very Good Boy indeed.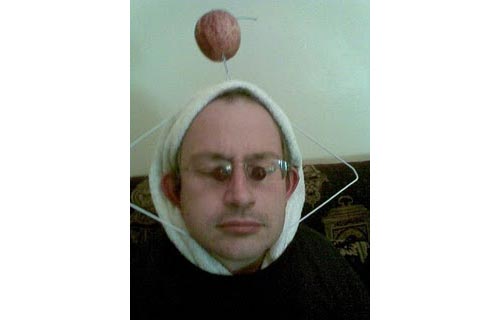 ---
Week one hundred and ninety - October 2011
---

Did a Twinterview to set the record straight.

Hope you enjoyed Karl in Africa this week. (Personally USA and ep 8 are my favourites - still to come.) My God I so want to tell you about something that happens in the final episode but I can't.

Have a great weekend.


---

I love how me using "mong" to mean "div" or "gimp" (and explaining that 20 times) has become...

"Ricky Gervais abuses Down's Syndrome children."

Ha ha. Why children?

Also a tweet that wasn't even mine is suddenly one of my "sick jokes".

It really is like that episode of Extras. (Still available.)

I also love how everyone is trying to get in on it too. We'll definitely see some comedians on daytime telly discussing how terrible I am, then mentioning their upcoming gig that's not selling. Good luck to them though.

I'm keeping out of it.

Now I understand that you can't please everyone with the things you say and nor should you try... but surely they have to report what I say accurately before they start to damn it?

Again that's the good thing about Twitter. It's documented.

I should just say a thank you for the overwhelming support too. Means a lot.

And that's another thing. All these people saying it's "disgusting" and "ban him from the telly"... They never liked me anyway. They couldn't have or they would understand.

Still mustn't grumble.


---

Had a little meeting with Karl and Warwick about The Short Way Round. Up to 60:40 now I'd say. Ha ha. No promises. Leave it with me.

Mine and Warwick's Apple Store chat should be available for podcast this week by the way.

Life's Too Short starts Nov 10th remember. The day before the final episode of An Idiot Abroad. Don't miss either.

This week Karl gets to meet the hippo in the house by the way. He says this is the highlight of BOTH series. Amazing.

On Sunday it's my episode of Curb Your Enthusiasm.

What"s that Ollie?... Lucky cunts?... Yes they are. Good Girl.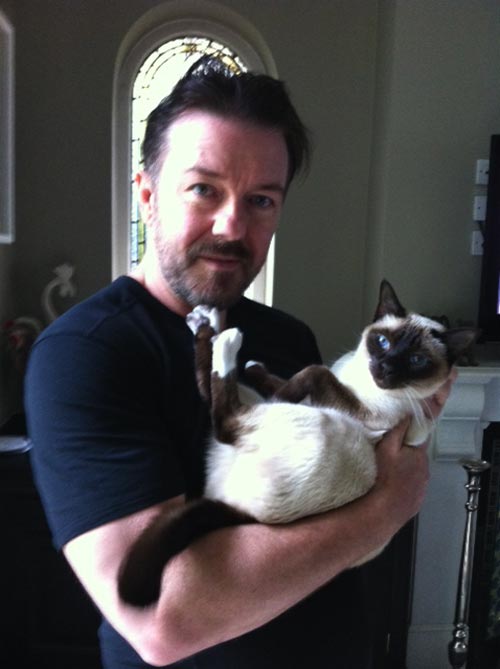 ---

So we've done M words.

This week's letter is N. Ha ha.

Funnily enough someone did say that they bet I've never discussed the N word.

I've done it twice.

Once on Sesame Street.

and once on Talking Funny.

Actually seeing Chris there reminded me of another question I was asked on Twitter today - "Why won't you ever work with black people?"

Ha ha. Amazing.

Quite a few people on Twitter have also asked me what I think success is.

I could never express my feelings better than this...

"A Man can consider himself a success if he wakes up in the morning, goes to bed at night, and in-between did exactly what he wanted." - Bob Dylan

The trailers for Life's Too Short started tonight.

Here's the first.


---
Week one hundred and eighty-nine - October 2011
---

Spent the day editing epsiode 8 with Karl. My favourite one. A couple of big surprises for you.

TWITTER

Twitter is uh... challenging. Ignore people and upset them or reply and annoy everyone else?

So I'll just do a few tweets a day and answer a few more on here.

FAQ

Does America know about Karl?

Yes America loves Karl.
AIA was the highest rated show of all time on Science Channel (16 million)
AIA 2 airs January 21st.
The third season of The Ricky Gervais Show starts next spring on HBO.

Whats the point of life?

To have to fun and try not to hurt anyone.
Enjoy friends, family, loved ones, laugh, sing, eat, drink, run, jump, create, help, share, work hard, muck about, sleep, dream, be well, die with dignity, be remembered.

What do you really think of the American Office?

I REALLY think it's good. I also exec produce so if I didn't like it I could do something about it. Having said that I'm obviously not 100% hands on like I was with my version.
No I didn't JUST do it for the money. And yes I have made cunt loads. (it's an economics term.)

Can I have a retweet as it's my birthday/I love you/i'm dying?

No.

Thanks to everyone who sent me stuff though.

Quite amazing.

This made my day too.

cheers.


---

Hello Blongs,
Don't think I've just gone "all Twitter" now. I'm loyal and the blog stays.

Been editing episode 7 of AIA today. It's the Japan trip and it's shaping up well.

I'm sure you all saw this.

He was right again.

Don't forget to watch the brand new Idiot Abroad this week. Sky One 9pm.
Then turn over to Channel 4 at 10.30pm for Science*. Nice.

*Warning: may not contain any science.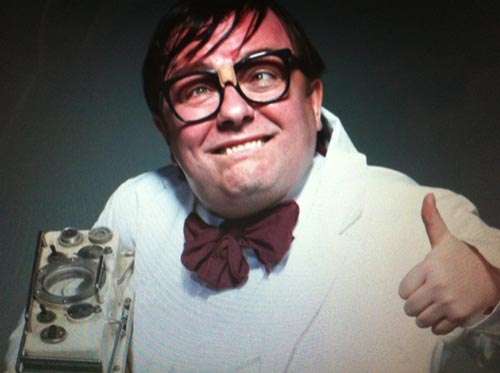 Have a great weekend.


---

Just did a really fun talk at the Apple Store with Warwick. Great crowd so thanks for coming down. If you couldn't get in the next best thing will be the vodcast of the whole thing coming soon.

Thank for tweeting me people, but I'm afraid I can't respond to about 99% of you as that would be mental. I honestly would never get any work done.

Also the same questions keep cropping up and many are impossible to answer in 140 characters.

Here is another FAQ. Sorry if you've heard it all before but...

No Karl is not on Twitter. He will never be on Twitter.

He is my best friend. No he is not an idiot he is a genius.

No there will not be AIA3. Might be a special if I can come up with an idea he likes.

My favourite line from The Office is "I think there's been a rape up there."

From Extras, it's Patrick Stewart saying... "I've seen everything."

No there will never be more Office or Extras.

I want to start gigging again mid 2012.

I never use "Mong" to mean Downs Syndrome.

I'm not following Robin Ince because I talk to him every day in real life.

WARNING: Some tweets may contain irony.

Don't forget to watch An Idiot Abroad then Science on Channel 4 this Friday... yes.

I do use twitter to promote my work. What? You thought I just needed more friends, you fucking mongs?

TWEET THAT!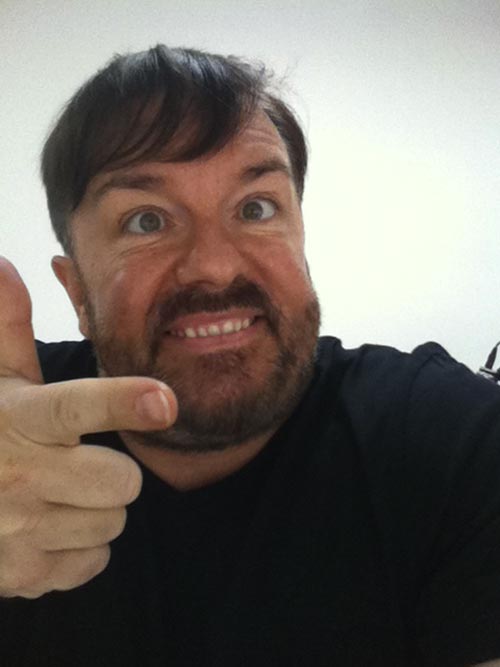 ---

Did some more recording for Family Guy. So much fun. Think it's gonna be good. Not out till Feb though.

My episode of Curb Your Enthusiasm is on soon in the UK by the way.
23rd of October on More 4.

Here's a little teaser

Doing another Q and A tomorrow with Warwick and the mighty Boyd Hilton as interviewer.

This is what happened the last time me, Warwick and Boyd got together.


---

Just heard that the DVD of Season 2 of The Ricky Gervais Show will be available from 7th November.

Here's a fucking free illegal clip.

Karl had a little rant today about X Factor. He can't stand everyone crying basically.

As he correctly said, it never used to happen on Opportunity Knocks. People would come out, smash some plates or play a saw and fuck off back to Hull.

At one point he really made me laugh when he said, "Even that one from N-Dubs, Dappy's mate, was cryin'. She grew up in Walthamstow. She must have seen some terrible things in her life. Shootings, stabbings... but she starts balling her eyes out when some little mong doesn't make it through to the next round."

Ha ha. Amazing. I don't know what he's talking about as I haven't watched one minute of this year's offerings - Life's Too Short. Now there's a fucking great show.

Here are two brand new exclusive messages to whet your appetite... one and two


---
Week one hundred and eighty-eight - October 2011
---

Spent the morning casting for "Derek". (I got the lead role again!)

Spent the afternoon editing AIA.
Karl in Africa is breakthrough telly. He's now not only the funniest bloke on TV, but he is genuinely a brilliant presenter too. He's just so honest.

In this week's episode he tries out being a ladyboy for size. There is a conversation he has with himself, about if he found out that Suzanne was really a man, that is fucking amazing.

Had another meeting with Karl and Warwick about "The Short Way Round". Oh my God, It actually might happen one day.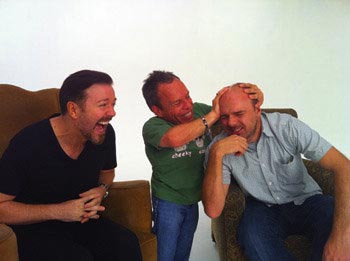 Have a great weekend.


---

Did an interview and photo shoot with Warwick

This has nothing to do with it but it happened soon after...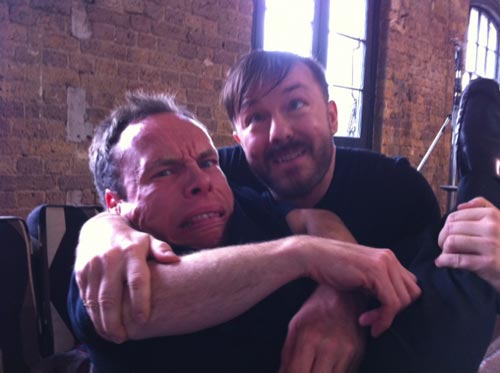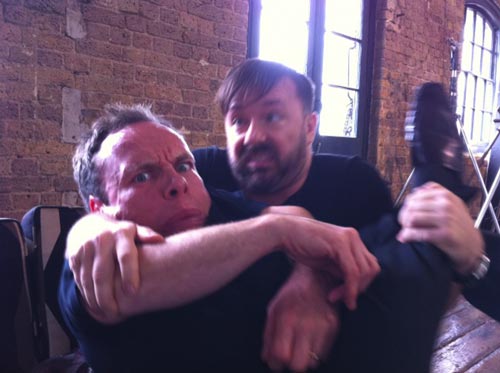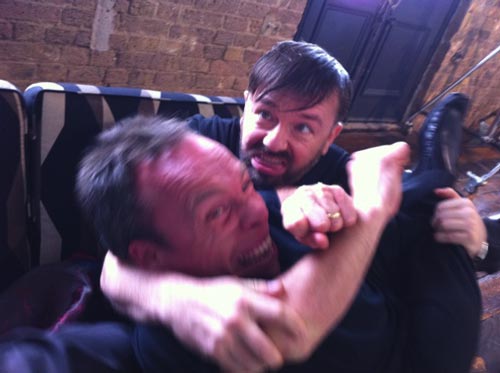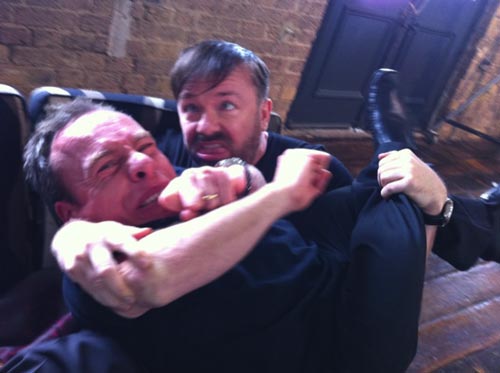 Wrote a little essay about Twitter.

Check out this deleted scene from this week's An Idiot Abroad.


---

Spent the morning casting for a little pilot I'm shooting called Derek.

Such great fun starting from scratch. Exhilarating even.

Spent the afternoon finishing a project; An Idiot Abroad 2. We shot episode 8 yesterday and so now we just have to find the funniest 45 minutes.

Maybe this genius could help. Another expert on the internet who "knows" stuff.

I told Karl about this little gem... "I'm not going to moan,' Karl promised himself as he boarded the train. Of course you are, Karl - you're contractually obliged to moan."

Karl said... "Hmmm... interesting. Tell the gormless cunt I 'aven't seen a fucking contract yet."

Ha ha. Amazing.

This one is even better.

The comments after are fun as always.

Episode 2 of An Idiot Abroad just became the highest rated show on Sky For 5 years. I told Karl and he sarcastically said, "Oh good, everyone at Sky will be on a little bonus." Ha ha amazing. The glass is definitely half full.


---

What a fucking glorious weekend. (Keats)

And I made my peace with Twitter too.

I'm actually writing a little essay about how I was wrong about it. I'll post it when it's finished.

Talking of which, I just finished a little piece for The Wall Street Journal.

Filmed episode 8 of An Idiot Abroad 2 today. Even Karl was happy with the stuff we did.

There is one bit where I get him to do role play of his superhero Bullshit Man.
Might be one of the funniest things I've ever been a part of.

Look at his little face.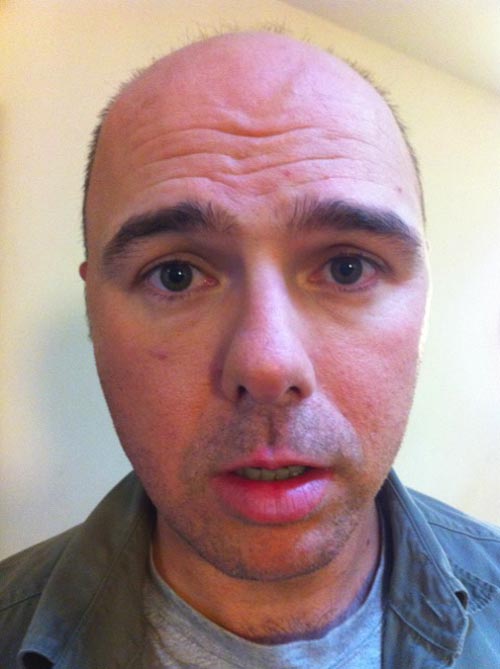 The photo is clearly distorted as his head looks nearly normal there.
Sorry about that. Week one hundred and eighty-seven - September/October 2011

---
---

I am so useless at Twitter it's embarrassing.

Like every other piece of technology, I don't feel I'm getting the most out of it yet.

My iPhone, which is more than capable of landing a man on the moon, I use as a camera for taking photos of myself looking as monged up as possible. (I also use it as a phone.) Oh and I once used it to hit Karl on the head the first time I ever met him because I wanted to know what sound the boney-sphere would make.

At the moment I am using Twitter to distribute some of the monged up photos I have taken of myself.

This is all I am capable of at the moment but bear with me. I love playing and I'm am sure I will hit on something that benefits the world soon.

I have had many replies but at the moment I am worried that if I don't reply to every single person it's best not to reply to anyone.

I'm having fun though and I really appreciate all the people who have bothered to follow me. This figure will soon start to decline when I bring out the really fucking deformed faces I know I am capable of.

I feel I should try to do a quick FAQ on this blog. I don't know how to tweet a link yet. Could you do that for me?

Here goes...

1. Yes I am writing the sitcom and maybe a movie of Derek.

2. No, Warwick could never get angry at Karl; he loves him. And it's mutual. We are planning a pilot of my show idea "The Short Way Round" Basically I send Karl around the world on a bike with Warwick in the basket on the front. It's not Shakespeare but it's fucking funny right? The 3 of us did a photo shoot together last week. I may post a sneak look soon.

3. I'm not following anyone yet as I promised Warwick he would be the first and I haven't worked out how to do it yet. (Gump)

4. Yes me and Karl are best friends in real life. He's my best friend because he is the funniest man in the world, and he said I am his best friend because he hasn't got many friends. Ha ha. See what I mean.

5. No there wont be a third season of An Idiot Abroad but I've nearly persuaded Karl to do a Christmas special.

6. Yes it will air in The US on Science Channel from January. It is also being sold around the world again.

7. Yes we are doing more podcasts but they will be bespoke material for Season 4 of The Ricky Gervais Show on HBO. We may release the unedited audio afterwards.

8. Yes I am planning a new stand up show called Humanity. I'd love to start touring next year. Yes I will tour America again which will become another HBO Special.
9. The Flanimals Movie wont be out till the end of next year. Yes I have a part for Karl in it. He's perfect for most Flanimals to be honest as they are all dim with weird shaped heads constantly moaning about the futility of existence.

10. No, there will be no more Extras I'm afraid, but Life's Too Short should more than fill the void.

Thanks for asking and thanks for all the questions sent in for me to ask Karl in episode 8 of An Idiot Abroad. We're filming that next week.

Cheers,
Ricky "The Tweetmeister General" Gervais


---

It was a bargain.

It was Grace Kelly's old gaff (True). She left in lovely nick too.

Here's another bargain
.

Finished editing another episode of AIA. It's the one where Karl goes to Africa to meet a mountain gorilla. Honestly, there is a bit where he has to cook for a king and it is one of the funniest things you will ever see.

Don't forget to watch Karl in Russia this week. Absolute Gumpski.

He meets a man more miserable than himself. And it does his head in.

You can do his head in too by asking him a question.


---

Please vote for An Idiot Abroad.

Now Karl is famous my new ambition is to get him to make a speech at an awards do.

Thank you.

"Karl Pilkington is the funniest man in Britain" Ricky Gervais, 2005

"Told you" Ricky Gervais, 2011


---

I'm thinking of giving Twitter another go. I only tried for 30 seconds so maybe I'm missing something. I still don't quite see the point but maybe I will. We'll see. I have, for some strange reason, accumulated 60,000 followers over the past year or so, just patiently waiting. Waiting for a sign. Sitting. Quietly in front of their ithings. Like Greyfriars Bobby.

But what to tweet? Hmmm?

I know...

"Don't fuck with me... I'm a writer!"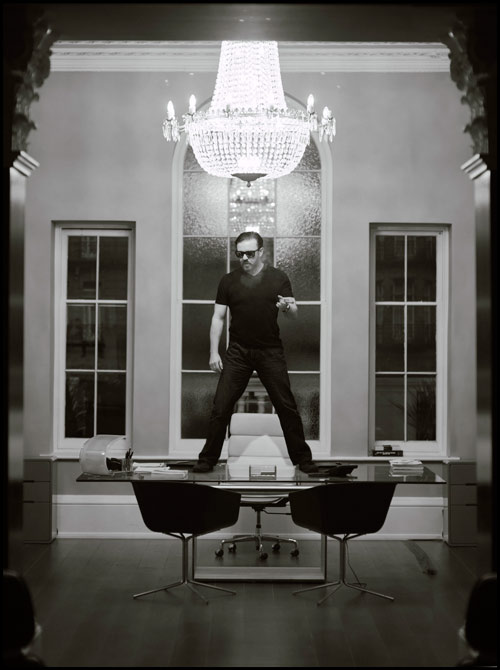 I'm trying to look cool by the way. I didn't just see a mouse.

I'll also get Karl to tweet. Without him knowing obviously. I'll just be typing what he's saying, when he's moaning about stuff.

We're doing some on-air promos for Discovery Science tomorrow. He's been moaning about that all day. I can't wait. Ha ha.


---
Week one hundred and eighty-six - September 2011
---

So An Idiot Abroad 2 had an amazing debut.
It beat its own record and is the highest rated show of the year on Sky.
Here's a little deleted scene.

At the time Karl and I were celebrating his 39th birthday with Jane and Suzanne at his favourite restaurant.
(Murano if you must know. It's absolutely brilliant, but apart from the amazing food and service Karl likes the fact that it's "just the right temperature." Amazing. He's like a fucking batch of lizard eggs.)

Here he is about to eat a cross section of his own brain.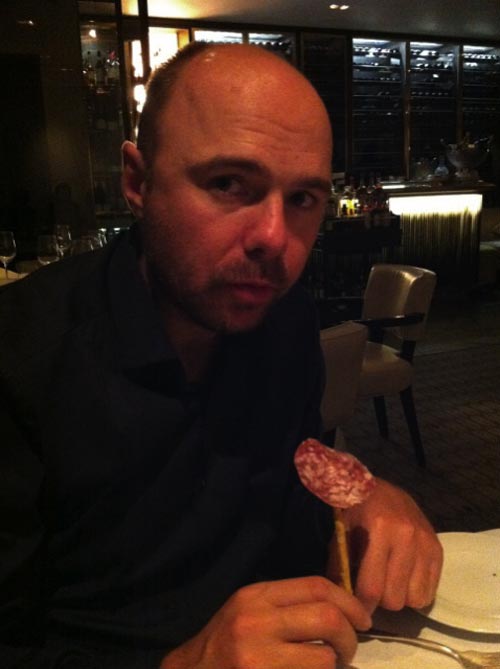 Look at his little face light up when he got his dessert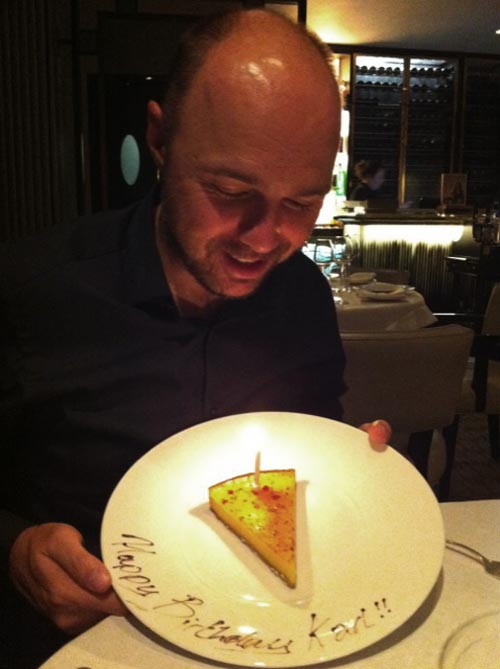 We then went back to our place where I started trying to persuade him to do my new idea, involving Karl riding a bike through the villages of Britain with Warwick in the basket. It's called "The Short Way Round".

After another whiskey he started laughing about the idea. That's a good sign.

Karl laughing looks like this by the way.


---

This article warmed the cockles of my heart, I must say.

I wrote and directed that little sketch in one day, about 10 years ago. You'll see a little cameo from the wonderful Tony Way, who pops up again in Life's Too Short. He is blessed with a classic comedy face.

And when I say classic, I mean he looks like an extra from a Laurel and Hardy short.

Karl did a little thing for the mighty Shortlist.
It was nice to see him win the "How fucking gimp can you look holding some beans on toast?" competition.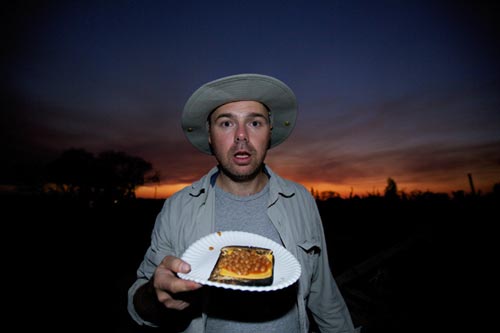 Gump.

Went on 5 live with Karl today. He was of course hilarious. I took it upon my self to give him the right to reply to some particularly annoying frequently asked questions.

His answers were perfect. (I obviously wrote his answers for him. Joking)

I really love doing that show. It's very grown up in its approach to taboo and contentious subjects. (Of course, we talked about gobbing, toilets and condoms, but just sayin'. )

Don't forget to watch the all new Idiot Abroad. Friday 9pm Sky One.

Have a great weekend.


---

Strange but true...

With the format rights to Flanimals, The Ricky Gervais Show, An Idiot Abroad and The Office syndicated around the world, I am now so rich that I am able to hire Johnny Depp to carry my penis for me wherever I go.

A bit too keen there Johnny... I haven't even got it out yet. Ha ha ha. Ha. Ha ha ha ha ha LOLBWOTI (Laughing out loud but wanking on the inside)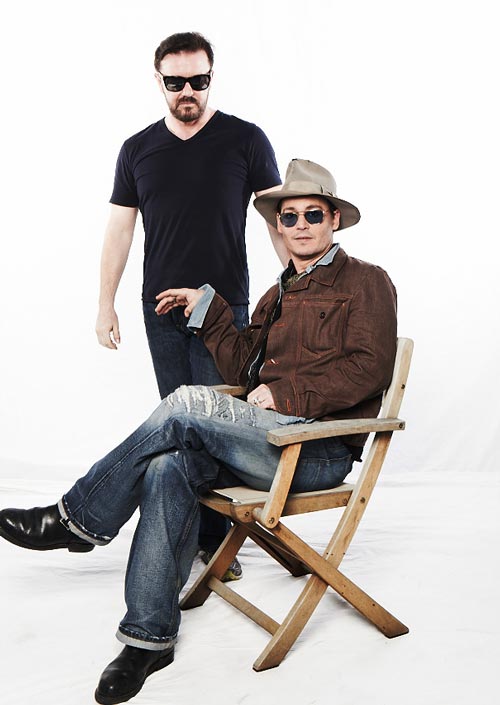 And now a couple of Depp movie/knob related puns;
Dongy Brasco
Wango


Thank you.

Even stranger but true...
Karl Pilkington, this Friday, 9pm Sky One. TLMF (tweet like motherfuckers)


---

Off to London later. Have the riots stopped yet? And if they've been nicking DVDs do I still get paid?

LYING by Sam Harris is out now by the way
.

It's "quite brilliant". Not my words, the words of that genius Ricky Gervais. If he likes it...

And talking of genius...
that round headed twonk Karl Pilkington is back on UK screens this Friday with An Idiot Abroad 2.

If you haven't got Sky, pre-order the DVD
.

It's "quite brilliant". Not my words...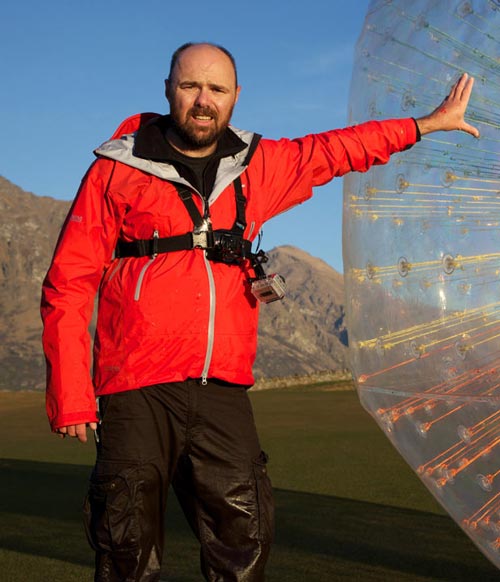 ---

Did a little recorded message for The Emmys.
Couldn't make it in person as I was in New York eating pasta and drinking wine in various restaurants.
A few "unfortunates" actually believed that I really was banned from the event and then heavily edited. Amazing.
I was invited to hand out an Emmy live but couldn't be in LA so I suggested a video bit. They said yes obviously. I made the video and sent it to them. They played it out exactly as I edited it.
Some people really are thick aren't they?
I sent Jon Stewart a text after he won his second Emmy of the night.
It read: "Really? How many do you need?"
He wrote back: "I have a large rectum"
Ha ha. Well deserved as usual.
An Idiot Abroad 2 starts this Friday!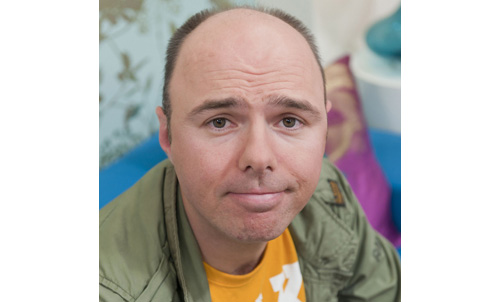 Look at that fucking head.


---
Week one hundred and eighty-five - September 2011
---

Here's another little taster of An Idiot Abroad 2.

It's Karl trying to explain the show to Frank Barrett.

It's also available to download as a podcast... [iTunes link]

Have a great weekend.


---

Popped in to see my old pal Jimmy Fallon. Greg Kinnear was also on which was a lovely surprise as I hadn't seen him for ages. Bear Grylls was also on and that's the second time I've bumped into him this week as he was on the same plane on the way over.

I had a little snooze on the flight, and when I woke up there was a note on my pillow.

It read; "Day one of assassin school... always sleep with one eye open. Bear."

I looked over and saw that he was now asleep and left him a little note in return.

It read; "Day one of public school... never sleep with your mouth open. Ricky."

After Jimmy Fallon we went to a screening of the first episode of the new season of Boardwalk Empire. It was fucking brilliant. Could be better than the first season by the look of it. (in-depth review there.)

Karl completed his round the world bucket list this week. He went to climb mount Fuji. I arranged for him to have a little go at Sumo. he didn't enjoy it much.

He said, "I had sweat in my eyes and it wasn't mine." Ha ha.


---

I have some big news. Well big to me. To you, it's probably not in the 10 most important things you've heard today. But to me it's huge.

I've made way too big a thing of it now. Let me start again.

Hey kids, guess what?

On the 24th of October the complete series of The Office will be available for the very first time on iTunes. It's available in every country from that date to download and own.

Thank you.

Anyway, before that, An idiot Abroad 2 comes to our screens.

Here is a bit more of that strange Digital Spy interview we did.

That's the idea I was talking about by the way - the idea of Karl cycling round Britain with Warwick in the basket like ET.

I thought a great title would be... "The Short Way Round". I'm embracing the ironic pun lately.

Anyway, Warwick, Karl and I are having a meeting about it next week.

Oh, and the comments after Frankie "I don't get it" Barrett have really kicked in.

I must say, and I will say this only once for fear of losing the "I-don't-give-a-fuck-what-people-think, arrogant comic of the year" award, the comments from true fans were FUCKING HEARTWARMING. I will deny this statement should it ever come up though. (thanks.)


---

Got this email from Robin Ince;

"a fellow on twitter wanted you to know he has ruined his life (well I think he's proud of the tattoo, but really)
- http://tinypic.com/view.php?pic=2w73es8&s=7"

Wow. Who wouldn't be proud of that? It's a masterpiece. If you've got a boring arm, all skin coloured and that, pop a huge Brent on it. Perfect.

I can't say I'm not just a bit flattered. And scared. But... wow.

Apart from the obvious 30 or 40 reasons not to have that done, it is a brilliantly rendered piece of tattooing I must say. But... wow.

Hope you've seen one of the 525 of these around the UK...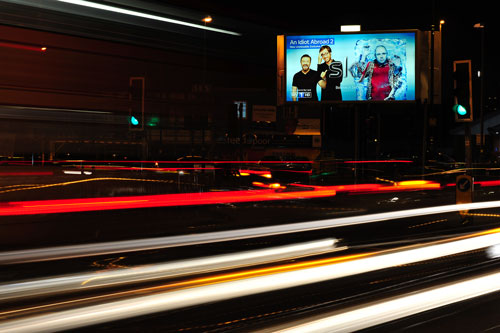 This is in Birmingham

Now that would make a great tattoo.


---

Hope you enjoyed the new exclusive clips.

Not long now to the actual series. Well, An Idiot Abroad at least. Bit Longer to wait for Life's Too Short I'm afraid.

Just like last year, in preparation for recording the final episode of An Idiot Abroad, I am trying to collect all the comments from people who already know stuff about the second series. They will be useful for when we film episode 8 - 'The Homecoming'.

This guy must have sneaked into the edit and watched all 8 shows. We haven't even filmed one of them and have only really finished editing two, but if he's this spot on at this stage how good will his reviews be when he's actually seen something? Brilliant I imagine.

HyperbolicGoat H. Goaterson
Yay, another series of "Ricky Gervais sends his dull, slightly racist mate to go mock people for an hour, which you idiots will lap up."
1 hour ago

But obviously there are some great comments too.

This was left on YouTube...

"I'm so looking forward to this i could jizz all over his little round face!
gmvillian 1 day ago

Ha ha. Can't wait to read that to Karl. He'll be over the moon with that one.

It's annoying that you can't leave comments after the Frank Barrett article.

I was really looking forward to those.

Joking aside, I absolutely love the negative comments from the people who don't get it, or don't care for it, or just don't find it funny. It makes it even funnier for me.

But I'm surprised that they don't know why we do it by now. We do it for a laugh. We do it because it's the best job in the world. We do it because we'd be doing it anyway if it wasn't our job and we weren't getting paid silly money for it.

But most of all we do it because we're friends.

I can't believe my luck really. Not because of the success. But because I've always had such fucking great mates.

I hope Frank Barrett occasionally feels the explosive joy that I feel every minute of the day that I spend with friends.

I really do. Otherwise I can't laugh at him.

That's why it annoys me, Steve AND Karl, when people say that An Idiot abroad is bullying.

It's not.

THIS is bullying...

(Only joking. We loved this guy.)


---
Week one hundred and eighty-four - September 2011
---

As promised, here are some exclusive clips, trails and behind the scenes bits and pieces from both Life's Too Short and An Idiot Abroad 2

Also available as a podcast to download and own on your ipod or any mp3 player. (ipod). [iTunes link]

Please tweet and blog and chat to people on the bus about these wonderful free e-treets from Uncle Ricky and his weird little chums.

Thanks, cyber dudes.

Uncle Ricky.


---

Ha ha.

To be perfectly Frank...

Have a great weekend.


---

Wow. I've opened a can of worms. Or Pandora's box. Or released the Kraken maybe?

I've had an amazing response to yesterday's blog entry. Not only was the idea received well, but we've had offers of sponsorship, technical support and a bunch of comedians up for it.

I don't want people to think that this is some sort of anti-establishment stunt. It's not. Anymore than deciding to do a podcast in 2005 was. It's about new horizons, new technologies and artistic freedom.

Fun basically. Although, if I actually do it, it will show people how tame my official hosting was last year. I still can't quite understand how anyone would think I overstepped the mark, was cruel, or pushed any boundaries of taste and decency. It was a network friendly gentle ribbing of the industry. Nothing more. I didn't even dress as Hitler in the end.

Anyway. I'm looking into it. Might not happen. I might not even be available. Who knows, I might be at The Golden Globes. (awkward silence.

) The funny thing is, everyone who tunes in to the live webcast will also have to be watching the actual show on NBC. I could still be helping their ratings. Ha ha. I hadn't thought this through. Maybe they should sponsor me? (awkward silence... slightly longer than the last one... slowly fade to black.)

We held a little press screening today for Life's Too Short with some Q and A's after. I enjoy them much more when I'm not the main focus of the attention. Warwick is so charming. In a different way to Karl. Karl is brilliant because he's angry and ungrateful. Warwick is brilliant for the opposite reasons.

Difficult to explain, but my point is I like them being more in the limelight than me. Again for different reasons. Warwick will embrace it and Karl fucking hates it. Ha ha.

I've cut a little 7 or 8 minute feature that I'll put out as a podcast in a few days, containing clips and behind the scenes stuff from LTS and AIA2. (Have you cracked that code? LOL) LOLWADAAM. (laughing out loud with a dwarf and a mong.)

Oh, and what do you think of this lovely Rich Hardcastle shot from this month's GQ?


---

I've had one of my big ideas.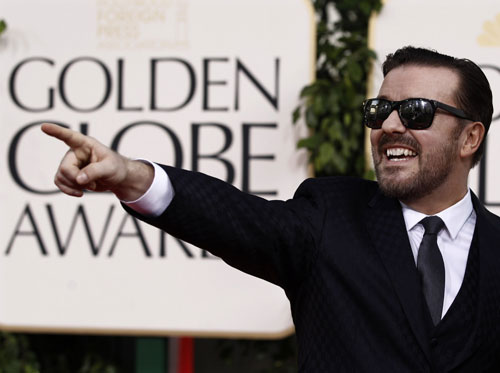 What do you think of this?

A live 3 hour podcast during The Golden Globes. Me and a few chums (like Louis CK, Chris Rock, Karl Pilkington, John Stewart, Larry David popping in and out) doing our own alternative commentary.

People at home can have the telly on with the sound down listening to us online say things that no broadcaster could get away with.

No one could do a fucking thing.

The biggest live webcast ever? Who knows? Who cares? What's fun is the shit we might come out with. No money. No sponsor. No guide lines. Fuck me I can't wait.

Maybe I'll do a non-broadcast practice with The Emmys to see if it works. I'll let you know.


---

So it's countdown to An Idiot Abroad 2 round these parts. A couple of weeks to go.

Please tell your friends. In the meantime, here's a rare photo of Karl, happy.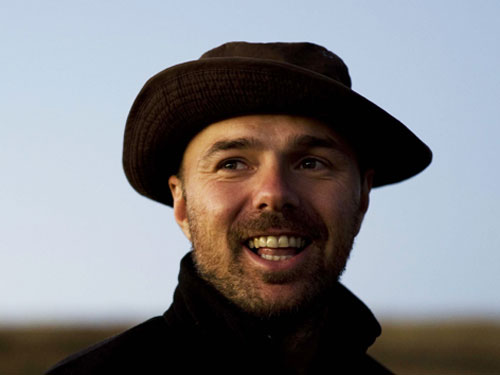 Weird init?

And this was an accident waiting to happen.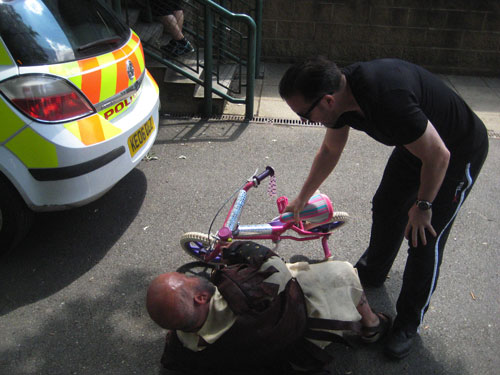 Luckily, because of his shape, he just rolled.

A lot longer to wait for Life's Too Short but you don't want to have all the treats at once do you?

I'll put out another exclusive clip of both shows this week to keep you going.

My other little weird chum Elmo is in town this week too.

I'm a very lucky man. This is what happened last time he visited London.


---

Greetings Earthlings.

We've locked off all seven episodes of Life's Too Short now and we're extremely happy. Just the grade and dub and we're done (not career-wise I hope.)

I have a couple of new career highlights actually. Well, more hobby highlights really.

First the mighty Richard Dawkins asks me for a quote for the US edition his new book, and then the brilliant Sam Harris.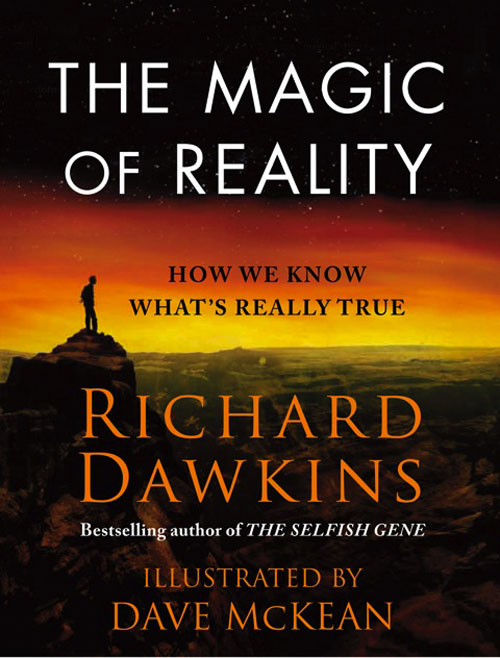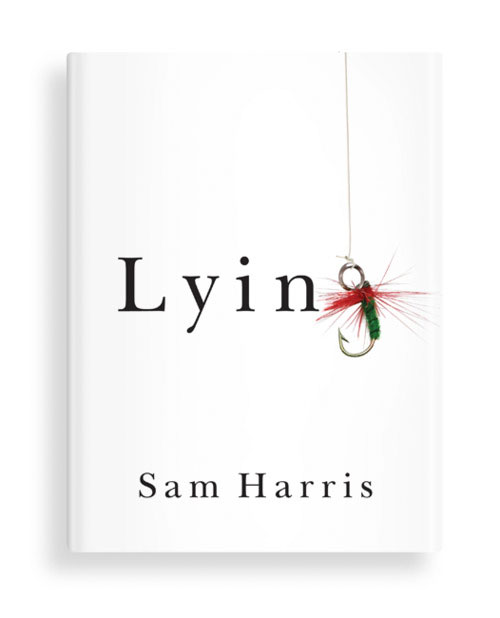 Amazing. Can't wait for Stephen Hawking to ask for a few pointers.
If Mandela asks me for a character reference I wont know what to do.

Talking of helping out global geniuses... the Idiot Abroad billboards go up today apparently. Keep an eye out.


---
Week one hundred and eighty-three - August/September 2011
---

This is fucking brilliant.

The amazing thing is, the mouth hardly has to change at all. Great work.

My other favourite muse did a nice interview the other day.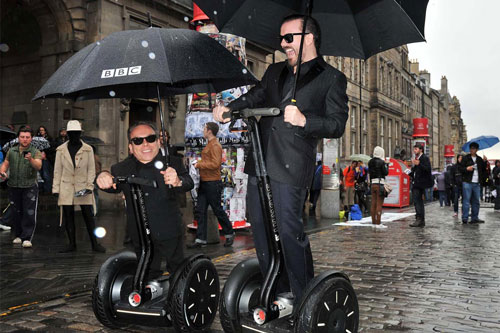 Here's Liam Neeson trying to make him do the "jumping at the hand" thing.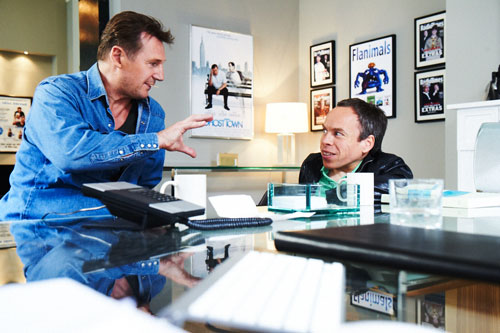 You can see in Warwick's eyes, he's going to go for it any second.

I have come up with an idea for a show featuring Karl and Warwick by the way. Broadcasters have already said yes. Warwick has said yes. Karl has gone from "no it's mental" to laughing about it and agreeing to do a non-broadcast pilot.

I love my job.

Have a great weekend.


---

Here's the final chapter of the wonderfully epic retrospective of The Office.

It might contain one of my favourite quotes ever...

"If I had to pick a reason why I continue to think the work of Ricky Gervais and Stephen Merchant is vital, then, it would be that one: Gervais and Merchant's series disguise themselves as comedies of cruelty, but after a while, they reveal themselves to be comedies of dignity, series that are about people who continue to be crushed by the world (and by their own stupidity in the case of Brent or Gareth) but finally rise above their circumstances and declare that they matter on some level."

I think the BBC should have that on headed note paper for when they have to reply to moronic complaints about "cruel dwarf comedy" Life's Too Short in a few months.

I sent this to Robin Ince

He tweeted it, saying...

robinince Robin Ince
for anyone who asks "what's it like knowing Ricky Gervais?" It's like this - youtube.com/watch?v=4qUP98...- but for longer.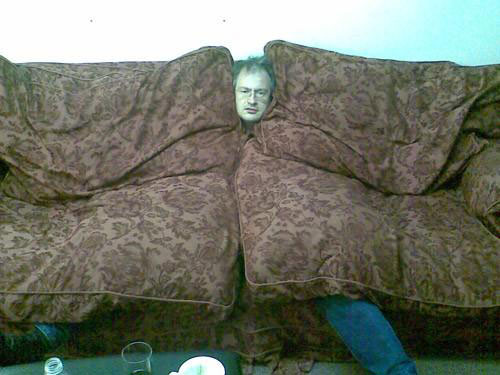 Yes more cruelty.
"Gervais bullies middle class middle-aged man"

And talking of the less fortunate...

Fuck me, the little bald headed twat was right again...

Unbelievable.

Finished editing another Idiot Abroad. That's 4 eps that are in really great shape now. It's a joy because there's so much stuff to choose from.

Karl in the USA and Russia are two of the funniest TV shows I've ever seen.
You'll be the judge of that.


---

Exciting news.

Two new videos for your viewing pleasure;

Me, Steve and Karl chatting to BAFTA about stuff and that...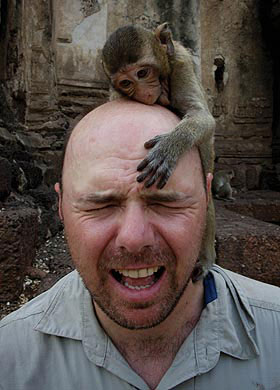 And me and Warwick chatting to Richard Bacon followed by an exclusive clip of Life's Too Short.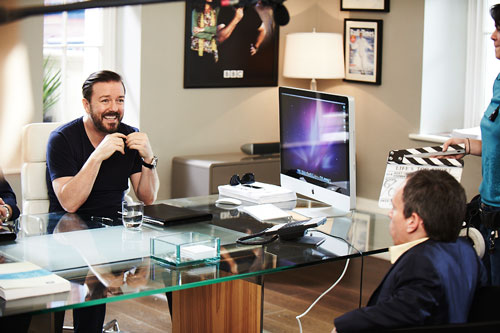 They are also available to download at iTunes. [iTunes link]

Oh, and by the way... we'll be releasing a free and exclusive 5 minute clip of An Idiot Abroad 2 as a Ricky Gervais Show podcast in two week's time on the 13th Sept.


---

Spent the day editing An Idiot Abroad.

It's really shaping up and the little exclusive scene we showed in Edinburgh went down a storm.

Someone went to all the trouble of doing a live blog of my session by the way, and here's a little clip.

It's a shame I look like a sweaty, 60 year old gangster at a wedding but still, mustn't grumble.

You may know already but An Idiot Abroad starts Friday, 23rd September (happy birthday Karl) at 9pm.

I've heard from a couple of people that they are going to throw "Idiot Abroad" parties and watch it with friends. Ha ha. This could be bigger than Eurovision. You should all wear swimming caps.

Please tweet this clip to all your virtual friends.


---
Week one hundred and eighty-two - August 2011
---

So during the interview in Edinburgh, Richard Bacon asked me about a 3 year old rumour that I'd been asked to host The Oscars.

I pointed out that this wasn't exactly true but that apparently my agent had received a call from someone asking if I'd ever consider it.

The way he put it to me was that they were asking various people "on a list". It was probably as long as Schindler's and it never got down to me obviously. (I also knew I was about to be asked to host the Golden Globes for the first time and intended to accept.)

Today, it was reported by some snidey cunt that I was 'boasting" about being offered the job of hosting NEXT YEAR'S Oscars. Total bollocks. Never said it. I have the footage to prove it. Retraction in the post methinks.

The Golden Globes came up again too. The lovely E! have reported my quote accurately. Thank you.


---

Edinburgh was wet and wonderful.

Did a couple of Q and A sessions at the TV festival. One with Warwick and one alone. Both with Richard Bacon as interviewer. (Who was perfect for the job by the way.)

No billboards for me this time though.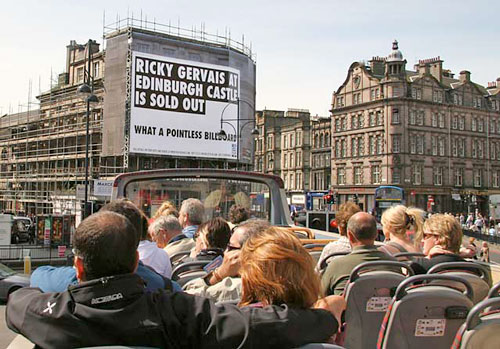 Ha ha. Fond memories. It was an expensive gag, but a good one I think.
(You'll be the judge of that.)

Have a great weekend.


---

Had the press screening for An Idiot Abroad. It went down a storm as far as we could tell and the Q and A was amazing as Karl was incredibly loose with his tongue. Because he hates doing those things he uses it as an uncensored platform to get a few things off his chest. Fucking funny though.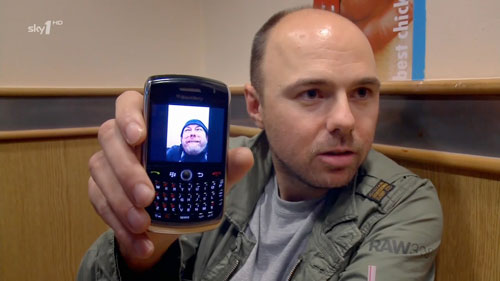 We then did a few round tables with various papers and magazines.

Here's an early report from the proceedings.

Here's one I made earlier.

Oh, and here's the penultimate instalment of The Office retrospective.


---

Karl is stressed about doing press.

I don't really enjoy it myself but, because he hates it, I quite like it if I'm doing it with him. Ha ha.

We've got about 3 hours of interviews and a BAFTA Q and A tomorrow. I would usually be dreading it, but I can't wait.

This is now what Karl is like all the time.

I'll try to video one of the interviews for your viewing pleasure.

We've got a date and time for An Idiot Abroad 2 by the way. I'll probably announce it in Edinburgh this week.


---

Karl got back from Africa today. He didn't have any jet lag so he was in quite good spirits. I brought him up to date with some stuff. Interviews, edits etc. I told him that we may have a new best episode ever of The Ricky Gervais Show animation. I'd just put the final touches to the one that covers the "A Day in the Life" podcast and it's fucking great.

That's what this is from of course... "socks cut off your freedom."





He found it hard to believe that it beats our previous favourite of "Sat nav". He'll see it soon enough. Until then, this is the reigning champion as Karl's and my favourite bit.

Finished three episodes of Life's Too Short. I get an adrenaline rush when I think about it. It's turned out so well and I want the world to see the phenomenon that is Warwick Davis.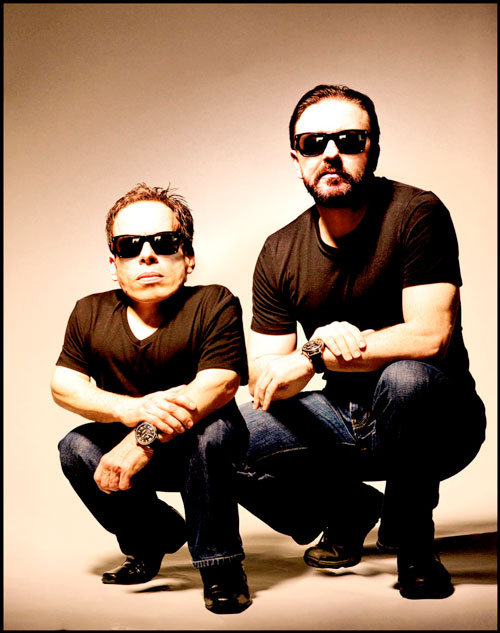 That's our new movie poster by the way.
"ODD COPS - They don't see eye to eye."


---

So we sort of kicked off the press campaign for Life's Too Short and An Idiot Abroad 2.

You may see little bits and pieces over the coming weeks including the transmission dates of course.

I did another little blog for The Huffington Post.

I also did an interview for New Humanist Magazine, out this week.





Thank you to everyone who downloaded the new podcast. It went number one and has had half a million downloads already. [iTunes link] I told Warwick he could be as big as Kermit if he sticks with me.

Here's the new official page by the way.

Spoke to Karl. Funniest phone call so far. He made such a fool of himself that in the end we were both crying with laughter. What an amazing little twonk he is.


---
Week one hundred and eighty-one - August 2011
---

Greetings, Earthlings.

So this is the cover for the 10th Anniversary box set of The Office.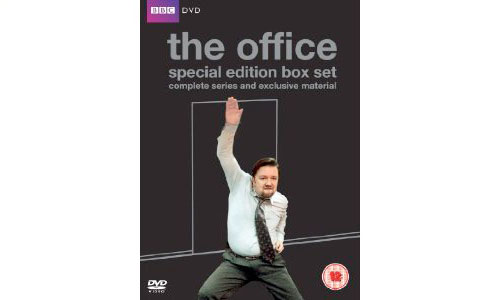 Nice. I look like someone crossed Hitler with a toad. Adolphibian. (Brilliant. Get me on Radio 4 now.)

You can pre-order it from Amazon UK
. Go on, you know you want to. It's only £12.99 for everything and more. And that's impossible. So it must be good value right?

Buy it, watch all the new bonus features then give it to someone who isn't that much of a fan for Christmas. That's what Christmas is all about. Perfect.

Cut a few exclusive clips of Life's Too Short and An Idiot Abroad to show at my Q and A sessions in Edinburgh next week. I'll stick them on the blog afterwards.

The mighty Shortlist magazine have a couple of new pics from their set visit.

And here's a couple of guest stars I haven't told you about yet.

Liam Neeson.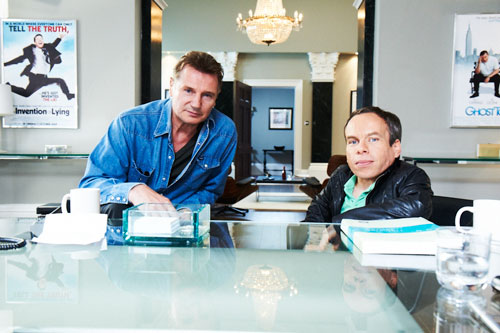 And Helena Bonham Carter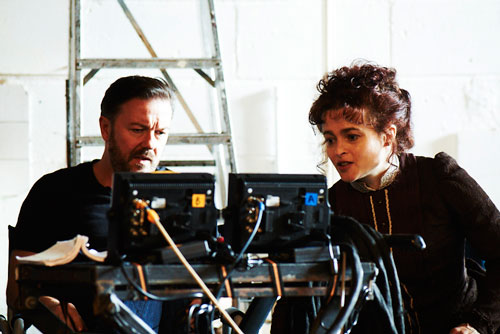 Can't tell you any more than that as that would spoil it for you.

That video of Warwick as a little frog is now available as a podcast by the way. [iTunes link]

Oh, and here's a photo of the little Manc twonk with the Russian Magneto.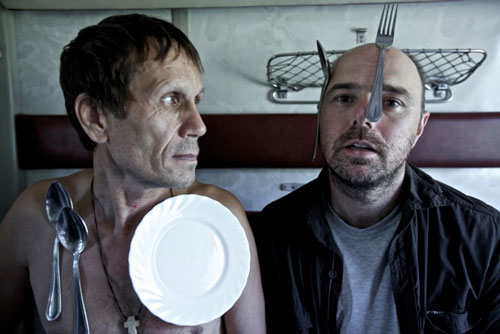 Look at Karl's dopey face. Gumpski.

Have a great weekend.


---

Tonight is sneak peek night.

1. From Season 3 of The Ricky Gervais Show... (Fans of the audiobooks [iTunes link] will be able to guess exactly what this is all about.)





2. From Life's Too Short... (Well, sort of) [Watch on YouTube]

3. From An Idiot Abroad 2... Pre-order the DVD at Amazon UK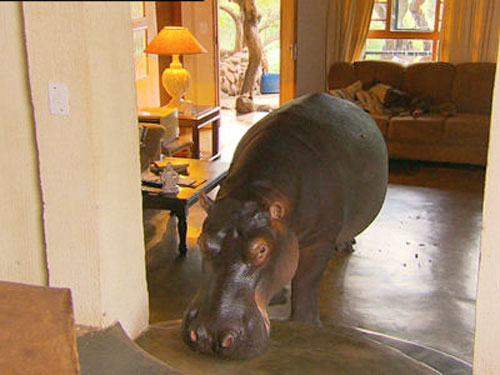 I'm on Greg James' Radio 1 show on Friday.
I was thinking of trying to get Karl trending on twitter with "Karl Pilkington has got a head like a fucking orange" around 1.45pm. Thoughts? I'm sure Greg will kick things off for me but stand by. Cheers.


---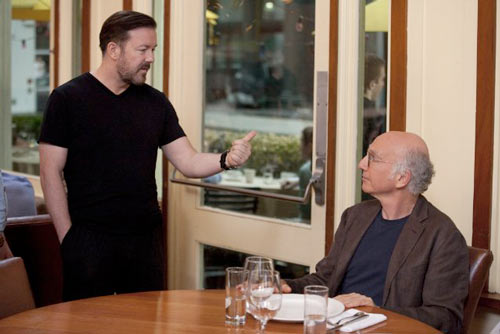 My episode of Curb Your Enthusiasm seems to have gone down pretty, pretty good... (Spoiler alert as the kids say.) [CNN review] | [IGN review]

Nearly finished three episodes of Life's Too Short,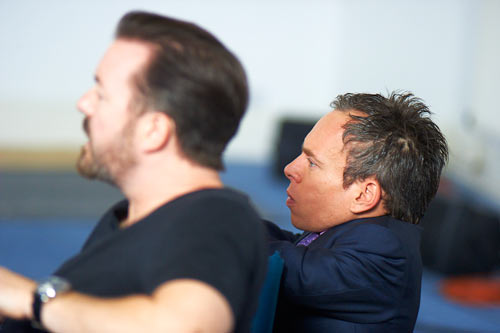 two episodes of An Idiot Abroad 2,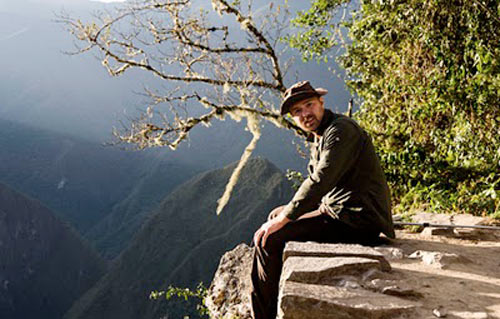 and the first episode of The Ricky Gervais Show Season 3.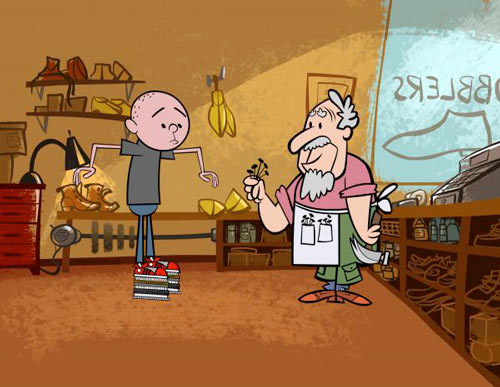 It's actually really great to be on series 3 of something while starting all over again with a brand new project. Exciting.

It's 50 times more work than popping up in The Muppets and Spy Kids and Curb and Family Guy, but it's the bit that I actually count as my job. The popping up is fun but it's just for a laugh. The really hard work is better though. Seriously. Obviously, when I say really hard work, I don't mean fighting a war or running a farm or building a house. I mean sitting around coming up with ideas then having fun carrying those ideas out. But you knew that's what I meant, right? Ha ha. Why do you even read this blog, it must be really annoying? Although you could take me annoying you as a compliment when you consider how I torture and abuse my oldest and dearest friends. Do you buy that?


---

Spent the day editing. Basically finished two out of seven episodes of Life's Too Short. Or LTS as the kids are calling it. LTS is LOL.

Chose some exclusive clips for my Edinburgh sessions too.

I haven't got much time to stalk Robin while I'm up there so I started cyberbullying him to make up for it.

Sent him this email over the weekend;

"Are you being a good boy or a naughty girl in Edinburgh Robin?
Love Papa."

He didn't reply. So I just sent him this;

"I think your silence has answered Daddy's question.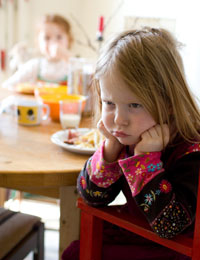 Robin,
you can't slag off Uncle Richard for not returning emails...





...if you don't email back your own papa.

I don't want to tell you off dear, but who's paying for you to play with your friends in Scotland this month? Me.

Daddy's just disappointed. That's all darling."

That prompted this swift reply;

"well sisters are doing it for themselves. I've heard about you and the Dawkster getting drunk and going into graveyards to draw cocks on the angels"

Ha ha. Good Boy Robin. Good boy.

This is before I turned him grey and angry.

Little Ollie looks younger too.
We all get old.
Then die.


Makes me want to play this song.


---
Week one hundred and eighty - August 2011
---

This one's not bad;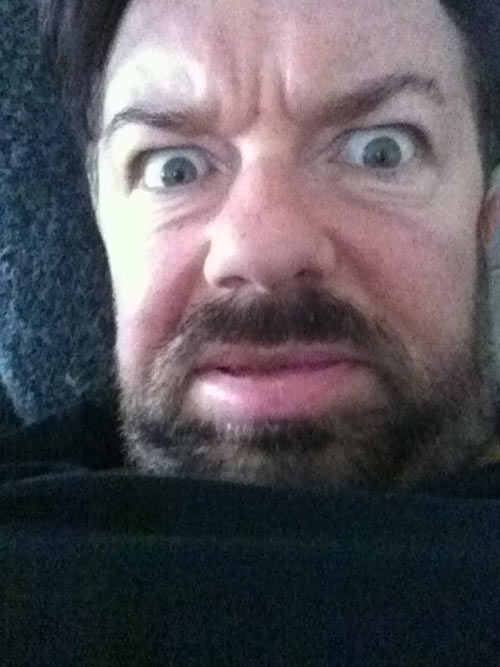 Karl called me at 8.30am!

He was buzzing. Never heard him so excited. He was sitting in a house with a hippo. And no, I wasn't dreaming.

He's meant to be on safari seeing WILD animals but he took it upon himself to take a little detour.

Sent an email to Johnny Depp telling him that his cameo in Life's Too Short cut together amazingly well. (And it really did.)

He sent me this email back...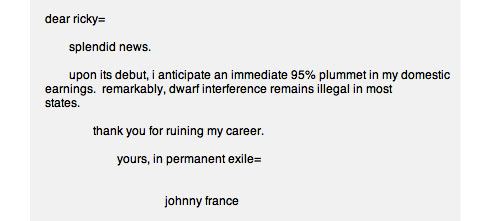 Ha ha.
Even his email layout is slightly bohemian.

I get a taste of my own medicine this week on Curb Your Enthusiasm by the way.

Enjoy.


---

The latest instalment of The Office retrospective.

Did a most enjoyable interview with Richard Dawkins today for Channel 4.

It was about the meaning of life. Didn't take long. I answered "have a laugh and don't hurt anyone, bye,"

I jest of course. We talked for about an hour and a half. They probably only need a few minutes but I was loving it. They have strict instructions to make me look as clever and articulate as him.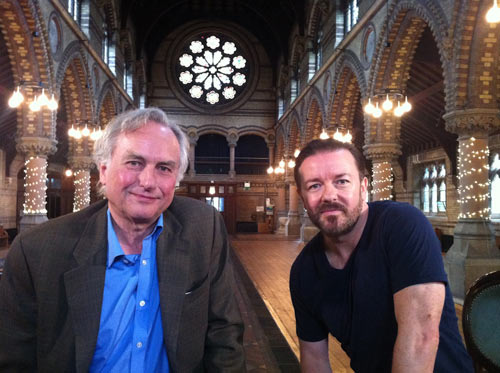 Spoke to Karl today. We started recording it for the show but then it took a strange turn. Karl was actually really affected by the slums in Africa and we sort of ignored the fact that it was for TV and had a long a heartfelt conversation.

99% of it won't make it into the show because 1. it was about 15 minutes long and 2. it wasn't strictly entertainment.

But it really showed another side of Karl. I knew that side existed but the public don't. If you get my drift.

Anyway, quite a pointless anecdote really but then this is my personal blog about stuff that happened to me today. What do you want? I had a fight with a bear today. I didn't. I had a chat with some people. But some very interesting people.


---

How fantastic is this picture?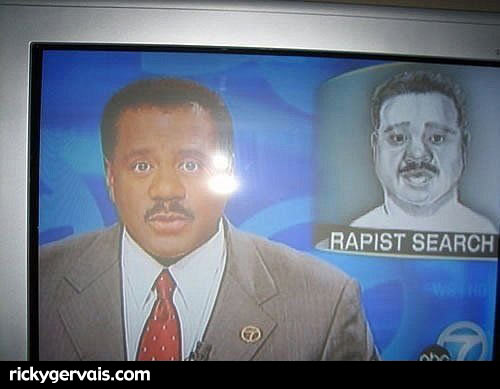 Ha ha. Amazing.

Spent the day in the edit. Life's Too Short is a fucking joy. (Even though I say so myself.) Well, actually I think that's a fair enough thing to say when you realize that;
1. I mean it's a joy for me. Can't argue with that.
2. It's turned out even better than I'd hoped. (Strange that I didn't hope for it to be this good I suppose, but anyway)
and
3. It's a joy because Warwick Davis is fantastic to watch. So much humanity in everything he does. You have so much sympathy for him and yet you love things going tits up for his reactions. Bit like Karl in a way.

I was asked to donate a wooly hat for the homeless charity St. Mungos. They are having a celebrity auction in November.

Given the name of the charity I thought this hat was appropriate.





Please bid. I'll remind you nearer the time.


---
Papa nooo listen t' no rule baby...



Pretty much finished editing the first 2 episodes of "Idiot" and "Short" (as the kids on the street are calling them. When they're not stealing computers obviously. Hope they don't illegally download any of our audiobooks on their new laptops. That would be criminal right?)

Oh, don't forget this goes on sale tomorrow - you need to use a special promotional code before you click 'buy tickets'; nycf.





See you there.


---

Bit jet lagged so sorry about the lack of blogness.

I should maybe fill you in on my NY trip a bit.

Well, as you know, I did a couple of chat shows, including my 19th Letterman. As loose and random as ever. Here's the whole interview.

Ate out all the time but didn't miss a day in the gym. And it was hot, which sort of battles the pasta and puddings right? I'm not a doctor, but...

Hooked up with my Manhattan Brum-chum Rob. I think I'd lulled him into a false sense of security the first few nights by not torturing him too much. We had lovely meals and fine conversation.

Then one night back at the apartment after a few more wines he took his eye off the ball. I leapt. In under a second he was in a headlock that I'd learnt from watching too much Ultimate Fighter. He struggled but it was too late.

I handed Jane the camera shouting "take a picture." Secretly though, I had put it onto video mode. Rob flailed trying to avoid the photo but the iphone was capturing everything. I couldn't believe my luck. Jane was reluctant to take a picture but it didn't matter. She was more concerned with the fact that I was cutting off his blood and oxygen supply. But she wasn't ruining anything. Ha.

My favourite part is when in his desperation he shouts "Love-Rape". I nearly died laughing. It's a good description of this particular act though really. It was clearly non-consensual and I was loving it. Perfect.

Also, notice how no one actually helps him. Not his wife Jill, not Jane. It was like The Accused. We are all guilty really. Guilty of Love-Rape. In the first degree.

Enjoy.



---

Back from New York.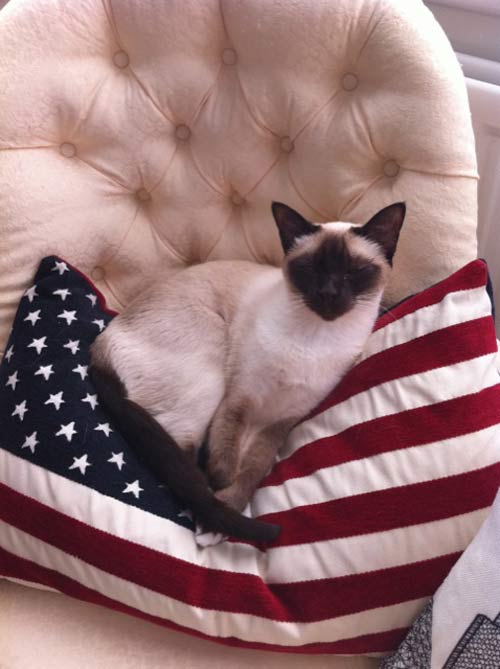 It looks like one of those awful political cartoons. "Oriental Fat Cats Cause Depression In America" (Snigger)

Editing episode 2 of An Idiot Abroad and episode 2 of Life's Too Short at the moment.

So exited about both.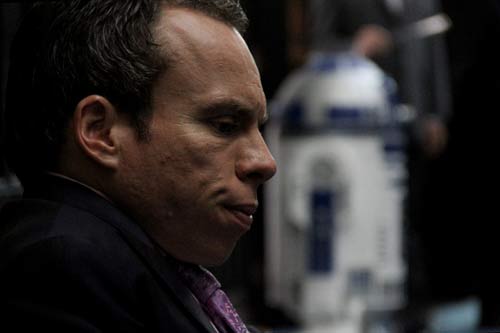 That shiny, dome-topped thing behind Warwick isn't Karl by the way. It's R2D2.

Read an interview with Ronnie Corbett in which he said these lovely words;
"even though Ricky Gervais is unafraid to take his comedy right to the edge, he possesses an endearing streak of self knowledge that makes him impossible to dislike."
What a lovely, intelligent, insightful man. Ha ha. I wonder how many people read that and for the first time in their lives took offence to something Ronnie said? Ha ha.


---
Week one hundred and seventy-nine - August 2011
---

This is like a variation on celebrity spotting.
Gervais NOT Spotted...

Spent the day writing Afterlife with Clyde Philips. The good news is there's nothing quite like it. The bad news is we don't quite know what IT is yet. It's going well though. The hard part is the fun part. In retrospect obviously.

Had dinner with Larry David. It was like a two hour episode of Curb. A Joy.

My episode airs on August 14th by the way. Larry said it's great. But then he would wouldn't he? Certainly to my face. Ha ha. Anyway, I'll be the judge of that. No, you'll be the judge of that. I get so confused who the judge is sometimes.


---

Got the artwork today for my character in Family Guy...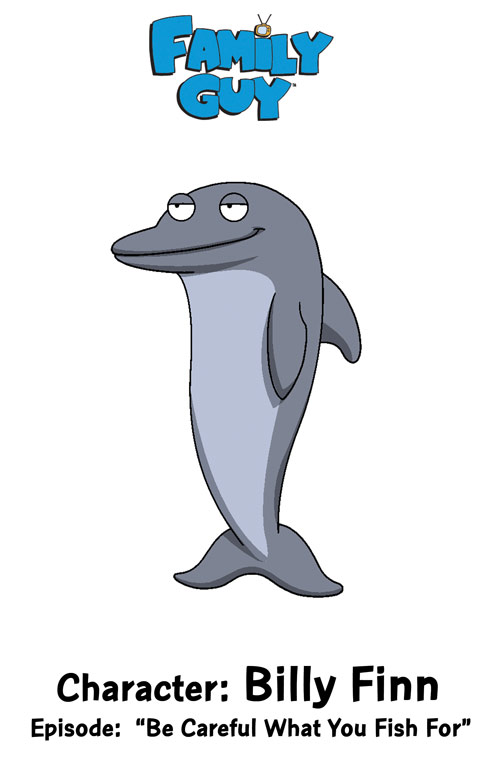 I love it.
I'm pretty sure that's the picture Karl had in his mind when he chose "Swimming with Dolphins" from the bucket list. Ha ha.

Please tweet this to everyone. In particular, I want it to get to the morons who actually believe I bully Warwick or Karl.
I'm sure this will just confirm it to them.
But if they don't get it now, they never will.


---

As you know I've been doing a bit of chat show plugging for Spy Kids, and the Emmys that I'm nominated for and other bits and pieces. [Letterman] | [Today]

But the one thing that everyone asks about is An Idiot Abroad 2. Everyone one from the security guards to the floor managers and producers say it was their favourite show. They love the little Manc twat stateside. I'd love to see him on The View. That's my next project actually. Amazing.

Episode one is finished by the way and it's as good as, if not better than the best episodes of series one. We really hit the ground running and there's so much more scope with this one. You'll be the judge of that.

Bumped into the very funny Jason Bateman today. I of course told him I loved him in Back to the Future. Never gets old that one.

Look at this...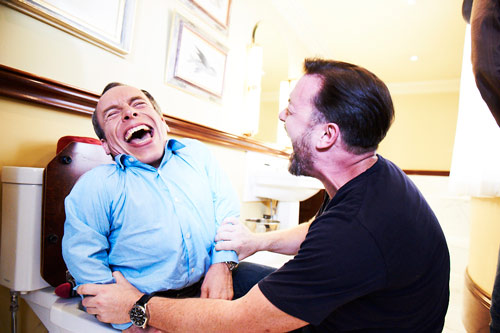 See. It can't be cruel if they enjoy it. You can clearly see Depp's elbow in the right of the picture waiting to help me with my dwarf down a toilet experiment.


---

Just recorded my 19th Letterman. It was great in a sort of "who cares, let's just fuck around and have fun instead of plugging a film" sort of way.

New York is absolutely beautiful at the moment. Very hot, but I never moan about that. Unless say, the air conditioning doesn't work in a posh hotel - then I buy that hotel and have it closed down. But apart from that I'm pretty happy-go-lucky about the heat.

This photo is only weird if you imagine we've adopted him. And even then? What? What's wrong with two men adopting a little guy? Open your minds people.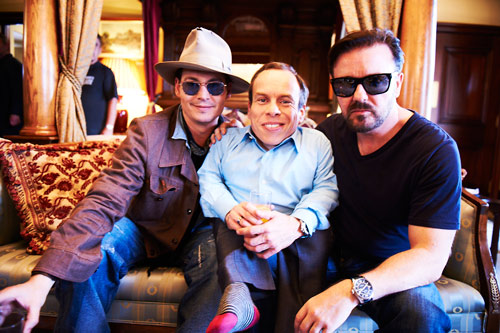 ---

Edited the final audio for The Ricky Gervais Show Season 3. It's tough having to get hours of material down to 23 minutes but it's absolutely necessary for TV obviously. And because animation is so expensive it wouldn't be viable any longer. Or watchable probably. This series ends with words that may go down in history. Think "Frankly my dear I don't give a damn" or "I could've been a contender" and "I think this is the beginning of a beautiful friendship". The very last line of season three is.... "what a bunch of useless cunts". Classic.

This is fantastic. He took on the task without prejudice. You may not agree with everything, but they are damned fine answers nonetheless.

Nice to start a debate isn't it.

This is still on-going too.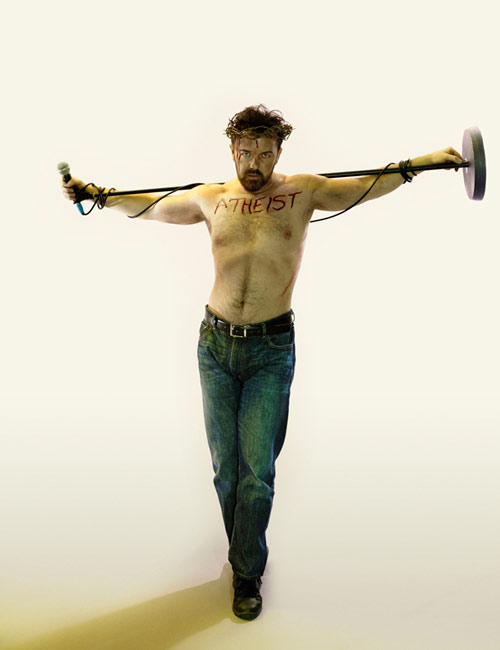 The mad ones are just starting to be outnumbered by the rational ones now. But the maddest ones are so mad that they make up for it. Ha ha.

I'm being interviewed by Richard Dawkins next week for a documentary he's doing. Should be fun. I'll probably talk to him differently to the way I talk to Karl when discussing science and philosophy.

Oh no. I've just had a thought. I'm the Karl in this situation aren't I? What if Dawkins suddenly starts insulting me and ends the conversation with "Oh, play a record". Nightmare.

And now for a bit of subliminal advertising...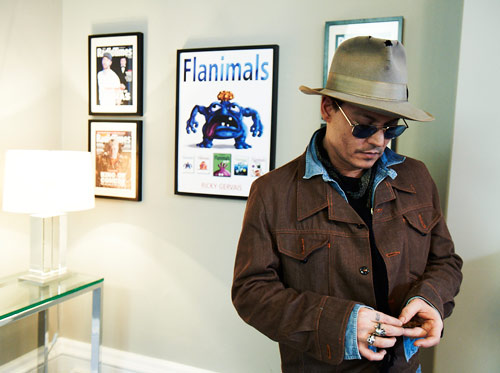 ---
Week one hundred and seventy-eight - July 2011
---

Thought you might like to see the fact sheet they put out for the 10th anniversary of The Office.

It sounds like a good show doesn't it? Maybe you should buy the box set
.

Ha ha.

On a serious note, I'd never seen the Jason Bateman quote before. Amazing. He's wrong of course, Arrested Development is a work of genius, but I was still blown away.



The Office
2001 - 2011



'The Office' started life in 1997 as a sketch Ricky Gervais wrote called 'Seedy Boss'. He named that boss David Brent.
The programme first aired on July 9th 2001 on BBC Two.
'The Office' is the most successful British sitcom of all time.
Due to overseas sales, DVDs and now syndication, 'The Office' has grossed an estimated £370 million worldwide.
It is shown in 170 territories, in 88 countries. It has been remade in 9: USA, France, Canada, Germany, Israel, Chile, Sweden, South Africa and Russia.
It was the first British sitcom to win a Golden Globe. The second was 'Extras'. They are still the only two.
'The Office' has helped make Ricky Britain's most successful comedian, and the only one to appear in Time Magazine's 100 Most Influential People In The World List.
Trivia
The first scene ever written was the one where Brent interviews Karen Roper for the job of PA in episode 5.
The first demo tape of the office was shot in the real office where Ricky used to work.
Many of the people in the background actually worked there.
The demo was shot in one day.
Apart from Ricky And Stephen, only one other actor has appeared in both 'The Office' and 'Extras' - Steve Brodie.
Originally Martin Freeman auditioned for the part of Gareth. Ricky first met Martin when he helped write the series 'Bruiser', which Martin starred in. He met Mackenzie when they worked together on 'The 11 O'clock Show'.
The record number of takes for one scene is 74. It's the one where Brent gives Tim an appraisal.
Here are just some of the nice things newspapers and industry types have said about 'The Office', and as many of the awards we could find propping up unread novels in Ricky's spare room.
Quotes
"Beautifully observed... the freshest and most consistently clever comedy in years"
Independent on Sunday
"It's the best comedy on television..."
New York Times
"The Office is just the greatest programme I have ever seen"
Richard Curtis (Blackadder, Four Weddings and Funeral, Notting Hill)
"As television shows go this thing is just about perfect. You're never gonna get a show closer to perfection than this show The Office."
David Letterman
"... The best show on the air right now."
Moby
"I live and breathe The Office. That show makes Arrested Development look like Full House."
Jason Bateman (Arrested Development)
"... About as humorous as it gets."
Vanity Fair
Awards
BAFTA 2001, 2002, 2003
6 in total
Golden Globes 2003
Outstanding Production - Comedy Series
Actor In A Leading Role - Comedy Series
Peabody Awards 2003
For refreshing writing, understated performance, and unparalleled comic brilliance, The Office receives a Peabody Award.
Banff Television Festival 2003
Best Comedy
British Comedy Awards 2001, 2002, 2003
3 in total
Royal Television Society Awards
3 in total
South Bank Show Awards 2001

GQ Comedian Of The Year 2002

Variety Club Of Great Britain
Individual Comedy Award

TV and Radio Industry Award

Broadcast Award 2003




Anyway, that was then but this is now, as ABC once said.

Isn't it annoying when Johnny Depp comes round and you've got a blocked toilet?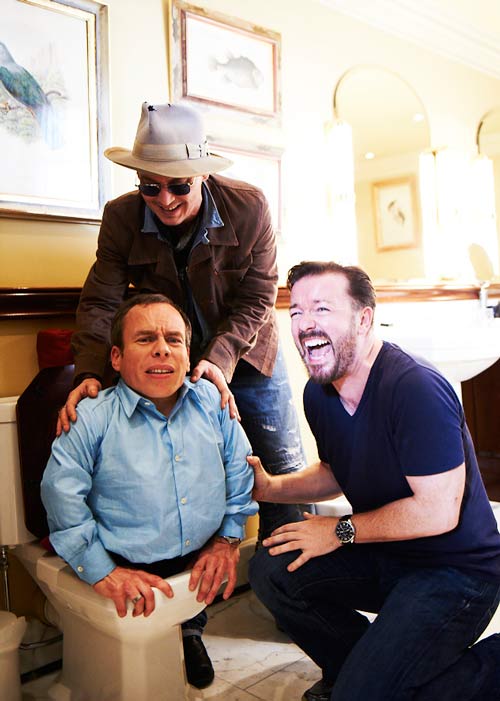 Have a great weekend.


---

Did loads of promo for An Idiot Abroad 2.
We were all pretty knackered, it was boiling under those lights, we talked absolute bollocks for fucking hours, but I honestly can't think of a better way to spend a day.

You have a slightly different Karl to look forward to by the way. He's basically exactly the same as the old Karl but he spews anger much more readily now. I like it.

Had a quick drink with Johnny Depp.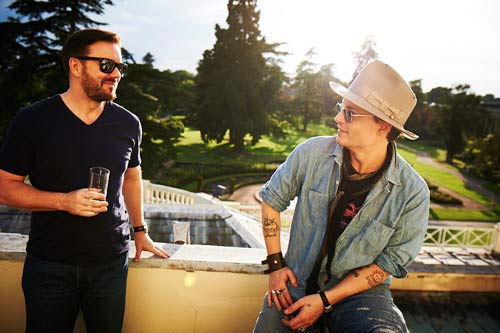 Edited some emergency clips of Life's Too Short for a couple of TV shows; It starts "the campaign" I suppose, but I hope Karl isn't right about people being sick of stuff before it's even aired these days. He's often right remember.

And what with everyone wanting bonus material for "the website" it's crazy. The internet is like everyone emptying their drawers out of a window.

I guess that's what I'm doing now in this blog. Ha ha. If you can't beat 'em join 'em.

Some of the stuff we shot today is mental. They'll never use it, but I'll stick it on this blog. I'll empty my drawer out of a window so to speak. (Sounds rude now. You've ruined it.)

Who looks cooler by the way out of me and Johnny Depp?
I know it's a tough one but you don't need to answer now. Think about it.
(Thanks in advance.)


---

I'm gradually taking over the world.

They found a fat, annoying middle-aged bloke with a beard. That bit was easy.

The difficult part was finding a town in Afghanistan as grim as Slough. Calm down, I'm joking. It's not quite as grim as Slough obviously.


---

"Get in the fucking van..."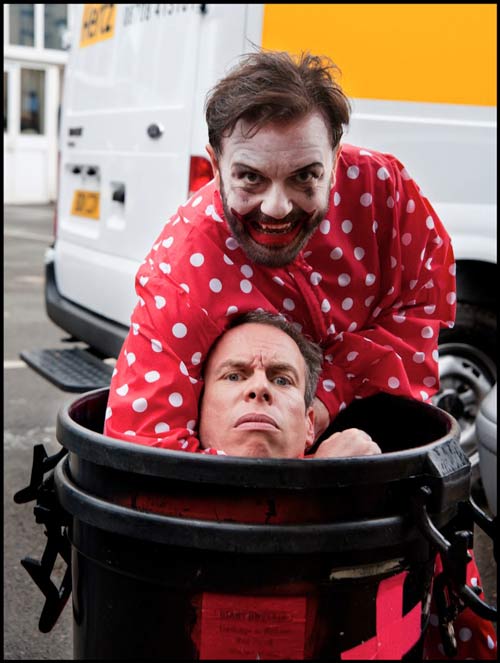 I can explain.

I was getting ready to do a photo shoot for a potential live poster and Warwick was trying out a bin for size. Simple.

The wonderful Screenjunkies.com gave the show a little plug in their round up of my career so far. They also did a little piece on the main Office characters too. Cheers.

I should maybe tell you all about filming with Johnny Depp soon. The truth is I don't know where to start. It was fucking amazing basically. I'll wait till I get the photos back from Boots and do a little scrapbook entry.


---

Did a little blog entry for The Huffington Post.

And dressed a friend up as a frog.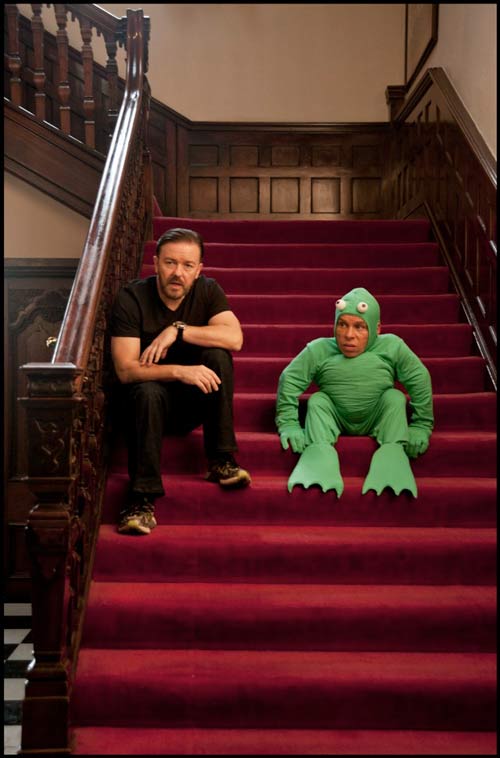 So another good day.

Caption competition...





My entry is... "Oh for fuck's sake. They told me the 'no penis thing' was just the tadpole phase."


---
Week one hundred and seventy-eight - July 2011
---

I've wanted to do this picture for about 20 years.
I sort of did it metaphorically with David Brent, but saved him at the last minute.

Maybe I'll do a calendar like Sir Cliff Richard.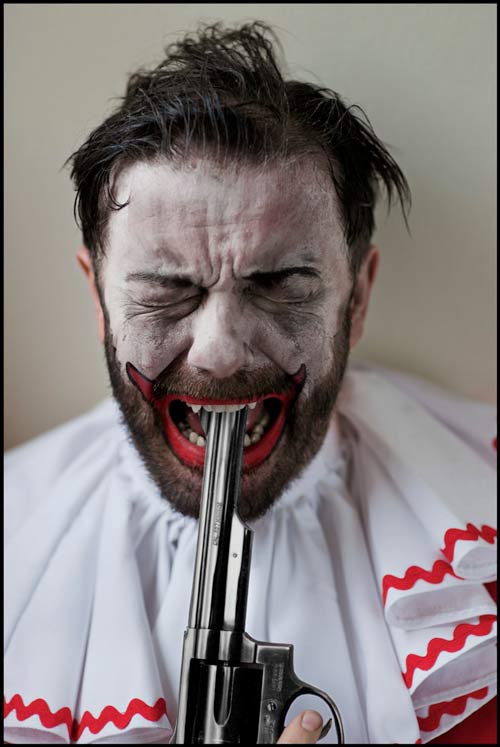 Photo Rich Hardcastle
---

So just about every news source picked up on the new show. Which is great. Thanks.

But, all I said was it was called 'Afterlife' and is about an atheist who dies and finds himself in heaven.

At least half the publications went with "Ricky Gervais' new Atheist Comedy."

How is a show called 'Afterlife', about an atheist who dies and goes to heaven, an "Atheist Comedy"?

He goes to heaven. Therefore in this work of fiction heaven must exist. So does God by the way. Turns out the atheist was wrong.

How is that an atheist comedy?

Maybe they're once again confusing me with my characters. I played a dentist in 'Ghost Town' who talked to ghosts. I don't believe in ghosts. But it was a film not a documentary.

I can't win. 'The Invention of Lying' proposed an alternative world where there was no God. That was an atheist comedy too. Seems the existence or non-existence of God in my work has no bearing on whether it's an atheist comedy or not. It just is. Because I wrote it right? That's so weird.

I love 'It's a Wonderful Life'. I'm not threatened by its premise. I don't start shouting, "Religious propaganda!... How dare they assume that heaven and angels exist?" It's a work of fiction. And a great one.

And, because I created 'Afterlife' with Clyde Phillips they're assuming it's also going to be a twisted bloodlusty anti-religious fest - based on his 'Dexter' credentials.

I think he may have created as much comedy as me. We've come up with this show because we think it will be fun, different and entertaining. Not to undermine the moral fabric of America.

Here's what I suggest you do; wait till 'Afterlife' is finished then watch it. Or not. But if you watch it then you're allowed to have an opinion. You can gladly slag it off. You can start a campaign to get it banned. You can hate it. And trust me, it's so much more fun saying you hate something once you've actually seen it.

So, please wait, watch and find out if it's controversial or inflammatory first, yeh?

Anyway, I play God...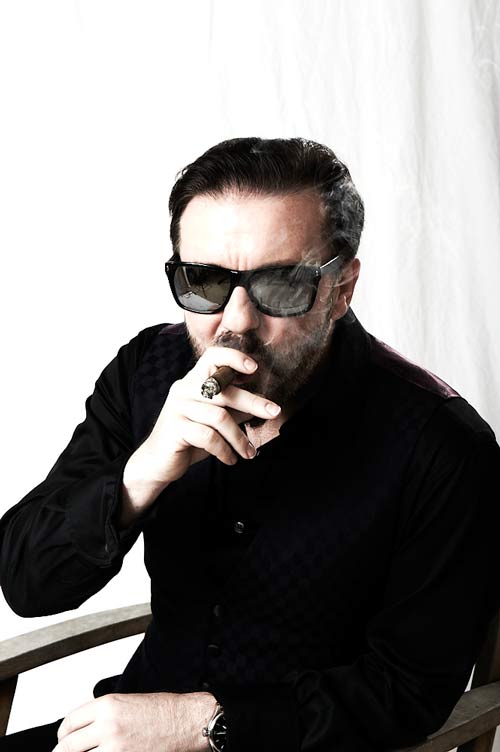 Ha ha. That's true.

But he's a slightly different God to the one you may have seen in Bruce Almighty and other Hollywood films. He's an arrogant, wisecracking son of a bitch, who thinks he's the best thing since sliced bread. (So another stretch for me as an actor then.)

Actually he thinks he's the best thing ever because... well, he is. (He invented sliced bread by the way.) He also loves welcoming atheists to heaven with a smug grin on his face.

He likes atheists deep down though. Or rather he likes good atheists. He admires the fact that they were moral people even though they didn't believe they would ever be rewarded with everlasting life.

At least there's nothing in this blog entry that could be taken out of context.


---

The mighty AV Club continues its insightful and wonderfully in-depth critique of The Office.

Talking of The Office...

Shot an (as you would imagine) excruciating, but very funny cameo with Steve Carell for Life's Too Short.
Without giving away the plot, my big mouth gets me into a lot of trouble. Sound plausible?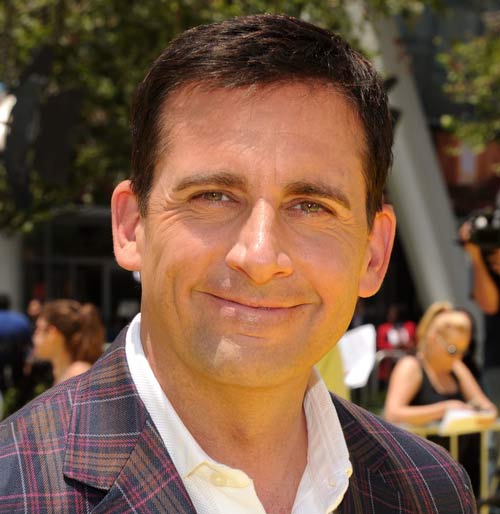 I'd love to see him win the Emmy this year. I'd love Louie to win too though. But most of all, I'd love me to win. (Actually, most of all I'd love Karl to win. But the dozy Manc twonk isn't nominated. Gump. (I think I'll always try to end my blog entries with that word.) Gump.

Maybe next year though. Although then, my money's on Warwick. Gump. (Not Warwick - Karl. Just wanted to end with that word.) Gump.


---

Only 3 days left of principal photography on Life's Too Short.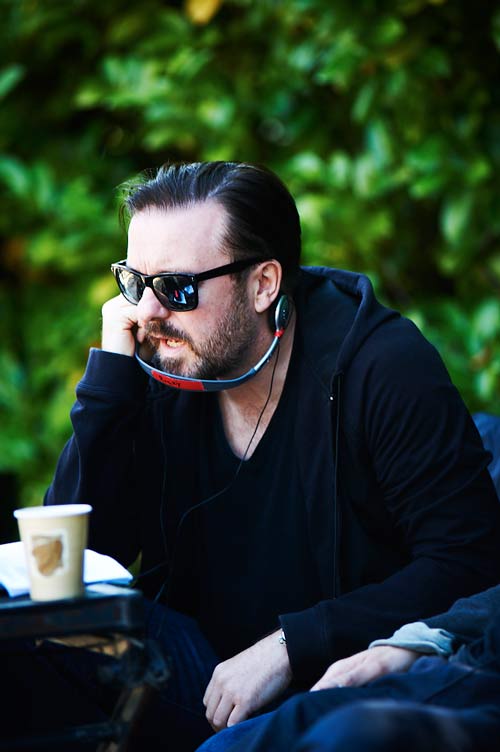 Possibly my favourite shoot ever.

Warwick is a revelation. And such a sport.
If he isn't the comedy sensation of the year I'll be very surprised.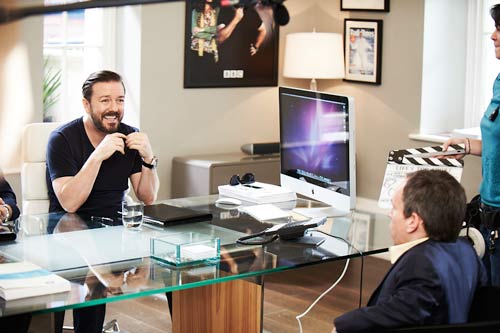 Had dinner with the comedy sensation of last year by the way.

I was showing him how the iPhone has a facility so you can take a picture of yourself and see the image it's taking. i.e. both the lens and image is facing you.

He was looking at himself for ages trying to work out why he could see himself. Was it a video? Fuck me. Even chimps understand the concept of self image, reflection and motion capture.

This is the picture I took of that utter fucking gimpening.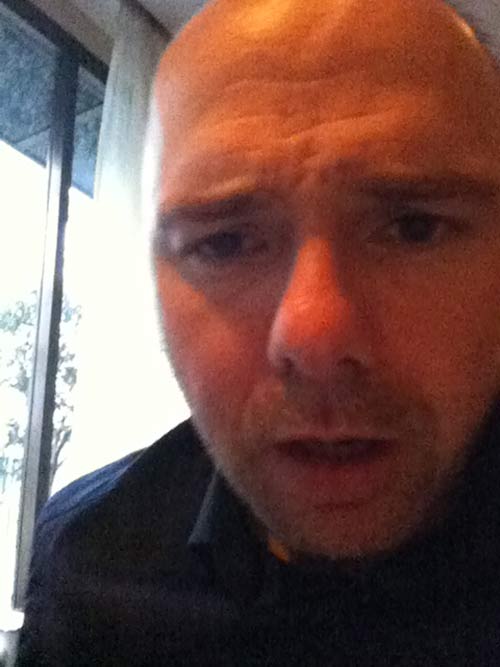 Gump.


---

Still can't believe I'm nominated for an Emmy for The Golden Globes. I love that. Not that it validates what I did any more than me knowing I'd done nothing wrong at the time, but you know. It's fucking hilarious. I'd like to win just for the speech I could do. Ha ha. Won't happen but it's nice to be nominated.

It's a bigger deal than I thought to get nominated as host

I always have a good time at The Emmys and it's an excuse to see loads of friends I only see a couple of times a year.

Here I am in 2008, in 2009, and last year.

As you can see I clearly warned them.

You may have read about my little collaboration.

Dexter has consistently been my favourite show of the last 5 years. When I first saw Clyde's name all over it I knew I had to work with him one day. I found out he was also a fan of my work and we became friends on email and through short conversations on various red carpets. We finally started working on an idea this year and we really hit it off. I am so exited about this project.

Called Karl today. He asked me to stop sending him ugly pictures of myself. I said 'why?' He said something about it costing him a fucking fortune to receive a photo of me looking like a mong.

Louis CK had a similar response.

I sent him these pics on email.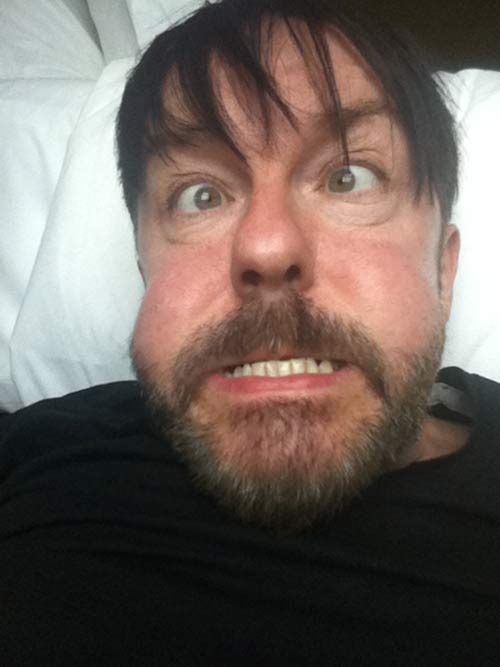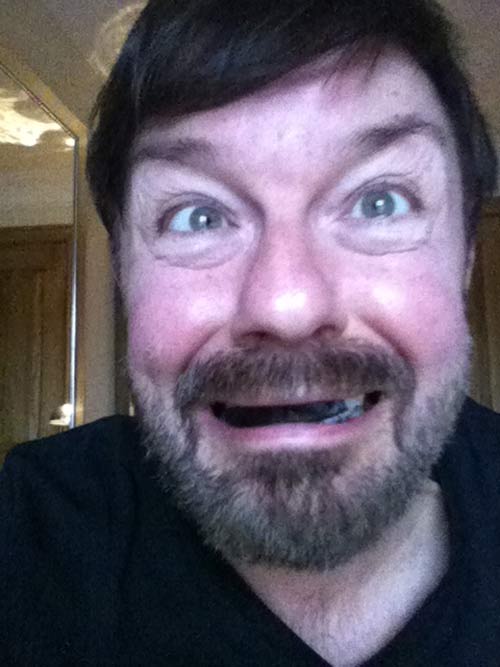 But he didn't reply.

So I sent him this;

On Jul 16, 2011, at 1:58 PM, Ricky Gervais wrote:

1. Why don't you return my emails you fucking rude cunt.
2. Are you going to the Emmys as it would be nice to see you you fucking rude cunt
3. cunt
4. I gave you everything
5. see 3.


This was his ungrateful reply;

Ricky. I don't return your emails because I hate the fucking disgusting pictures you take of yourself. It's like making me watch you jack off into your own face.
I will certainly be at the emmys since I was nominated for 4 fucking awards. I look forward to seeing you there.
Cunt to you as well.
You gave me nothing.


I sent back;

Thank you. That's more like it.


---
Ricky's Blog continues with Week One Hundred and Seventy-Seven here ...
---









'Special Correspondents' Cast Revealed
Get the low-down on the principal cast for Ricky's new movie along with a group photo for you to match the host of household names and well-known faces.
Read more here.





'Special Correspondents' First Cast Photo
The Wrap has an exclusive look at the cast of Ricky's new movie.
Read more here.





Brent Movie to be released in 2016
'Life On The Road' is set for a summer 2016 release.
Read more here.





Brent Movie gets funding
The lights are green for The Office's David Brent to return in 'Life On The Road'
Read more here.





Netflix buy 'Special Correspondents'
In a characteristically maverick move by Netflix, Ricky's next movie 'Special Correspondents' will make its debut on the game-changing streaming entertainment service.
Read more here.





News Vlog
Hear about Ricky's latest goings on - straight from the man himself.
Watch here on YouTube.





Ricky talks fame, philosophers and following a career in TV.
Details magazine has a Q and A with Ricky
Read here.





9 Questions with Ricky
Backstage chats with Ricky as 'Derek' is nominated for a Golden Globe.
Read here.





Vote For Derek
Wherever you are in the world you can vote for Derek in the National TV Awards
Vote here.





The Improbable Success of Ricky Gervais
A marketeer's perspective on Ricky in the limelight.
Read here.





Ricky on his 21st Emmy Nomination
The Hollywood Reporter quizzes Ricky on his career to date.
Read here.





Letterman No.26
See a bit of Ricky's 26th appearance on the Late Show .
Watch here.





TV Choice Awards
Derek has been nominated for a TV Choice Award.
Vote here.







Life Lessons
Buzzfeed collates a selection of adages drawn from Derek
Read here.





On The Daily Show...
Ricky tells Jon Stewart that he's still a fat guy at heart.
Watch here.





On The Tonight Show...
Ricky Plays "Word Sneak" with Jimmy Fallon.
Watch here.





Ricky Talks To Q Magazine
He submits to a probing via Q's regular 'cash for questions' feature which relies on its readers to come up with the questions. And great questions they are too.
Read here.





Ricky's Nine Commandments
ShortList magazine asks Ricky for his tenets of kindness.
Read here.





The Office remembered
The Guardian TV blog reassesses The Office and its impact...
Read here.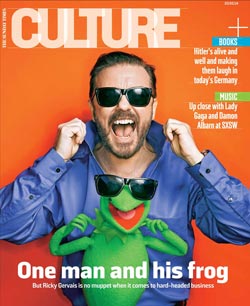 Read the Sunday Times interview.



Vanity Fair Interview
Ricky gets quizzed about Muppets Most Wanted and more.
Read here.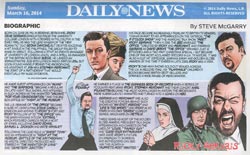 Read the Daily News's one page biography.



Brand New Clip
Here's a new clip from Ricky's new movie, Muppets Most Wanted.
Watch here.





Ricky on Jimmy Kimmel Ricky chats about his new Muppets movie on ABC's Jimmy Kimmel Live.
Watch part 1, part 2 and part 3.





WSJ talks Muppets, Celebs and more Ricky meets the Wall Street Journal for a chat heralding his new movie, Muppets Most Wanted. Read here



Ricky starts filming Night At The Museum 3 Read more here at Mail Online




Ricky on the Radio
Watch Ricky guest on the Opie and Anthony Show.
Here on YouTube.





On-Set Interiew
Den of Geek chat with Ricky on the set of Muppets Most Wanted...
Read here.





New Trailer
Ricky's latest trailer for the new Muppets Movie takes the piss out of Twitter gorps.
Watch here.





Ricky chats about Derek with Charlie Rose
With Derek coming to Netflix UK on Jan 30th, Ricky talks to Bloomburg TV about his latest creation.
Watch here.





Ricky meets David Blaine
The well-known illusionist shows Ricky another use for a skewer.
Watch here.





Person of the Year
PETA, the animal charity, has named Ricky as its person of the year 2013.
Read here.





£1,000 Cub Cake
Ricky buys bear-shaped treat at a charity auction.
Read here.





Ricky In Time
Ricky writes about success and styles himself a "cocky little nobody".
Read here.





Derek reviewed
Ricky hailed as the 'Tarantino of nice'
Read here.




David Blaine 'Real or Magic' Stumps Ricky Gervais with Amazing Knife



39 Feline Gervaisalikes
A number of cats that look like Ricky
See here.



New International Trailer for 'Muppets Most Wanted'


Top 50 News Pics
Ricky & Barney the dog makes the list of the 50 most powerful news images of 2013.
Read here at ITV.com.





Ricky Talks Charity
The donations website Just Giving talks to Ricky about charity.
Read here.





Ricky on Derek in Sydney
Ricky chats to the Sydney Morning Herald.
Read here.





Vote For Derek
The National Television Awards have opened voting for the January 2014 awards.
You can give your support to Derek in the poll here.





Ricky Chats With Charlie
Ricky sits down with the great Charlie Rose...
Watch here.





Writing Credit
Ricky tells Fast Company about the biggest single influence on his writing...
Watch here.





Letterman No. 25
Ricky's made his 25th appearance on The Late Show with David Letterman
Watch here.





Ricky's Times Talk
An audience with Ricky in New York hosted by the New York Times.
Watch in full here.





Derek In Review
Entertainment Weekly calls #Derek "marked by grace."
Read the full article here .





Ricky On The Red Carpet
Ricky talks to Brad Blanks on the red carpet of The New York Premiere of Derek.
Watch here on YouTube.





Ricky's Reddit "Ask Me Anything"
Ricky answers readers' questions.
Read the results here at reddit.





Derek Hits The Airwaves
Listen to Ricky's interview on Black Sky Radio.
Here on YouTube.





Hollywood Reporter's Video Report
Watch the footage from the Hollywood Reporter's interview with Ricky.
Here on YouTube.





Hollywood Reports on Derek
God-hating, Dinners with Seinfeld and Derek on Netflix...
Read here.





Slough Makes International Impression
David Brent's ode to his favourite town has been covered by Toro Y Moi...
Listen here.
And refresh your memory of the seminal original here





Derek Is Big Down Under
The Sydney Morning Herald looks at Derek, which has just started showing in Australia...
Read here.





Brent on Jimmy Fallon
David Brent pops up on Late Night with Jimmy Fallon.
Watch here.





International Acclaim For The Office
The Office takes 14th position in US magazine Entertainment Weekly's All-Time Top 100 TV Shows - by far the highest raked UK show on the list.
See the full list here.





Opie & Anthony
Ricky's favourite appearance on The Opie & Anthony Show in New York. It's a shame Opie & Anthony couldn't be there.
Listen here.





Ricky in GQ
Ricky gets probed on the return of Brent amongst other things...
Read here and Watch here.





Robot monkey butlers
Ricky looks into the future and has some surprising predictions...
Read here.





Ricky's Muppets role
The producer of the new Muppet movie, The Muppets...Again!, says Ricky's role was tailor-made for him.
Read here.





Ricky explains the return of Brent
Shortlist has a piece by Ricky explaining why the time was right to revisit The Office.
Read here.





New and Exclusive
Ricky has made a deal with YouTube to bring new, exclusive content to his own YouTube Channel.
Read about the deal here and subscribe to Ricky's channel here.