Written & directed by and starring Ricky Gervais and Stephen Merchant.

The final episode of Extras aired on 27 December in the UK and was seen by 5.3 million people, winning its timeslot by a considerable margin with 3.9 million viewers for ITV1's repeat of film The Queen and a further 2.8 million seeing Mrs Henderson Presents on BBC Two.

The 80 minute special had premiered in the US 11 days earlier on HBO.

In the final episode of Extras, Ricky, who played a frustrated sitcom star, appeared beside guest stars such as George Michael and Gordon Ramsay. The producer of Extras, Charlie Hanson, said he was "very pleased" with the ratings for the final edition of the show.

It had run for two series before this Christmas special, with previous cameo appearances from David Bowie, Kate Winslet and a naked Les Dennis.

Press and reviews for Extras in the UK
Press and reviews for Extras in the US





Extras - 12 episodes over 2 series and a feature-length special...


Series 1 - Andy Millman is a struggling actor with ambition and a script. Darren Lamb is Andy's useless agent and Maggie is his air-headed best friend. Andy dreams of fame and critical acclaim and has his hopes pinned on a sitcom script he's written.

Series 2 - Andy's sitcom has been commisioned by the BBC and things are looking up for Andy. However, his dreams of becoming a respected auteur are being erroded on all fronts by Darren's incompetence and the BBC's quest for ratings.

The Christmas Special - Andy has achieved a degree of fame and fortune but acclaim and respect are proving elusive. Maggie, meanwhile, is still a struggling extra and finds Andy's growing discontentment hard to fathom.





---

Video Clips - A selection of Extras-related videos...



Trailer for the Extras Christmas Special



On the first day of filming...


and an expletive-ridden video announcing plans for the Xmas Special...




A feature of Extras is the appearance of guest stars - usually playing twisted versions of themselves...

series 1
episode 1 - Ross Kemp & Vinnie Jones
episode 2 - Ben Stiller
episode 3 - Kate Winslet
episode 4 - Les Dennis
episode 5 - Samuel L Jackson
episode 6 - Patrick Stewart
series 2
episode 1 - Orlando Bloom
episode 2 - David Bowie
episode 3 - Daniel Radcliffe & Diana Rigg
episode 4 - Chris Martin & Ronnie Corbett with Richard Briers, Stephen Fry and Moira Stewart
episode 5 - Ian McKellen
episode 6 - Robert Lindsay & Jonathan Ross with special guest star Robert De Niro
The Christmas Special
with Clive Owen, George Michael, David Tennent and Gordon Ramsay









The Extras Xmas Special at the Emmys.


The Extras Special was nominated for 5 Emmys.
Ricky not only handed out an award but he got the Emmy he won the year before
Here's the footage...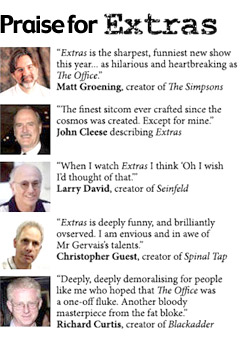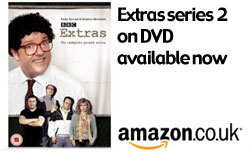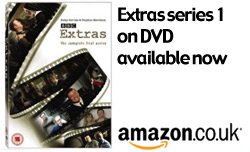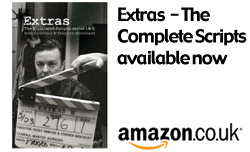 Extras elsewhere
links...
Extras on the BBC web site
Extras at HBO's web site
Extras News Archive...
The Extras Xmas Special in America.


Promotion for the HBO premiere has hit Sunset Boulevard in LA in a big way;
(click pics to open in a new window)


Extras Postscript
The Observer have the last word on series 2 of Extras
read more here
CONTAINS SPOILERS so if you haven't seen the series yet you probably oughtn't to read this.
Another award for Extras
Broadcast - the UK trade mag for the TV industry has given Extras the award for Best Comedy Series at this year's ceremony.
HBO's Ricky and Stephen Interview
There's an alternate interview with Ricky and Stephen up on YouTube - filmed by HBO in the lead up to the Extras Special at Christmas.
See it here
A thumbs-up for subtle comedies
US student mag 'The Lantern' presents its theory about how subtle comdies like The Office will gradually take hold of American TV viewers.
read the article here
Floral tribute
Ricky's to be awarded an honorary Golden Rose at this year's Rose D'Or TV Festival in Lucerne. This may not be the only award though, as Extras is nominated in the Best Sitcom category, going head-to-head with the US remake of The Office.
more here

Extras wins in Canada
Extras has won the award for best comedy series at this year's BANFF world television festival in Canada

Extras Xmas Special
The feature-length Extras Special aired on BBC1 at 9pm on Thursday 27 December (and 16 December on HBO in America)
Get a taste of what it's like to be an extra with a new video podcast as Karl Pilkington spends a day on set...
Subscribe for free then download from iTunes.
Read about the Extras Special at Telegraph.co.uk

Extras Wins Media Access Award
Ricky has been honoured by Governor Arnold Schwarzenegger with the 2007 Media Access Awards.
The awards thanks Ricky for his "fantastic work to ensure that people with disabilities are well-represented in the media and entertainment industries."
more here...