BROADCAST - AUGUST 2011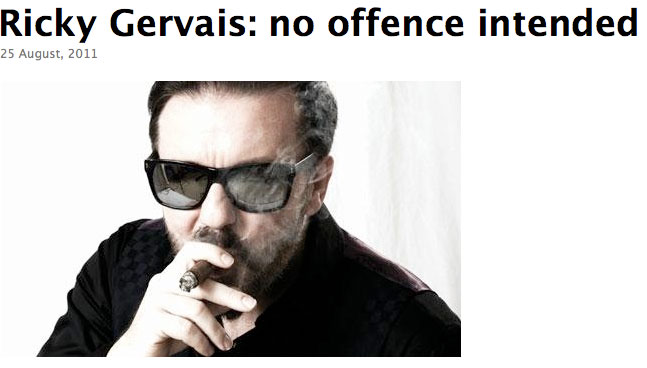 For his new series Life's Too Short, Ricky Gervais returns to BBC2 and the mockumentary style that made him a star - but this time, he's mostly behind the camera, he tells Paul Whitelaw.
In case you hadn't noticed, Ricky Gervais is now so internationally successful that the commissioning process through which mere mortals must scramble is, for him, little more than a fleeting phone call.
With tongue only slightly in cheek, he claims that thanks to The Office - which celebrated its tenth anniversary this year - he got the green light on Extras and his latest six-part sitcom Life's Too Short simply by informing the BBC that he had a new idea. American co-producer HBO, which backed Extras and animated series The Ricky Gervais Show, has proved similarly trusting.
"I can get anything commissioned now - until it's a terrible failure," he says when we meet in a West End edit suite.
He's here to apply the finishing touches not only to Life's Too Short, but also the sequel to Sky 1 hit An Idiot Abroad, starring his protege Karl Pilkington, who also produces alongside Gervais and long-time collaborator Stephen Merchant for the trio's recently formed indie, RiSK.
Getting his own way
"We've been incredibly lucky since The Office," Gervais says. "We've got our own way from day one. But then if something works, they leave you alone. On this, I think we had one meeting with [BBC in-house comedy head] Mark Freeland, then we got the budget and did the pilot just with the BBC, which we then showed to HBO."
Freeland receives an executive producer credit on Life's Too Short, which is produced by Charlie Hanson, Gervais' collaborator on both Extras and the movie Cemetery Junction. Once again, Gervais wrote, directed and executive produced with Merchant for Backlash, Gervais' other indie, set up to make projects they write as a pair.
Unlike their previous television projects, however, they have only brief on-screen cameos in a vehicle tailored for Warwick Davis, the 3 ft 6 inch star of movies from Star Wars to Willow and Harry Potter. Following an appearance in Extras, Warwick got back in touch with Gervais with an idea for a show about him.
"Warwick wanted to take the mickey out of his life, and he came up with the title. But all the words, all the ideas, every piece of dialogue is mine and Steve's."
A fictionalised account of the everyday travails of a showbiz dwarf, it marks Gervais' return to BBC2 after launching himself in the US with a string of movies and cameos in The Simpsons, Family Guy - as a dolphin, no less - and Curb Your Enthusiasm. He continues to straddle the Atlantic, however, and has teamed up with former Dexter showrunner Clyde Phillips to develop sitcom Afterlife, about an atheist who dies and finds himself in heaven. Naturally, Gervais plays God.
Life's Too Short also signals a return to the faux documentary style of The Office. But it started life in a very different form.
"We did a pilot last year, although they didn't ask us to - nor for Extras - but we wanted to anyway," Gervais recalls. "I'm glad we did, because we completely changed our mind. It wasn't a fake documentary at first, it was more like Extras. And it didn't cut it because it didn't really make sense. If you're doing a media backdrop, it seems a shame not to give it a raison d'etre, so as soon as we said: 'Oh he's doing a fake documentary because he's got a messy divorce, a huge tax bill, his career is on the slide,' everything makes sense. Just like The Office wouldn't have made sense if it wasn't a fake documentary; otherwise, why would David Brent be behaving like that?"
In returning to the mockumentary format, Gervais has rekindled his passion for quasi-realist comedy. "Because realism is addictive to me, it's tantalising, and I think the payback is tenfold if something's real. It resonates more. Comedy is all about empathy and recognition - certainly observational comedy is - and the more you can aid that, the better off you'll be.
"But it's different to The Office in that it's about real media rather than ordinary people trying to get their 15 minutes. Whereas The Office reflected those quaint documentaries from the '90s about ordinary people doing ordinary jobs, Life's Too Short reflects the modern documentary where B-, C-, D- and E-list celebrities live their lives like an open wound for another 15 minutes of fame."
The single-camera sitcom portrays Davis - for whom Gervais has nothing but glowing praise - as "a little Napoleon, a little fascist who never blames himself, who just wants everything for his own ends. He's one of those people who never sees it as his fault."
Inevitably, given Gervais and Merchant's propensity for so-called cringe humour, concerns have been raised that Life's Too Short will be little more than six episodes of Davis being mocked for his diminutive stature.
"It's nothing to do with his height," Gervais retorts. "It's to do with his small-man complex. I think people are expecting every joke at his expense will be to do with him being short. But it's not; it's to do with him being conceited, arrogant, having a chip on his shoulder, being manipulative and ripping off other little people. Just the opposite to Warwick in real life."
Causing offence
Offered this platform, he's determined to make himself clear. "I often get asked: 'Do you think people will find it offensive?' And I say: 'Why have you asked that? Because he's a dwarf? In which case, that's an offensive question. It's condescending.' And two: 'Are you asking that because you're buying into the myth that I'm a shock comedian?' Which is totally untrue. I do shock some people, but that's their problem. I never go out of my way to offend for the sake of it - that's easy, boring, churlish, and often not funny."
But he admits he worries about what he says. "I think: 'Could I tell this joke if that person was in the audience? Could I face them in the Groucho?' And the answer always has to be: 'Yes.' Am I doing a joke about things people have a choice over, or is it something they have no choice over? If it's the latter then that joke's gone.
"But some people just don't get it. They think The Office was offensive because David Brent was sometimes a bit racist. But that's ridiculous - he's the fool. There was an article complaining about the homophobia in Cemetery Junction, but it was set in 1973. I was documenting something from that time. So I sent them a letter saying I'd asked Steven Spielberg to take out the anti-semitism in Schindler's List."
As with Extras, the premise of Life's Too Short allows for celebrity cameos, from the likes of previous co-stars Les Dennis and Shaun 'Barry' Williamson to Hollywood A-listers Johnny Depp and The Office US star Steve Carell.
But does Gervais worry that this continual plundering of his bulging address book threatens to overshadow the essence of his work?
"With Extras, people got the wrong end of the stick a little bit, which was partly our fault," he admits. "But partly because it's what the press latches on to. They're not going to write about five great unknown actors in this upcoming episode of something you don't know about; they're going to say: 'Sam Jackson is in a British sitcom.' But it's swings and roundabouts. That made people tune in, but you've still got to deliver.
"I think by the end, people realised that Extras was actually about some normal people thrown together, rather like The Office. It was more about friendship than acting. And we never just relied on the guest stars being who they were - that wasn't Kate Winslet, that was a constructed character, someone called Kate Winslet.
"It wasn't like a Comic Relief sketch where you go: 'Look who we've got doing these things.' These people had to consider this as part of their career, part of their oeuvre. We placed it as like Morecambe And Wise with Andre Previn or Glenda Jackson, dignified people being undermined by fools."
Despite his self-styled reputation as an on-set joker and time-waster, Gervais claims that he and Merchant presided over their slickest shoot yet with Life's Too Short.
"I had such a great time, probably one of the best filming experiences. It was so easy. Everyone went home at 3pm. And it's fun being predominantly behind the camera. I enjoyed Cemetery Junction and Life's Too Short in many ways more than The Office and Extras, because it's a nightmare doing it and then running back and seeing what you've done, as opposed to watching it and going: 'That's the one.' It takes longer when I'm in it."
But you still enjoy performing?
"I love acting, or rather I love acting in things where I know what I'm doing, that I've written, or if I'm the best person for the job. Most of my other acting, apart from one or two jobs that I couldn't resist, I don't count as my oeuvre. If someone said: 'What do you count as part of your career?' I'd say The Office, Extras, stand-up, a couple of films, Life's Too Short. That's it."
Ricky Gervais will be in conversation with Richard Bacon at the Edinburgh International Television Festival at 4:45pm on Friday 26 August