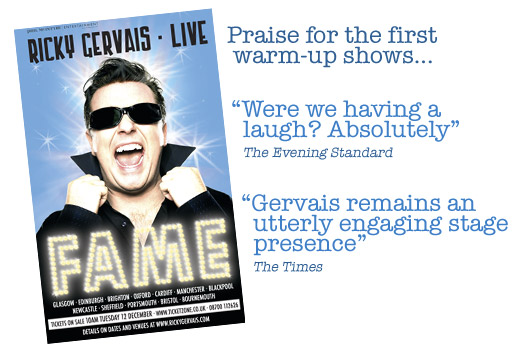 RICKY GERVAIS LIVE ON TOUR WITH HIS BRAND NEW SHOW - FAME

Ricky Gervais, Hollywood's "Hottest Brit" and co creator and co writer of the two multi award winning shows The Office and Extras, is about to embark on a national UK tour, with his third live show Fame.

Despite its glamourous title it is probably the purest stand-up of all three. More anecdotal and autobiographical than before it allows Ricky to meander and deconstruct everyday life. Well, everyday life for someone who is famous in nearly a hundred countries and hangs out with David Bowie and Ben Stiller.

TOUR DATES AND VENUES WILL BE HERE SHORTLY...



January 2007





/** * 250 pixel wide table containing login/logout etc. User has already logged in, so display relavent links, including * a link to the admin center if the user is an administrator. */ $toptagline = "