Ricky has started work on his fourth live stand up tour - tentatively titled 'SCIENCE'.

No details about dates and venues are available yet, but this is where you'll find them as they emerge later on.

In the meantime, keep reading the blog to see how things are coming along and maybe hear about low-key appearances as Ricky tries out his new material.


---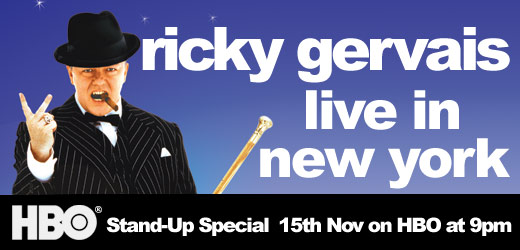 RICKY GERVAIS LIVE - FAME

Ricky Gervais' third live show, Fame, is the fastest selling comedy tour in British history. With Ricky playing live to nearly half a million people over the course of 2007 including sell-out shows in New York, the success of Fame eclipses even his previous two stand-up shows, Politics and Animals.



Despite its glamourous title it is probably the purest stand-up of all three. More anecdotal and autobiographical than before it allows Ricky to meander and deconstruct everyday life. Well, everyday life for someone who is famous in nearly a hundred countries and hangs out with David Bowie and Ben Stiller.



Starting in January 2007 and ending in October 2007 with 23 sell-out nights at London's Hammersmith Apollo plus another three at the Royal Albert Hall, Ricky has toured the length and breadth of Britain to huge critical acclaim.

PRAISE FOR 'FAME'...

Gervais proves he's still king of laughs at Castle
The Scotsman
The King of Comedy hangs on to his throne...
The Independent
Ricky Gervais proves doubters wrong
The Daily Telegraph
Razor Sharp Ricky Back On Target
The Evening Standard


'FAME' ON DVD...

FAME is now available on DVD. Filmed live at the Hammersmith Apollo, the DVD includes the special DVD extras 'Living WIth Ricky II' (the contiunued breaking of Robin Ince) and 'Fame - I'm Gonna Live Forever' (a film by Karl Pilkington about Howard, a man who claims to have discovered the secret of immortality). Plus an incy wincy bit of Robin Ince, Ricky's support act.
You can order the DVD here





/** * 250 pixel wide table containing login/logout etc. User has already logged in, so display relavent links, including * a link to the admin center if the user is an administrator. */ $toptagline = "