Ghost Town is out now on video in the UK the US








---





Here are two TV spots running in America. Ghost Town is now on general release in the US









US Press Quotes...


---

Ricky Gervais is unfailingly brilliant!
NY DAILY NEWS

'Ghost Town' is proof positive that Ricky Gervais is a movie star
Us WEEKLY

Clever, heartfelt and funny. Ricky Gervais is simply wonderful.
ENTERTAINMENT TONIGHT

Ricky Gervais is superb and carries the film with authenticity and deadpan comic timing.
DARK HORIZONS

Sensational performances by Ricky Gervais and Tea Leoni.
VARIETY

Funny. A big-hearted comedy. Gervais's comedy is hilarious.
NY POST

Destined to be one of the biggest comedy hits of the fall season.
HOLLYWOOD REPORTER

Finally, a smart adult comedy. A comic Tour de Force for Ricky Gervais.
WESTWOOD ONE

Zesty, twisted fun. Ricky Gervais is a comic hero.
ROLLING STONE

Ricky Gervais is among the funniest men in film.
NEWSDAY

Witty and intelligent. Ricky Gervais is undeniably charming.
USA TODAY

Ghost Town is a hilarious and affecting comedy.
WASHINGTON POST

Ghost Town is enchanting.
CHICAGO SUNDAY TIMES

A sassy, snappy, sharp screwball comedy.
NY TIMES

A hilarious romantic comedy.
TIME




The Official Ghost Town web site has been updated. See the first trailer, video clips and loads more.

The poster for Ghost Town has been released - you can see it here.



INTERNATIONAL RELEASE DATES CONFIRMED:
UK RELEASE DATE 24 OCTOBER - US RELEASE DATE 19 SEPTEMBER 2008
Spain - Oct 3, Sweden - Oct 3, Belgium - Oct 8, France - Oct 8, Mexico - Oct 10, Australia - Oct 23, Netherlands - Oct 23, Germany - Nov 13, Denmark - Nov 28, Finland - Nov 28, Russia - Dec 11

In Ghost Town, Ricky plays misanthropic Bertram Pincus, who dies temporarily whilst under the knife.

His thump with mortality yields a phantasmic if not fantastic consequence; Pincus gains the ability to perceive the ghostly remains of the deceased. He is not happy about this as they are apt to bother him. One in particular needs Pincus's to help break up the impending nuptials of his widow and her no-good paramour.


---
Read about Ghost Town at IMDB

---

Three new official production photos have been released...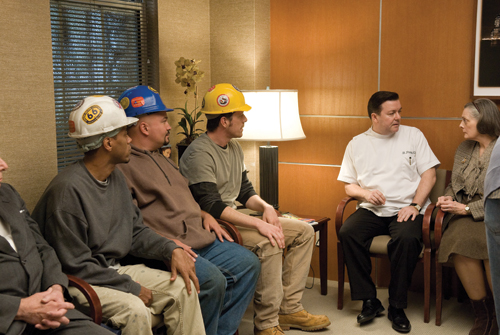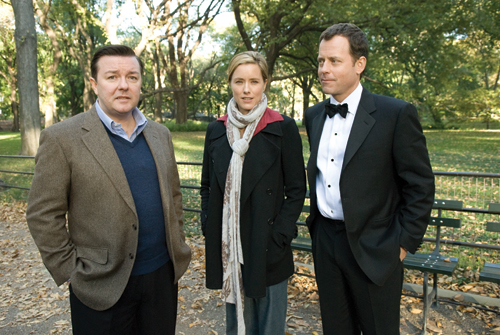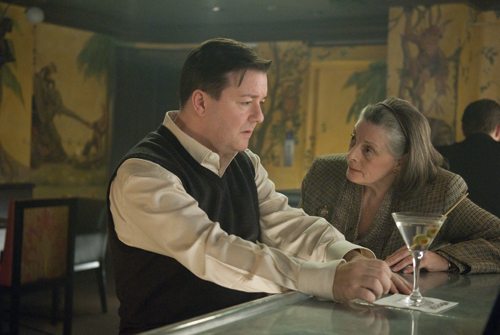 ---

Some new photos have surfaced in the net here - scanned from a movie magazine.


---

Here is the latest of two official production photos so far...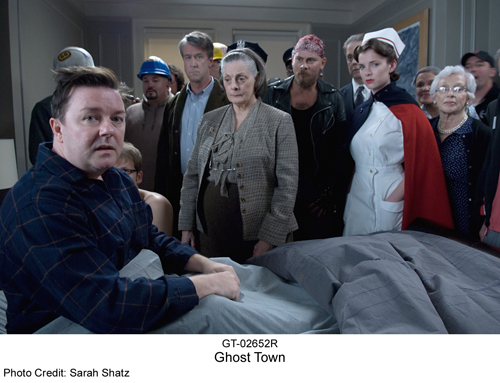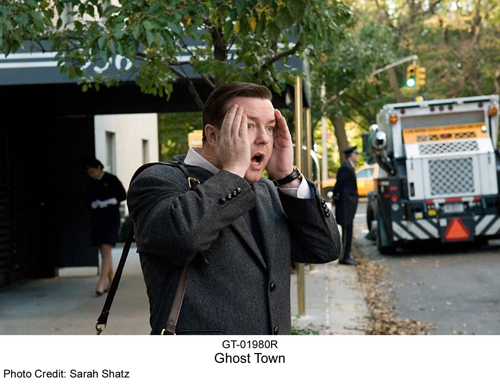 Here's a set report from BBC's Newsnight...








/** * 250 pixel wide table containing login/logout etc. User has already logged in, so display relavent links, including * a link to the admin center if the user is an administrator. */ $toptagline = "