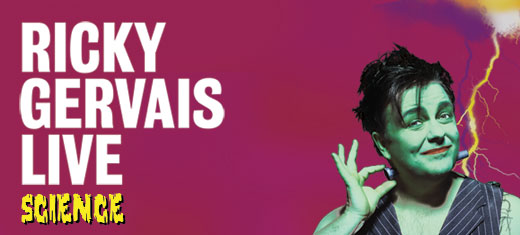 Ricky has announced NEW LONDON DATES for his fourth live stand up show - SCIENCE.
September 6th to the 11th 2010 at the Hammersmith Apollo - Tickets on sale April 16 at 9am
Also, NEW DATES have been announced in BRISTOL and BOURNEMOUTH - TICKETS ON SALE FRIDAY 16 APRIL, and also for BIRMINGHAM and BRIGHTON - TICKETS ON SALE MONDAY 19 APRIL

---
TO BUY TICKETS FOR THE HAMMERSMITH APOLLO IN LONDON - SEPT 6-11 2010
On sale now

---

Hammersmith Apollo Box Office
08448 44 47 48

---

Ticketmaster
0844 277 4321
ticketmaster.co.uk

---

Ticketzone
0844 875 875 8
ticketzone.co.uk

---

SEE tickets
0871 220 0260
seetickets.com

---
TO BUY TICKETS FOR BOURNEMOUTH BIC - JULY 26 & 27 2010
On sale from Monday 19 April 2010

---

Bournemouth BIC Box Office
0844 576 3000
BIC BOX OFFICE WEB SITE

---
TO BUY TICKETS FOR BIRMINGHAM NIA - AUGUST 10 & 11 2010
On sale now

---

Birmingham NIA Box Office
0871 945 6000
NIA BOX OFFICE WEB SITE

---




New dates for 'Science' in 2010 -
Cardiff CIA (19 and 20 April)
and
Manchester Apollo (13 and 14 April).
Tickets on sale Friday 29th January.
---






ALSO FOR 2010 - Ricky will be performing a new remix of his past UK
tours entitled Out Of England 2. May 12 & 13 in New York's Madsion Sq Gdn
and May 15 & 16 at the Nokia Theatre in L.A.
Tickets for these US dates go on sale January 22nd at 10am


TO BUY TICKETS FOR THE THEATER AT MADISON SQUARE GARDEN IN NEW YORK:

---

MSG Box Office
theateratmsg.com

---




Check back for regular updates.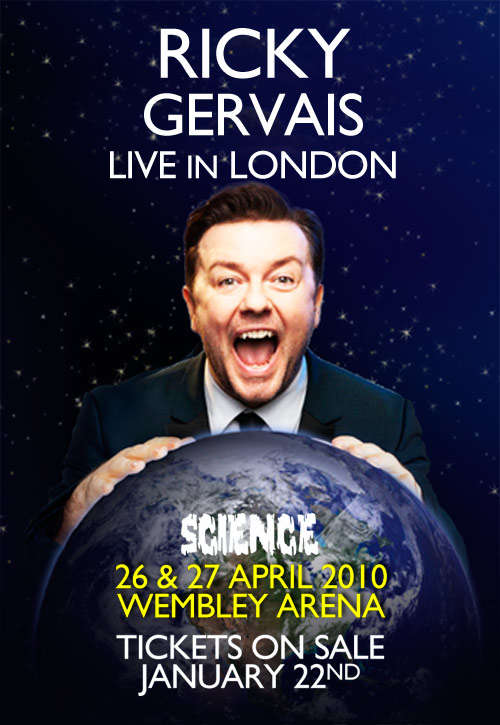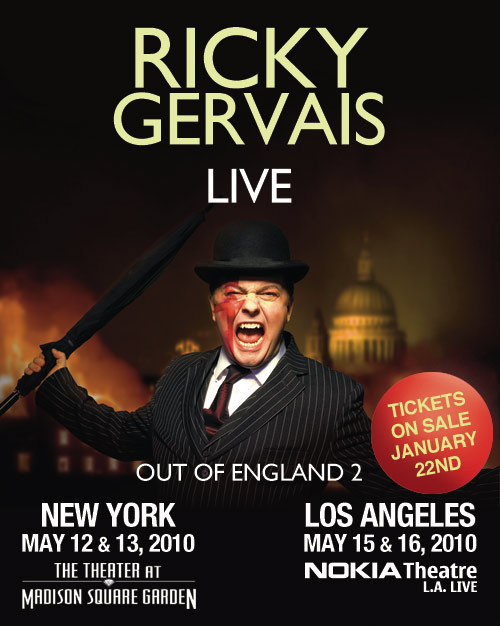 More about Ricky's first three stand-up tours, Animals, Politics and Fame can be found here.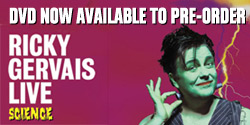 ---