---
RICKY'S BLOG - Read Ricky's thoughts on his upcoming projects, visits to restaurants and round-headed friends.


---
---
Week two hundred and twenty-two - June 2012
---

What a week.

First England win their group in Euro2012, and then yours truly is named King of Twitter.






To celebrate both events please download The Ricky Gervais Guide to The World Cup for free.

Ricky Gervais: Always Giving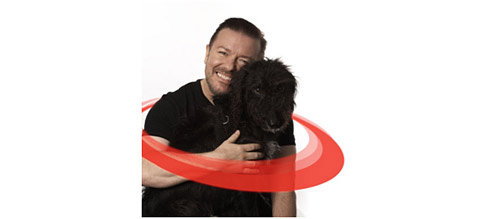 Completed principle photography on the An Idiot Abroad Specials.
So far we've got nearly 100 hours of footage down to about 10. There are some quite amazing sequences. It's two one-hour programmes and will air before xmas.

The 25th of June is my birthday. And on that momentous date I start pre-production on Derek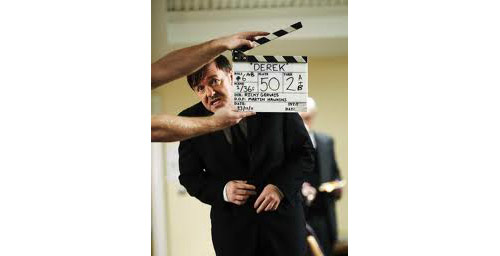 and release the second series of The Ricky Gervais Show on DVD.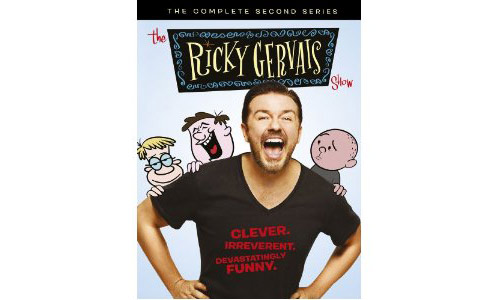 This is better than the jubilee right?



---
Week two hundred and twenty-one - June 2012
---

Hello Chuckle Hounds,

I thought I'd do a bit of a news blog as a sort of FAQ about various projects.
So here goes...

Out with the old, in with the new.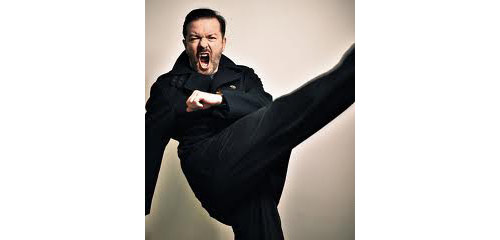 The Old -
First the bad news...
So I don't think I'm going to do a fourth series of The Ricky Gervais Show.





39 episodes is more than I've ever done for any other project (Yes. I know that's pathetic but trust me.) and I don't want to push my luck.
I think the show has steadily grown in both quality and popularity and I'd love to go out on a high so to speak. My worry is that as we've used up all the best material we'd have to record hours and hours of new stuff and it might ruin the naivety of the whole thing. Never say never though, like The Office. But certainly for now.

Karl and I have also decided to end An Idiot Abroad after the two specials we're recording at the moment. Again, I think these could be the funniest adventures yet and I'd hate to outstay our welcome.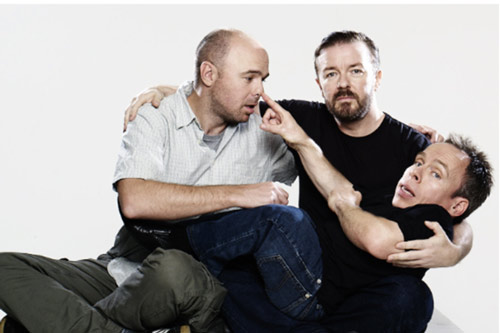 And finally... (or finale-ly... what?) we've just finished writing the finale special of Life's Too Short. We'll film it after xmas ready for broadcast around Easter. It's got lots and lots of Les, Shaun and Cheggars!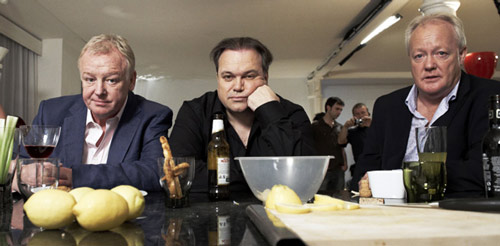 (That's what I call a good Friday.)

So that's the bad news... (you'll be the judge of that.)

The New -
Or the good news...
We're doing a new set of audiobooks which are filmed - not just audio. Not sure if it will be for TV or internet yet but we've recored one and I'm fucking buzzing about it. It's a bit different and I can't tell you too much about it as it's so easy to rip off the idea. So beautifully simple. (I don't mean Karl.)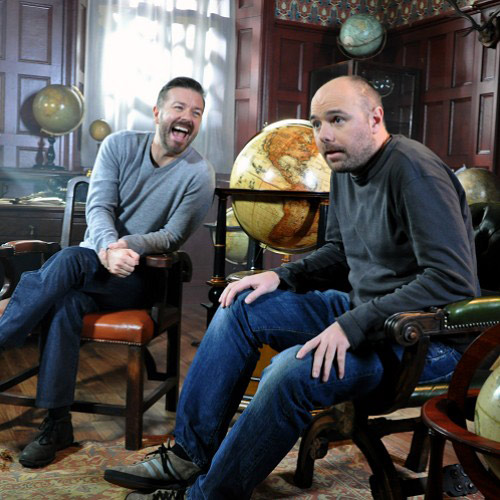 I will be shooting another six episodes of Derek this autumn for broadcast early next year.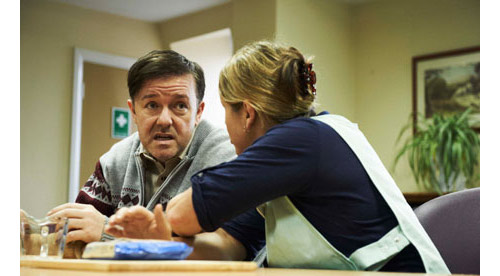 This is my new baby, I must admit. I've never been so in love with a project or character. It will be on Channel 4 in the UK and I'll be announcing other channels in each territory as they are finalised.

And finally (again?) I'll be announcing some warm-up gigs in the UK, the US and Europe very soon. They won't be very soon but I'll be announcing them very soon. Well not very soon, but soon. Ish.






Thanks for watching.



---
Week two hundred and twenty - June 2012
---

Had quite an arts and crafty week.

On Friday we went along to Nick from Duran Duran's 50th birthday bash.
Cards can be so expensive, so I created my own.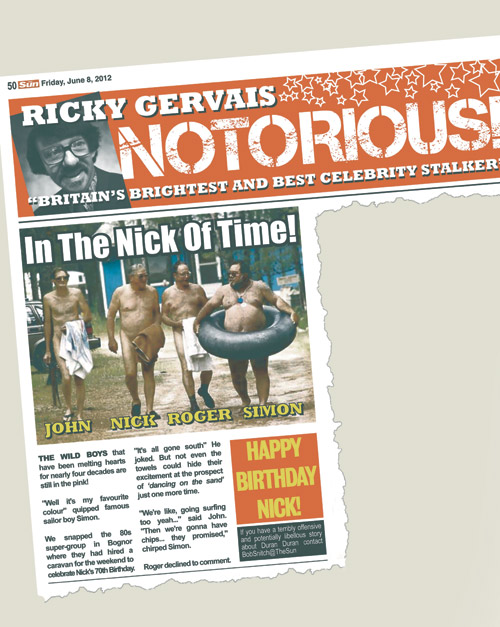 Then today, I finally finished my latest painting.
It's called "Hope" as it's for a cancer charity auction.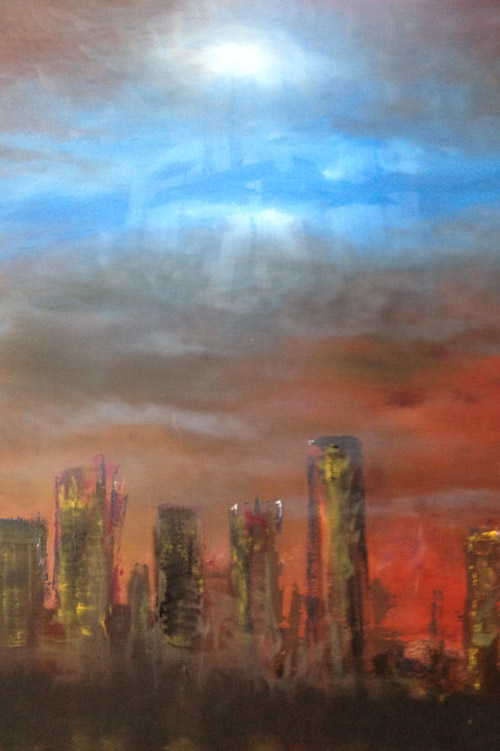 In other news, The Ricky Gervais Show continues to tickle you chuckle-fans both sides of the Atlantic and all corners of illegal cyber space...
"Sick of it... let's see how they like it when I go and rob their house." KP

He's particularly grumpy at the moment as he's slogging his way through the final chapter of An Idiot Abroad.

Spoke to him on the phone today and he and Warwick are not getting on very well.
Oh... no... no one wants to see that... haha.

I'll have some very big news soon about a brand new set of audiobooks, by the way. This time we're filming it. Stay tuned.



---

So Derek picked up the top comedy prize at the New York Short Film Festival.

I'm probably more exited about this than any of the Baftas, Golden Globes or Emmys. I'm not sure if that's because it's been such a long time in development, or that it was criticised by some before they'd even seen it and now they've gone a bit quiet, or just because I love Derek more than any other character I've ever created. I actually wish he was real. Maybe I'm having a breakdown? And if I am, who cares? I'll just be Derek forever. Haha.






This might be one of my favourite reviews of all time by the way.

I've nearly finished writing the series, which I'm filming in September. It will air early next year.

In other news...
If you live in France, you may see a brand new magazine hitting the news stands this week.

Guess which cover star is launching the first issue...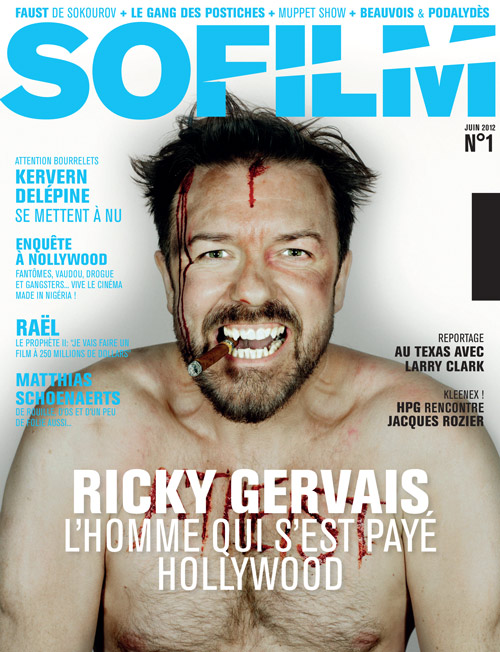 What's 'Hunk' in French?



---

And the winner of the "What's Ollie dreaming about?" caption competition, is...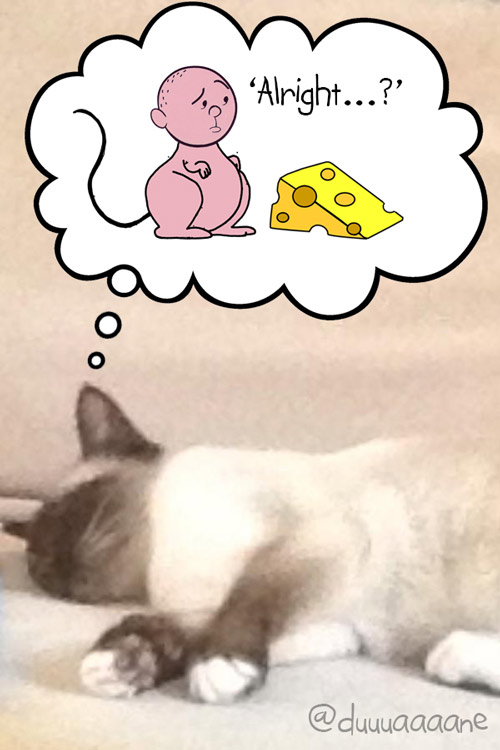 Did an interview with Karl to publicise The Ricky Gervais Show II DVD. (Out 25th of June. My Birthday. Thanks for asking)

At one point the interviewer asked Karl his "pet hate". Karl said, "when you can smell the shit but you can't find it."
The interviewer and I looked at each other confused. "What do you mean?" I said.
Karl explained, "When you know it's shit somewhere but you don't know where."
"Not what do you hate about a pet. What's your pet hate you div."

1. How has he never heard the term "pet hate" before? and 2, how often does he smell shit and can't locate it? Gorp.

Luckily we filmed the whole thing. I'll let you know when it's available on this very internet.

Look what science can do...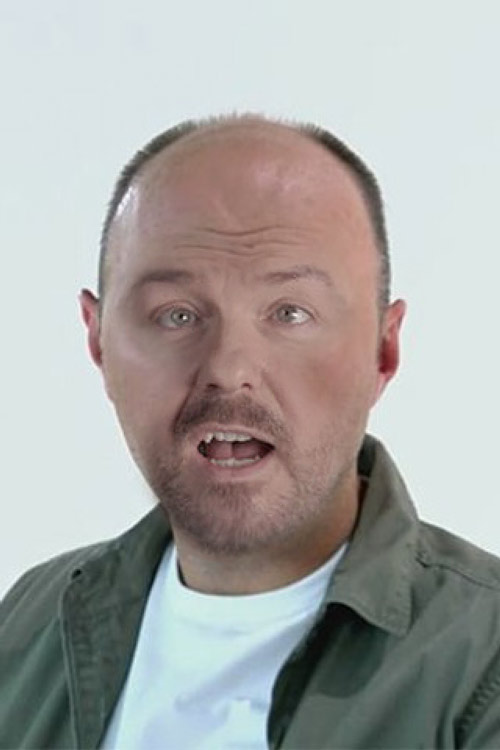 ---
Week two hundred and nineteen - May 2012
---

I did a big interview for the July edition of Q magazine, which is of course out at the end of May. Makes sense.

For the photo shoot I dressed up as The Boss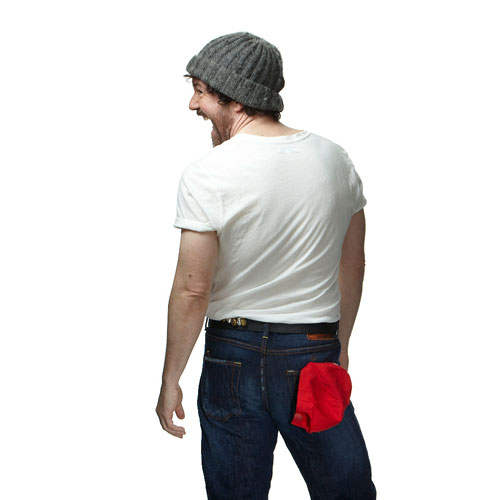 It's easily my best side.

This weather is glorious. At the moment I spend my days writing Derek in the various cafes and gardens of Hampstead. Then I go for walks and count the ducklings and goslings in the ponds. Only one little critter didn't make it as far as I can tell. I usually listen to this at least once a day.
It's my new favourite piece of music. I'm going to use it in the series I think.

Karl called me in a panic about evolution again. He couldn't cope with the evolution of the eye. I said, "Why are you treating eyes any differently to any other organ?"
Then he barked one of the greatest sentences I've ever heard. He said, "I can understand legs, but I can't imagine all these heads just waiting for eyes."
Haha. Amazing.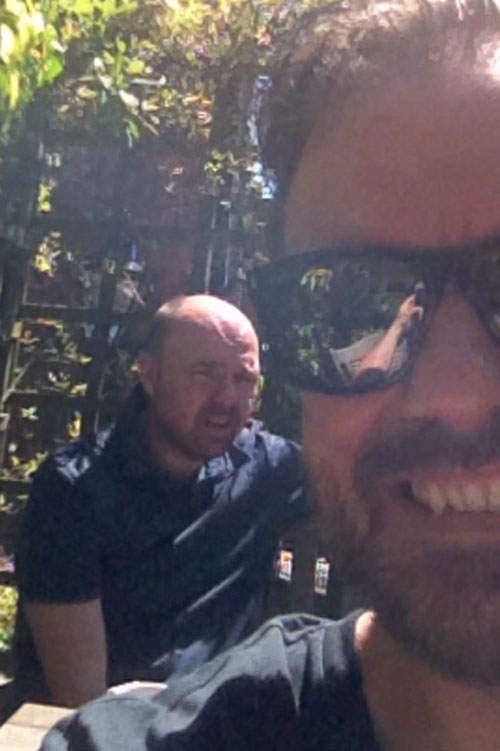 Thank you so much to everyone who bid for my Karly Pilkoids Tambourine on Ebay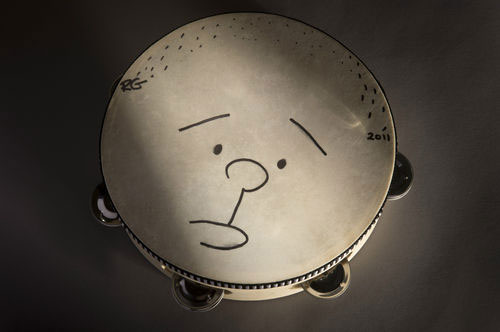 It raised £1,550 for charity, which is incredible. So, cheers.



---

Popped into the Chelsea Flower Show today. Did about 30 interviews for local radio as I walked through the gates and saw some flowers..... that were on show.
In Chelsea.

I did see these guys though...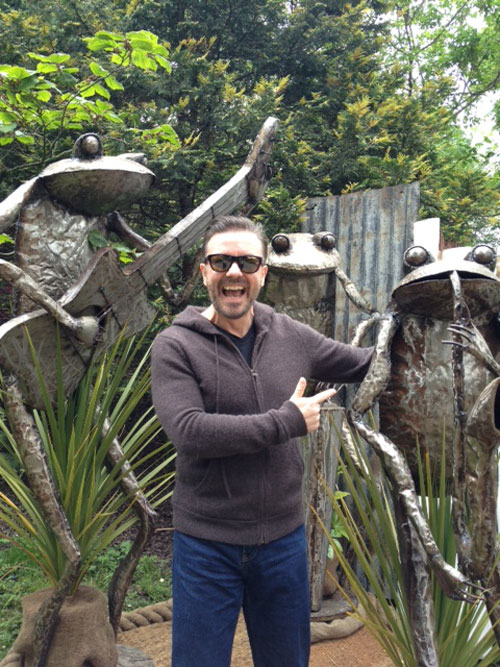 They're the biggest things I've ever seen... frog-wise.

This is the smallest...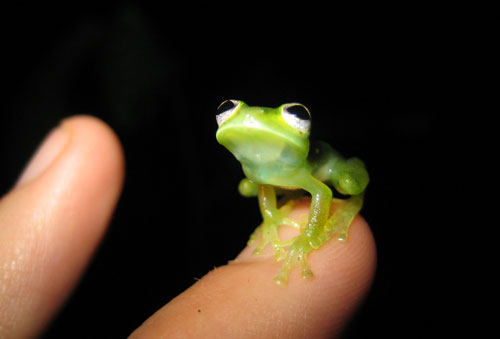 It's Kermit as a baby.

Karl called. It went something like this;
R. Hello?
K. Alright?
R. Alright, how's it going?
K. Do slugs sleep?
R. Hahahahaha

I told him how some animals have micro sleeps, like birds on the wing, where they can shut down parts of the brain in turn for a few moments.
Dolphins can be 'half asleep' so to speak, while keeping alert with the other half. It then came up that they are air breathing mammals and could drown.

Karl was annoyed at this. "Fuck's sake. They can't get out of the water and they can't stay under it? And people say they're bright?" Amazing.



---
Week two hundred and eighteen - May 2012
---

Half way through filming the Idiot Abroad specials. As predicted, Warwick is enjoying it a lot more than Karl. Warwick enjoying it at all annoys Karl even more. It's like perpetual motion.

Here they are near a wall somewhere. Warwick is smiling. Karl is attempting to smile but it seems to have come out wrong. Could be trapped wind.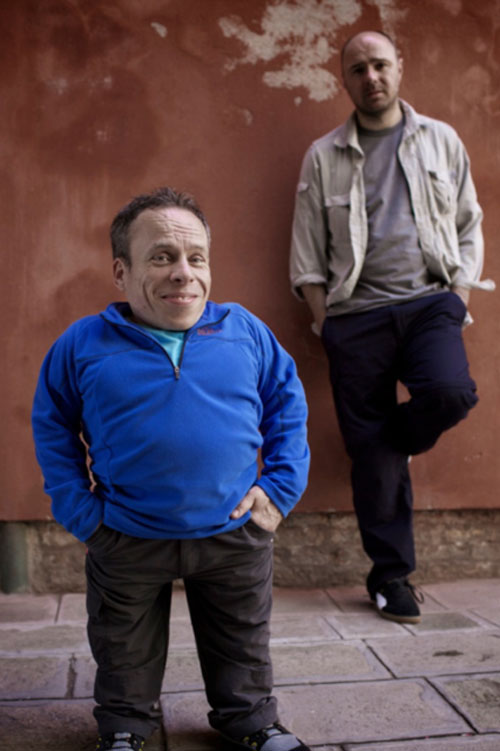 The Ricky Gervais Show seems to be going down well both sides of the Atlantic. 39 episodes will be my personal record for longevity of any project I've ever done.

It's longer than The Office and Extras put together. Lazy.

I have however decided to do more than one episode of Derek. 6 more and then a special maybe. (No point in overworking.)

I had a little table-read with the main cast this week and the scripts are in pretty good shape. I've cast Karl as a really dopey, moody, miserable, whinging Manc twat by the way. I think he's nailed the role to be honest.

Saw this in a shop and had to buy it. I showed it to Karl and he said, "It's definitely more use as a paperweight than it ever was a jellyfish." Perfect.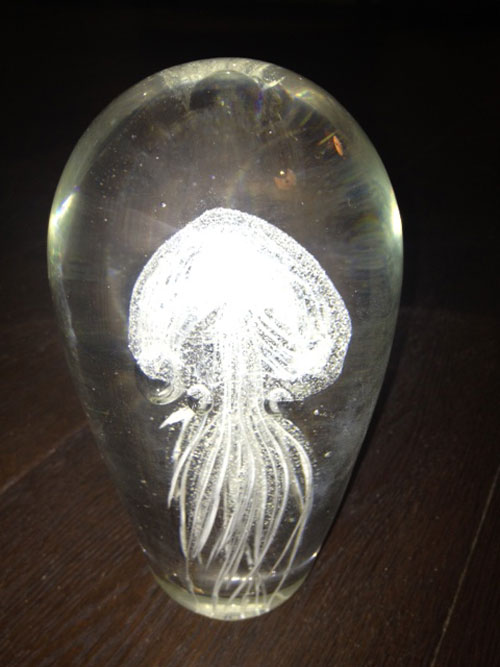 ---
Week two hundred and seventeen - May 2012
---

I'm thinking of doing one of those crappy little Xmas books that people give as presents but no one reads. You know the ones. The ones with titles like 'Do Ants Fucking Fart?' and 'Britain's Shittiest Rapists' etc.

I thought it would be good to write a paragraph or two about all the things Karl was right about, even though at the time I said he was talking bollocks.

There are those virtual goggle things being developed now that he talked about (he got it a bit confused but still); there's the see through toaster, and then I discover there are monkeys being used to save pets from buildings with lots of grippage.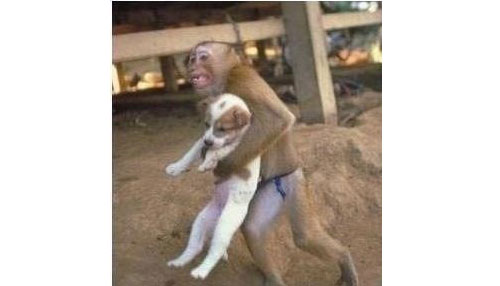 "The Genius Bollocks of Pilkington" £9.99
You'd buy it.



---
Week two hundred and sixteen - May 2012
---

Managed to do a little bit of promo for The Ricky Gervais Show Series 3 with Karl before he set off on his epic journey with Warwick for An Idiot Abroad: The Short Way Round.

I spoke to them both today. Warwick is having a great time. Karl is a bit annoyed that Warwick is having a great time.

"Tell him it's not a holiday." Haha. Perfect.

It will be on Sky One HD in December and the rest of the world soon after that.

Oh and The Ricky Gervais Show Series 2 is available to own on DVD from June 25th (Amazon UK link) Uncle Ricky's Birthday!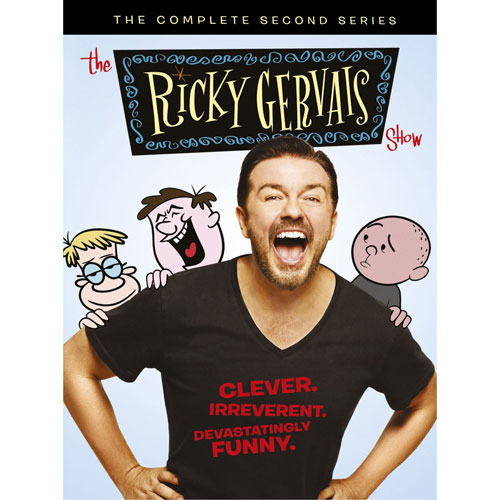 ---
Week two hundred and fifteen - April/May 2012
---

So An Idiot Abroad 3:The Short Way Round is underway.





This time I've given Karl a little pal to keep him company and I've sent the unlikely pair along the Marco Polo route from Italy to China.

The three of us did a bit of filming this week where I explained the route and schedule etc. One of the funniest couple of hours I've ever spent. Karl seemed to be obsessed with the idea that Warwick would hold him back, complain about being tired, ask Karl to carry stuff for him, and might possibly "fall down a hole" ????.

Anyway, he can't pull out now, he's in too deep. Haha.

We did T4 together this week to promote The Ricky Gervais Show.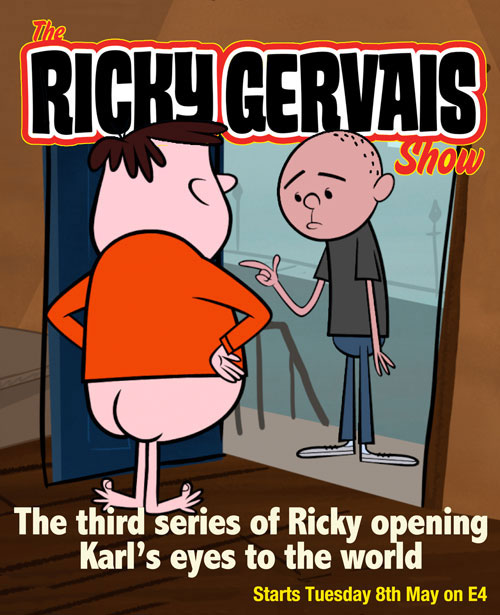 Karl hated it of course but he was great. He even did some new RockBuster clues. He also did a wonderful motivational speech for Britain's youth.

Inspirational.



---
Week two hundred and fourteen - April 2012
---

Hello Oslo!
So, I played my first European gigs. Well, my first gigs outside America or the UK & Ireland, in fact. I did two nights in the wonderful city of Oslo.

They were amazing. I sort of did my "greatest hits with a few new tracks" so to speak. It was really weird actually. I was worried about people "knowing" the routines but if I started a routine that they knew, they all cheered. I'm like The Rolling Stones. Ha ha (Gervais claims he's bigger than Jagger.)

The mere mention of Karl got an enormous cheer too. He really is a global village idiot now. My work on this planet is done.

Sorry if you couldn't get a ticket. The gigs sold out in minutes, but don't worry, I'm going to come back to do more dates in Norway and the rest of Scandinavia as soon as I get time.

The promotors were great. They put me in the same hotel suite as they put Prince when he played here. He left it very neat and tidy I must say. He probably had the same complicated rider as me too.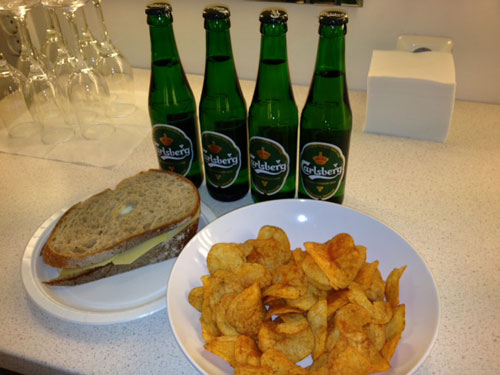 Jane came over with me so we could also have a little weekend break. We're going to see James Taylor tonight in the same venue I played.
I didn't drink all those beers so he'll probably have extra. Lucky.

The Ricky Gervais Show Season 3 started on HBO this week. We kicked off with Karl's second ever movie idea. You know the one. A man called Bryan, played by Ted Danson, takes over the dead body of Tom Cruise to complete Mission Impossible 8 because the posters for it were already up.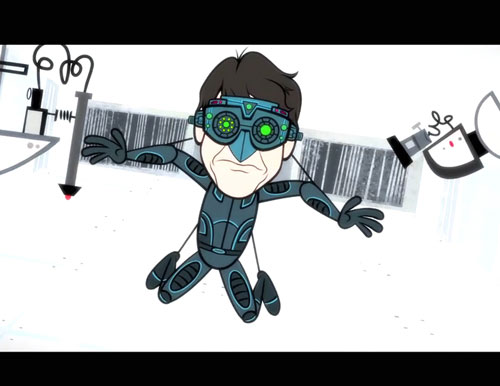 It starts in the UK on May 1st on E4 by the way.



---
Week two hundred and thirteen - April 2012
---

So the pilot of Derek aired on Channel 4 last week and despite the criticism (from people who hadn't even seen it), I couldn't have hoped for a better reaction.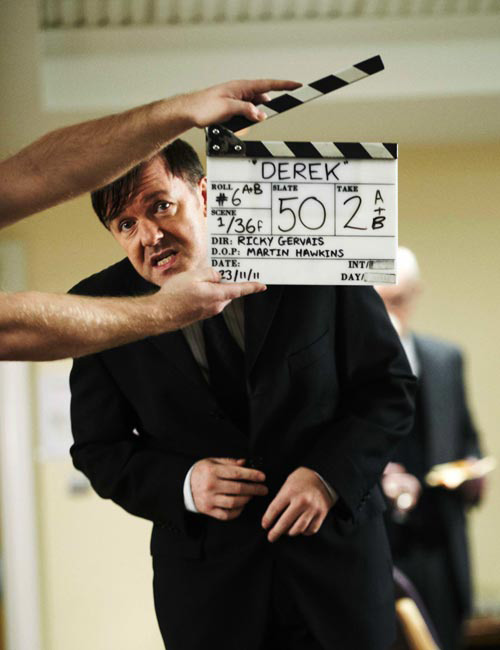 I really haven't had a reaction like it for anything I've done. So thank you if you wrote a review, a blog, a tweet, told a friend, or just watched it and enjoyed it. Thanks for watching it even if you didn't enjoy it. That's all I ask really. Cheers.

I shot it in 4 days (still wrapping at 3pm. No point in killing yourself is there?)

It was meant to be a non-broadcast pilot, which I always insist on doing, but then I had a cunning plan. I knew there would be the usual furore. You don't need a superpower to see that coming, as it happens with every project I do. It doesn't bother me. It's just so boring and predictable. But what I've also noticed, is that this usually dies down after the first episode, and the wind changes, so to speak. People make their own minds up basically. So I thought, let's put the pilot out as the first episode so people can get over all the noise and prejudice for when the series starts.

I'll effectively be starting with the second episode. Anyway I think the strategy worked. Everyone has seen it, gets it, and hopefully all the bollocks about it being controversial or cruel won't cloud the launch of the series. I'm half way through writing the next 6 by the way.

Lot's have people have asked me why it's not on the BBC. Well, I didn't offer it to them this time for a very good reason. I promised Channel 4 over ten years ago that if I ever developed DEREK, they would have first refusal. I think they did a great job of promoting it too. Derek likes Channel 4 too, as his favourite shows are Deal Or No Deal and Secret Millionaire.

Here is Derek's favourite YouTube clip. I have had this fucking song in my head for 6 months. Now it's your turn.

And here is the beautiful piece of music I used at the end.

If you missed it you can watch it on demand. (UK only I think. Sorry rest of the world. You will have to wait or do something internety like you crazy kids do. But I do not condone such fucking illegal behaviour obviously.)



---

Thought I should bring you up to speed with my glorious week in New York. Everyone loves to hear about what a brilliantly fantastic time I have, right?

Thought so.

We arrived last Thursday; in time for Easter. It's my second favourite religious holiday after Christmas. At Christmas time, us atheists thank friends and family for gifts and at Easter we remember how brilliant chocolate is.

It was fitting that on Good Friday I spent the day writing the pilot episode of "Atferlife" with Dexter producer, Clyde Phillips. It's about an atheist who dies and finds himself in heaven talking to God. Oops!

Spent the weekend walking around, and eating and drinking. Basically pretty much the same as what every other human being on the planet did, except we were in New York. That's the difference.

Had dinner with the Seinfelds and the next day Jerry took me for a spin in a 1960s vintage death trap, I mean sports car. The more I screamed to slow down, the more maniacally he laughed.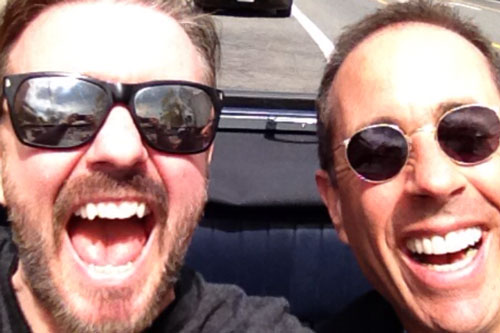 Did my 22nd appearance on The David Letterman Show.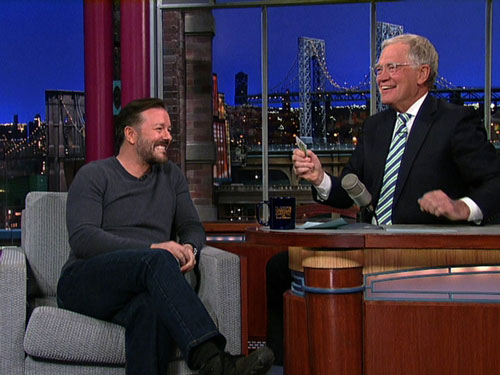 It was Dave's 65th birthday so I got him an appropriate gift.






A bus pass.

Those are the main points, but we're here for another few days so if anything exciting happens I'll let you know.



---
Week two hundred and twelve - April 2012
---

The most beautiful weekend in New York.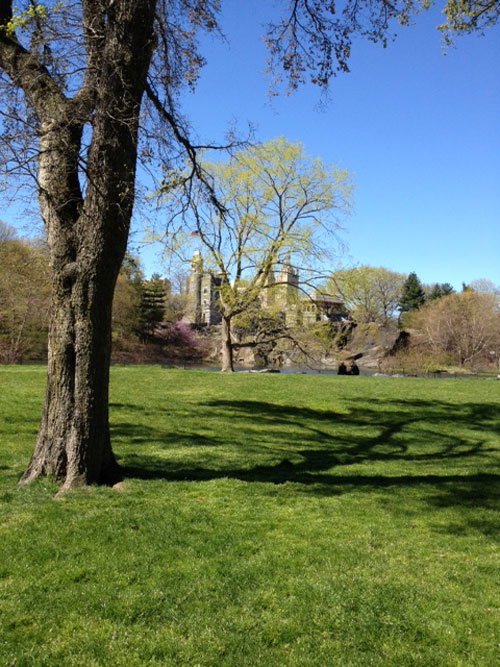 Central Park first thing in the morning is like Dog Heaven.

Hundreds of the little mutts just running around shouting "this is the best day ever."

The one thing that Central Park doesn't have, that most parks in London have, is the bloke without a shirt or front teeth, drinking Special Brew and taking his pitbull for a walk.

Still, you can't have everything.

I'm over here doing promo for The Ricky Gervais Show 3, which premieres on HBO April 20. I'll be popping up on Letterman, The Daily Show, Opie and Anthony, Today Show, CBS Early Show... Exhausting - sometimes working for over an hour a day. Still, mustn't grumble.

Cinema Blend ran a couple of exclusive clips.

Did an interview with Nicky Clark in the run up to Derek on C4 this Thursday.

The response so far, has been amazing by the way. Hope you enjoy it.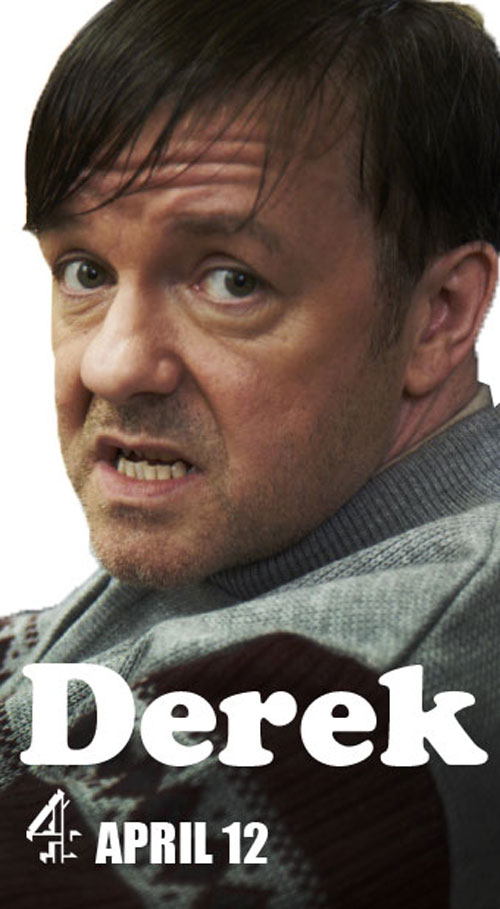 Cheers.



---

Me Bless America!

I am everywhere,
and looking over you.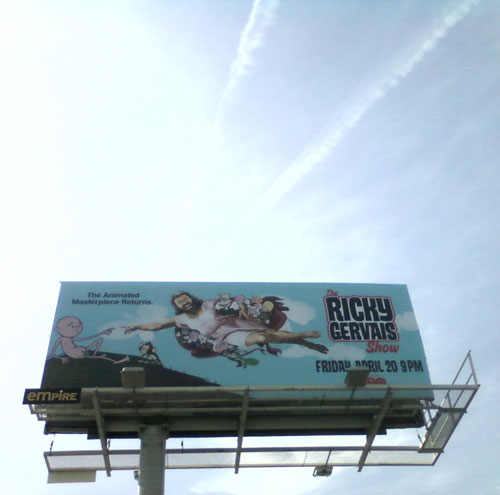 Not sure who comes off worse in that picture. Karl in a little fig leaf, or me in a pink dress?

Anyway, only a couple of weeks before the 3rd season of The Ricky Gervais Show returns to HBO.

I'll be doing another round of chat shows next week including The Daily Show and my 22nd Letterman!

Derek, my little one-off comedy drama, will air on Channel 4 on April 12th. [see the first trailers here]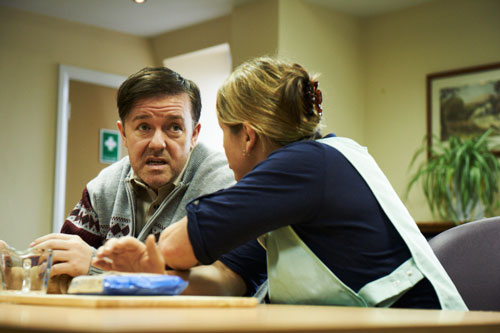 Karl plays my best friend, who moans all the time, looks gimp and has a head like a fucking orange, by the way.

And yes, my jaw aches and I get a stiff neck from being hunched up all the time when I'm playing Derek. I suffer for my art, and now I want you to suffer for it too.

So please tune in.



---
Week two hundred and eleven - March/April 2012
---

Did a Q and A at Bafta after a screening of Derek.

It was honestly one of the most enjoyable ones I've ever done. I was interviewed by the lovely Boyd Hilton, who was great, but the audience were amazing and their reaction was genuinely heartwarming.

It's being shown on Channel 4 on April 12. I'll post some trailers when they're ready.

I won another award! I love the fact that it's a lifetime achievement award. Ha ha. Thanks again to The Shorty Awards and everyone who voted.

The artwork for Season 3 of The Ricky Gervais Show has been released.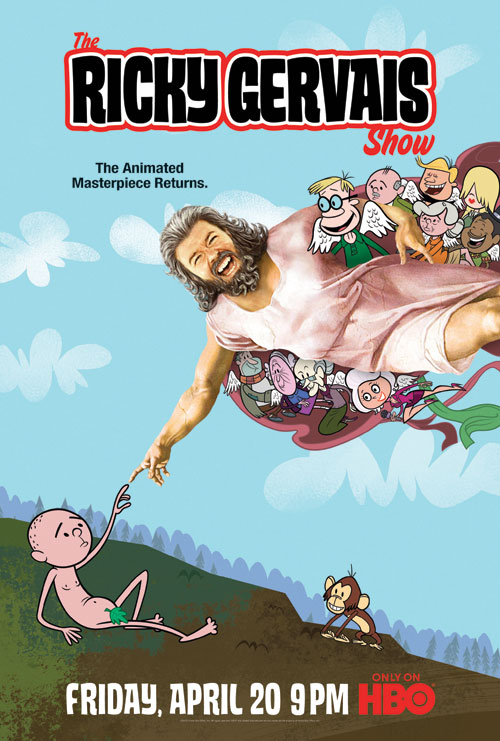 It's the best series yet and there's some audio you haven't heard before too. The stuff we did exclusively for the allied forces for example.

No air dates for the rest of the world yet, but I'll let you now as soon as they are confirmed.



---
Week two hundred and ten - March 2012
---

As you know the third series of The Ricky Gervais Show returns to HBO on April 20th.

I don't have a date for the UK airing yet, but it will obviously be this year and the DVD for series 2 will be released around the same time.

Anyway, here are some lovely clips from the new series to whet your appetite...

[clip 1]
[clip 2]
[clip 3]

Spent about 20 minutes on the phone the other day to Karl, by the way, trying to explain (with my limited quantum physics) the big bang.

He had called me because he said his head hurt thinking about what happened before the big bang happened. I said, "nothing". He didn't accept this (which is not an unreasonable response to be honest.)

Eventually he just blurted out, "Space must have always been here." I laughed and said I've got to go now.

After the phone call my head hurt.

I sent him this youtube clip.

The next day I said "Did you watch that octopus clip? Isn't it amazing?"

He said, "It is amazing but then again, it's got fuck all else to do. It's like Jon Culshaw. If I just sat around all day doing that one thing I'd be good at impressions."

A perfect response as usual.

I haven't shown him this yet... My ghost-hunting cat fighting some ectoplasm.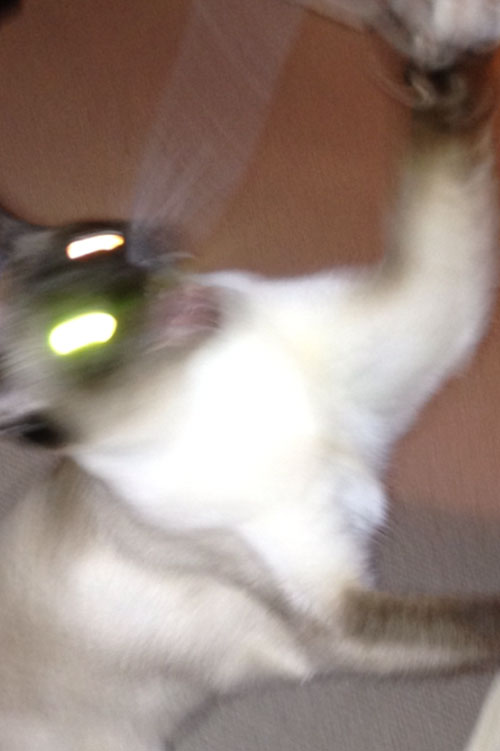 ---
Week two hundred and nine - March 2012
---

Went to a charity function at the House of Lords last night. As I was talking to various Lords, MPs, billionaires and royalty I wondered if any of them suspected that I used to regularly wake up in a puddle of my own urine. (Well it happened a couple of times. Ha ha.)

It was for Tiger Time Please help out if you can. Time is really running out.





I like his style....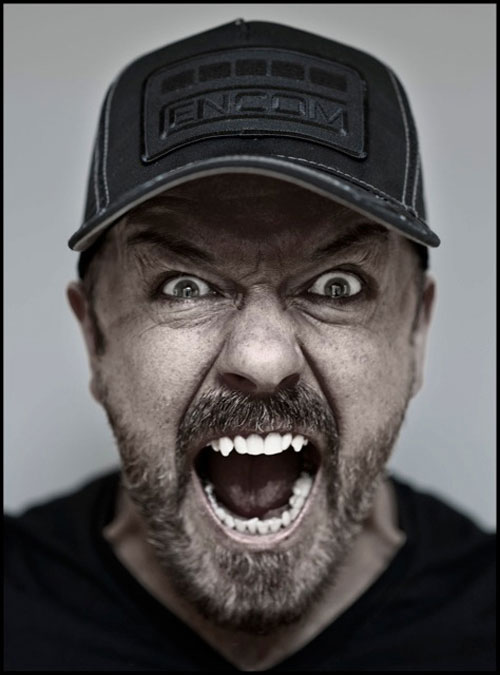 On the way home we popped into The Ivy. Damien Hirst was there. I resisted telling him of the time when Karl said, "Is he an artist or a fishmonger?"

Not long to wait till series 3 of The Ricky Gervais Show now. April 20th on HBO.

I'll be doing another round of chat shows the week before, including my 22nd Letterman appearance! This is what happened last time.

An Idiot Abroad finished this week on Science Channel but they are doing another marathon on April Fool's day I believe. Apt.



---
Week two hundred and eight - February/March 2012
---

Jane and I had dinner with Karl and Suzanne this week to celebrate Suzanne's birthday.

Karl had arranged for the restaurant to provide a victoria sponge birthday cake with a lovely message.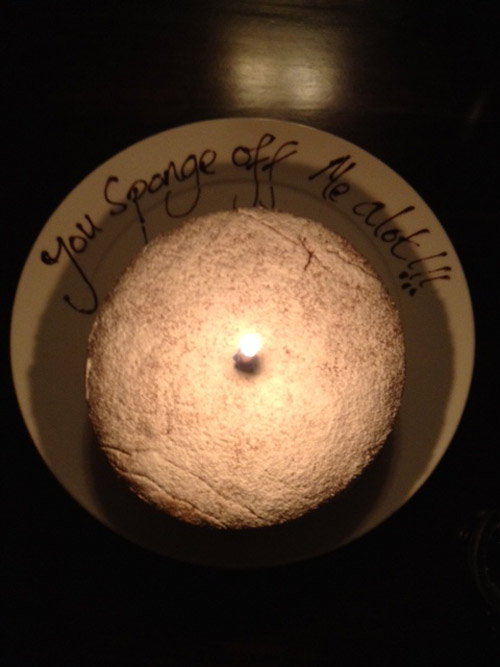 She of course loved it.

The day he called to arrange the dinner he asked me to explain the "glass is half full/half empty" metaphor.

I started by saying, "Well, if your perception is that the glass is half empty, it's meant to denote pessimism..."

Karl said, "that's not fair. If the barman brings me half a drink I'm allowed to be annoyed..."

I tried for a further 10 minutes then gave up.

Good news by the way. There will be a second An Idiot Abroad book this autumn. The first did amazingly well which helped the decision. (Still available)


Karl is going to be a very busy bee this year. We start pre-production properly this month on An Idiot Abroad 3:The Short Way Round and Karl and Warwick will be off on their adventures spring/summer.

He will also star alongside yours truly in Derek whenever I get around to it, what with the various tours I want to do over the next couple of years.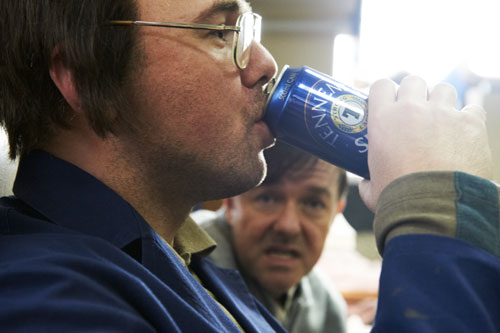 I've started kicking round ideas with Steve for another Life's Too Short on top of all this. We are thinking of going straight to the Xmas Special. Lazier and lazier. Now it's down to ONE series and a special. Ha ha.






But at least there is a third series of The Ricky Gervais Show.

That's 39 episodes! I don't think I'll ever beat that record.



---
Week two hundred and nine - March 2012
---

Started pre-production on An Idiot Abroad 3: The Short Way Round, this week.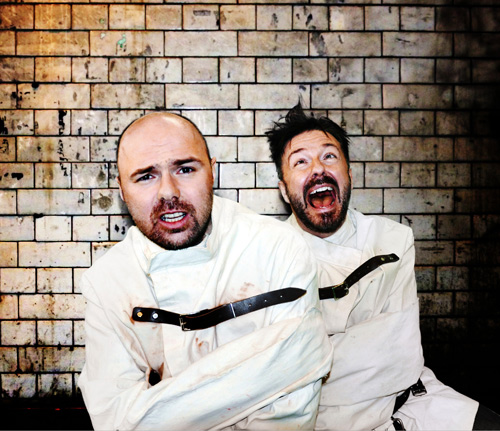 Photo; Tony Briggs

We've basically only sorted the budget and a rough route at the moment, but it feels great to actually be working on it, and it means that Karl is in too deep to pull out now. Ha ha.

An Idiot Abroad 2 has been nominated for a Royal Television Society Award. Which is nice. Doubt I'll be able to get Karl to put on his 2002 Bafta suit to actually go along in person, but still.

Life's Too Short has been nominated for best sitcom at The Rose D'Or Awards in Switzerland by the way.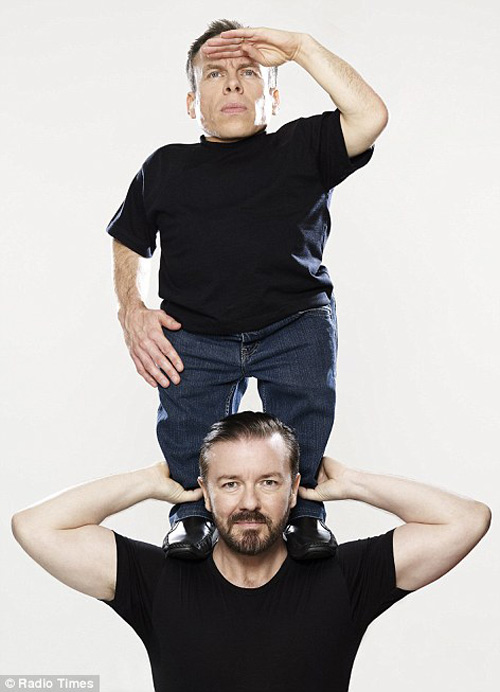 I'm very pleased with that to be honest. It will help with overseas sales for a start. (Always thinking, me) It's already coming to Paramount Comedy, Spain; TVNZ, New Zealand; ABC, Australia; DBS, Israel; TV Norge, Norway; SVT, Sweden; TV2, Denmark; HBO, Asia - and we are talking to another 20 or so countries around the world.

And one final bit of international news...





I'm planning a European arena tour. It will be quite intense playing as many big venues as possible in a short amount of time between filming various projects I have in the UK and America.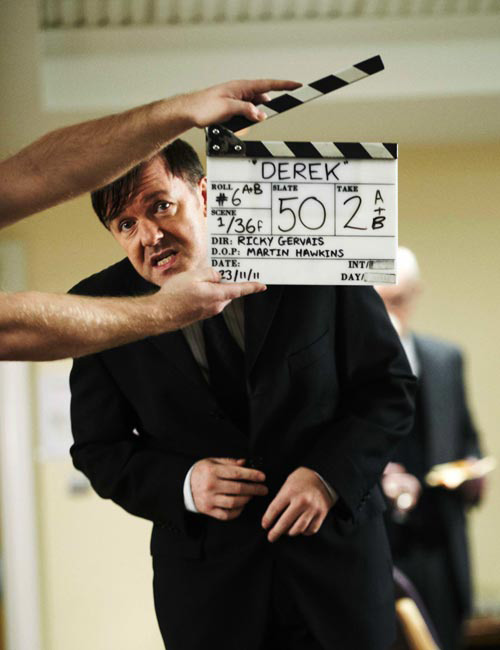 But once the show is nailed down I can always pop back and forth for the odd gig.



---
Week two hundred and seven - February 2012
---

A big thank you to everyone who watched Life's Too Short on HBO.
And thank you to the lovely TV critics of America too.
Boston Herald.
UncleBarky.com.
Wall Street Journal.
Hollywood Reporter.
Denver Post.
SF Gate.
Cinema Blend.
Toronto Sun.

But what are ratings and reviews without awards? Do you hear me EMMY'S?

And don't forget An Idiot Abroad 2 either.

Talking of which, I start pre-production with Karl & Warwick on The Short Way Round next month. Can't believe I've persuaded him to do it again, but even worse in a way. Maybe I'll actually send him mad this time.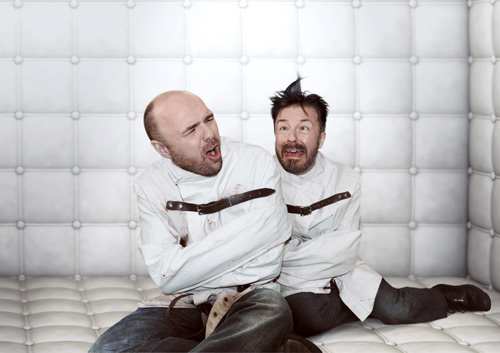 Photo; Tony Briggs
---

I hate jet lag. There's no logic to it. You're awakeness or sleepiness just isn't consistent. Still mustn't grumble.

The best thing about arriving back in London is surely Ollie's reaction. She meows until she loses her voice and starts quacking like a duck, but she also follows you everywhere and gets on your lap if you sit down. She's basically saying, "look... I'm adorable... no point in going away ever again, right?"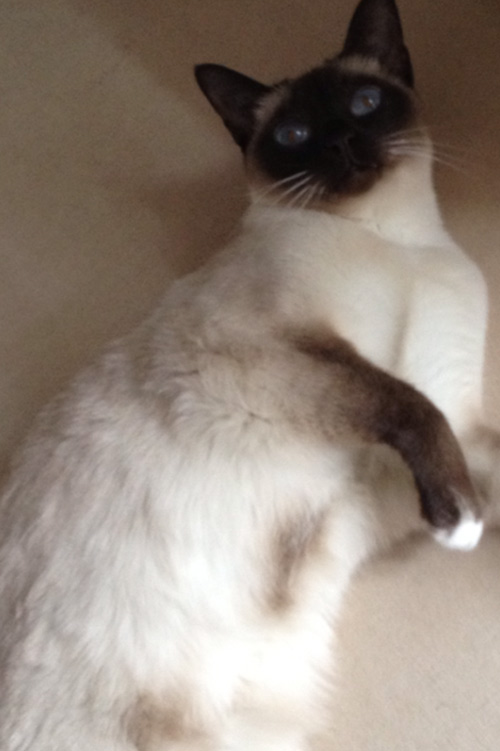 Did a live web chat thing for HBO. Really enjoyed it but it's a bit stressful to answer as many questions as you can in 45 minutes. Hope it makes sense.
Here's the transcript anyway

It was Robin's birthday today by the way. He has been a good boy everyday for 43 years as far as I'm concerned.





Here's a tribute - 1 | 2 | 3

Wish him happy birthday on twitter @robinince.



---
Week two hundred and six - February 2012
---

Had an absolute blast in New York this week.

It started quite sensibly with myself and the great Clyde Philips (Svengali behind DEXTER), working on the pilot script of our new show Afterlife.

Then things got a bit silly.

I sent an email to Jon after...

"as always, a pleasure.
Who'd have thought Panda rape would be such a winner?
See you in April
I have an idea for a routine about some kittens in Auschwitz. Can't lose."

He wrote back...

"That sounds a little soft, this ain't nickelodeon."

Ha ha. Can't wait till next time.

Don't forget to watch a brand new episode of An Idiot Abroad this Saturday on The Science Channel if you're in The US of A this weekend.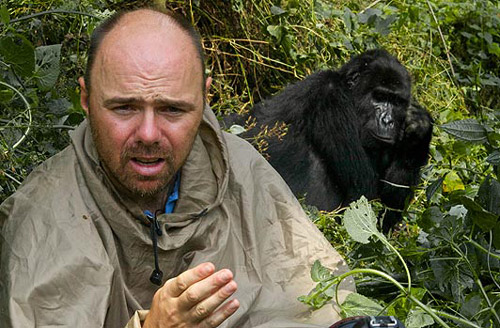 And on Sunday I play a dolphin in Family Guy, (9pm FOX)...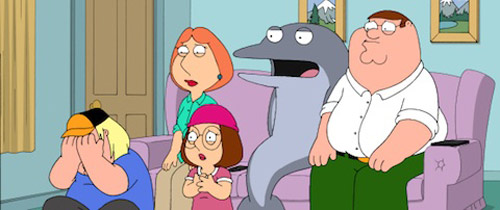 followed by the premier of Life's Too Short, (10pm HBO)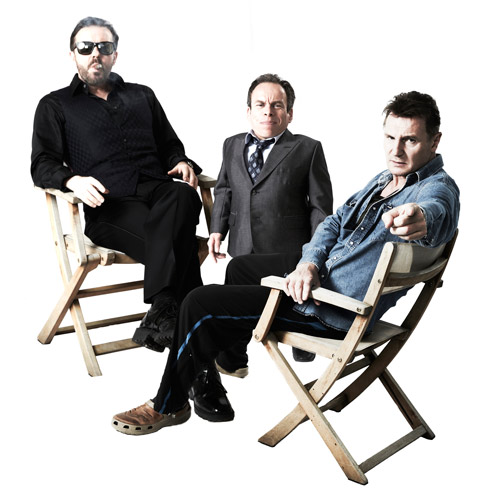 Have a Rickidiculously great weekend .



---

My week of promo for Life's Too Short kicked off with an interview on The Daily Show with the brilliant Jon Stewart. We don't even bother doing a pre-interview any more. No point. This always happens...

After the show Jane and I went to dinner at the amazing David Burke Townhouse with chums Rob and Jill. Then back to our place for Champagne.
This always happens...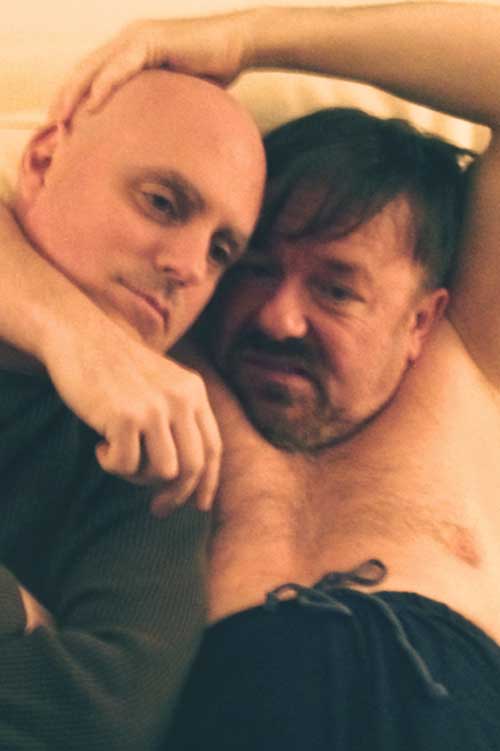 I think Rob's face says it all. Friends for 25 years now, and as you can see he has enjoyed every moment.

With my new work out regime and sartorial prowess, you don't think I'm getting TOO good looking do you?



---
Week two hundred and five - February 2012
---

Why does New York always feel hotter or colder than it actually is. In summer 80 degrees feels more like 100 and in winter 10 feels like minus 10.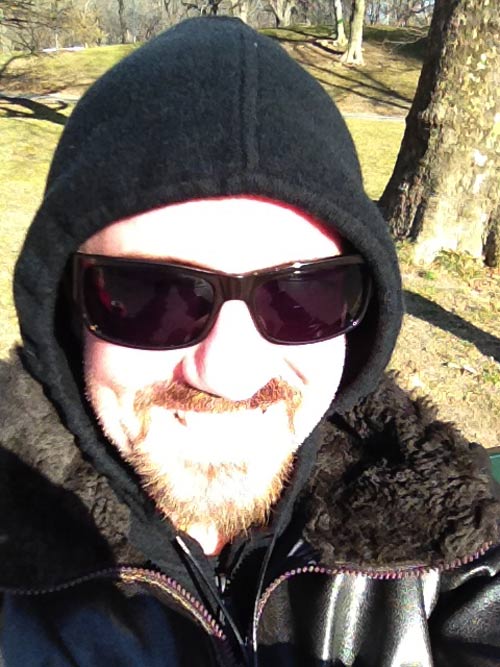 This is the only place where my ears feel like they actually might shatter. And it makes your beard look 20 degrees more ginger. Still mustn't grumble. It's New York at least.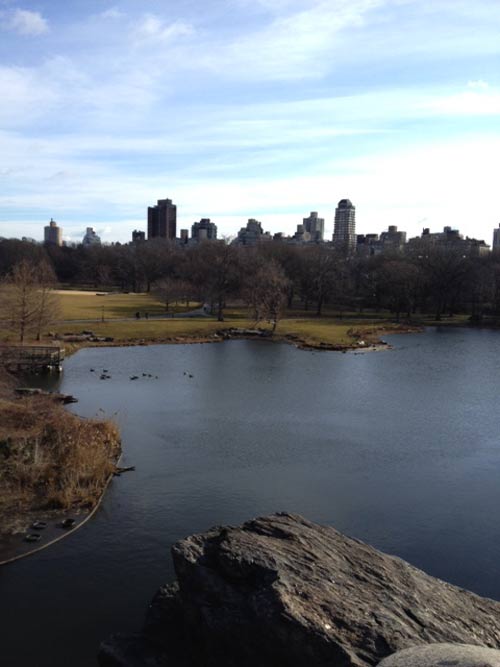 Here are some bits and pieces of paintings I did in oil of my favourite city by the way.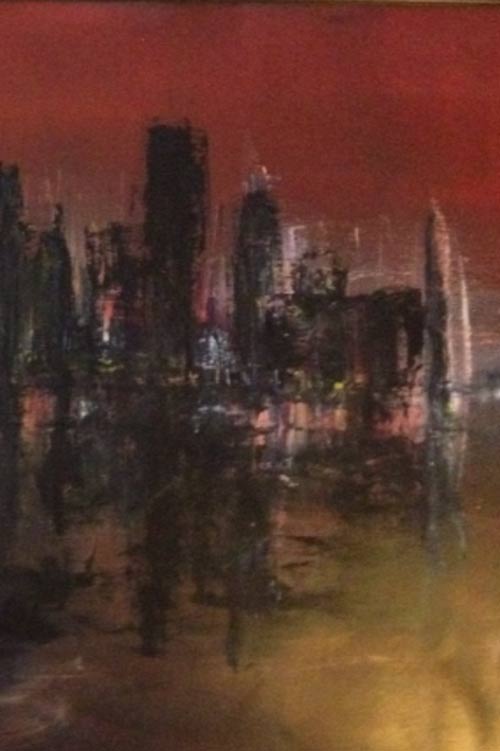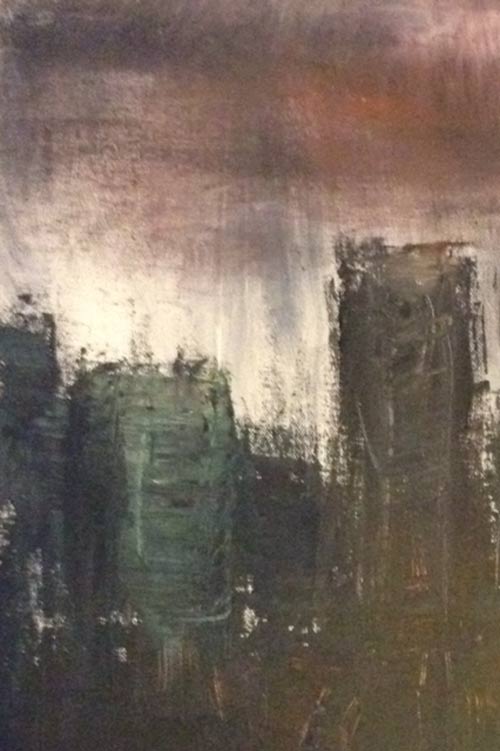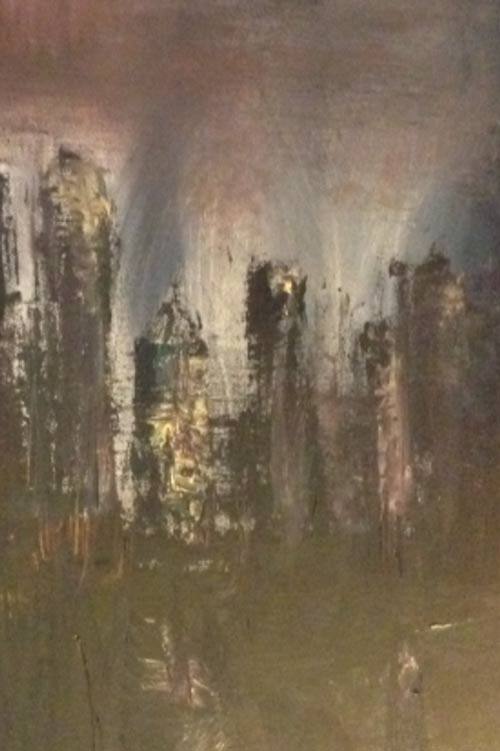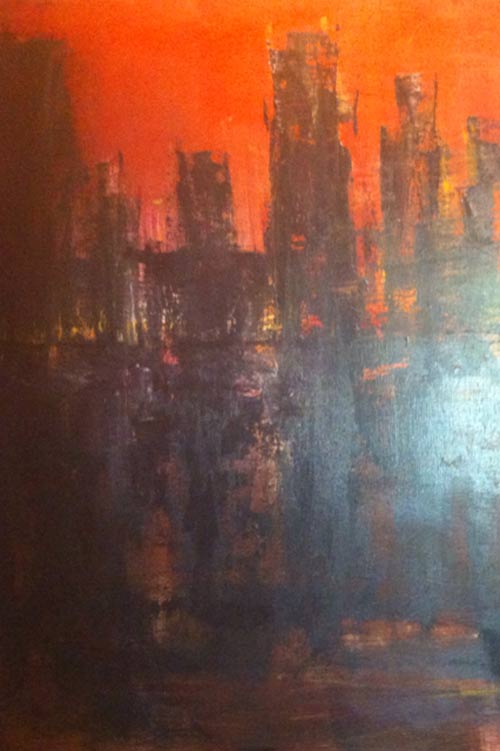 I'm no Turner, but it's so much fun to just slap it on and see what happens. I paint like a cat. Ha ha.

My beautiful bear Stan made the papers. His death could actually help lead to the freedom of many of his kind. He's like my very own William Wallace.

Talking of Braveheart, I'd fucking love a few bears to get medieval on those fucking cunts that torture them for fucking Chinese cunting medicine. Cunts. (Did I say cunts already?)

Had to explain on Twitter that the word "cunt" wasn't specifically aimed at women who are cunts, but actually more often than not aimed at men who are cunts.

It is also rarely used to describe any "lady parts" despite its obvious derivation.

In America it is a very very bad and usually misogynistic insult.

In Britain and Australia it can even be a term of endearment.

A policeman in Scotland once stopped me and said, "Mr. Gervais, aye you're a funny cunt." I said, "Oh cheers." He should know. He's the law.

Here's a little interview I did about offence, twitter and dwarves by the way.



---

I was flattered to be asked to join Mr Sam Harris and his eminent chums on Project Reason.

This was the most serious, caring, academic-looking photo I had.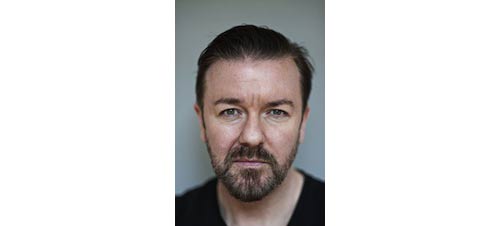 Apart from this one obviously.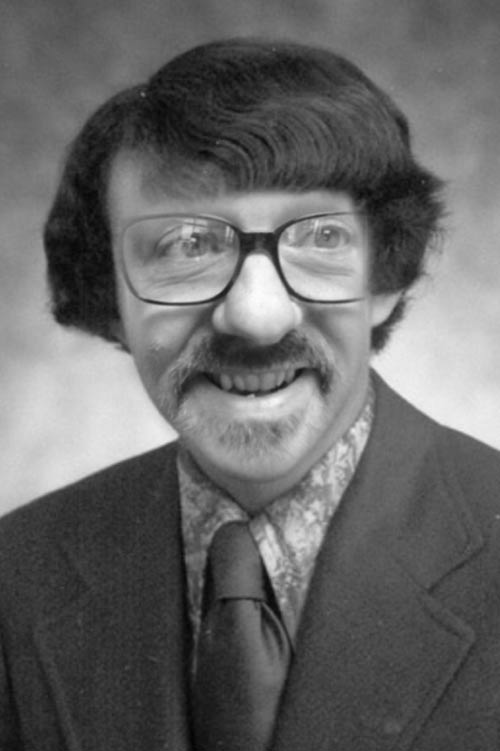 By the way, Sam and I are planning a day where we film ourselves answering questions from the general public about rationalism, and many other things I'm sure.

I can't help but think I'll unintentionally be "Karl" in such a situation.

Talking of which, we started planning the route for An Idiot Abroad 3: The Short Way Round, this week.

It's only a two-part special but we've decided to make it a bit more global as opposed to "around Kent for a few days".

Karl is starting to regret it all ready.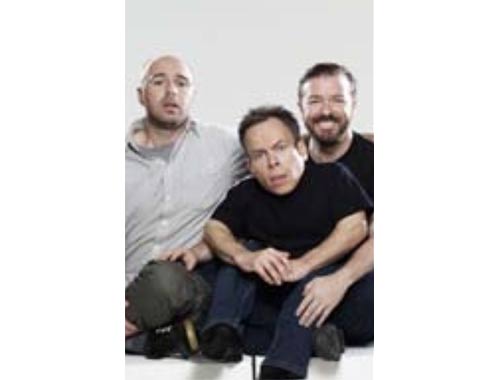 Don't forget to watch Episode 4 of AIA2 on The Science Channel if you're in The States, this Saturday.

And episode 2 if you're in Australia.

Have a great weekend.



---

Spent the week editing the footage Karl and I shot for the Science Channel. We did some promos for various outlets but we've also got a full video podcast out of it if we want. Great DVD extra or even an on-air programme maybe.

An Idiot Abroad 2 started in Australia this week and the third episode aired in the US on the same day. He truly is a global village idiot.

I decided to compile a dictionary by the way. Well, a Karl dictionary. His definition of thousands of everyday words. A Pilktionary if you will.

Ant - "Uh... just a little creature an' that"... I'm guessing, but you get the idea.

Space - "It's big but there's nothing there" (That's a real one as I remember)

Talking of space how fucking amazing is this little effort?

My Super Bowl advert aired in... well, The Super Bowl this week by the way.

Hope you like it.




Wolves and Bears baby... (that's not the teams that played - that's my animal sanctuary dream, obviously.)



---
Week two hundred and four - February 2012
---

RIP Stan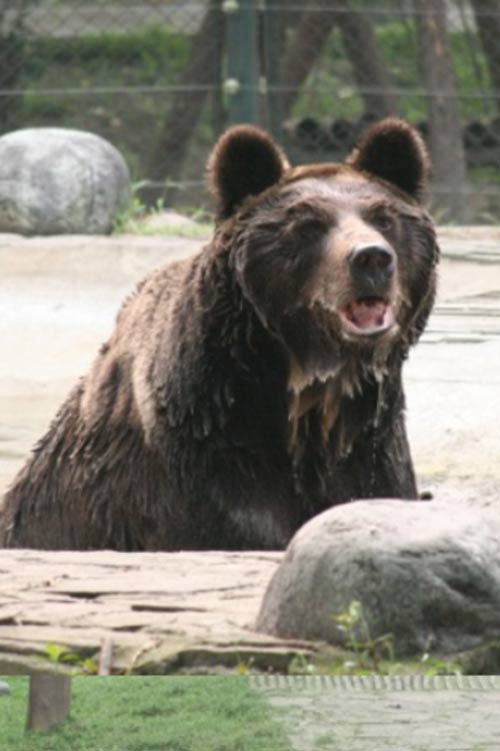 The beautiful bear rescued from a "bile farm" has died at his sanctuary.

At least he had two lovely years of comfort and freedom after a life of hell. It sickens me that this sort of thing still goes on. I want to take a fucking flame thrower to these places.

As many as 10,000 Asiatic black bears in China are locked in cages the size of their own bodies, and their bile is drained through an excruciatingly painful procedure and sold for use in traditional medicine.

So they can approach the bears without fear of injury, the farmers often mutilate the bears by breaking their teeth and pulling out their claws, sometimes brutally removing whole digits.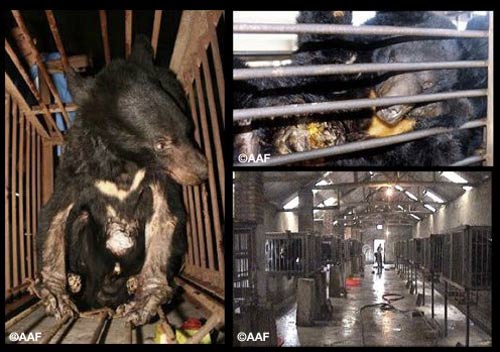 This ordeal can last 25 years. CUNTS.



---

Did a couple of interviews with Karl to promote An Idiot Abroad 2 starting in Australia. This is one of them.

The third episode airs in the US this week and Karl's status as global shaven chimp continues to rise.

He's worried about going round the world with Warwick in the basket of a bike, by the way. (It's strange that I would think that last sentence needed "by the way" at the end of it.)

He said, "what if he goes down and I've got to carry him?"

'Goes down?' Like they're in Nam. I'm looking into having the bike built. Needs to be reinforced and safe obviously.

Oh, another interesting theory of Karl's is that Warwick, even though he is 3ft 6, is actually still the same weight as an average sized person. "He's just been squashed." Yes Karl. Of course he has.

Anyway, we have to have finish the show by the summer as I need Karl for Derek and promo for The Ricky Gervais Show season 3.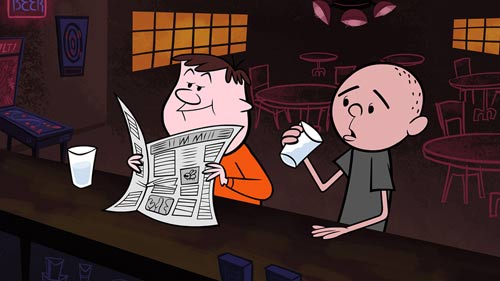 That's my year planned.

I should know "you never get anything done by plannin'." But he plans things. Things that other people would never plan.

Jane and I had dinner with Karl and Suzanne last night. He knew what he was going to order two days before. The plan came together for him.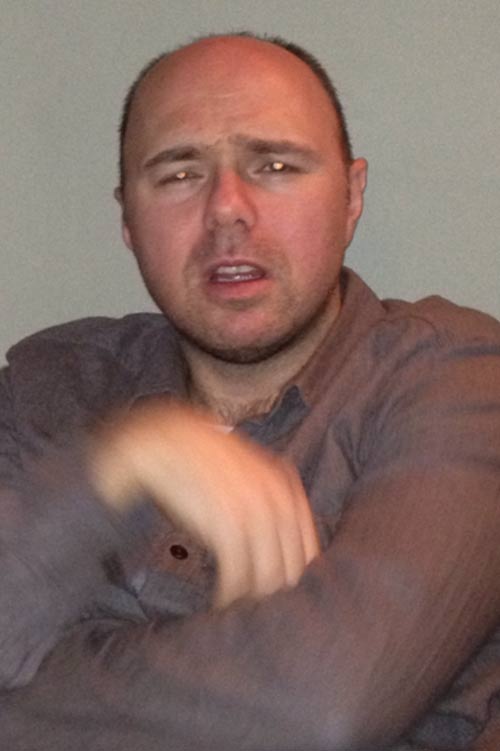 ---
Week two hundred and three - January 2012
---

Had a very productive weekend I must say. Started planning a European tour, put the final touches to the 3rd season of The Ricky Gervais Show (should have a confirmed TX date next week for you), had a production meeting about AIA3 The Short Way Round (Karl is already trying to get out of it), and went to the Old Vic to see Noises Off. I was blown away. I think it's the best comedy theatre production I've ever seen.

The density and perfection of the writing and choreography is mind boggling. It's the quantum physics of farce.

As you may know my Twitter account is basically made up of Karl quotes, self promotion, animal welfare, stupid pictures, and answering random questions about religion, evolution, and other subjects that comedians are highly qualified in.

The problem is, for every person interested in such pursuits, there's someone who is uncomfortable/angry/threatened/bored/left out. So, what I thought I could do is answer some of the greatest hits on this blog now and then. OK? Good

Dear Ricky...

Is Karl on Twitter?
No Karl is not on Twitter and I don't think he ever will be. He hates it. He hates it nearly as much as fan sites, critics, and public speaking. He hates it more than my cat and Christmas shopping with me. No. Karl is not on Twitter.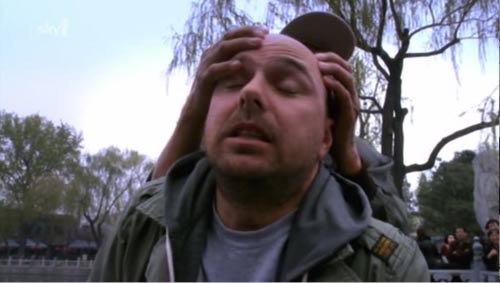 Am I a hypocrite if I'm against fur but eat meat?
Well, the main objection to fur isn't simply that it is the skin of a dead animal, but rather what that animal went through for you to wear it. It's one thing a meat eater quickly and painlessly killing an animal that has had a good natural life, and another thing to breed a creature that then spends its whole miserable existence in a tiny prison only to be skinned alive. Basically it's a matter of degrees. In my opinion obviously.

It's my birthday/I bought your DVD/I'm dying, Can I get a re-tweet?
Nooooo.

If we evolved from apes, how come there are still apes around?
Sigh. As unbelievable and depressing as it may be, I really do get asked this question a lot. It's like they think this disproves evolution and therefore proves creationism.
OK. We didn't evolve FROM apes but rather WITH them. We share a common ancestry. Rather like cousins share grandparents. (Also, technically we are apes but most people have chimps in mind when they ask this question.)

The next question is usually...

Why have they stopped evolving?
It's so hard not to be sarcastic and say something like "they got lazy once they secured the PG tips adverts." (Irony doesn't really work on Twitter though)
Nothing has stopped evolving. I'm afraid it's a very gradual process. I guess if you believe that making the earth and all the animals in six days is possible, then evolution is a bit slow for you. "I've been watching these chimps for ages and not one of them has had a shave and started talking yet." I know what you're thinking... Why the hell am I even trying to answer such questions on fucking Twitter? It's a good point. I don't know. I should just say... "Oh read a fucking book for fuck's sake." Maybe I will next time.

Why do you delete tweets?
I delete tweets that are part of a thread that don't make sense unless you've been part of the entire conversation. I leave the ones that are self contained as they make sense even if you read them a day late. This is because I was reading comments that related to part of a conversation I'd had ages ago and I didn't know what the fuck was going on. Also as I tweet a lot, a spring clean on the timeline makes the more timeless tweets more impactful.

Thanks for following.



---

Spent the day filming with Karl.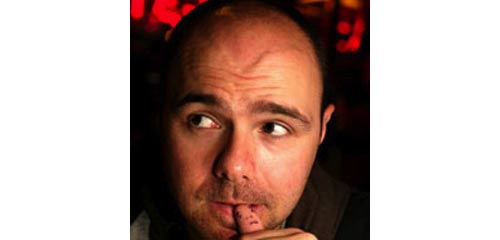 It was meant to be for a little online feature for AOL but we ended up talking for about 2 hours. One of the funniest things we've done. Even Karl was laughing all the time which is fucking rare. Science Channel might use some of the stuff on air.

He came up with some proper news classics. A lovely new word, an anecdote about a bloke who looked into his family tree and found out he was related to God, and a piece of role playing where I literally couldn't breathe. We then did a photo shoot in a medical warehouse. Amazing. Karl was in such a great mood and up for everything. I couldn't annoy him. I tried but he enjoyed it. Either he's happier or I'm less annoying. Either way it could mean the end of both our careers.

If you're in the US this Saturday, the second episode of An Idiot Abroad 2 sees Karl in Russia and China. Science Channel, 10pm.

Oh and not long to wait for my other little friend...
EXCLUSIVE...



---

Someone tweeted me this from The Sun...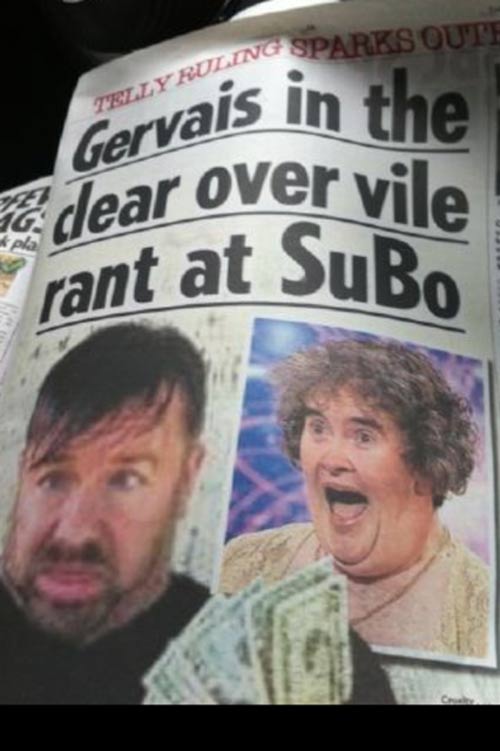 I love the fact that the photo of me is one they printed last week and thought it was hilarious.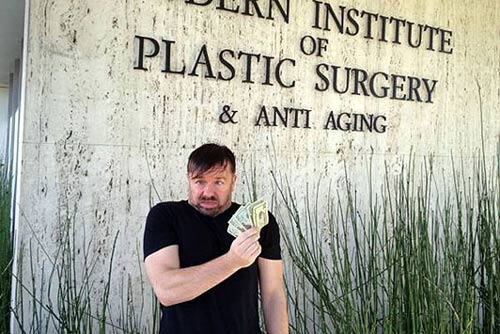 Bit of careful cropping and hey presto suddenly those faces denote disability.

Also, it's amazing that even though Ofcom cleared it because within the routine I actually explain that I wasn't using the word mong to mean Down's Syndrome, most reports fail to mention that. They usually say something like "Gervais said SuBo looked like a mong, a term sometimes used to describe people with Down's Syndrome." It's also funny how all the people that jumped on the bandwagon, and were so vocal at the time, haven't been so noisy about the verdict. Still, mustn't grumble.

Thanks for making An Idiot Abroad 2 such a hit in the US.

Karl was over the moon. He said "Good that". Yeh... quite a reaction.

In other Monkey News, Karl and I are recording an exclusive video chat for AOL tomorrow. I'll let you know when it's available.

We also had a little meeting about The Short Way Round today. He's annoyed that Warwick's getting the easy end of the deal. Ha ha.
He also actually believes that Warwick is the same weight as an average sized person but denser. Yes. He actually said that. Amazing.

HBO have finished the key artwork for the Life's Too Short posters by the way. They look great and they've secured some of the biggest fucking billboards I've ever seen.

Sorry America... You may have to drive past this face on your way to work in a couple of weeks.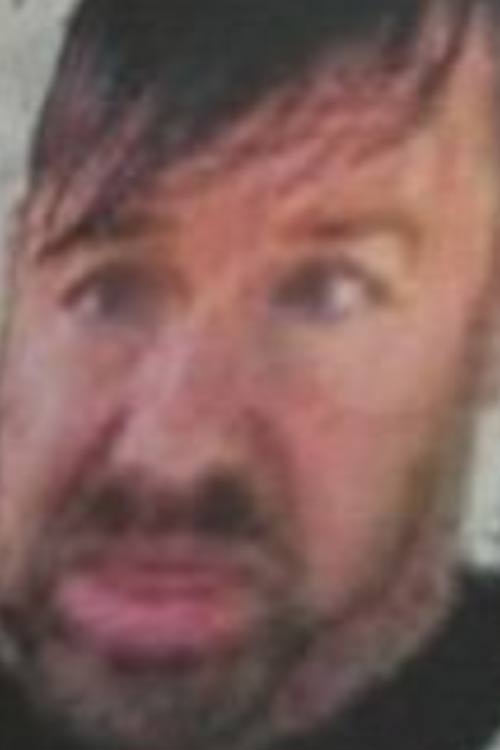 ---
Week two hundred and two - January 2012
---

The flight from New York to London was delightful. Apart from the last hour when I went to the toilet to violently throw up, but quickly realised I was concentrating on the wrong end.

Food poisoning. I felt rough for the rest of the day but am completely fine now, thanks for asking. To be honest, if I had to make the choice, the arse-pissing, was preferable to the nose-vomiting any day. In case you were wondering.

At least I've got a day or two off now. Although sitting around trying not to work is hard for me. I get bored very easily.

I did this for a laugh. It's the evolution of a fan site condensed. It works for TV, Film, Music, Comedy, whatever. Enjoy. Or get angry if you recognise yourself. Ha ha.



---

A cunning plan...

I had a dream about the movie The Man Who Fell To Earth last night. I haven't seen it for years but it's basically about an alien who comes to this planet to save his own.

His planet has run out of water and so he has to make a shit-load of money as fast as possible to transport fresh supplies from Earth.

It gave me an idea.

Maybe I should start doing all those things I've turned down for years; commercials, corporates, merchandising, etc., and use the money to build an animal sanctuary.

I can still do all the things I love with integrity, but also amass a secondary fortune from things I couldn't give a fuck about and then live in my own forest with wolves and bears. Even if me doing loads of adverts and flooding the market with tat ruins my career it wont matter. I'll be in the forest with wolves and bears. Wolves and bears! It might be genius. £50 million should be enough.

This time next year i'll be in a forest. With wolves and bears.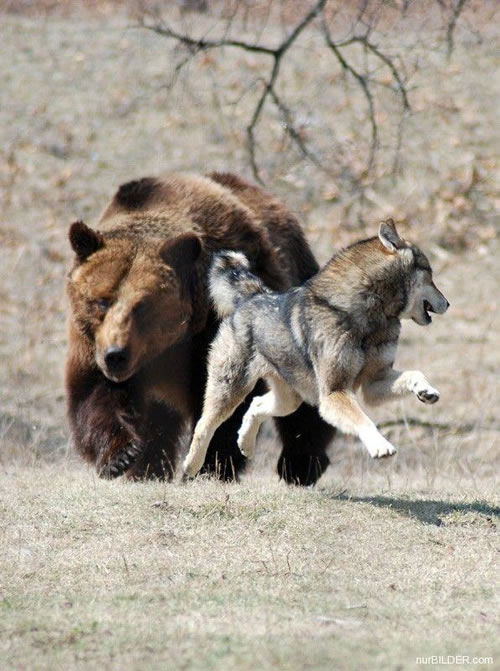 ---

I've been so busy lately, making programs and promoting them around the world, that I've hardly had time to do what I enjoy doing most of all...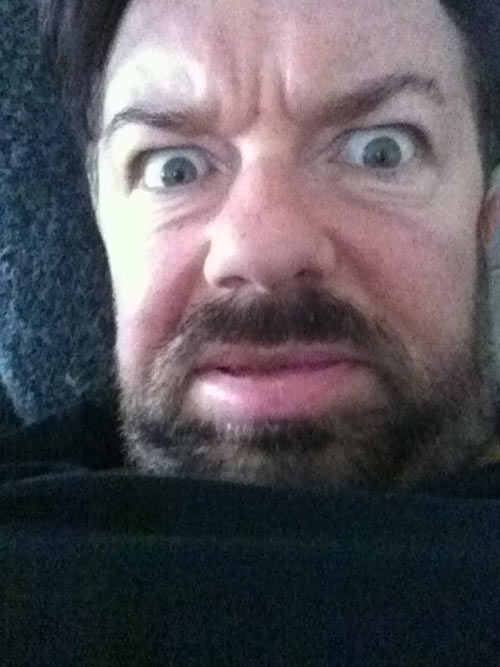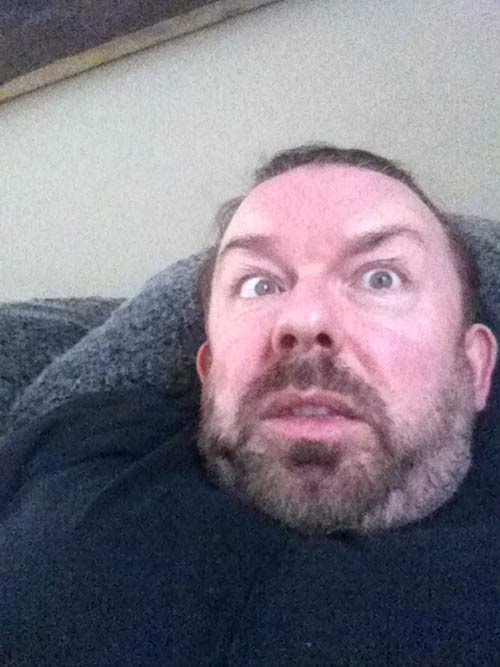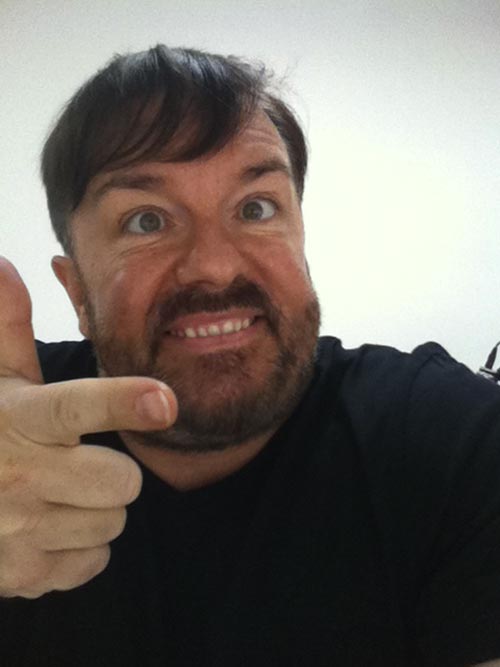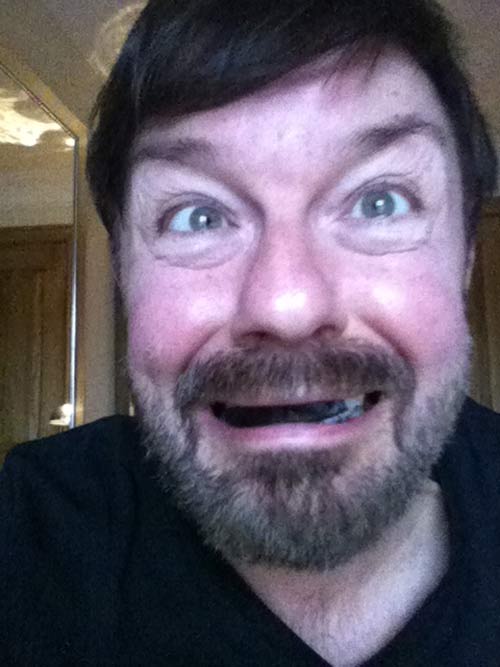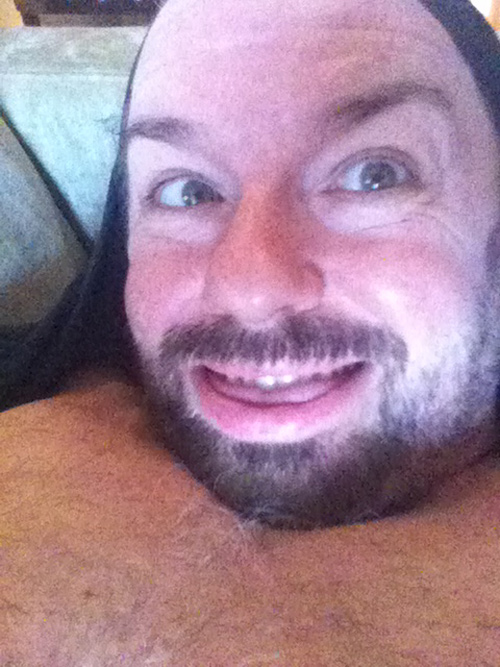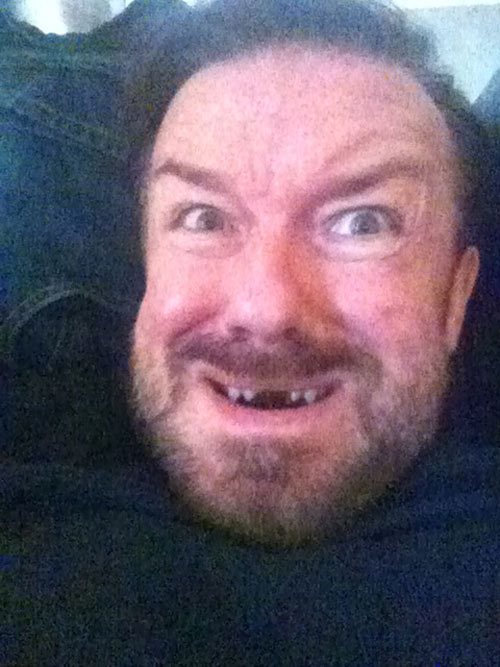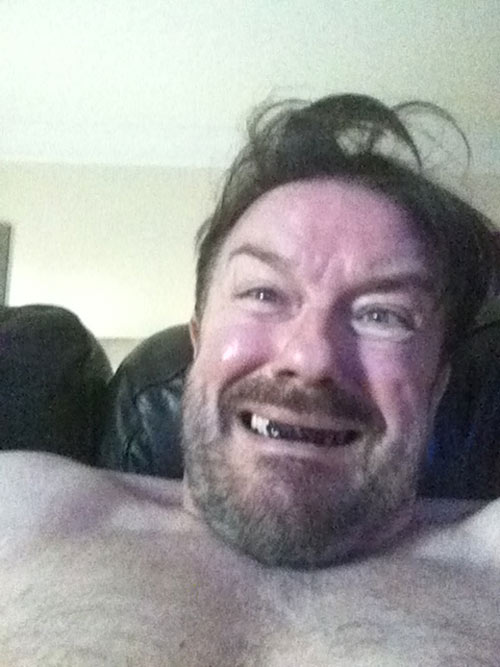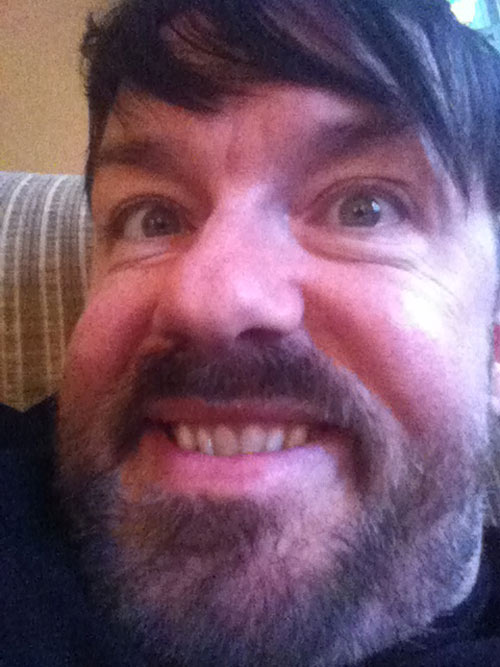 I also enjoy classical music.


---

My 21st appearance on David Letterman was possibly my favourite one.
So free and easy, like two grumpy old mates down the pub. I had to keep reminding him we were on the telly.

I'll be back on in April promoting season 3 of The Ricky Gervais Show. But before that I'll be doing a few chat shows in February to plug Life's Too Short. Any excuse to spend time in New York.

And before that of course, An Idiot Abroad 2 starts on Science this Saturday.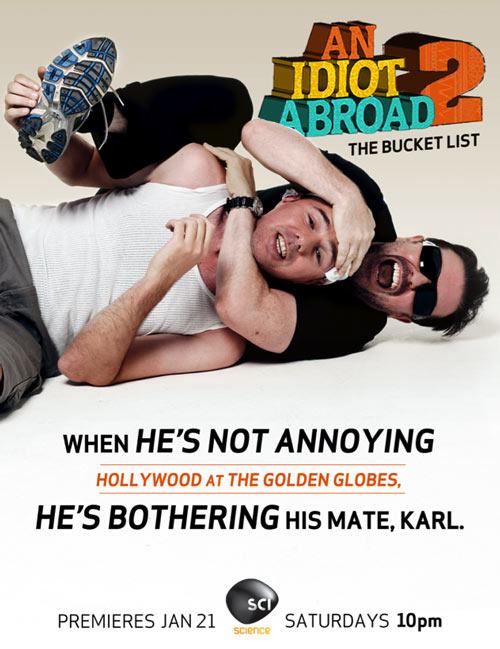 I just spoke to Karl actually. He was moaning. No, honestly, he was.
He had read some article that mentioned a fan site. "It's not a fan site," he said. "All they do is slag us off. They don't like anything except the Xfm shows. Nob 'eds."

I said, "Why are you reading forums?"
He said, "Cos it gets me heart going."
I said, "It's probably visited by about 20 teenagers with nothing better to do. Why do you care?"
He said, "It is now, because, when someone new joins and says something nice about us, they get battered and don't visit it again. I want to turn off the internet."

Ha ha. He's got a point.


---

Phew! Thank fuck that's over. I had a blast actually. It was by far my favourite of the three hosting stints. I've told my agent to never let me be persuaded to do it again though. It's like a parachute jump. You can only really enjoy it in retrospect when you realise you didn't die and it was quite an amazing thing to do.

The crowd were great this year too. I think they finally worked out that my gags only seemed rude and nasty but were actually not too scary at all. Or they were just drunker. Either way, it was fun but I'm glad to say I'm off to New York to chill out a bit. Ahhhhhh. And relax.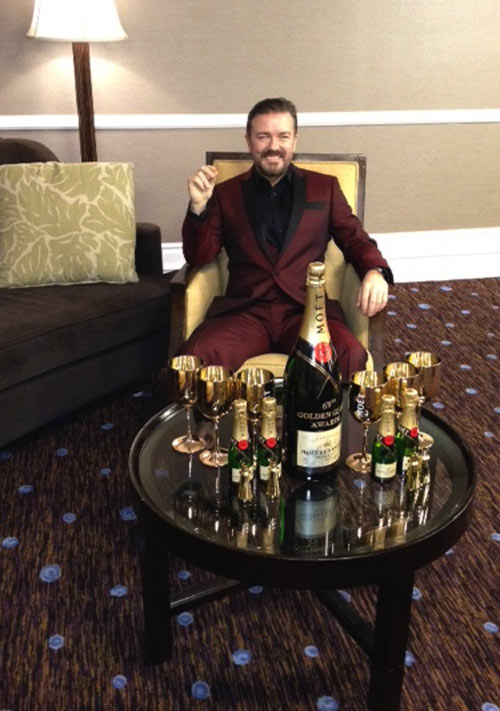 ---
Week two hundred and one - January 2012
---

Popped in on my old pals Conan and Ellen to do what everyone does with friends; plug new TV shows coming up, right?

But then other things happened...

[Conan clip] | [Ellen clip]

Made a very useful new friend too...

So along with this guy, I'm not scared of bumping into annoyed celebs after the Globes.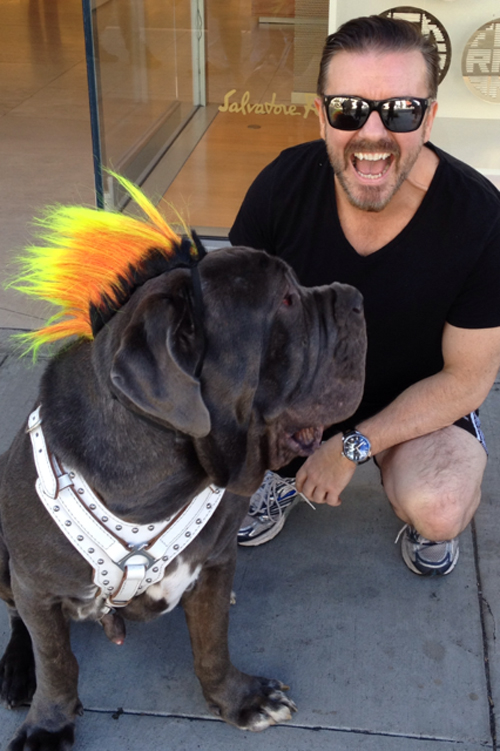 ---

The DVD of An Idiot Abroad was released on DVD today in the US and Canada. Thank you to everyone who rushed out and bought it.

Or If you can't be bothered leaving your house, just order it online
.

HBO set the premiere for Life's Too Short...

If you can't be bothered to open that link... it's 10.30pm on Sunday 19th Feb. Watch it then. You don't need to leave the house for that either.

And in case you are sitting too far away from the TV, or the remote control is slightly out of reach, here's a couple of adverts that NBC are running for my little gig this Sunday.

Ricky Gervais... making life easy for fat, lazy people...


---
Week two hundred - January 2012
---

Happy Birthday David Bowie.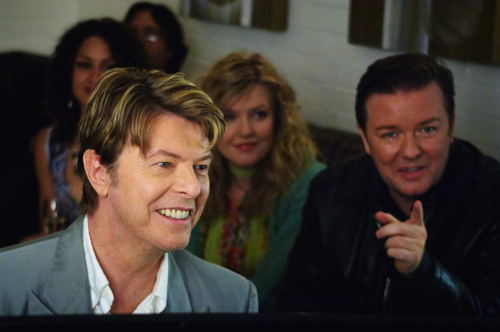 The Thin White Duke with the Short Fat Duck.

I sent him that photo today with the message: "Happy Birthday. You may look better than me, but at least I've still got my own teeth."

He wrote back: "And me mine. Bottom drawer." Ha ha.

Here he is performing his greatest work. He wrote the music but another British iconic genius wrote the lyrics...

In fact, here's another masterpiece by that unnamed lyricist.

In my opinion he could've been bigger than Mr Jones but I heard he went into comedy. Some would disagree.


---

Did some filming with Matt Lauer for NBC today. They flew to all the way to London and flew back the same day!

The least I could do was go out of my way a bit too. So I agreed to get dressed, come downstairs and do the interview in my lounge. Only fair.

I really enjoyed it. I think the first piece goes out Friday on the Today Show then there's a piece on Nightline next week.

It was meant to be about the Golden Globes but we went off road a bit. Not literally, obviously. We sat on comfy chairs by the fire.

Here's one of the print ads by the way.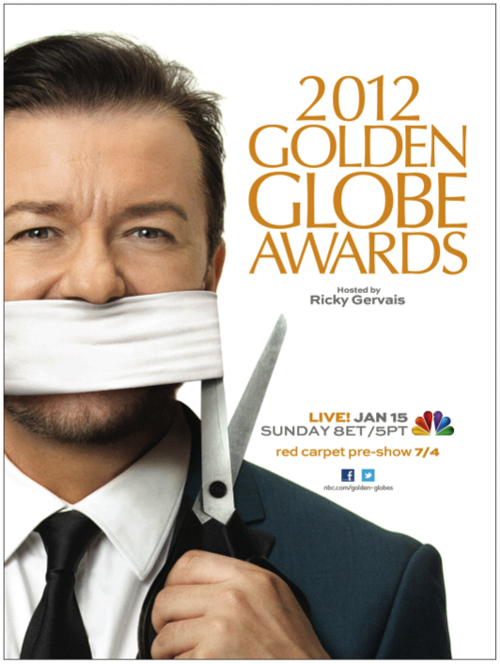 Do you think it's a bit "me" heavy? No of course not. Impossible right?

Let the madness begin.


---

With all my arguing with fundamentalists and fantasising about battering animal abusers, I've neglected my third favourite hobby - of shameless self promotion.
Here are some dates for your diary.

I'm appearing on Ellen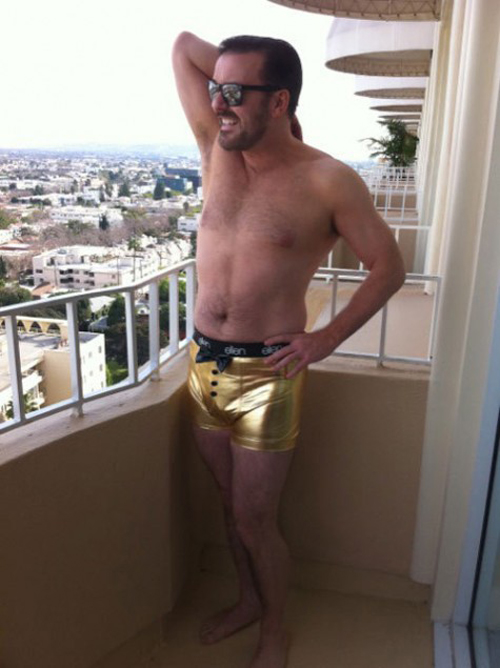 and Conan on Jan 12th.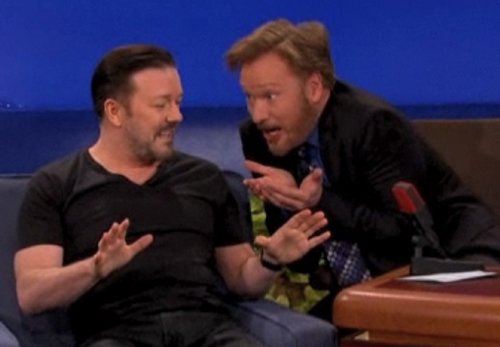 The Globes are Jan 15th.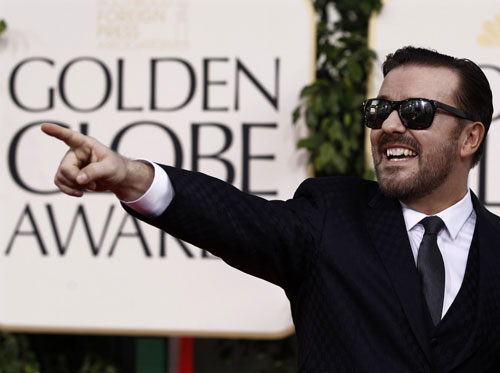 I'm doing my 21st Letterman on Jan 17th.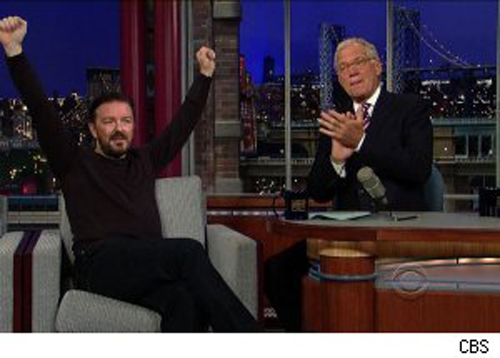 An Idiot Abroad 2 premieres Jan 21st.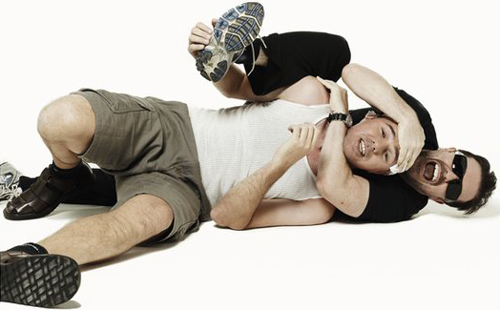 And Life's Too Short starts on Feb 19th.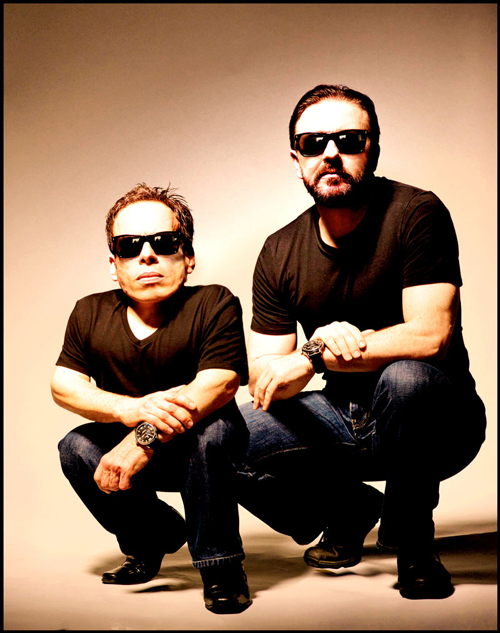 So there you go. OK, plugging over...

This is funny. I actually had to do something for all my other awards. It seems strange to be nominated for not believing in something so obviously ludicrous.
But thank you anyway. I'd love to win. An award is an award! Ha ha.


---
Week one hundred and ninety-nine- December /January 2011
---

So 2012 is happening. Things don't seem much different yet. It would've been a different story if that Rapture would've happened. I'm beginning to think this whole religion thing is made up.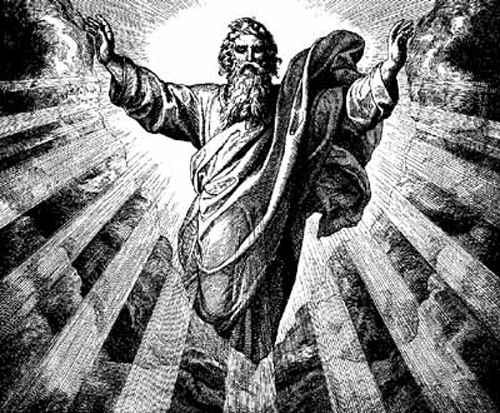 On a serious note, why do these fanatics keep making predictions with provable results? They are always going to come unstuck. Just keep to "God does everything and when we die we go to heaven". They can't be "proved" wrong then. It's a meaningless statement of course, because it's equally unprovable that when we die we come back as Gremlins, but still.

There seems to be this weird misconception that it is wrong to disrespect anyone's religious and spiritual beliefs. Some take this so far that they suddenly start seeing it as an infringement of their rights. This is ludicrous.

It is anyone's right to believe in anything, however ridiculous, and anyone else's right to believe they are deluded and laughable. I don't see the problem here.

My belief that you are mental for believing in Thor doesn't affect the truth of Thor's existence. Thor either exists or he doesn't. My belief that he is a concept made up by ancient civilizations to explain things that science hadn't explained yet, doesn't effect that.

Just like telling a child for the first time that the earth goes round the sun doesn't actually affect the earth's orbit. Everyone has the right to believe that the earth doesn't move at all. I think they would be wrong; ridiculous in fact. If this made them cry I would feel bad. If they said that now they had no purpose to live I would want them to feel better.

I could tell them that they were right all along and that the earth is indeed just hovering in space. I would be lying but it wouldn't affect me. I could tell them to seek medical help. Or I could tell them that it doesn't matter what is happening with the earth's orbit because even though we have opposing beliefs we are experiencing exactly the same effects.

Here's the thing though. Even though I can respect someone's right to believe in something I believe is wrong, I cannot respect that belief. It doesn't make sense. I can't respect the belief that 2+2=5. But I can and do respect someone's right to believe that 2+2=5. They can be as bad as they like at maths as far as I'm concerned. As long as their bad maths doesn't affect me obviously.

And so with God. I cannot respect the belief in God. It opposes everything I believe to be true. However, I respect anyone's right to believe in God. And if a regime I was living under outlawed the right to believe in the impossible, the improvable, the illogical or the unprovable, I would speak out and fight for anyone's right to believe in such things, without ever believing in those things myself. Freedom of speech trumps all. As long as those beliefs didn't affect my or anyone else's rights.

Basically it's everyone's right to be wrong.


---

Back home after a couple of nights with the folks.
Walking in the door was like an Ocado delivery - booze, chocolates, toiletries and pyjamas.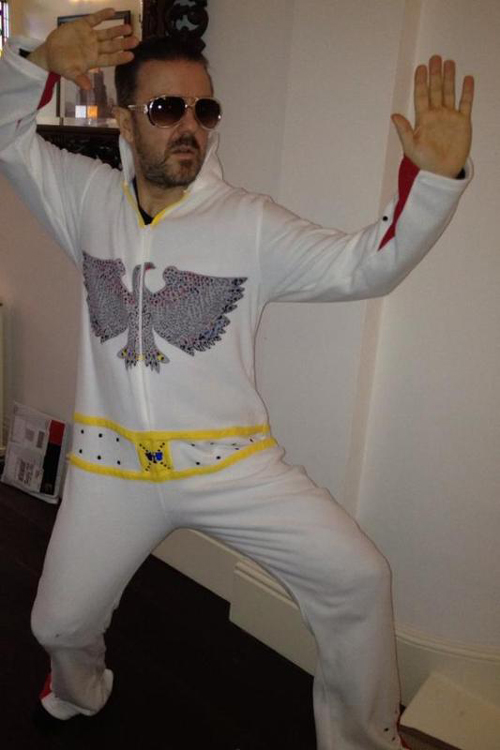 All the kids enjoyed their scratch cards. I'm joking. I didn't get them anything really.

I'm joking again. I got them lots but all they really wanted was a visit from their favourite uncle. That's me. I'm their favourite. (I know that's not for me to say, but none of them said It, so I feel I have to.)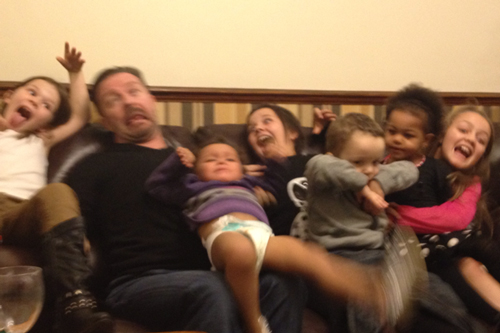 Even the alien dog loves me.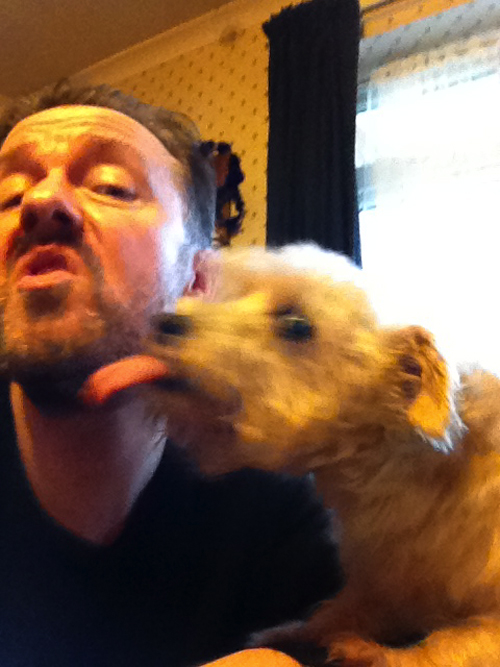 There's no better way to end a year than with a weird camel/lizard-type thing that smells like a pond, showing you affection. Gorgeous little mutt.


---

And so that was Xmas...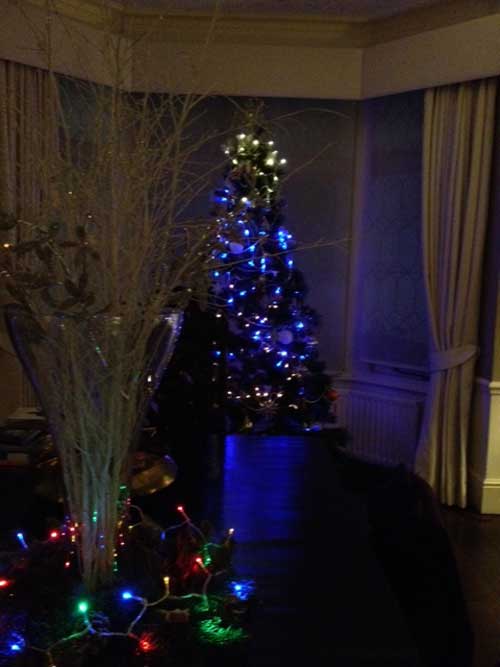 Off to Berkshire to spend a couple of days with my entire family. Contracting the norovirus again seems pretty imminent with about 15 little brats crawling all over me. Ha ha.

This will surely be reported as my "new celebrity weight loss program for the Golden Globes." It will certainly counter the effects of constant grazing through all the major food groups - cheese, bread, meat, pastry, fags, beer and chocolate. Fruit is illegal.

I will try to get some pictures of my brother putting me to shame with some of the spudded-up faces he can pull. Quite amazing.

Hope you all had a lovely peaceful break.
OK, now back on your heads.


---
Ricky's Blog continues with Week One Hundred and Ninety-Eight here ...
---









'Special Correspondents' Cast Revealed
Get the low-down on the principal cast for Ricky's new movie along with a group photo for you to match the host of household names and well-known faces.
Read more here.





'Special Correspondents' First Cast Photo
The Wrap has an exclusive look at the cast of Ricky's new movie.
Read more here.





Brent Movie to be released in 2016
'Life On The Road' is set for a summer 2016 release.
Read more here.





Brent Movie gets funding
The lights are green for The Office's David Brent to return in 'Life On The Road'
Read more here.





Netflix buy 'Special Correspondents'
In a characteristically maverick move by Netflix, Ricky's next movie 'Special Correspondents' will make its debut on the game-changing streaming entertainment service.
Read more here.





News Vlog
Hear about Ricky's latest goings on - straight from the man himself.
Watch here on YouTube.





Ricky talks fame, philosophers and following a career in TV.
Details magazine has a Q and A with Ricky
Read here.





9 Questions with Ricky
Backstage chats with Ricky as 'Derek' is nominated for a Golden Globe.
Read here.





Vote For Derek
Wherever you are in the world you can vote for Derek in the National TV Awards
Vote here.





The Improbable Success of Ricky Gervais
A marketeer's perspective on Ricky in the limelight.
Read here.





Ricky on his 21st Emmy Nomination
The Hollywood Reporter quizzes Ricky on his career to date.
Read here.





Letterman No.26
See a bit of Ricky's 26th appearance on the Late Show .
Watch here.





TV Choice Awards
Derek has been nominated for a TV Choice Award.
Vote here.







Life Lessons
Buzzfeed collates a selection of adages drawn from Derek
Read here.





On The Daily Show...
Ricky tells Jon Stewart that he's still a fat guy at heart.
Watch here.





On The Tonight Show...
Ricky Plays "Word Sneak" with Jimmy Fallon.
Watch here.





Ricky Talks To Q Magazine
He submits to a probing via Q's regular 'cash for questions' feature which relies on its readers to come up with the questions. And great questions they are too.
Read here.





Ricky's Nine Commandments
ShortList magazine asks Ricky for his tenets of kindness.
Read here.





The Office remembered
The Guardian TV blog reassesses The Office and its impact...
Read here.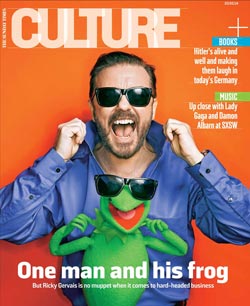 Read the Sunday Times interview.



Vanity Fair Interview
Ricky gets quizzed about Muppets Most Wanted and more.
Read here.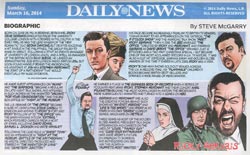 Read the Daily News's one page biography.



Brand New Clip
Here's a new clip from Ricky's new movie, Muppets Most Wanted.
Watch here.





Ricky on Jimmy Kimmel Ricky chats about his new Muppets movie on ABC's Jimmy Kimmel Live.
Watch part 1, part 2 and part 3.





WSJ talks Muppets, Celebs and more Ricky meets the Wall Street Journal for a chat heralding his new movie, Muppets Most Wanted. Read here



Ricky starts filming Night At The Museum 3 Read more here at Mail Online




Ricky on the Radio
Watch Ricky guest on the Opie and Anthony Show.
Here on YouTube.





On-Set Interiew
Den of Geek chat with Ricky on the set of Muppets Most Wanted...
Read here.





New Trailer
Ricky's latest trailer for the new Muppets Movie takes the piss out of Twitter gorps.
Watch here.





Ricky chats about Derek with Charlie Rose
With Derek coming to Netflix UK on Jan 30th, Ricky talks to Bloomburg TV about his latest creation.
Watch here.





Ricky meets David Blaine
The well-known illusionist shows Ricky another use for a skewer.
Watch here.





Person of the Year
PETA, the animal charity, has named Ricky as its person of the year 2013.
Read here.





£1,000 Cub Cake
Ricky buys bear-shaped treat at a charity auction.
Read here.





Ricky In Time
Ricky writes about success and styles himself a "cocky little nobody".
Read here.





Derek reviewed
Ricky hailed as the 'Tarantino of nice'
Read here.




David Blaine 'Real or Magic' Stumps Ricky Gervais with Amazing Knife



39 Feline Gervaisalikes
A number of cats that look like Ricky
See here.



New International Trailer for 'Muppets Most Wanted'


Top 50 News Pics
Ricky & Barney the dog makes the list of the 50 most powerful news images of 2013.
Read here at ITV.com.





Ricky Talks Charity
The donations website Just Giving talks to Ricky about charity.
Read here.





Ricky on Derek in Sydney
Ricky chats to the Sydney Morning Herald.
Read here.





Vote For Derek
The National Television Awards have opened voting for the January 2014 awards.
You can give your support to Derek in the poll here.





Ricky Chats With Charlie
Ricky sits down with the great Charlie Rose...
Watch here.





Writing Credit
Ricky tells Fast Company about the biggest single influence on his writing...
Watch here.





Letterman No. 25
Ricky's made his 25th appearance on The Late Show with David Letterman
Watch here.





Ricky's Times Talk
An audience with Ricky in New York hosted by the New York Times.
Watch in full here.





Derek In Review
Entertainment Weekly calls #Derek "marked by grace."
Read the full article here .





Ricky On The Red Carpet
Ricky talks to Brad Blanks on the red carpet of The New York Premiere of Derek.
Watch here on YouTube.





Ricky's Reddit "Ask Me Anything"
Ricky answers readers' questions.
Read the results here at reddit.





Derek Hits The Airwaves
Listen to Ricky's interview on Black Sky Radio.
Here on YouTube.





Hollywood Reporter's Video Report
Watch the footage from the Hollywood Reporter's interview with Ricky.
Here on YouTube.





Hollywood Reports on Derek
God-hating, Dinners with Seinfeld and Derek on Netflix...
Read here.





Slough Makes International Impression
David Brent's ode to his favourite town has been covered by Toro Y Moi...
Listen here.
And refresh your memory of the seminal original here





Derek Is Big Down Under
The Sydney Morning Herald looks at Derek, which has just started showing in Australia...
Read here.





Brent on Jimmy Fallon
David Brent pops up on Late Night with Jimmy Fallon.
Watch here.





International Acclaim For The Office
The Office takes 14th position in US magazine Entertainment Weekly's All-Time Top 100 TV Shows - by far the highest raked UK show on the list.
See the full list here.





Opie & Anthony
Ricky's favourite appearance on The Opie & Anthony Show in New York. It's a shame Opie & Anthony couldn't be there.
Listen here.





Ricky in GQ
Ricky gets probed on the return of Brent amongst other things...
Read here and Watch here.





Robot monkey butlers
Ricky looks into the future and has some surprising predictions...
Read here.





Ricky's Muppets role
The producer of the new Muppet movie, The Muppets...Again!, says Ricky's role was tailor-made for him.
Read here.





Ricky explains the return of Brent
Shortlist has a piece by Ricky explaining why the time was right to revisit The Office.
Read here.





New and Exclusive
Ricky has made a deal with YouTube to bring new, exclusive content to his own YouTube Channel.
Read about the deal here and subscribe to Ricky's channel here.